21.12.04
New Look
The offiicial webside!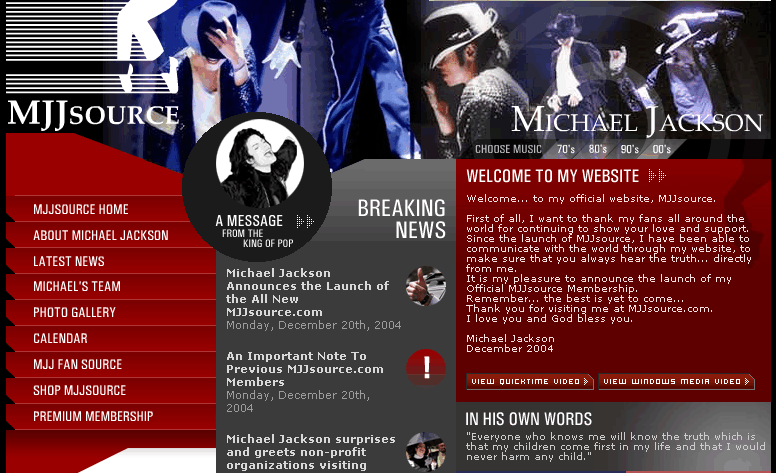 19.12.04
Children Enjoy Neverland Visit
For many children it was a dream come true when they visited Michael Jackson's Neverland Valley Ranch on December 17, 2004. Some of the enthusiastic statements heard from the smiling faces of the children, ages 3 years to 17 years, sounded as follows: "This has made our Christmas."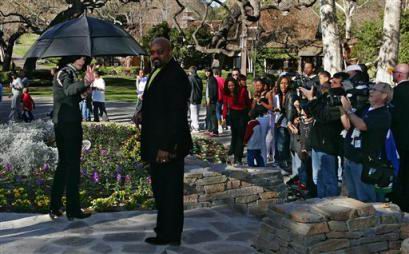 "This is a dream come true."
"To us, Michael Jackson is bigger than Santa Claus."
"Never in our wildest imaginations did we think that we would get a chance to say hello to Michael Jackson."
Over 200 children from various organizations attended the party which included children with special needs from Santa Barbara as well as a group of children affiliated with the First AME Church in Los Angeles. Charitable and civic groups bring children to Neverland at least three times a month to play on the amusement park rides, see its zoo, and watch movies.
Source: MJJ Source / MJFC
17.12.04
Statement By Michael Jackson
To My Fans,

Recently, there has been a rumor circulating where I am accused of bad-mouthing my fans.

I was deeply hurt when I heard about this. As an artist and performer, the most rewarding part of my work is to know that I have such loyal and supportive fans. I would never resort to any such negativity. Like so many other allegations, this is a lie. I love my fans and appreciate you all so much. I would never take that for granted.

You have my undying love, as always,

Michael Jackson
Source: mjjsource.com
15.12.04
Official Calendar: updated information
due to the latest troubles in the Michael Jackson case, including the latest raid at Neverland, we had to re-schedule the release of the "Official Michael Jackson Calendar 2005?.
On that day, you can order the calendar via Internet over at a special website that we're currently setting up for the calendar and other brand-new merchandise that is coming up. By doing that, we want to ensure that all the great MJ fans in the world wide web have the calendar first!
This is our way to say "Thank You!" to all of you who supported the project and for your exciting reactions that spured us on ;)
After the Internet-premiere, the calendar will be in shops and book stores around the world on December 17th, 2004 - If not, you can easily order it by the calendar's ISB-Number: 3-00-015221-0
The title of the product is "Michael Jackson - Official Calendar 2005?
~ WORLD EXCLUSIVE ~ Michael has recorded several messages, stories, and speeches for you including a christmas message.
Source:mjnewsonline
9.12.04
Stevie Wonder Blasts Eminem
Stevie Wonder, in what was termed "a rare public outburst" to Billboard magazine, ripped into Eminem for his 'Just Lose It' video that made fun of Michael Jackson. Stevie Wonder suggested that the white rapper was hypocritical because he owed his success to poor and black people:
"He has succeeded on the backs of people predominantly in that lower pay bracket, people of color. So for him to come out like that is bull..."
Mr. Wonder told Billboard that he was "really disappointed" in Eminem:
"Kicking someone when he's down is not a good thing. I have much respect for his work, though I don't think he's as good as 2Pac. But I was disappointed that he would let himself go to such a level."
Source: Reuters / Yahoo / MJFC
30.11.04
"The Ultimate Collection" is number1!
Source: Fnac
29.11.04
Number Ones 5th Biggest Selling Album In UK
Michael Jackson's Number Ones album was the 5th biggest selling album in the UK for the past twelve months from September last year according to a report from the British Phonographic Industry.

The King of Pop's greatest hits package was the biggest selling of it's kind.

The Top 5 best sellers from September '03 - September '04 are:

1) Life for Rent - Dido
2) Friday's Child - Will Young
3) Elephunk - Black Eyed Peas
4) Call Off The Search - Katie Melua
5) Number Ones - Michael Jackson
source:mjni
26.11.04
Miss Cast Away in DVD!
This DVD is available for a LIMITED TIME through this website. Don't miss out -- ORDER TODAY !!!
Source: misscastaway.com
20.11.04
Joyful Jukebox Music/Boogie Now On CD
The release of this music conpletes the Jackson 5 catalog. This selection features two albums plus a bonus track. Joyful Jukebox Music first came out in 1976, being compiled from unreleased Motown tracks cut in 1972 - 73. In 1979 Motown again gathered it's unreleased resources and released Boogie on it's Natural Resources label. It was only offered on the market for a brief time before being withdrawn.
The music is available at Hiposelect and costs $19.98.
Source: Hiposelect / MJFC
13.11.04
King Of Pop Inducted Into UK Hall Of Fame
The King Of Pop, Michael Jackson has been inducted into the UK's "Hall of Fame". However, the King Of Pop was not on hand to receive the award.

The British public has chose one act to represent each decade since the Fifties as part of a new Channel 4 show.

Robbie Williams represents the 1990's, Michael Jackson the 1980's, Queen the 1970's, the Rolling Stones the 1960's and Sir Cliff Richard has been chosen as the ambassador for the 1950's.

The UK Hall of Fame has inducted honorary members at a ceremony: Madonna, Bob Marley, Elvis Presley, U2 and the Beatles.

The ceremony at London's Hackney Empire will be broadcast on Channel 4 on Sunday.

Michael Jackson beat the likes of Prince, REM, George Michael and The Smiths to be crowned music ambassador from the 80s. But there was no-one to accept the Thriller star's award on his behalf.

Source: Channel 4
12.11.04
MTV Rally Report
At the MTV Rally on Thursday fans supported Michael in the Eminem video dispute. They demonstrated outside the Times Square studios of MTV in New York (USA) over the network's airing of Eminem's video 'Just Lose It'.
Fans were surprised by a message from Michael who called Fox FOX's Geraldo Rivera who stood in the midst of the screaming protesters during the demonstration: "I decided that rather than have anyone speak for me, I would do it myself. I want to thank them from the bottom of my heart ... I love them so, so much." He added that he wants to "thank my fans for their strong support over the years."
Regarding Eminem's video he said: "I think it's demeaning and disrespectful. It's not just about Michael Jackson but a pattern of disrespect that he's shown to our community. He needs to stop it, and he needs to stop it now."
Michael also added that he has been working on new music: "I've been working on several albums right now, I've been working on music today...I'm in the process of making plans to do some wonderful things that I will be announcing to the fans very, very soon."
Michael added that he was grateful to his fans and a host of others for backing him in the controversy, including Rev. Jesse Jackson and the Rev. Al Sharpton:
"I want to thank my fans for their strong support. They're the best fans in the world. They've written thousands and thousands of letters and made hundreds of calls regarding the Eminem video."
The phone call was played for the fans via loudspeakers on the street.
For a video of the demonstration and the phone call please visit http://www.foxnews.com/story/0,2933,138350,00.html , click on 'Video' in the box at the top of the article, then click on "Jacko Hits Backo".
Geraldo Rivera also characterized Eminem's video as a "savage, even racist parody".
During the demonstration an impersonator danced to 'Beat It' and fans carried signs which for example read "Michael Jackson, Keep Hope Alive". MJFC Team member Vernay Lewis was quoted by AP: "We're here because we feel as though MTV has a responsibility to the public not to air this kind of video. It's insensitive. It's rude to Michael and his family."
Source: FOX / AP / MJFC
11.11.04
Listen To 'Fall Aagain'
On the web site of VH1 USA you can listen to 'Fall Again', one of the previously unreleased songs included in the upcoming box set 'The Ultimate Collection'. To listen to the song click here .
Source: VH1 / MJFC
5.11.04
MJ Personally Thanks Fans For Support
Release From Michael Jackson:
To my loyal fans and supporters,
I would like to sincerely thank all those who have spoken out and taken action against the most recent attempt to defame me as a person and an entertainer. My team has told me of the thousands of calls that have been made and the thousands of emails that have been sent by you, on my behalf. I am so grateful and inspired by you all.
To my fans in the UK, I want to you to know how touched I was to hear about the demonstration in London that took place on October 31st and the thousands of people that attended. I am so overwhelmed by these beautiful expressions of love from my fans. Thank you.
Recently, I have been informed that there is an event being planned for me, by the fans, to take place in New York very soon. I wanted take this opportunity to thank these fans from the bottom of my heart for your love and support.
As always, I LOVE YOU ALL SO MUCH AND THANK YOU FOR NOT BEING AFRAID TO SPEAK OUT.
God Bless,
Michael Jackson
Source: MJJ Source / MJFC
28.10.04
Jermaine Refutes Malicious Quotes
Jermaine Jackson has issued a statement denying recent quotes in publications about his brother Michael.
"Recent stories in the National Enquirer, London Sun, and other media outlets have attributed quotes to me stating that I thought my brother Michael would commit suicide if he is convicted. These thoughts have never entered my thinking."
Source: MTV / MJFC
17.10.04
'Cheater' On Airplay In The UK
'Cheater', one of the new songs on the CD Box Set 'The Ultimate Collection' (disc 3), has been played on British Radio. BBC Radio 2 for example featured it in Ken Bruce's radio show.
Source: Ken Bruce / MJFC
17.10.04
STATEMENT OF MICHAEL JACKSON REGARDING ATTORNEY AND FRIEND, STEVE COCHRAN

Mr. Michael Jackson releases the following statement regarding longtime attorney and friend, Steve Cochran:
"I would like to thank Attorney Steve Cochran for all of the hard work he has done on my behalf. Unfortunately, he has taken a temporary leave of absence, for his own confidential reasons, from my Defense team, but will continue to collaborate with me, Tom Mesereau and other members of the team.
"I have known Steve Cochran for many years, and he is a wonderful person and dedicated lawyer. He continues to be my friend and close advisor.
"My Defense team will continue to be led by Thomas Mesereau, Jr. I have the greatest faith and trust in Tom, and the other members of my team."
Source:mjjsource
14.10.04
MIJAC CALLS EUR ABOUT EMINEM: Singer speaks out in exclusive interview.


*Late Tuesday evening, Michael Jackson called EUR's Lee Bailey to discuss the day's drama surrounding Eminem's new video "Just Lose It."

Since its premiere on MTV, our Web site has been flooded with e-mails expressing outrage over the depiction of the King of Pop in the video. As previously reported, the clip features Slim Shady dressed as Jackson in scenes showing the star's nose falling off, being thrown up on, his hair catching fire and sitting at the foot of a bed while little kids jump behind him.

The footage prompted Jackson to send a letter to all networks Monday requesting the video be pulled from rotation. So far, only BET has agreed to stop running the clip.

Early Tuesday, Jackson called Steve Harvey's morning radio show on KKBT Los Angeles to vent. Tuesday evening, the entertainer (and his rep, Raymone Bain) spoke to Lee Bailey about the video, as well as Jackson's new album – due Nov 16.

Michael Jackson: I wanted to call and say thank you for your support and your loyalty, your caring, everything you're doing pertaining to this situation. Thank you so, so much.

Lee Bailey: Well we're just reporting what we're seeing, and we'd gotten a whole bunch of letters from people who were speaking out against the video, so we just reported that. How are you holding up?

MJ: Oh, I'm holding up pretty well, day by day. I'm holding up pretty well.

LB: I always wonder how you deal with everything?

MJ: I don't know. I don't know. You just pray and keep going. Persevere.

LB: Now are you able to work (on music) while you're going through all of this?

MJ: Yes, I do.

(BAIN STEPS IN)

Raymone Bain: We have a new CD coming out. "Michael Jackson the Ultimate Collection," due Nov 16, 9with0 57 tracks, 13 new songs, a 64-page booklet, and never-before-released concert footage. And he'll be out promoting that.

LB: Really…..(laughs). You're not afraid, literally, of going out and promoting it?

MJ: Noooo, are you kidding. No, no, never.

LB: And you have 13 new songs, you said?

MJ: Yes, these are some of the songs from previous albums. When I do an album, I usually write like 60 to 70 songs, sometimes more. These are some of the songs that didn't make the album, but they're very good ones. And there are a couple of brand new ones, too.

LB: Now getting back to this Eminem thing…

(BAIN STEPS IN)

RB: Have you heard the latest? Eminem released a statement, he and Interscope, saying they stand by the video and they're disappointed that BET pulled it. And MTV came out saying they were going to continue to air it on MTV, MTV 2 and MTV Europe.

LB: So Michael, how do you feel about that?

MJ: Well, I think it's the wrong thing to do. It should be pulled, it shouldn't be played. It's incorrect. [TO BAIN] Did you tell him about VH1?

(BAIN STEPS IN)

RB: VH1 sent out a release this evening saying they were meeting on whether or not they're going to air it. So for them to release something like that must mean they're more than likely to pull it. I can't see them releasing a statement saying they're in the process of meeting on it. So there's a lot of activity out there, but he's getting enormous support from the African American community – Radio One, Steve Harvey, and a number of entertainers who have called to offer their support because they feel that it is demeaning and disrespectful.

LB: Do you get the sense that Eminem's not doing this against you personally, but against your public persona?

MJ: That's incorrect. I would never do that to anyone, no other fellow artist. It's no respect. It's demeaning. It's appalling, really. It's not entertainment.

LB: Well I totally agree, but would it make a difference in your mind if he said he wasn't doing this as a personal attack – because I don't think he even knows you.

(BAIN STEPS IN)

RB: Well it is personal, Lee. He might not know Michael Jackson, but when you look at the video, it is personal. He's taken every aspect of this man's life and he's put it in his video. It's one thing to have a spoof, but it's another for it to be demeaning and embarrassing. And that's what he's done.

LB: What I'm getting at is you've never done anything to him for him to even remotely want to treat you like that for some personal reason, right?

MJ: I don't know him. I've never met him.

LB: Well, Mr. Jackson, it just seems like everyday, they're coming up with more stuff, but I gotta give it to you, you're holding up. Keep on, keeping on.

MJ: Thank you very, very much. I appreciate everything you're doing.
13.10.04
MICHAEL JACKSON SPEAKS PUBLICLY ABOUT EMINEM'S VIDEO

On Tuesday, October 12, 2004, at 8:00AM, P.D.T., Michael Jackson appeared on "The Steve Harvey Morning Show," 100.3 / The Beat, a Radio One station, regarding Eminem's video. In an exclusive interview with Steve Harvey, Michael Jackson made the following statement:

"I would like to thank you, Steve, Radio One, the African-American community, my fans from around the world, and some of the members of the media, for the support that you have given to me. I would also like to thank Mr. Robert Johnson, Chairman and Founder of BET for pulling the Eminem video from BET's airplay. I appreciate very much the love and support that you all have shown me.

"I am very angry at Eminem's depiction of me in his video. I feel that it is outrageous and disrespectful. It is one thing to spoof, but it is another to be demeaning and insensitive.

"I've admired Eminem as a artist, and was shocked by this. The video was inappropriate and disrespectful to me, my children, my family, and the community at large. It is my hope that the other networks will take BET's lead and pull it."

MJJsource
6.10.04
Joseph Jackson Interview
Access Hollywood published parts of an interview they conducted with Joseph Jackson, Michael's father, in June 2004. In the interview Joseph made clear that he stands firmly behind his embattled son. "Michael is a superstar. He's a superstar that was raised right." The ordeal has been difficult for the entire family but particulary difficult on his wife: "I have to stay cool, stay focused and don't get nervous and have high blood pressure and have strokes and things of that sort.
[Catherine] don't sleep at night because she worries about how things are being changed here and there,. She knows her son and she knows Michael's just as innocent as the day is long."
Joseph blamed the media for presenting the public with a warped perspective on the case: "They never tell the truth about anything. I don't care whether it's Michael or someone else. When they get to be that big up in the entertainment field or whatever, they always try to tear you down." He also sees nothing strange about Michael's post-arraignment behavior, including his dance atop an SUV: "He loves his fans and his fans love him. I don't care how the media try to twist it, but those are Michael's fans." And asked about the giant open house Michael threw at Neverland Ranch he said: "He wanted everybody to enjoy themselves and that's what they did. They enjoyed themselves." Concerning Michael's decision to allow the Nation of Islam to provide security he said that Michael "was getting a lot of threats and stuff and it was bothering him... He couldn't sleep at night and so what he did was he just got some real good security."
Asked what he would say to the mother of Michael's accuser if he met her Joe said: "I would tell her, 'You know the truth. You know what you have done before with other people and you're trying to do it with my son. Do you think that's right? Do you think you should get away with this?'"
Source: Access Hollywood / MJFC
29.9.04
Michael Invited To Maurice Gibb Tribute Concert
Late Bee Gee Maurice Gibb, who died in January 2003 following surgery on his intestines, is to be honoured with a tribute concert. The event is being organised by Maurice's twin brother Robin and shall take place in the US next year.
Michael Jackson and Justin Timberlake have been invited to perform. So far Michael has not confirmed he has accepted. Actor John Travolta has been approached to host the event because of his role in 'Saturday Night Fever' which featured a Bee Gees soundtrack.
Robin Gibb about the event: "Maurice loved life. We want to celebrate his life and talent the best way we know how - through music." The concert will raise money for the Gibb Family Foundation, set up in the memory of Maurice and his brother Andy who died of a heart attack at the age of 30. The Gibb Family Foundation donates money to a number of charities including Diabetes Research Institute and National Drug Abuse Council.
Robin Gibb is also working on a commemorative album featuring artists singing classic Bee Gees hits. Among those who have agreed to participate in the album are Alicia Keys and the Black Eyed Peas.
Source: BBC News / MJFC
24.9.04
STATEMENT OF MICHAEL JACKSON'S ATTORNEY, THOMAS A. MESEREAU, JR.
The Michael Jackson defense team has learned that information is circulating throughout the media regarding alleged photographs supposedly seized from Mr. Jackson's residence. That information is false. The prosecution has confirmed that it is false.
We demand an immediate retraction from any news or media organization that made such an announcement. Journalistic integrity is an important factor in all reporting. This kind of reporting is irresponsible. Mr. Jackson, like all other people in America, is entitled to a fair trial. This case will be fought in the courtroom, not in the media. Mr. Jackson is innocent and will be vindicated.
Source: MJJ Source
19.9.04
STATEMENT OF ATTORNEY THOMAS A. MESEREAU, JR.

Regretfully, we are compelled to vigorously respond to numerous and false statements being made about Mr. Michael Jackson.
Michael Jackson was recognized as a musical genius as a child. His life and development were devoted to cultivating his musical talents and extraordinary gifts. Discipline, hard work, and a desire to heal and better this world through his creativity were emphasized throughout his youth.
It was recognized very early that Michael Jackson's musical talent and genius could generate many millions of dollars to him and others around him. From the time he was a little boy, others have sought to exploit and take advantage of his creative talent and inherent goodness.
Mr. Jackson has donated large sums of money around the world to foster the interests and welfare of our world's children. Early in his life, he learned and believed that while others sought to exploit and take advantage of his vulnerabilities and idealism, children did not.
Believing that children are the true example of God's beauty, innocence and purity, Michael has devoted much of his life to helping the world's children. He has donated millions of dollars to healing children with disease, helping children with AIDS, and traveling the world to emphasize the importance and welfare of our children. He would never harm a child.
Mr. Jackson has been a target of frivolous lawsuits throughout his career. To date, well over a thousand ridiculous lawsuits have been filed or threatened against Mr. Jackson for all kinds of reasons by those who sought to obtain money by exploiting his achievements and love for people. None of these claims involved allegations that he ever harmed a child. However, they involved, for the most part, creative and outrageous attempts to take money from Mr. Jackson. Throughout his career, Mr. Jackson's desire to create and help our world has been subjected to efforts to exploit, undermine and take advantage of this wonderful human being.
Mr. Jackson has been repeatedly advised by those who stood to make fortunes in his business affairs to pay money, rather than face certain false allegations. As a result, many years ago, he did pay money, rather than litigate, two false allegations that he had harmed children. People who intended to earn millions of dollars from his record and music promotions did not want negative publicity from these lawsuits interfering with their profits.
These two false allegations must be placed in a proper perspective. Mr. Jackson has interacted with millions of children. Many millions of children around the world love Michael Jackson and never alleged that he harmed them in any way.
Those who wanted to profit from his good deeds and vulnerabilities were also threatening to destroy his ability to raise his own children and to champion the welfare, integrity, humanity and interests of children around the world. Michael Jackson occupies a world where his privacy is continually violated.
Michael Jackson now regrets making these payments. Nevertheless, these efforts to settle are now being used against him regardless of the merits or the truth behind them. These settlements were entered into with one primary condition. That condition was that Mr. Jackson never admitted any wrongdoing. Mr. Jackson always denied doing anything wrong.
Mr. Jackson had hoped to buy peace in the process. He was advised that while these sums of money appeared large, they were actually very small compared to money he could make in music. Mr. Jackson has earned well over one billion dollars in his career. Placed in this perspective, they were very small sums, indeed.
Greed begets greed. Mr. Jackson now realizes that the advice he received was wrong. He should have fought these actions to the bitter end and vindicated himself. The recent publicity about these settlements is unfair and damaging to him, his family and his dedication to the world's children. The false charges he is facing will be battled in a court of law within our justice system. He is innocent and will be vindicated.

Thomas A. Mesereau, Jr.
Source: MJJ Source
15.9.04
Michael in court
The accuser's mother (Jane Doe) will be in court to testify on September 17.
Michael and his family plan to be there when Mr. Mesereau will be questioning Ms.Doe. This will probably be the first time Michael and Ms.Doe get eye to eye ever since the accusations emerged.
Source: TMC
12.9.04
STATEMENT OF KAREN FAYE
On August 16, 2004, I was shocked to hear the false allegations made against me on national television in a conversation between Catherine Crier and Diane Dimond on the program Catherine Crier Live. I was even more dismayed by the continuation of this conversation on the same Court TV program on the following day just after I released a statement denying the allegations.
In their conversation, these reporters suggest that they received information from an informant alleging that I had participated in activities that were not only immoral, but illegal as well, in that I helped my client, Michael Jackson, in an effort to wrongly convince the public and law enforcement authorities that he had been subjected to unreasonable force at the hands of Santa Barbara law enforcement. The truth is I've done nothing of the kind.
Unfortunately, my stress and anguish was exacerbated by the suggestion that the California Attorney General's Office and the California Bureau of Investigation had unsuccessfully tried to find me, and that I was somehow avoiding them. The truth is that I had willingly cooperated with the CBI investigators, and had already submitted to a very long interrogation by them.
Being exposed to public disgrace and humiliation was a horrible ordeal. Knowing for a fact that the opposite (of what I was being accused of) was true, it was adversely effecting not only my personal life, but my professional life as well. As an American citizen I believe that I have a right to to either know the name of the person who has accused my of these things, or to have the statements made by Catherine Crier and Diane Dimond publicly and conspicuouslty retracted. On September 2, 2004, I, through my attorneys, demanded such retraction and public apology that can be viewed here:
http://www.mjjsource.com/index.php/press/karen-faye-demands-correction-from-court-tv
I believe that the First Amendment which protects the right of the media to be free also protects me to be free from malicious accusations which show a total disregard to the truth. It was not intended to serve as a shield behind which disingenuous members of the media hide when they wish to attract a larger viewing audience or to use as a diversion to the real truth. Journalists should not be given protection under the law when they recklessly or deliberately engage in giving the public false impressions of private citizens. I am just a working mother trying to balance a job and a household. I just happen to have a very famous client. It is a sad commentary on humanity when the media is free to bulldoze lies over us to force their agenda down the throat of an unsuspecting viewing public. I just received a small dose of what Michael Jackson has been dealing with for many years....and it hurts.
Source: mjjsource.com
10.9.04
ULTIMATE COLLECTION:
Sony Music Press
Three and a half decades after an 11 - year old phenomenon from Gary, Indiana and his teenage brothers forever changed the face of popular music, "Michael Jackson - The Ultimate Collection" marks the most extensive presentation of his artistry ever assembled in one package.

The deluxe box set will house four audio CDs (totaling 57 tracks) of hit singles, album tracks, 13 previously unissued recordings, and other rarities from his archives spanning 1969 to 2004. In addition, the set will include a completely unreleased 1992 live concert DVD filmed in Bucharest. "The Ultimate Collection" will arrive in stores November 16th on Epic Records, a division of Sony Music. The box set was executive produced by Michael Jackson.

Michael Jackson is a global superstar, having sold over 135 million solo albums worldwide, including 47 million alone for "Thriller," the biggest selling album of all time. This box set is the record of his career to date.

"The Ultimate Collection" lives up to its title with the inclusion of 13 previously unissued tracks spanning more than a quarter-century of development. Among these are nine never-before-heard demo recordings that Michael Jackson has decided to unveil on this box set: "Shake A Body" (with The Jacksons, a fascinating glimpse into the creative process that turned into 1978's "Shake Your Body"), "Sunset Driver" (from the "Off The Wall" sessions), "P.Y.T. (Pretty Young Thing)" (from the "Thriller" sessions), "Scared of the Moon," "We Are The World" (Michael's own solo demo of this song he co-wrote with Lionel Richie), "Cheater" (from the "Bad" sessions), and "Fall Again," "Beautiful Girl," and "The Way You Love Me."

In addition to the hours of audio and video content on this box set, there is also a 64-page color booklet. Full details of every track (composers, publishers, recording dates, studio personnel and musician rosters, album references and so on) are enhanced by dozens of rare photographs and personal memorabilia from Michael Jackson's archives. A chronological timeline traces his entire story and an essay by noted journalist Nelson George adds further insight into Michael Jackson's singular career.

Source: Sony Music
5.9.04
Michael Jackson Press Release
STATEMENT OF MICHAEL JACKSON
"It is unfortunate that yet, again, I must respond to untruths and sensationalism.
"Years ago, I settled with certain individuals because I was concerned about my family and the media scrutiny that would have ensued if I fought the matter in court.
"These people wanted to exploit my concern for children by threatening to destroy what I believe in and what I do. I have been a vulnerable target for those who want money.
"I have spent my entire life helping millions of children across the world. I would never harm a child. It is unfortunate that some individuals have seen fit to come forward and make a complaint that is completely false.
"Quite frankly, I question the timing and motive of this report.
"I look forward to the day when I will be vindicated by a jury of my peers. Maybe then, these reports will come to an end.
Source: Raymone K. Bain, Michael Jackson's official spokesperson / MJFC
2.9.04
Disc Set Release Date Moved
According to the Sony web site, the release date for the new 5 disc set 'Michael Jackson: The Ultimate Collection' (for details see MJFC news item dated August 24, 2004) has been moved to November 9, 2004.
New songs:
Disc 1
17. Sunset Driver
Written by Michael Jackson
Produced by Michael Jackson
4:03

Disc 2
9. Scared Of The Moon
Written by Michael Jackson, B. Kohan
Produced by Michael Jackson
4:41

Disc 3
7. Cheater
Written by Michael Jackson, G. Phillinganes
Produced by Michael Jackson
5:09

9. Monkey Business
Written by Michael Jackson, B. Bottrell
Produced by B. Bottrell
5:45

Disc 4
6. Fall Again
Written by W. Afanasieff, R. Thicke
Produced by Michael Jackson, W. Afanasieff, R. Thicke
4:22

7. In The Back
Written by Michael Jackson
Produced by Michael Jackson
4:31

11. Beautiful Girl
Written by Michael Jackson
Produced by Michael Jackson
4:03

12. The Way You Love Me
Written by Michael Jackson
4:30

13. We've Had Enough
Written by Michael Jackson, R. Jerkins, F. Jerkins, L. Daniels, Carole Bayer Sager
Produced by Michael Jackson and R. Jerkins
5:45
Source: Sony / MJFC
29.8.04
Happy Birthday Michael!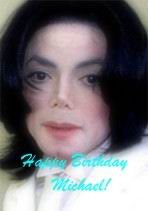 The King Of Pop, Michael Jackson celebrates his 46th birthday today.

We wish Michael a very happy birthday on behalf of his fans all around the world.
21 .8.04
Pre-order
Michael Jackson Box Set
The brand new Michael Jackson Box Set entitled "The Ultimate Collection" is now available to pre-order online at the Sony Music Store.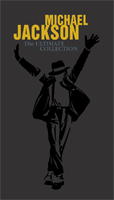 Here

The official track list for the forthcoming Box set:

Disc 1
1 I Want You Back
2 ABC
3 I'll Be There
4 Got To Be There
5 I Wanna Be Where You Are
6 Ben
7 Dancing Machine
8 Enjoy Yourself
9 Ease On Down The Road
10 You Can't Win
11 Shake Your Body (Down To The Ground) (Demo)
12 Shake Your Body (Down To The Ground)
13 Don't Stop 'Til You Get Enough
14 Rock With You
15 Off The Wall
16 She's Out Of My Life
17 Sunset Driver
18 Lovely One
19 This Place Hotel

Disc 2
1 Wanna Be Startin' Somethin'
2 The Girl Is Mine
3 Thriller
4 Beat It
5 Billie Jean
6 P.Y.T. (Pretty Young Thing)
7 Someone In The Dark
8 State Of Shock
9 Scared Of The Moon
10 We Are The World
11 We Are Here To Change The World

Disc 3
1 Bad
2 The Way You Make Me Feel
3 Man In The Mirror
4 I Just Can't Stop Loving You
5 Dirty Diana
6 Smooth Criminal
7 Cheater
8 Dangerous
9 Monkey Business
10 Jam
11 Remember The Time
12 Black Or White
13 Who Is It
14 Someone Put Your Hand Out

Disc 4
1 You Are Not Alone
2 Stranger In Moscow
3 Childhood (Theme From "Free Willy 2")
4 On The Line
5 Blood On The Dance Floor
6 Fall Again
7 In The Back
8 Unbreakable
9 You Rock My World
10 Butterflies
11 Beautiful Girl
12 The Way You Love Me
13 We've Had Enough

DVD

1 Jam
2 Wanna Be Startin' Somethin'
3 Human Nature
4 Smooth Criminal
5 I Just Can't Stop Loving You
6 She's Out Of My Life
7 I Want You Back
8 I'll Be There
9 Thriller
10 Billie Jean
11 Working Day And Night
12 Beat It
13 Will You Be There
14 Black Or White
15 Heal The World
16 Man In The Mirror

Source: Sony Music
20 .8.04
STATEMENT OF MICHAEL JACKSON - AUGUST 10, 2004
APPROVED BY JUDGE MELVILLE – AUGUST 16, 2004

"My family and I have dedicated our lives to spreading unity and peace to the world through our music. The most recent unauthorized version of my life story, "Man in The Mirror," in no way shape or form represents who we are as a family. It is unfortunate that for years, we have been targets of completely inaccurate and false portrayals. We have watched, as we have been vilified and humiliated. I personally, have suffered through many hurtful lies and references to me as 'w.a.c.k.o j-a-c-k-o' as well as the latest untruth about me fathering quadruplets.

"This is intolerable and must stop. The public depiction of us is not who we are, or what we are: we are a loving family. My success on stage can be attributed to the love and support of my family off stage. My brothers and I are 'brothers' first, we started out together and will always be together. All I can hope for is that one day, my family will be shown the same kindness and respect that we have, throughout our lives, shown to others."

Source: MJJsource
17.8.04
Moore pics!


16.8.04
Michael present during hearing of Tomas Sneddon.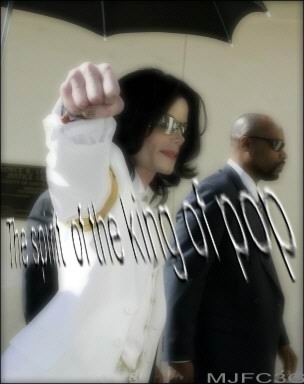 "It's a faceoff between Jackson and Sneddon," said Laurie Levenson, a Loyola University law professor and former federal prosecutor. "And emotionally, it's a big moment in the case.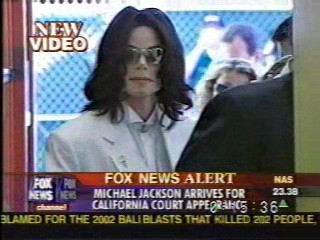 About 200 fans gathered at the courthouse for their idol who arrived about 35 minutes ahead of the hearing.
Jackson Gets L.A. Support Before Court Face-Off
Singer Attends First AME Church In South L.A.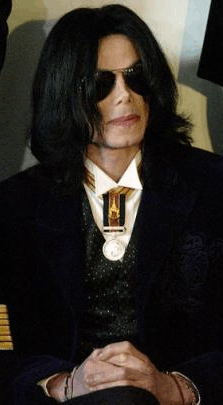 LOS ANGELES -- Pop star Michael Jackson and his attorney Thomas Mesareau attended church services Sunday at First AME Church in South Los Angeles, where community leaders and fans showed support for the singer who will be in court Monday.
Michael Jackson's family will be standing by him for a courtroom confrontation with the man who wants to put him in prison on child molestation charges -- a district attorney whose pursuit of Jackson dates back more than a decade.
Although the legal agenda for Monday's pretrial hearing is significant, emotional overtones may take center stage. The subject of this session is District Attorney Tom Sneddon, the man who also tried to bring charges against Jackson in 1993 -- a confrontation so bitter that Jackson wrote an angry song that only slightly disguised Sneddon's name.
On Monday, Jackson's lawyer, Tom Mesereau Jr., gets to question Sneddon about his actions in the weeks before the current charges against Jackson were filed. The defense is seeking to show that Sneddon invaded the sanctity of the attorney-client privilege between Jackson and his former attorney.
Jackson has not been required to attend pretrial hearings, but he decided he wanted to be present for this confrontation. In the audience will be his parents, Joseph and Katherine, and siblings including Janet, LaToya, Jermaine and Jackie.
"It's a faceoff between Jackson and Sneddon," said Laurie Levenson, a Loyola University law professor and former federal prosecutor. "And emotionally, it's a big moment in the case. This is high drama."
The hearing is also important legally, she said, because prosecutors stand to lose their key evidence if it is found that they obtained it illegally.
"This is the basis of the conspiracy count," she said. In addition, she said, a finding that the prosecution intentionally interfered with the attorney-client relationship could prompt a motion to dismiss the charge entirely.
Jackson, 45, is charged with committing a lewd act upon a child, administering an intoxicating agent and conspiring to commit child abduction, false imprisonment and extortion. He has pleaded not guilty and is free on $3 million bail.
Sneddon was subpoenaed by Jackson's attorneys to testify about surveillance he personally conducted at the office of a private investigator who was working for Jackson's former attorney, Mark Geragos.
The investigator, Bradley Miller, was not in his Beverly Hills office when Sneddon went there and photographed the building and its roster of occupants.
Santa Barbara County sheriff's officials already have testified that they used a sledgehammer to break into Miller's office and seize videotapes and files relating to the Jackson case. They maintain that they did not know Miller was employed by Geragos.
The defense says any materials seized from Miller's office should be suppressed and never see the light of day as evidence.
The seized materials are believed to be crucial to the prosecution case -- among them, a videotape of Jackson's 12-year-old accuser and his family praising the singer's character.
Prosecutors claim the tape was made under duress, with Jackson holding the family prisoner at his Neverland ranch. Without the tape, a central theory of the case against Jackson would be severely undermined.
Source: The Associated Press.
13.8.04
Michael Jackson To Attend
Court Monday
Sources say Michael Jackson will be in court Monday for an unusual hearing in which the prosecutor in Jackson's child molestation case will testify.

The singer isn't required to attend, but apparently made a last-minute decision to go. His parents, sisters Janet and LaToya, and brother Jermaine are also expected.

Santa Barbara County District Attorney Tom Sneddon was subpoenaed to testify about surveillance he did at the office of a private investigator working for Jackson's former attorney, Mark Geragos (GEHR'-uh-guhs).

Santa Barbara County sheriff's officials have testified they broke into and searched Bradley Miller's office, seizing videotapes and files. They say they didn't know Miller worked for Geragos.

Jackson's current lawyer wants the material barred from evidence, saying the search violated attorney-client confidentiality.

Source: Associated Press
28.7.04
Jacksons Surprise Shopping Spree at Houston Mall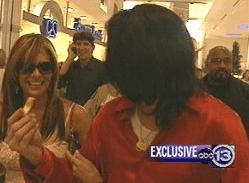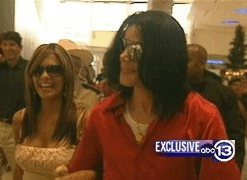 A surprise visit by Michael Jackson to the Bayou City throws fans and shoppers into a frenzy.

Eyewitness News obtained exclusive access as Michael went on a shopping spree inside Memorial City Mall Tuesday evening. The King of Pop came to Houston on business, to meet with one of his attorneys on a music contract issue. He flew in late Monday night.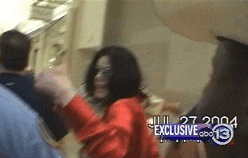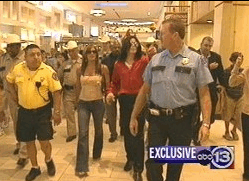 While here, Jackson, accompanied by his entourage and a female friend who identified herself as Monique, went shopping. He didn't answer any questions from our staff, but he was gracious to fans who turned out in throngs for the surprise visit. Jackson shook hands, signed autographs, and even sampled a pretzel.

He shopped mainly for toys, stopping in several stores. Jackson's purchases were mostly whisked out to his vehicle, but we did spot him buying several teddy bears.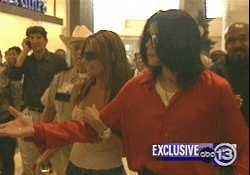 Although fans weren't expecting Jackson, they soon mobbed the stores where he shopped. Most we spoke with were unconcerned about the abuse allegations he faces.

After his shopping spree, Jackson immediately left town again.


Source: ABC
26.7.04
Michael Jackson: The Music - The first-ever COMPLETE musical retrospective spanning Michael Jackson's entire career!
DELUXE BOXED SET FEATURES :
4 CDs including:
- Biggest hits
- Rarities
- Unreleased tracks
- Live performances
- and more!
A complete musical journey:
- Motown & The Jackson 5
- Michael's early solo performances
- The Jacksons Era
- PLUS moments from his entire solo career!
PLUS a BONUS DVD -"Live At Bucharest" ? over 2 hours of PREVIOUSLY UNRELEASED footage!
Deluxe packaging includes a leather bound book featuring over 60 pages of rare photos and memoribilia from MJ's personal archives, an indepth essay from Nelson George (Novelist, Screenwriter, Filmaker, Rolling Stone, New York Times, Mojo, etc.), a complete discography, timeline and much more!
Expected release dates:
USA - September 7th
WORLD - September 6th
16.7.04
VH1 Movie
Prepare yourself to be shocked. Oh yes, VH1 has released photographic stills from their forthcoming biopic of Michael Jackson called "Man In The Mirror".

Source: VH1
6.7.04
Michael Wins ESPN Poll
Sunday, July 04, 2004
King of Pop voted biggest pop icon of last 25 years

Michael Jackson defeated U2 in the final round of ESPN 's poll to find the biggest Pop Icon if the last 25 years.

The King of Pop had defeated Madonna and Guns 'n' Roses in previous rounds.
Source:MJNI
3.7.04
Marlon Brando
Marlon Brando, who revolutionized American acting, has died aged 80.

Regarded by many as the greatest actor of his generation, Brando was the original angry young man of cinema.

His electrifying performances in A Streetcar Named Desire and On The Waterfront were unlike anything Hollywood had seen before.

Two decades on his Oscar–winning role in The Godfather sealed his status as a screen legend.

In 2001 he appeared on stage at a comeback concert for Michael Jackson in New York's Madison Square Garden and was booed by the crowd for making a rambling speech about child abuse and starvation.

But Michael and Marlon where very good friends. Marlon's son, Mick Brando also used to work for Michael.
29.6.04
"The Wiz"
Languages: German, French
You can pre-order the DVD here:
Amazon.de . Price: Euro 12.99
Source: MJFC
24.6.04
THE NEW VERY BEST OF THE JACKSONS & JACKSON 5
28 June
Disc 1

I Want You Back
Abc
The Love You Save
I'll Be There
Mama's Pearl
Never Can Say Goodbye (single Version)
Sugar Daddy (single Version)
Dancing Machine (single Version)
Lookin' Through The Windows
Doctor My Eyes
Ain't No Sunshine
Got To Be There (single Version)
Rockin' Robin
Ben (single Version)
One Day In Your Life
Farewell My Summer Love

Disc 2

Can You Feel It (single Edit)
Blame It On The Boogie
Enjoy Yourself
Show You The Way To Go (single Version)
Dreamer
Even Though You're Gone
Goin' Places
Torture
Shake Your Body (down To The Ground) (single Version)
Lovely One
This Place Hotel (aka Heart Break Hotel)
Walk Right Now (single Version)
State Of Shock (with Mick Jagger)
2300 Jackson Street
Nothin (that Compares 2 U) (promotional Short Form Video)
Don't Stop 'til You Get Enough (live From The 1981 U.s. Tour) (live)

Source:sony music
21.6.04
London Demonstration Details
Saturday, June 19, 2004
Sunday, 27th June 2004

Another demonstration in support of Michael Jackson is to take place in London. Details of the event are below.

Date: Sunday 27th June
Time: 2-5pm
Place: Eros Statue, Piccadilly Circus, London
Comments: Please bring banners and loud voices!
Contact: The London Demo Team at: AnnieJ_4_MJ@hotmail.com or magix_j@hotmail.com
19.6.04
STATEMENT OF MICHAEL JACKSON

"I respect the obligation of confidentiality imposed on all of the parties to the 1993 proceedings. Yet, someone has chosen to violate the confidentiality of those proceedings. Whoever is now leaking this material is showing as much disrespect for the Santa Maria Court's 'gag order' as they are a determination to attack me.
"No action or investigation has been taken to determine who is leaking this information or why they are permitted to violate the law in such a manner. I respectfully request that people see these efforts for what they are.
"These kinds of attacks and leaks seek to try the case in the press, rather than to a jury who will hear all of the evidence that will show that I did not, and would not, ever, harm a child. I have always maintained my innocence and vehemently denied that these events ever took place. I reluctantly chose to settle the false claims only to end the terrible publicity and to continue with my life and career.
"I ask all of my neighbors in Santa Maria, the people to whom I give my loyal trust and admiration, to keep an open mind and give me a chance to show that I am completely innocent of these charges. I will not let you down."
Source : MJJSource
MICHAEL JACKSON PAYS TRIBUTE TO THE LEGENDARY RAY CHARLES
Bob Jones and Felicia Ferris, Fired from MJJ Prod

Michael Jackson releases the following statement regarding the

death of music great, Ray Charles:
"I am saddened to hear of the death of my friend, Ray Charles. He was
a true legend…an American Treasure. His music is timeless; his
contributions to the music industry…unequalled; and his influence,
unparalleled. His caring and humility spoke volumes. He paved the
way for so many of us, and I will forever remember him in my heart."
After 16 years of fielding calls and calming situations, Bob Jones and Felicia Ferris have been told to leave MJJ Communications. Every fan club worldwide and many fans have found MJJ Communications, specifically Bob and Felicia, the only answer to their questions. If you had a concern about MJ, a question about running a fan club, a question about media, or just the need to talk to a voice that made you feel worthwhile in the MJ community, Bob Jones and Felicia Ferris were who you called.
This news comes with great sadness for MJFC, fans, and fan clubs around the world. MJFC will miss them both greatly and would like to thank them both for all they have done for MJ and the MJFC ...
There's only one thing left to say -- Bob and Felicia, we love you more!
Source: MJJsource - Source: MJFC
26.5.04
Joseph Jackson Hires Lawyer
In a statement issued on Monday, Michael's father Joseph Jackson announced that he has hired lawyer Debra Opri to be an "extra pair of eyes" for him during the case against his son:
"From now on he feels the urgent need to have an extra pair of eyes properly advise him and Mrs. Jackson."
Legal analyst Debra Opri, who heads a Beverly Hills law firm and has represented singer James Brown in the past, said in a phone interview that she will not be a part of the defense team, however:
"I'm not participating in the case at this point. At this point I'm representing family interests. Joseph loves his son and wants to be kept updated on everything."
Joseph Jackson wants her to attend court hearings with him "to tell him what's going on." Opri plans to be in court Friday for a hearing in the case. She also suggested that she could be a helpful presence for the defense team:
"I am a person who believes in justice and I believe Michael Jackson is innocent. I don't believe that he has the capacity to formulate a criminal intent. ... I just think I can help."
Michael Jackson's lawyer, Thomas Mesereau Jr., was aware of the arrangement with Opri but said:
"I've never met or spoken to her in my life."
Jackson family lawyer Brian Oxman also said he was aware of Opri's new role but refused to comment other than to say it would not interfere with Mesereau's representation of Jackson.
Source: AP / MJFC
20.5.04
Fox 411: Accuser in the Middle of Custody Fight

Father's lawyer suggests mother keeping her sons away so they don't tell the truth about what really happened at Neverland

The following article comes from Roger Friedman's May 19th column.

The 14-year-old boy at the center of the current Michael Jackson case is right in the center of a family at war.

The boy's parents, who are in and out of family court over custody and visitation issues, recently crossed swords again.

This time the mother, who has been called an opportunist and a manipulator in this column by many who have had dealings with her, really said a mouthful. In court papers she said that not only do her two sons and one daughter not want to see their father, but - and this is only according to her - the two boys sleep with baseball bats because they fear this man. She also said they go through putting up a series of barricades so they can sleep soundly.

But it turns out, according to the father's lawyer, that the daughter has seen and spoken to her father. "The mother doesn't care whether she seems him or not," says H. Russell Halpern. "She's only interested in keeping the boys away from him. She's afraid they'll tell him that the whole Michael Jackson story is made up."

In fact: sources have told me from the beginning that when the 14-year-old underwent chemotherapy treatments a year and a half ago, it was the father who took care of him. When the family first came to Neverland, it was the father, not the mother, who accompanied them.

"When the boy got sick, the father took a leave of absence from his job and slept next to his bed. The boy wanted him there for comfort."

The mother's latest court statement, says Halpern, "demonstrates her lack of credibility." And there may be some evidence to back this up. When the mother sued J.C. Penney a couple of years ago, she gave a deposition in which she allegedly testified that her ex-husband - whom she later accused of beating her kids and killing her dog - was a "wonderful man."

Halpern is busy right now trying to get the deposition unsealed. He claims that the Pasadena, California lawyer who handled the case has been pressured by the mother's attorney, Larry Feldman, to keep the papers hidden. But attorney Tom Rothstein told me yesterday, "I've never spoken to Larry Feldman in my life." Feldman, of course, is better known as the lawyer who got a $20 million settlement for another family from Jackson in 1994.
Source:MJNI
8.5.04
Filming Starts On New Michael Jackson Movie
With the release of a new unauthorized TV movie at the end of July, expect to be hearing (and seeing) a lot more concerning the King Of Pop (or, at the very least, a cheesy impersonation of him).

Filming began in Calgary (Canada) this week on the new unauthorized TV movie chronicling the life of Michael Jackson. The film's storyline, which carries the working title Family Values, commences with the massive success that surrounded the release of Jackson's 1982 album ,Thriller, and finishes with a look at his present public standing, 22 years later, an accused child molester and general weirdo.

Executive producer Jon Katzman told the Hollywood Reporter that the aim of the film is to take objective look at Jackson's life. It is unclear how the film will cover the details of Jackson's legal problems or his plastic surgery, as Katzman says the film will deal with Jackson's life story and not his face.

The film, which is scheduled for release in late July, is a co-production between Calgary- based Nomadic Pictures and Blueprint Entertainment, a production company based out of Los Angeles. Nomadic Pictures is relatively well-known in the industry and recently finished co-producing Going Down: The Rise And Fall Of Heidi Fleiss, an American TV movie detailing the life of notorious Hollywood madam Heidi Fleiss.

The man selected to play the role of Jackson is actor Flex Alexander, star of the sitcom One On One and the 2001 film, Out Cold. Also in the cast are Eugene Clark, Peter Onorati, Amy Sloan and Krista Rae. Look for the TV movie on digital network Movie Central at the end of July.

Source: Chart Attack
6.5.04
Shout Magazine Almost There
FANtastic feat almost achieved

As previously reported , our friends at Shout Magazine created an initiative to publish a support advertisement for Michael Jackson in a national music publication in Italy.

They are almost there, having broken the 1000 Euros barrier, and they are asking the fans for that little contribution to make it happen.

Below is the latest statement from Shout...

"Above all, we want to say a BIG THANK YOU to all those who have helped us reaching this important goal. It was a challenge for us to collect the money to buy this A4 format full colour page inside All Music Magazine and we have almost made it! We needed 1.235 Euros and we have got 1.100 Euros right now and that's WONDERFUL. Fans from over 13 countries all over the world gave their contribution! Michael really has the best fans one could ever dream of! Now, all we ask is a little more help to reach the sum and should we collect more the difference will be given to the Children's Right Association Telefono Azzurro on behalf of all Michael Jackson's fans. That would be twice a supporting action!

Here are the new datelines:

Money must be collected by and not later than June 5th, 2004 . The cheque and the CD with the digital cromalin will be given to All Music Magazine offices on June 9th .

You have time to vote for your favourite graphic by June 5th 2004 as well.

All this will allow us to make it on the May edition of All Music Magazine , out all over the country's newsagents on July 4th 2004.

We're sure we can count on you once again in the name of our love for Michael!

Thanks,
Shout

PAYMENT DETAILS

We tried to come up with easy payment methods that can be suitable for all the fans from any part of the world. Here are the methods as follows:

1. Money transfer on account:
Banco Posta n. 44659142
Mr. Bragato Igor
ABI 07601
CAB 10300 - IBAN Code: IT70T0760110300000044659142

Note: specify "donation to buy page for MJ"

2. International Money Order to:
BRAGATO IGOR
FRAZIONE SERRAVALLE, 224/A
14100 ASTI (AT) - Italy

Note: specify "donation to buy page for MJ"

3. Paypal (credit card required)
To: j.bragato@shoutmagazine.net

Important note: payment receiver is charged with a 3,4% on the amount you send + ? 0,40. So please do this calculation when sending your amount (only euro currency payments are accepted).
Due to organization time if you choose to pay by point 1 or 2 a copy of the receipt of payment sent by mail would be appreciated. Please send your receipt to support@shoutmagazine.net, subject: "Donation MJ page: NAME AND SURNAME".

Following, a confirmation will be sent by email from the staff through email address support@shoutmagazine.net

Don't forget to include you full name so that you can be listed among the names that will be sent to Michael along with a copy of the magazine.

Once the page is published, a jpeg of it will be available online at www.shoutmagazine.net .

ATTENTION:
The minimum donation required is 10,00 Euros/ 12,64 USD/£ 6,708. Please make payments in Euro currency .

All the documents and files regarding the purchase of the page (contracts, invoices and cheques) will be made available to the public online at www.shoutmagazine.net .

If more money than needed is collected, the rest will be donated to the Children Rights Association "TELFONO AZZURRO". In such a case, a copy of transfer documents and a letter will be published on our site.

With this we want to take a moment to thank you all in advance on Michael's behalf for all your wonderful support.

For any information, please write to support@shoutmagazine.net

A special thanks to MJNI, MJJForum, MJFanSquare, MJ-Style Dance School and MJ UpBeat for their support."
3.5.04
Box Set Rumoured To Be Out In The Fall
Michael Jackson receives $3.5 million advance

According to the LA Times , Michael Jackson has just received a $3.5 million in advance from Sony for a box set of the King of Pop's recordings, which is planned for release in the fall.

"The Sony payment will come in exchange for delivery of recordings and other materials for the boxed set, which Sony is aiming to release for the fall", stated the article.

We will keep you posted with any more information that unfolds.
Source: MJNI
1.5.04
A wonderful human being named Michael Jackson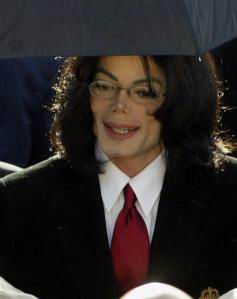 "This case is about one thing only. It's about the dignity, the integrity, the decency, the honor, the charity, the innocence and the complete vindication of a wonderful human being named Michael Jackson," he said. This is a link to watch the statements of Michael and his attorney:
http://et.tv.yahoo.com/music/2004/04/30/michaeljacksonindictment/

The transcripts of the grand jury proceedings would be turned over to attorneys Monday but will remain under seal. A next hearing will be held on May 28 . Jackson waived his right to a speedy trial.

Source: AP/Yahoo/TMC

30.4.04
The King Of Pop Pleads Inccocent To Charges
Michael Jackson pleaded not guilty Friday to an indictment charging him with child molestation and a conspiracy count alleging child abduction, false imprisonment and extortion.

The indictment also included four counts of lewd acts involving a minor child, one count involving an attempted lewd act upon a child and four counts of administering an intoxicating agent.

The alleged child abduction, false imprisonment and extortion are not individual charges. Rather they are alleged as the circumstances leading to the conspiracy count.

After being given copies of the indictment, Jackson and his attorneys went into a room adjacent to the courtroom to read it.

The indictment, issued in secret earlier this month, replaces charges filed by prosecutors that alleged seven counts of lewd or lascivious conduct involving a child under 14 and two counts of administering an intoxicant to a child under 14. It was not immediately known whether the new charges involved the same child or others.

With an indictment, prosecutors don't have to put on a preliminary hearing in front of the judge to show there is enough evidence to put the pop star on trial.

Jackson, who was scolded by the judge for being late to his previous arraignment, arrived 40 minutes early. He waved to several hundred fans as he entered the courtroom under an umbrella.

The size of the crowd was smaller than at his first arraignment, and there was no sign of the Nation of Islam bodyguards who accompanied him then.

Police Chief Danny Macagni said 42 of Santa Maria's 107 police officers were assigned to the courthouse, along with about 50 sheriff's deputies.

Thomas Mesereau Jr., a veteran criminal defense attorney, took over the case last weekend after Jackson decided to remove Mark Geragos and Benjamin Brafman, the two high-profile lawyers who had been directing his defense. The star said he wanted lawyers who could devote full time to his case.

The Mesereau team includes his law partner Susan Yu and two longtime Jackson attorneys, Steve Cochran and Robert Sanger.

Precautions were taken by the city to prevent a repeat of Jackson's Jan. 16 arraignment when he danced on an SUV as he left in a throng of 3,000 fans. The courthouse resembled a fortress ready for a siege with chain-link fences and metal barricades to hold back the crowd.

A Web site for Jackson fans encouraged them to show up and demonstrate support for their idol. A hotel in nearby Solvang gave fans a special rate.

In Los Angeles, about 75 fans boarded a bus for Santa Maria early Friday. They waved signs reading "Caravan for Justice" and "Return of the King," and chanted "What time is it? Jackson time!"

"I'm showing my grandsons there is a way to protest, a way to show your love and a way to show your support," fan Cathy Youngblood said.

On Thursday night, several dozen fans gathered outside the singer's Neverland Ranch about 30 miles from the courthouse for a candlelight vigil. Some wore black "Free Michael" T-shirts, and one dressed as the singer.

Pedro Rivero, a 22-year-old from Madrid who said he had met Jackson "too many times to count," said he had a feeling he needed to be at the arraignment.

"Everything that's happening is so unfair," said Rivero. "He's just so genuine, so pure."

Source: Santa Maria Times
30.4.04
Expected Behavior For Fans Attending The Arraignment, Friday April 30th

Thank you so much for taking the time to support Michael by being in Santa Maria on Friday for the arraignment. We do know that it will be a stressful time for everyone who cares about Michael. Michael believes that he has the best fans in the world, and your support means so much to him. He deeply thanks you for your love, faith and confidence.

The intense seriousness of this procedure must be uppermost in your minds, as it is in Michael's. The authorities that will be present in Santa Maria will expect organization and cooperation from the fans. The Santa Barbara County Sheriff's Department, which monitors the courts complex, will send about 50 deputies to the site Friday, according to sheriff's Cmdr. Bill Byrne. School resource officers and detectives are among more than 40 city police personnel who will also monitor the area around the Santa Maria Courts Complex, according to Chief Danny Macagni.

There will be no pedestrian access to Miller Street near the courts complex this time, though the street will remain open to vehicle traffic.

Chief Macagni has stated that anyone who attempts to cross a police barricade or a fence at the site will be arrested on suspicion of disobeying police officers' orders.

On Friday, fan access to Jackson will be restricted by a fence running along Miller Street

MJJsource requests that you best show your support by following the directions you will be given and remaining in the special area for fans.

Please be aware that the authorities will arrest anyone that is out of order. Do not chase Michael's caravan or try to get past the secured area. Once again, this is a very serious matter and deserves serious behavior.

For those who will be riding to Santa Maria on busses, please plan to bring a bagged lunch and plenty of drinking water. For more information about the fan sponsored chartered busses, please call toll free: 1-888-755-8522. At the prompt, dial extention 101. You will receive up to the minute, updated recorded information.

Honor Michael by showing nothing less than your best behavior and your respect for this court procedure.

Source:MJJsource
28.4.04
Michael Jackson releases the following statement with regards to the termination of Mark Geragos, Esquire, and Benjamin Brafman, Esquire
"I have terminated the services of Attorneys Mark Geragos, Esquire, and Benjamin Brafman, Esquire, effective immediately. I have hired Thomas Mesereau, a well-regarded Criminal Defense attorney, as lead counsel. Mr. Mesereau will work together with my long time attorney, Steve Cochran. Prominent Santa Barbara attorney, Robert Sanger, will also remain on the team. Let me make it clear, I have not replaced my Defense team, I have replaced the lead attorneys. And, contrary to reports, this is a decision that I have personally made.
"It is imperative that I have the full attention of those who are representing me. My life is at stake. Therefore, I must feel confident that my interests are of the highest priority. I am innocent of these false charges, and will aggressively seek to clear my name. I feel very confident that when I am able to defend myself, I will be exonerated by a jury of my peers.
"I would like to thank Messrs. Geragos and Brafman for the work they have done, and I wish them well."
Source : MJJ Source
26.4.04
Miss cast away!
23.4.04
Statement by Michael Jackson's Attorneys in Response to the Announcement of an Indictment


If the Grand Jury issues an indictment, on Friday, April 30, 2004, Mr. Michael Jackson will appear in court in Santa Maria, California at which time he will enter a plea of NOT guilty to the charges. Mr. Jackson and his attorneys remind the public that an indictment is merely a formal "accusation." We also remind the public that Michael Jackson, like any other person accused of a crime, is "presumed to be innocent."

Mr. Jackson and his attorneys are confident that after a trial on these charges, Mr. Jackson will be fully exonerated and that the allegations contained in the indictment will be shown to be patently false.

In this case, Mr. Jackson is not just "presumed" to be innocent but is in fact innocent. Michael is looking forward to his day in court and wishes to thank the millions of fans throughout the world who continue to support him during this difficult period.
Source:mjjsource
20.4.04
Recording Superstar Michael Jackson Wins Restraining Order Against Henry V. Vaccaro


Washington, D.C. ... On Monday, March 22, 2004, Recording Superstar Michael Jackson, through his Civil attorney, Brian G. Wolf, Esquire, filed an action in the U.S. District Court for the Central District of California, to stop Henry V. Vaccaro, a New Jersey businessman, from selling personal property of Mr. Jackson's, which Vaccaro claims is in his possession.

The Court issued a broad temporary restraining order last week in favor of Michael Jackson and against Henry Vaccaro and each and all of his agents, employees and attorneys. Among other things, the restraining order enjoins and prevents Vaccaro (1) from transferring possession of any property of Mr. Jackson's to any person, firm or entity, (2) from making any use of Mr. Jackson's name, photograph or likeness in connection with any website owned or operated by defendants, and (3) from selling, offering to sell, transferring, disposing, or encumbering any property of Mr. Jackson's. The restraining order also requires Vaccaro to remove all references to Mr. Jackson's name, identity, and photograph from any web site owned or operated by defendants.

Says Brian G. Wolf, Esquire, "I am pleased with the Court Order, and intend to vigorously seek the return of his personal property from Vaccaro and any other persons or entities who might have received possession of his property from Vaccaro."

Source: mjjsource
18.4.04
MJ not going to Africa yet.
... the singer is not allowed to leave his country.

This story comes two weeks after Michael announced his wish to travel to Africa later this year and probably has fooled may people and fans over there. As a black artist who has done so much for the African continent, Michael Jackson is still very popular.

"I guess we will do our due diligence to look into how this happened," Raymone K. Bain, Michaels spokeswoman reacted on the rumor. The company acted without the permission of Michael, but unfortunately "these things do happen quite often. There are a lot of misrepresentations and misinformation." the spokeswoman added.
Source: Reuters /TMC
16.4.04
Michael Congratulates Janet
King of Pop proud of little sister

Below is a message from Michael Jackson to his little sister Janet, and can be found through MJJSource:

I would like to congratulate my little sister, Janet on the release of her new album, "Damita Jo." I am very proud of her and all that she has accomplished.

Janet, the beauty and strength that you continue to display in your life is the true definition of success.

I love You...
Your Big Br other,
Michael
Source:MJNI
15.4.04
MICHAEL JACKSON'S ATTORNEYS RESPOND TO NEW ALLEGATIONS


MICHAEL JACKSON'S ATTORNEYS BENJAMIN BRAFMAN, ESQUIRE AND MARK GERAGOS, ESQUIRE RESPOND TO NEW ALLEGATIONS AGAINST MR. JACKSON
The following statement is being jointly released by Recording Superstar, Michael Jackson's attorneys, Benjamin Brafman, Esq., and Mark Geragos, Esq., regarding new allegations against Mr. Jackson:
"This appears to be a malicious attempt to undermine Mr. Jackson's right to a fair hearing on the charges presently pending.
"We have to question the timing and purpose of this 20 year old false allegation being raised at this time.
"We believe that this smear campaign is driven by money hungry lawyers, seeking to capitalize on Mr. Jackson's current legal situation."
source:mjjsource.com
11.4.04
Michael in Florida WIth Children
King of Pop rumoured to be visiting Disney World

Michael Jackson is in Orlando, Florida visiting amusement parks with his children.

The obvious location where the King of Pop is likely to be of course is Disney World.

Source:MJNI
3.4.04
'The One' To Be Released In Australia
The brand new Michael Jackson DVD called 'The One' is set to be released in Australia on April 19, 2004.
Source: Sony Music Australia / MJFC
2.4.04
Michael Jackson Receives Humanitarian Award
King of Pop accepts award with speech in Washington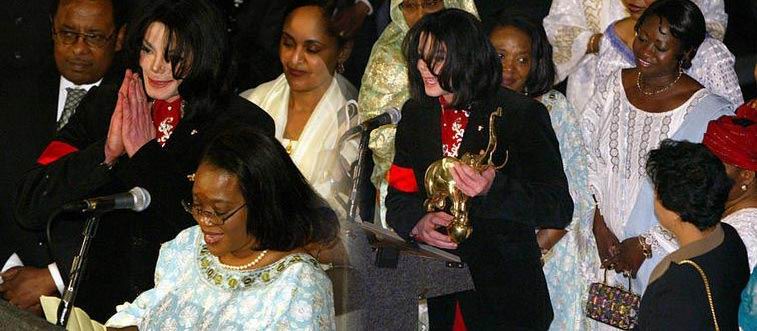 As previously reported, Michael Jackson was in Washington yesterday to receive a humanitarian award for his charitable efforts in Africa where he has financially helped support to build and equip hospitals, orphanages, homes, schools as well as those relating to Child immunization, HIV-AIDS, Education and Apartheid.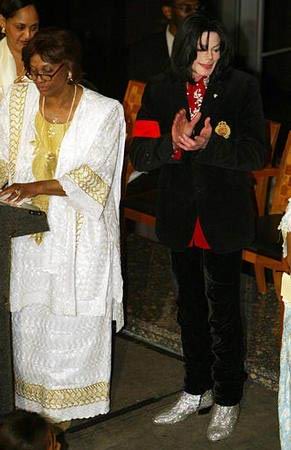 According to itv.com , Michael "kept a beat by tapping his diamond studded boots while enjoying an ethnic dance performance" during the ceremony.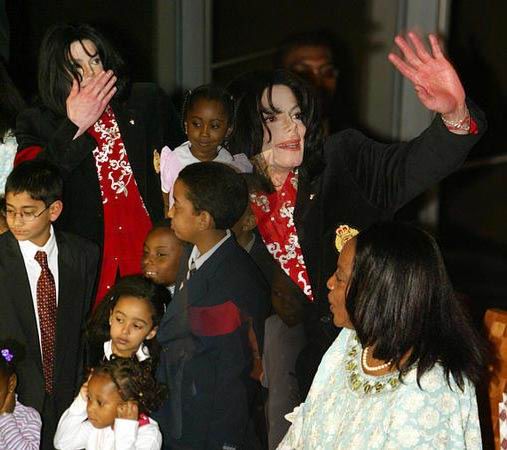 The King of Pop was awarded with a golden elephant by the African Ambassadors' Spouses Association , and while accepting the award he spoke to the audience, "This is beautiful, this is a wonderful occasion. I thank everyone who came tonight and all of the women of Africa," he said, all the time smiling.
At the gala a children's choir performed the song 'Heal the World'. Michael thanked the children by embracing them, patting their heads, hugging and kissing them.
Source: MJNI
1.4.04
Michael Jackson Continues Capitol Hill Meetings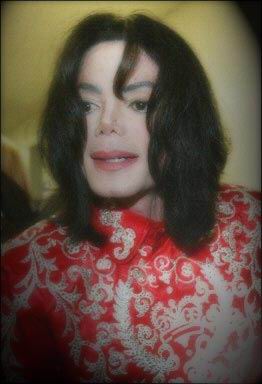 Michael Jackson met for the second day with Washington legislators to continue his discussion on garnering more support for the fight against AIDS in Africa. A crowd of fans gathered and voiced their support for the singer as he entered a Capitol Hill office. At a press conference following the meeting, many members of Congress voiced their enthusiasm over Michael's involvement.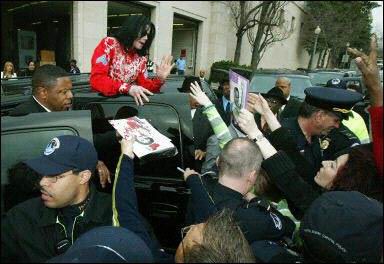 "This man, Michael Jackson, is going to lead the global effort to make sure that we provide all of our resources, all of our attention, to eliminating and dealing with this scourge called AIDS," said Rep. Bobby Rush, D-Illinois.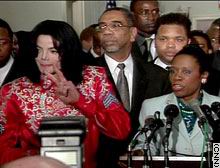 "There's never been a meeting in Congress like this particular meeting." Rep. Sheila Jackson Lee, D-Texas, and Rep. Jesse Jackson Jr. also praised the meetings and said Michael is committed to helping the effort to raise money
for anti-AIDS projects in Africa.
Source: CNN / MJFC / Photo © AP
31.3.04
Recording Superstar Michael Jackson To Visit Capitol Hill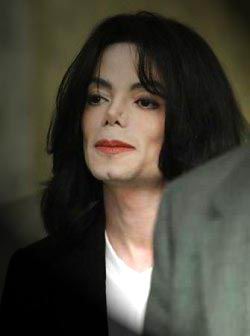 Washington, D.C. ... On Wednesday, March 31, 2004, at 2:00PM, Recording Superstar Michael Jackson will again visit Capitol Hill, where he will meet with Congresswoman Sheila Jackson Lee, D/TX, and a number of African Ambassadors. The purpose of the meeting is to discuss issues relating to AIDS in Africa.
The meeting will be held in Room 2435, Rayburn House Office Building.

Raymone K. Bain

Source: Team MJJSource
30.3.04
Michael Jackson Honored By The AASA at the Embassy of Ethiopia

During his time in the nation's capital, Michael Jackson's itinerary includes receiving a Humanitarian Award from The African Ambassadors' Spouses Association, on Thursday, April 1st.

Since this is a special honor for Michael, we are asking that all fans behave in an appropriate manner if they wish to be present at the designated area outside of the embassy.

Date: Thursday, April 1st, 2004

Time: 7:00 P.M.

Location: Embassy of Ethiopia
3506 International Drive, N.W.
Washington, D.C. 20008
Source: Team MJJSource
29.3.04
DMX Believes In Michael's Innocence
Rapper and actor DMX (real name Earl Simmons) doesn't believe Michael Jackson is guilty. During a press conference in Los Angeles (USA), where he was promoting his latest film 'Never Die Alone', he said:
"Michael Jackson will always be the King of Pop for me, always. I personally don't think he really committed any crime. If it's been happening for awhile, why is it coming up now? I don't believe it."
Additionally DMX mentioned that he also has problems with his record company and thus has thoughts of quitting the music business:
"I refuse to give another dime to that record label, Def Jam. I made $144 million in one year for them. Guess how much they gave me? Nothing ... They loaned me $3 million towards my next album, so I owe them two more albums. They give you money, but then they take it back. It's robbery, man. I can't be part of it anymore."
Source: The Candian Press / MJFC / Special thanks to Amy.
28.3.04
Michael Jackson To Visit Washington
King of Pop to share views on world affairs

Michael Jackson is said to be visiting Washington next week to visit with members of the Congressional Black Caucus (CBC) in an effort to share his views on world affairs, according to the Washington Times .

The motive of the meeting is to discuss humanitarian efforts, including Michael's work to help Africa fight the AIDS epidemic.

Rep. William Lacy Clay, D-Mo., whom is reportedly "a proponent of the visit" says the King of Pop should be welcomed by CBC members. "It is good we show our support to Michael Jackson," Clay said. "He gives so much of himself monetarily and through his talent."
Source : MJNI
25.3.04
Soul Train Awards
Atlanta duo OutKast won the Michael Jackson Award for best R&B/soul or rap music video for 'Hey Ya!' at the 18th annual Soul Train Music Awards. They also received the award für best R&B/soul or rap album of the year for their album 'Speakerboxxx/The Love Below'.
The Soul Train Music Awards celebrates artists in R&B, hip-hop, rap and gospel music. Winners are chosen by a group of radio station professionals, talent managers, and performers.
Source: AP / MJFC
22.3.04
Michael Jackson's Personal Attorney, Steve Cochran, Releases Statement

Michael Jackson's Personal Attorney, Steve Cochran, Releases the following statement regarding the decision of the Department of Child and Family Services:


"We appreciate the decision of the Department of Child and Family Services for its determination not to pursue any adverse proceeding concerning Mr. Jackson's children. That is the correct decision, because Mr. Jackson is a loving father who takes great care of his children.

"Mr. Jackson should not have been put through this, and we're glad it's over. "
Source: Raymone K. Bain or Adean King
20.3.04
Lisa Marie Presley Clarifies Comments


In a recent interview with Australian television show Enough Rope , Lisa Marie Presley made comments regarding her marriage to Michael Jackson that have been "taken completely out of context", said the daughter of Elvis.

According to the Associated press , the King of Pop's ex-wife issued a statement clarifying her remarks. Within the recent Australian interview, Presley said she felt "powerless in a lot of ways, in terms of ... realizing that I was part of a machine, and seeing things going on that I couldn't do anything about," she said. "And don't ask me what sort of things, because I'm not going to answer. But just stuff."

Since the interview went public, global media have used Presley's words to insinuate inappropriate behaviour with children on Michael's part, and have created speculation through many different outlets that Presley saw such behaviour within their two-year marriage from 1994-96.

However, in her statement issued today she said, "I was in no way referring to seeing something inappropriate with children, as I have stated publicly before. I never have ... Unfortunately, due to the recent media frenzy surrounding Michael Jackson, my comments during a recent TV interview in Australia regarding him were completely taken out of context and erroneously read into," she goes on, "In saying I saw things, I was specifically referring to things in that relationship with us that went on between us at the time as husband and wife," she said.
Source:MJNI
12.3.04
'The One' Out In The US / Contest By Sony UK
The brand new Michael Jackson DVD called 'The One' is out now in the US and to be released in Europe on Monday, March 15, 2004.
The DVD, which features not only a 44 minute CBS Special and new takes of classic Michael Jackson songs, also contains original music videos that are digitally restored, boasting live performances from the 'Thriller' and 'Off The Wall' eras. In addition there is also behind the scenes footage from the 'Wanna Be Startin' Somethin' video along with footage from the HIStory tour. Featuring commentaries from guests such as, Dick Clark, Missy Elliot, Beyonce, Shaggy, Carson Daly, Pharrel Williams, Savion Glover, Wyclef Jean and Quincy Jones, this is a must for all Michael Jackson fans.
Fans in Europe have the chance to win something very special. Everyone who pre-orders the DVD will be automatically entered into a free competition to win a limited edition box set of Michael Jackson 'Twelve's'. This deluxe box set consists of seven twelve-inch vinyl records containing tracks from the 'Number Ones' album. An opportunity not to be missed, as these sets are not available to buy anywhere in the world.
Click here for full details .
Source: Sony Music US / Sony Music UK / MJFC
10.3.04
Mark Geragos Phones Geraldo Show


On Saturday, 6th March, Mark Geragos (Attorney for Michael Jackson) appeared on FOX 's At Large With Geraldo , and spoke live via telephone to host, Geraldo Rivera.

As previously reported on February 9th , Rivera received a phone call from the King of Pop through his spokesperson Raymone Bain, and Rivera later discussed that conversation on his show.

Geragos wanted to set the record straight on several rumours that have been circulating in recent weeks with Rivera, including rumours of detoxification, family court orders and the Nation of Islam.

The addressing of the rumours and speculation certainly seemed to convince Rivera, who ended the segment stating "And I say that publicly, I think he's (Michael) going to be acquitted".
Source:MJNI
3.3.04
Launch Of Personal Website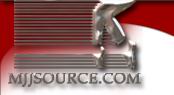 FOR IMMEDIATE RELEASE
Recording Superstar MICHAEL JACKSON Launches Personal Website MJJSOURCE.COM At 12NOON, EST On March 1, 2004
Washington, D.C. ..... At 12:00 NOON, EST today, March 1, 2004, Recording Superstar, Michael Jackson, launched his personal website, MJJSOURCE.COM, which becomes the official site for news and information regarding him, and his projects. The site will feature a new, revolutionary video compression technology, Tru Def. The Nevada-based, Ropa Promotions, worked closely with Mr. Jackson to design the site.
MJJSOURCE.COM, will be one of the mediums that Mr. Jackson will use to communicate with both his fans around the world, and the media, via a chat room, and/or audio or video messages. The site will be the place to go for all of the latest press releases and statements.
There will be a subscription service fee to use the site, which will be determined within the next two weeks. However, most of the content on the site will be free of charge. The subscription fee is being assessed to provide the user the ability to view exclusive video footage, which could include interviews.
The theme of the web site is called, "A New Beginning."
Says Michael Jackson, "I have become disturbed and troubled as a result of people speaking on my behalf whom I do not know. For months, I have listened to reports that are inaccurate because most have been based on hearsay, and not fact. I have also listened, with amazement, to people who have misrepresented their relationships with me. I will use this site as one of the mediums for speaking out on my own behalf."
Within the next few days, Mr. Jackson will make available on the site, exclusive family photos of him, and his children in Aspen, Colorado.
For further information, contact (202) 337-5595.
Source: Raymone K. Bain / MJFC
17.2.04
Father Of Accuser Wants To See His Children
The father of Michael Jackson's recent accuser has requested that the restraining order against him be lifted so that he can see his children.
In an interview on CBS' 'The Early Show', the father said that he had been trying get in touch with his family since 2001. He added: "I've never been without them and it's been just a world of hurt without them since I've been away from them."
The father pleaded no contest to both child cruelty in 2002 and spousal abuse in 2001. The mother of the children filed for divorce in 2001. The father's attorney, Russell Halpern, said that his client pleaded no contest against his own wishes, but never admitted to any wrongdoing.
Last month a judge refused to lift the 2-year old restraining order that has banned him from seeing his children.
Source: AP / MJFC
14.2.04
Next Court Date
Scheduled For April 2
All parties in the Michael Jackson case have agreed to return to court on April 2, 2004 to receive the date for the preliminary hearing. The preliminary hearing will give the prosecutors a chance to present their case to Judge Rodney Melville in order for him to decide whether the case will proceed.
This decision came after the defense informed the judge that they needed additional time to review the prosecution's evidence since Mark Geragos had just received 400 pages of evidence from Santa Barbara County District Attorney Thomas Sneddon.
The judge advised the attorneys that he hoped for the case to go to trial by the end of the year and all parties agreed that was possible. Melville also ruled on a media request to unseal documents related to all searches in the case. He said the documents will remain sealed but he will release edited versions, possibly by next week.
Source: AP / MJFC
HAPPY BIRTHDAY,
PRINCE! 7th birthday!
10.2.04
New DVD to Hit European Market in March

'The One' includes footage not seen on CBS Special

Hitting European retail on the 15th of March is a new Michael Jackson DVD, appropriately titled The One .

The release is an expanded version of the 1 hour special that aired in the US on 2nd of January. MJNI has learned that the artwork for the DVD will include the King of Pop's most recent bio, press release, and discography. Also:

- The special includes new takes on Michael's classic songs, combining the digitally restored original music videos with live performances from the "Off The Wall" and "Thriller" eras.

- Also included is footage from his HIStory world tour and behind-the-scenes footage from Wanna Be Startin' Somethin' .

- Guests commentaries come courtesy of Beyonce Knowles, Mary J. Blige, Missy Elliot, Dick Clark, Carson Daly, Shaggy, Savion Glover, Pharrell Williams, Wyclef Jean and Quincy Jones.

No US dates has been set. MJNI will keep you posted.
Source: MJNI
9.2.04
Candlelight Vigils And Support
Additional dates and demonstrations

Candlelight Vigils and Demonstrations of Support are still taking place across the globe in honour of the King of Pop.

Before listing the forthcoming demonstrations, below is a message from Michael's Team to his incredible fans around the world:

First of all, let us take a moment to thank you on behalf of Michael for your tireless support of him during this very critical time in his life. We know that it is exhausting to have to listen to the negative media reports about Michael. Like you, Michael's team members are working very hard to support him at this difficult time and we thank you for your perseverance.

On that note, we have received notice from several fans, fan clubs and discussion board operators of vigils they are holding between now and February 13th, Michael's next court date. Michael is aware of these vigils and wished to let you know that he is deeply touched by your efforts. We also want to make sure that we are aware of each and every vigil for Michael. In that way, we can let Michael know about all of your efforts on his behalf. If you are holding a vigil please send us the date, location, time and contact information so that we can make sure Michael is aware of your actions. Thank you once again.

Michael's Team

FUTURE VIGILS AND DEMOS INCLUDE:

Santa Maria, California, USA
Date: February 13th, 2004
Time: 7am
Location: Santa Maria Courthouse

Warsaw, POLAND
Date: February 13th, 2004
Time: 1pm
Location: Central Train Station (1st Cash Register)
Contact: saida@plusnet.pl or thriller2@wp.pl

Austin, Texas, USA
Date: February 13th, 2004
Time: 8:30pm
Location: State Capital Building
Contact: dallasmjgirl@hotmail.com

Moscow, RUSSIA
Date: February 13th, 2004
Time: 7-9pm
Location: The Karl Marks' Tombstone (in front of The Bolshoy Theatre) (metro station Teatral'naya)
Organiser's Note: Bring banners, candles.
Contact: Maria-MJ@yandex.ru

Gothenburg, SWEDEN
Date: February 13th, 2004
Time: 6pm
Location: Radisson Sas - fontänen. SÖDRA HAMNGATAN 59-65 (fd. Sheraton)
Contact: join@jacksonaction.com

Phoenix, Arizona, USA
Date: February 13th, 2004
Time: 6pm
Location: Desert Ridge Marketplace
Contact: mjisinvincible@hotmail.com

Portland, Oregon, USA
Date: February 13th, 2004
Time: 4pm
Location: Pioneer courthouse square downtown between 5th and 6th near Broadway.
Contact: vashtidmsr@aol.com or pytlovemjj@aol.com

Ljubljana, SLOVENIA
Date: February 14th, 2004
Time: 10am - 6pm
Location: Preseren Square
Organiser's Note: Slovenia AND Croatia are coming together for Michael Jackson and together we will show our countries that Michael is 1,000 % Innocent!
Contact: Tanja Kovaé: tanja_doodoo@hotmail.com

Los Angelas, California, USA
Date: February 14th, 2004
Time: 5pm
Location: Hollywood Boulevard, MJ's star in front of Chinese Theater
Organiser's Note: Vigil Title: "We LOVE Michael"
Contact: The_Faze@hotmail.com

Stockholm, SWEDEN
Date: February 14th, 2004
Time: TBC
Location: Sergels torg (Plattan)
Contact: mjfan2004@hotmail.com

Madrid, SPAIN
Date: February 15th, 2004
Time: 6pm
Location: Plaza de España
Contact: bizilagun@hotmail.com

London, England, UK
Date: February 15th, 2004
Time: 1-3pm
Location: Piccadilly Circus. (Eros Statue)
Contact: magix_j@hotmail.com

Brussells, BELGIUM
Date: February 21st, 2004
Time: 3-7pm
Location: TBA
Organiser's Note: There will be opportunities for fans to write messages and record video messages for the King of Pop. Fans will also have the chance to meet each other, talk, find collectors, and drink in a special "Jackson Bar" .
Contact: MJBackstage: mjbackstage@hotmail.com

Helsinki, FINLAND
Date: May 15th, 2004
Time: 2pm
Location: Train Station, Main doors.
Contact: electric_eyes87@hotmail.com
Source:MJNI
4.2.04
'Complete Injustice', says Dionne Warwick
Singer Dionne Warwick has sprung to Michael Jackson's defence concerning the current allegations against him.
At a press conference on Tuesday the singer said:
"I've watched him grow to become the icon that he is, and I wouldn't even consider believing the claims against him."
"I think it's a complete injustice, the way it's (the trial) being done."
Source: AP / MJFC
31.1.04
Message From Michael's Team
Dear Fans:
First of all, let us take a moment to thank you on behalf of Michael for your tireless support of him during this very critical time in his life. We know that it is exhausting to have to listen to the negative media reports about Michael. Like you, Michael's team members are working very hard to support him at this difficult time and we thank you for your perseverance.
On that note, we have received notice from several fans, fan clubs and discussion board operators of vigils they are holding between now and February 13th - Michael's next court date. Michael is aware of these vigils and wished to let you know that he is deeply touched by your efforts. We also want to make sure that we are aware of each and every vigil for Michael. In that way, we can let Michael know about all of your efforts on his behalf. If you are holding a vigil please send us the date, location, time and contact information so that we can make sure Michael is aware of your actions. Thank you once again.
Michael's Team
Source: Michael's Team / MJFC
27.1.04
the greatest hits

Michael Jackson's Number Ones is No. 9 this week on the UK top album chart. To date, the greatest hits album has sold over 1.1 million copies in the UK alone.

In the US, the album is the 40th biggest selling album in the country and is close to reaching platinum status, as awarded by the Recording Industry Association of America (RIAA).

The album has so far sold approximately 4 million copies worldwide.
Source:MJNI
20.1.04
Michael Jackson Tops Billboard Charts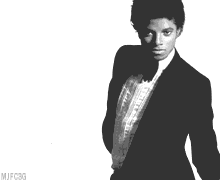 In it's January 24 issue, Billboard US lists Michael's album 'Number Ones' as follows:
Top Internet Albums: # 1
Top Internet Album Sales reflects physical albums ordered through Internet merchants, based on data compiled by Nielsen SoundScan.

Top Music Video: #1 (previous week #8)

'Number Ones' also gains on Album Charts:
Album Top 200: #15 (previous week #39)
Source: Billboard.com / MJFC
18.1.04
Michael Jackson Invited Fans Back To Neverland


"In the spirit of love and togetherness, Michael Jackson would like to invite his fans and supporters to his Neverland Ranch. Refreshments will be served. We'll see you there."

This is what was written on the invitations that were given out amongst Michael Jackson's fans that gathered for the King of Pop's court appearance yesterday.

According to MTV , Michael didn't actually spend too much time with his fans, when he arrived he went straight into his home. "He looked tired," said a Charlie Chaplin impersonator. However, fans were free to enjoy the rides and amusements, as well as view the latest film "Peter Pan" on his home cinema screen.

The security was very tight, as everyone who attended had to sign agreements and no cameras, cell phones or even handbags were allowed. Apparently only one fan left unwillingly, when he climbed Michael's "Giving Tree" without permission.

"The elephant trainer spent most of the party, which lasted from about noon to 5 p.m., explaining the rituals of 17-year-old Lindsey and 12-year-old Bubba to captivated kids and their parents" according to MTV . "Michael and the kids ride her all the time," the trainer said of Lindsey. "We let them run all around the land. It's much better than a regular zoo."

Music was blaring from speakers everywhere, "Even the parades of sharply dressed security guards were grooving to Smooth Criminal ." In the arcade room, music from Outkast and Snoop Dogg played while fans enjoyed the machines, the most popular of which being, of course, Moonwalker.
Source:MJNI
17.1.04
The Arraignment -
Strength In Numbers
The repeated use of the word "circus" by the media to describe the action at the Santa Maria courthouse seems to predict that the media is primed and ready to cover the story in it's usual yellow journalistic style. About 1,500 people, including fans and media from around the world, converged on the courthouse today. Many fans had come to the courthouse in chartered busses and cars, forming a "Caravan Of Love" from Los Angeles and Las Vegas. They brought their children and their friends. Others wore costumes inspired by Michael's short films.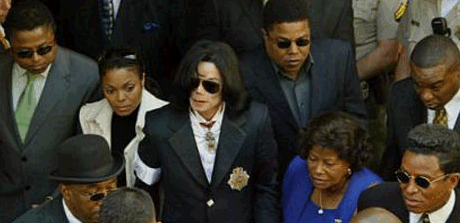 When Michael arrived, he was wearing a black coat embellished with an ornate emblem, black pants with white stripes, a white armband, glittery shoes and, of course, the sunglasses. He shook hands and waved to fans as he slowly moved through the crowd, apparently guarded by Nation Of Islam security. Other family members; his parents, Jermaine and Janet, arrived in support.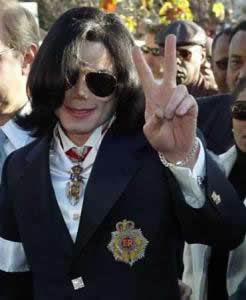 It seems that all the press can talk about is the fact that Michael was twenty one minutes late for the arraignment. And Judge Rodney Melville is not amused, saying "Mr. Jackson, you have started out on the wrong foot here. I want to advise you that I will not put up with that. It's an insult to the court." Later, Michael's attorneys would apologize publicly.
Michael pled "not guilty" to seven counts of molesting a child under fourteen and two counts of giving an "intoxicating agent" to a minor. As he entered his plea, he spoke softly but firmly, staring straight ahead, showing no emotion. The hearing ended in less than two hours while Michael stopped to use the rest room. Apparently, this, too, irritated Judge Melville who remarked that Michael's exit had caused another disruption.
Although Michael was serious in the courtroom, when he emerged from the hearing, he happily climbed on top of his SUV to wave to the fans. As music played from a cd player, Michael did a few steps for the fans. "This was spontaneous love" said Michael's attorney, Benjamin Brafmann, speaking of the demonstration planned and executed by fans. (We can tell him ... Stick around because you ain't seen nothing yet!)
Michael's entourage handed out invitations to the fans that read:
"In the spirit of love and togetherness, Michael Jackson would like to invite his fans and supporters to his Neverland Ranch. Please join us Friday, Jan. 16, 2004, from 11 a.m. to 2 p.m. Refreshments will be served. We'll see you there" Everyone then flocked to Neverland for an "after arraignment" party.
The judge has scheduled a session on February 13th to set the date for a preliminary hearing, which will determine whether there is enough evidence to try Michael on the alleged crimes. The judge has also imposed the gag order on all participants and will not allow the papers involved to be unsealed. The judge will, however, consider proposals by either side to speak to reporters in regard to rumors that surround the case.
Source: AOL / MJFC
14.1.04
Pogram Details For January 15/16
January 15:
2 pm - Demonstration in front of Sneddon's offices in Santa Barbara (1105 Santa Barbara Street). This can last about an hour. Let's show Sneddon we think Michael has been treated unfairly.
Note: This must be a PEACEFUL demonstration. Signs must be not offensive, please respect the image of Michael Jackson and his fans. Also, please do not bring signs held with hard supports such as wooden sticks, it is not permitted.
5 pm-5.45 pm - Candle Light Vigil in Front of Neverland Ranch's gate on Figueroa Mountain road in Los Olivos. Bring your own candles and be extremely careful, this is a very dry area. This will be a show of support to Michael also in honor of his wonderful property.
6 pm-8 pm - Meeting at the Royal Copenhagen Inn in order to coordinate our actions for the next morning in Santa Maria. Some friendly reporters may attend. We will also be making signs. There may be some food.
Royal Copenhagen Inn
1579 Mission Drive
Solvang, CA 93463
Phone: 805-688-5561
Then some fans are planing to go to the restaurant and see Peter Pan movie. This will be announced at the gathering at the Royal Copenhagen
January 16:
Arraignment scheduled at 8:30 am and should be over by 9:15 am. The arraignment is being held in Santa Maria at the courthouse located at:
110 E. Cook Street
Santa Maria, California 93454
The phone number is 805-346-7590
We suggest you arrive no later than 7.30 am.
Use mapquest.com for maps and directions.
Again, please keep these gatherings peaceful and polite, stay in the spirit of harmony and unity that Michael jackson represents. Do not bring signs held by hard supports.
Fan Caravans / Buses:
The caravans will leave ON TIME. Please note that these caravans consist of you driving your personal car (or carpooling) in a line of vehicles all traveling to Santa Maria. ALSO: A fan has donated a bus that will travel from Las Vegas to Santa Maria. To get on this bus or if you have any questions: Call 562-596-0612
Los Angeles:
FAME (First African Methodist Episcopal) Church
Rev. Chip Murray
2270 S. Harvard Blvd.
Los Angeles, Ca.
contact: Najee Ali 323 298-1497
Caravans leaving from FAME PROMPTLY at 4 am on January 16th
San Fernando Valley:
Kmart8040 Foothill Blvd.Sunland, Ca.
contact: Charity 818-755-3260
Caravans leaving PROMPTLY at 5 am on January 16

Carson:
IKEA PARKING LOT IN CARSON MALL
20700 Avalon Blvd # 900
Carson, CA 90746
contact: Angel at 562-596-0612
caravans leaving PROMPTLY at 4 am
Las Vegas:
Caravan location to be announced
contact: Angel at 562-596-0612
to leave on Thursday night most probably
The BUSES from LA are full, if you want to join the car caravans and drive following the buses be at those locations with your own transportation.
This information can also be found here .
Source: Diana D'Alo / MJFC
13.1.04
"Miss Cast Away"!
Michael jackson is going to be in a new film called "Miss Castaway"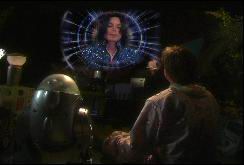 which is due out in April here are some pictures from the official site MissCastaway.com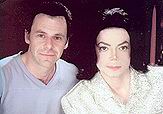 Michael etBryan Stoller( director)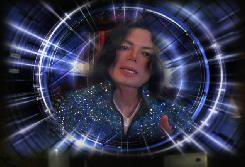 Michael is to be called agent MJ in the film.
12.1.04
Caravan Of Michael Jackson Fans Traveling To Santa Maria On January 16, 2004
FOR IMMEDIATE RELEASE
Los Angeles, California--A press conference is scheduled for Monday, January 12, 2004 at 9:00am in front of the Jackson family home in Encino, CA. The press conference is being held by friends and fans of Michael Jackson to announce a caravan of buses and cars that will travel to Santa Maria to support Michael at his arraignment on Friday, January 16th.
Present at the press conference will be Jermaine Jackson and a spokesperson representing the fan clubs. For further information please contact the Friends of Michael Jackson Committee at 562-458-9680 or 504-250-3152.
Source: Friends of Michael Jackson Committee / MJFC
11.1.04
Geragos Tells MSNBC Michael Jackson Has 'Iron-Clad' Alibi

Michael's attorney Mark Geragos also claims Nation of Islam rumours "woefully inadequate"

On Tuesday, January 6th, Michael Jackson's attorney Mark Geragos was subject of an interview by MSNBC 's Stacy Brown.

Within the interview, Geragos stated that Michael has an "iron-clad alibi for the dates they are saying this abuse took place".

He also states that the rumours that the Nation of Islam had taken over Michael's business and illegal affairs were "woefully inadequate".

Below is a transcript of the interview:

MSNBC: Just who is running the show for Michael Jackson these days?

Geragos: The same person who has been in charge since all of this began. Me.

MSNBC: Recent published reports have cast suspicion over the role of the Nation of Islam.

Geragos: I know you are referring to the New York Times article that said (NOI Chief of Staff) Leonard Muhammad has taken over. The New York Times article was woefully inadequate and while it may appear that (Foxnews.com's) Roger Friedman's stories have some validity, I know the sources of that information and the information is also untrue.

MSNBC: So, what exactly is Leonard Muhammad's role?

Geragos: Leonard Muhammad is officially an advisor to Michael Jackson. He does not work out of my office and is not my boss. Leonard is not a lawyer. We don't have enough room in my office for someone else. To say he's moved into my office is laughable. I had a good laugh at that.

MSNBC: You mentioned that you know where the leaks are coming from. Why are members of Jackson's own camp leaking information, and information you say is untrue?

Geragos: Money. This whole deal from its inception has been about money. Everybody, including those who were once close to my client, is trying to put their hands in Michael Jackson's pocket and I'm not going to stand by and let it happen.

MSNBC: What are your plans to stop the leaks?

Geragos: I'm holding a meeting Saturday (January 10) with the entire camp and I'm going to confront those whom I know the leaks are coming from and heads will roll. Look, we've been aware of the leaks and the sources of those leaks. Some of them have come from people we've fired and it's about sour grapes and people still trying to cash in.

MSNBC: Are you standing behind Michael Jackson's claims of abuse at the hands of the Santa Barbara Police Department?

Geragos: Yes. While money has been the chief motivator of this case, so has this long standing vendetta the authorities in Santa Barbara have had with Michael Jackson. I stand by my client and believe in him totally.

MSNBC: What do you make of the Santa Barbara sheriff saying he would seek more charges against Michael Jackson if the department is cleared of any wrongdoing?

Geragos: The sheriff is a moron for making the statements he made. He said he was accepting the "60 Minutes" interview as a formal complaint. What a moron. What, is he now going to try and change the First Amendment? This whole thing has been over the top. Look, this thing has taken its toll on Michael and his family but I assure you and everybody else that I will not let anything happen to Michael Jackson. He is totally innocent and the world knows it.

MSNBC: Is Michael Jackson at least guilty of poor judgment?

Geragos: Michael is a child at heart and believes in being pure. To some it may be poor judgment, but he's so giving and caring. He has a good heart and wouldn't hurt anyone, so why should he change?

MSNBC: Can you give us a sneak preview of the defense strategy?

Geragos: Well, I would just encourage everyone to look at the time that this crime was supposed to have taken place from February 7 to February 10. The timeline is ridiculous. Michael has a concrete, iron-clad alibi for the dates they are saying this abuse took place. The fact of the matter is, no abuse ever happened.

MSNBC: How is Michael Jackson doing these days?

Geragos: He's doing well. He knows he's getting a raw deal and I compliment him on the way he's handling it. I do know it has taken its toll on the family and that saddens me, but he's going to get through this. He is not guilty and he is not going to jail.
Source:MSNBC
10.1.04
Jackson reportedly buys Beverly Hills mansion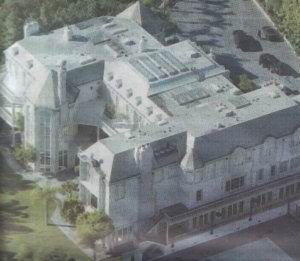 Pop singer says he will not live at Neverland ranch again
By Stacy Brown
Michael Jackson has purchased a home in Beverly Hills, according to members of his family.
"My mother went up to see Michael the other day and the house is beautiful," Jermaine Jackson, the star's older brother said Wednesday.
The purchase comes in the wake of reports that the pop superstar, who has sold more than 100 million records, is deeply in debt.
"All the stuff the media is saying about Michael's finances is crazy," Jermaine Jackson said. "Michael is fine. Some people would like to see him broke, but that's not the case."
During an interview with "60 Minutes", Jackson said he would never live at his Neverland ranch in Los Olivos, Calif., again after Santa Barbara County sheriff's deputies raided the 2,700 acre estate in November.
"It's not a home anymore," Jackson said in the interview. "I will never live there again."
Jackson purchased Neverland in 1988 for an amount said to be between $12-20 million. He built a theme park, zoo and a number of other attractions on the property.
During a gathering of supporters at the ranch last month, Jackson arrived and, upon exiting a limousine, went directly to one of the guest suites on the property instead of the main house. He said he didn't want to see what his bedroom looked like and that his staff had told him that he'd probably cry if he saw it.
"He was serious when he said he wasn't going to live at Neverland anymore," sister Rebbie Jackson said. "I can't say that I blame him."
The price tag for the Beverly Hills home was not immediately known, but family members said the singer paid cash for the two-story mansion.
Stacy Brown, who offers analysis for MSNBC TV, is a Jackson family friend.
Source: MSNBC
4.1.04
Nation of Islam Bodyguards To Be Fired
Michael apparently 'sick' of their actions

According to the New York Post , Michael Jackson wants to sack the group of bodyguards associated with the Nation of Islam that were only hired last month to protect him.

The NYP reports that Michael's brothers Jermaine and Tito hired the bodyguards as security last month. Apparently Michael is "sick of his aggressive Nation of Islam bodyguards and wants to fire them".
Source:MJNI