25.12.05
Message From Michael Jackson To His Fans
To My Fans Around the World:

I would like to wish you, and your families, a wonderful Holiday Season.
Thank you for your cards, your letters, your love, and your support.
I love you all!

Sincerely,
Michael Jackson
18.12.05
New Certifications For Greatest Hits Albums in U.S.


Michael Jackson has had two more albums reach milestone certifications in the U.S.

A monthly report by the Recording Industry Association of America (RIAA) shows that HIStory: Greatest Hits Volume 1 has been certified Gold (500,000 copies) and Number Ones has been certified Platinum, (1 million copies) according to Billboard .
Source:MJNI
10.12.05
Press Release:Statement Regarding Michael Jackson
In response to a story by The National Enquirer that Michael Jackson suffered from an overdose from drugs and alcohol, Raymone K. Bain, released the following statement:
Official Statement
From Raymone Bain
FOR IMMEDIATE RELEASE
December 9, 2005
STATEMENT REGARDING MICHAEL JACKSON
Raymone K. Bain, Personal spokesperson and publicist for Mr. Michael Jackson, releases the following statement:
Michael Jackson has been working with several artists recording his Katrina Relief song, and with me all week, including today. He is doing fine. I have never seen him happier or healthier. Whomever these individuals are who are intent on disseminating false information throughout the media regarding Mr. Jackson, should begin hiring good attorneys. Likewise, the few irresponsible journalists who continuously rely on these 'sources,' and report this false information. Mr. Jackson's tolerance level has come to an end. The Green light that people have thought they have had to willfully impugn Michael Jackson's character and integrity has now become Red.
Source: MJFC
30.11.05
SINGLES BOX-SET RUMOURS TRUE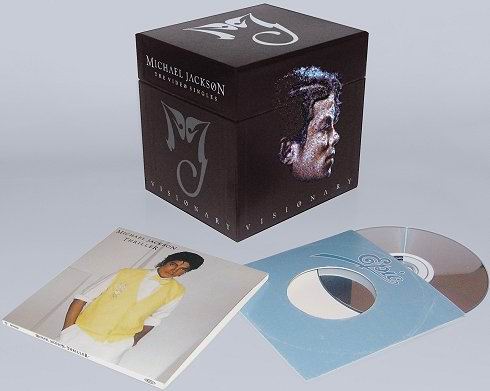 The information circulating the internet about the Michael Jackson Singles Box-Set, is official.

However, this promotion has been leaked ahead of time.
Source:MJNI
23.11.05
New song?
We have some more news about the phone conversation between MJ and
MJNI's Gloria Haydock. Michael would have told her he was deeply
thankful to the fans who supported him, especially during the lawsuit.
He thanked the fans who came to the court but also the ones who were
not there but who showed their sympathy.

In this regard, MJ wrote a song called "You are so beautiful" during
the lawsuit and he is looking forward to recording it and to release a
new album whose songs he is currently writing and recording.

MJ personaly thanked Gloria Haydock for the excellent job she has done
for so many years inside the fan club and thanked from the bottom of
the heart all his fans worldwide.

Source:MJNI / Thank you Steve
18.11.05
Raymone Bain clears up latest rumors
The following statement was recently released by Michael Jackson's spokesperson, Ms. Raymone Bain:
Contrary to published reports, Michael Jackson has not purchased acreage on Bahrain's Amwaj Islands; his children have not participated on any studio recordings; and, Mr. Jackson has not put Neverland up for sale.
Also contrary to published and broadcast reports today, Mr. Jackson mistakenly entered a ladies room in Dubai, labeled in Arabic, during an outing with friends.
Upon realizing his mistake, he quickly exited. Upon his exit, he was recognized and a crowd ensued. He had to wait in a nearby bookstore until police arrived to escort him through the crowd.
Source : MJ NewsOnline / MJNI
17.11.05
Jackson Back In Dubai
Ending the controversy over whether the King of Pop is indeed in Dubai, Michael Jackson turned up in the flesh to give away awards for the world renowned Dubai Desert Rally racing tournament on Monday night.



No one noticed him at first as he sat at the Le Meridien Mina Seyahi hotel, tucking into his buffet with close friend and renowned UAE rally driver Mohammad Ben Sulayem and Saeed Hareb, managing director of the Dubai International Marine Club.

Sporting a black black suit, white shirt and black tie, Jackson took to the stage and handed out awards to Stephen Peterhansel - who won the cars category of the rally, and Cyril Despries, who won the bike section of the race.

Source: Gulf News
17.11.05
Bill Bray Passes
It has been verified by the MJFC that long - time friend and past leader of Michael Jackson's security team, Bill Bray, passed away yesterday in California.

Details will be forwarded as they become available.
Source: MJFC
27.10.05
5 years of the MJFC 3 Generations !

and for a long more time for the fans around the world.
21.10.05
Michael Called For Jury Service - Updated
Santa Barbara authorities have called Michael Jackson for jury service. He received a jury summons at his Neverland Valley Ranch.
Michael's lawyers have already filed paperwork for a deferment based on the fact that he is currently living in Bahrain. Lawyer Thomas Mesereau said on Wednesday: "He is permanently living outside of the United States.
The proper procedures are being followed."
People who deliberately avoid their civic duty may be found in contempt, fined up to $1,500 or even jailed. But jury commissioner Gary Blair said Michael Jackson likely will be excused from serving: "You're not legally supposed to exempt someone just because they're a celebrity. I summoned Ronald Reagan when he was president but granted him a deferment until he was out of office.
All he (Michael Jackson) has to do is show he has legal residency somewhere else and he'll be exempted. It's no big deal."
Santa Ynez Valley resident actress Bo Derek has received jury summonses at least twice and served on one jury. But the jury commissioner thinks the security surrounding President Reagan would have been a mess - as would another round with Mr. Jackson. Considering the media circus generated during his own trial, it's most likely that even the most innocuous of cases would bring an international spotlight to the Santa Maria courthouse again.
Laurie Levenson, a professor at Loyola School of Law who monitored Michael Jackson's own trial in Santa Maria, commented on the situation as follows: "I'm sure he'd receive a warm welcome from the District Attorney's Office.
This would give a new meaning to the phrase 'a jury of your peers,' This absolutely proves the system is random when it comes to selecting those who will receive jury summons.
It's just one of those ironies of life that he'd be called as a juror. But on a more serious note, if I were a criminal defendant, I'd welcome him with open arms. He's been through the system, and I'm sure he appreciates the presumption of innocence more than any other person who might be called for jury service."
Source: MJFC / AP / News Press / Special thanks to Gail and Monica.
19.10.05
Michael Leaves UK
Michael Jackson yesterday visited the Marble Arch Odeon in London to see the new Wallace & Gromit movie The Curse Of The Were-Rabbit .
On Tuesday (October 18, 2005), Michael left London (UK) and returned to Bahrain.
Source: MJFC
14.10.05
Michael Jackson Visits Harrods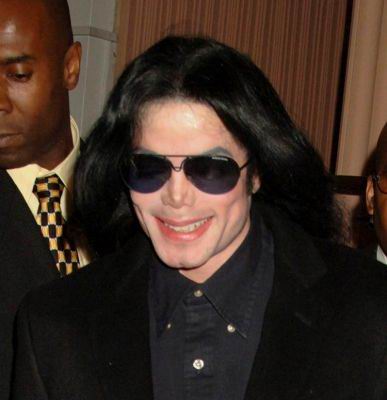 Michael Jackson continued his visit to London, last night, by making his usual visit to Harrods.

Met by Harrods owner, Mohamed Fayed, Michael and his children shopped for two hours and were apparently very interested in the plasma screen televisions.

Fans swarmed them in the DVD department where he bought dozens of documentaries including the BBC 's Walking With Dinosaurs , according to the Evening Standard .
Source:MJNI
10.10.05
Michael working in a studio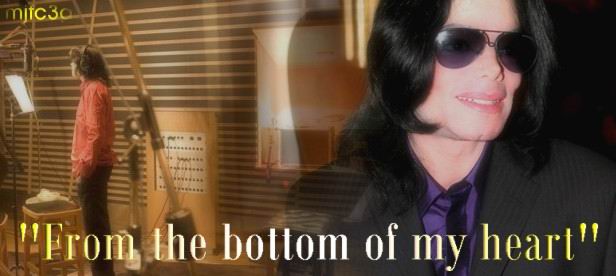 The 2Seas Records label (Bahrain) has made a big hit by releasing the
first pictures of Michael Jackson working in a studio on the recording of
"From The bottom of my heart".
source: MJJSource / photos http://www.2seasrecords.com
/ montage mjfc3g
10.10.05
MICHAEL JACKSON VISITS MADAME TUSSAUD'S


Michael Jackson took in another tourist attraction in London today, after seeing the musical Billy Elliot yesterday.

He visited the world-famous waxwork museam Madame Tussaud's, which has in the past created many lifelike figures of Michael himself as well as many other celebrities.

Michael's children were present and and a large number of staff waited inside the museam to meet them according to The Scotsman .
Source: mjni
9.10.05
MICHAEL JACKSON ATTENDS BILLY ELLIOT MUSICAL


Michael Jackson yesterday took time out of recording his charity single in London to take in musical Billy Elliot with his children.


As he entered the Victoria Palace theatre he was actually forced to the ground when mobbed by photographers and fans according to the Associated Press , but the incident was minor and he was said to be fine.

Michael mingled with people during intermission spending his time signing autographs and chatting, "He talked to us saying hello and there were a lot of people around him. He was very nice and his children were with him," said theatre-goer Roxanne Wisenberg.

Source: mjni
8.10.05
Michael Jackson In London
According to eyewitness reports, Michael Jackson is in London tonight.

He was spotted at the Dorchester Hotel where he met with fans and posed for photographs.

Michael Hollingsworth, who was organizing a charity event in the Dorchester, said that he saw Michael in the reception area. He said that Michael was surrounded by a large group of people, but that it was undoubtedly Michael Jackson. He said Michael spent several minutes meeting with people and posing for photos. He reportedly attempted to cover his face but, according to Hollingsworth, "from what I could see he looked well."

The staff at the Dorchester has denied that Michael was staying there, despite the several sightings.

It is believed that Michael is in London recording his song "From The Bottom Of My Heart," for victims of Hurricane Katrina.

Source: MJFC / Irish Examiner
24.9.05
Richie Offers Support For Katrina Project
Music legend Lionel Richie recently expressed his interest in participating in Michael Jackson's Hurricane Katrina benefit project. Jackson is currently working on a benefit single to raise money for victims of Hurricane Katrina and has invited other stars to join him on the project.
Richie said that the two of them have been playing phone tag and haven't been able to touch base to talk about the project.
"We would do it, but what we would want to know right now is who is running it. If you know anything about Lionel Richie, if you know anything about Michael Jackson, if you know anything about all of us as artists, we can't run it because we are in every part of the world. Somebody has to be the point person, and we need to find out who that point person is."
Richie added that getting all the talent together in one location would be huge obstacle to overcome. He and Jackson successfully gathered a variety artists for the recording of the hit charity single, 'We Are the World' because the project was centered around the American Music Awards and many artists were already in town.
"The project may be a monster. It's not that it can't be done, but we need one galvanizing point where everyone can come together."
So far, Snoop Dogg, Mariah Carey, and James Brown are among those that have agreed to participate in Jackson's Katrina project.
Source: MJFC / Montgomery Advertiser / Special thanks to Simona.
19.9.05
Michael Gives Mini-interview
Michael Jackson spoke with a reporter with The Associated Press, the first communication with a reporter since the conclusion of the trial.

He said that he is "moving full speed ahead" on his plans for recording a song benefiting the victims of hurricane Katrina and feels that his creativity is flowing once again. The song is tentatively titled "From the Bottom Of My Heart." "I'm constantly working on it," he said.

In the telephone conversation, he said that the trial was "the hardest thing I've ever done in my life." He said that he and his children are still in Bahrain "resting and recovering" from the ordeal.

Raymone K. Bain, Michael's spokesperson, was also on the line. She said that Michael wanted to contact the AP to express thanks for their fair coverage of the trial.

Michael has been staying in Bahrain as the guest of Prince Abdulla, son of the king of that country. Of Prince Abdulla, Michael said "He's the very best, amazing, so kind."

During the trial, Michael was plagued by problems with his back. When asked about his health, he responded "I'm feeling good."

Michael is hoping that the charity anthem for the victims of the hurricane will equal the success of the 1984 hit "We Are the World," which he wrote to benefit African starvation victims. Ms. Bain said that many artists have joined Michael on the project, but that the line – up is not yet finalized.

Source: MJFC / AP
14.9.05
Recording Artists Join Charity Single

Raymone Bain (spokesperson for Michael Jackson) has released the following statement regarding artists that have agreed to participate in the charity single Michael has penned titled From The Bottom Of My Heart , with proceeds helping the victims of Hurricane Katrina.

"Michael Jackson is pleased to announce that Jay-Z, Mariah Carey, Missy Elliott, R. Kelly, Wyclef Jean, Lenny Kravitz, Lauren Hill, Mary J. Blidge, Yolanda Adams, Kenneth 'Babyface' Edmonds, James Brown, Snoop Dogg , the O'Jays, and Ciara, are among the artists joining in his hurricane relief song, where all proceeds will be donated to victims of Hurricane Katrina.

"As previously announced, the working title of the song is, From the Bottom of My Heart , which will be released on 2 Seas Records, owned by Prince Abdullah Hamad Alkhalifa of Bahrain.

"This project is in response to the widespread devastation wrought by Hurricane Katrina, and because of the human suffering taking place in the Gulf Region of his country.

"Mr. Jackson is continuing to reach out to artists who would like to work with him in this project, which he humbly hopes will make a tremendous difference to all individuals who have been affected by this tragedy."
Source:MJJ source/MJNI
7.9.05
Michael Jackson to Record Hurricane Relief Song



Michael Jackson to Record Hurricane Relief Song Fundraising Project titled:
"From the Gulf to the Gulf"
Within 24 hours, Mr. Jackson will be reaching out to other recording superstars asking that they join him in this project to aid victims of Hurricane Katrina
Washington , D.C. ……. In response to the widespread devastation wrought by Hurricane Katrina, Recording Superstar Michael Jackson has been moved to pen a song, with the working title, " From the Bottom of My Heart ."
Hoping to rekindle the success of "We Are the World," which he wrote and produced, and which raised millions of dollars for aid to Africa , Mr. Jackson will be enlisting, within the next 24 hours, the involvement of other recording superstars to join him in this project. It is his intention to record this record within the next two weeks.
"It pains me to watch the human suffering taking place in the Gulf Region of my country," says Mr. Jackson. "My heart and prayers go out to every individual who has had to endure the pain and suffering caused by this tragedy. I will be reaching out to others within the music industry, to join me in helping to bring relief and hope to these resilient people who have lost everything."
The song will be recorded on 2 Seas Records, a label owned by Prince Abdulla Hamad Alkhalifa of Bahrain . All proceeds from the sale will be donated to the victims of Hurricane Katrina.
Further details will follow.
Source: Raymone K. Bain
4.9.05
Michael Jackson Releases Statement

Michael Jackson released the following statement through his spokesperson Raymone Bain.

"To My Fans Throughout the World:

Thank you so very much for your cards, letters and acts of kindness in celebration of my birthday. You are the most dedicated and caring fans in the world.

I love you and God bless you all!

Sincerely,

Michael Jackson"
Source: mjjsource
29.8.05
Michael Happy Birthday Michael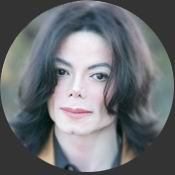 Dubai has made a big impression on Michael Jackson who was thrilled by the development he saw, and the hospitality he experienced, during his first visit to the Emirate.

The pop superstar has just spent a week exploring the sights of Dubai in the company of H.H.Sheikh Abdullah bin Hamed Al Khalifa, son of the King of Bahrain.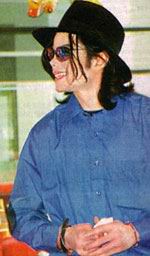 Top Arab motor sport personality Mohammed Ben Sulayem, who escorted Jackson and Sheikh Abdullah around his home city, said: "Michael had a wonderful time and he was surprised and impressed by what he found in Dubai ."

"He had heard that some amazing developments are taking place here, but he was still astonished to see the scale of the expansion and particular projects like The World and The Palm Jumeirah."


Source : MJJSource
26.8.05
Michael Jackson's The Essential Nr 1 in France for the 4th week!

4 weeks already! Michael Jackson's The Essential is still Nr 1 in the
French compilation chart.

The compilation has stayed at the top of the chart for the 4th week.

24.8.05
Accuser's Mother Charged With Fraud

The Los Angeles County District Attorney's Bureau of Fraud and Corruption Prosecutions have charged the Mother of Michael Jackson's recent Accuser for previously committing welfare fraud.

Janet Arvizo testified during Michael's child abuse trial earlier this year aiming to corroborate her son's allegations. Allegations of course that were unfounded according to the jury.

During the trial, Michael's Defence team produced evidence that Arvizo had indeed committed welfare fraud by not informing authorities of a six-figure settlement her family had received while she claimed welfare cheques. She also hid the fact that her boyfriend was paying rent for her apartment at that time also.

The Bureau of Fraud and Corruption Prosecutions have charged Arvizo with five counts according to the Associated Press , claiming she had collected $18,782 in payments after she had falsely claimed she had no other sources of income.
Source:MJNI
11.8.05
Essential Michael Jackson No.1 In France
The King Of Pop has done it again, this time with the Essential Michael Jackson. The greatest hits compilation has topped the French Official Album Charts.

Thanks to Song BMG / NL.
6.8.05
Jackson's Stay In Bahrain
Michael Jackson has made only two public appearances since he arrived in Bahrain about five weeks ago, sources close to the King of Pop told Gulf News yesterday.

Jackson has purchased two large villas in a highly-select location and a large plot of land to build a mansion.

"Once he went to the country's largest toy store and the second time he went to a mall in the outskirts of Manama. On both occasions, he was recognised by customers and visitors who sought to approach him for autographs and pictures," the sources said.

According to sources, during both trips he was wearing his regular clothes and did not seek to hide from the people. He was not moving incognito disguising himself in the traditional Gulf clothes and head-dress in order to avoid people, as reported by some media.

Jackson was accompanied by his two sons, Prince Michael I and Prince Michael II, and daughter, Paris, who are staying with him on the island. His entourage includes the children's nannies and security staff.

The sources confirmed that Jackson has purchased two large villas in a highly-select location and a large plot of land to build a mansion. The moves confirm the California-based star's desire to make Bahrain his new home.

"Michael's family is genuinely eager to come here and share serene times with him. They are looking forward to visiting Bahrain. His sister Janet will be here soon, maybe before the end of the summer, for a big family reunion," the sources said.

"She was scheduled to come in July as part of a trip that would have taken her to Bahrain and to Berlin, but her tight schedule and her involvement in her new studio album with Terry Lewis and Jimmy Jam forced her to put off the visit until maybe next month."

Michael Jackson, 46, arrived in Manama two weeks after he was acquitted on June 13 of molestation and conspiracy charges in Santa Maria, California, where if convicted, he faced nearly 20 years in prison.

The Thriller star is guaranteed absolute privacy on the island where he is said to be relaxing and recuperating from the case which had taken a heavy toll on his physical, mental and emotional health.

His brother, Jermaine, a regular visitor, told the press earlier in the year that "Michael would be happy and at peace" in Bahrain and that he would come to the island straight after the acquittal.

"He really wants to live here for some time. He thinks that it is a great place to be in," Jermaine said last April.

"The villas will be used by the superstar until his larger home is completed. The two adjacent villas will be the temporary home of the superstar in Bahrain where he is very welcome. They will also be used to accommodate relatives and visitors until his mansion is ready," the sources said, describing recent German newspaper reports that Jackson would move to Berlin as mere speculation. "He is in love with Bahrain and lives in a very serene and peaceful setting."

Several German newspapers had reported Jackson was planning to move to Berlin because he was fond of Berlin's zoo, the beauty of nearby Potsdam and supportive European fans.

Source: Gulf News
26.7.05
The Essential Michael Jackson Enters UK Charts
The King Of Pop has done it again, or should we say Sony. Another Michael Jackson compilation album has entered the official UK Albums charts at number 2.
21.7.05
Dear Friends and Fans,

On behalf of Mr. Michael Jackson, MJJsource would like to extend Michael's sincere regrets that he will be unable to attend the Victory/Birthday Party, hosted by his father, Mr. Joseph Jackson, to take place in Berlin this coming weekend.

However, Michael would like to wish his father a very heartfelt 'Happy Birthday' and he hopes that everyone attending the event has a truly wonderful time. As always, he extends his love and deepest appreciation to all of his fans and celebrates with everyone in his heart.


Mr. Joseph Jackson
father of the famous Jackson family
will celebrate his birthday in Berlin, Germany with family and friends
Mr. Joseph Jackson will be joined by his family, friends and fans to celebrate his birthday in Berlin, Germany on July 22 through July 24. The three-day celebration will include a five-course meal, live performances, private reception, and a dinner cruise on a yacht around Germany.
Due to all the fan support Mr Joseph. Jackson has opened his party to include fans that are identified with an official fan club.
"I spoke with Mr. Joseph Jackson and he is happy that the family can put the whole trial behind them and move forward."
The party is being hosted by Shawn Andrews, Ricercar Holdings
Please visit JacksonVictory.com to see more details.
Source: MJFC / Angel Howansky (official spokesperson of the Jackson family) & Gail Felix (assistant to Angel Howansky) MJJsource
19.7.05
The Essential Michael Jackson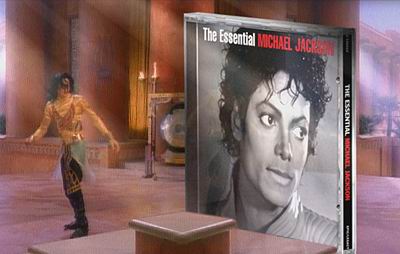 25 July
The tracklisting :
Disc 1

1. I Want You Back
2. ABC / The Jackson 5
3. The Love You Save / The Jackson 5
4. Got To Be There
5. Rockin' Robin
6. Ben
7. Blame It On The Boogie / The Jacksons
8. Shake Your Body (Down To The Ground)
9. Don't Stop 'Til You Get Enough
10. Off The Wall
11. Rock With You
12. She's Out Of My Life
13. Can You Feel It
14. The Girl Is Mine / Michael Jackson & Paul McCartney
15. Billie Jean
16. Beat It
17. Wanna Be Startin' Something
18. Human Nature
19. P.Y.T. (Pretty Young Thing)
20. I Just Can't Stop Loving You / Michal Jackson and Siedah Garrett)
21. Thriller

Disc 2

1. Bad
2. The Way You Make Me Feel
3. Man In The Mirror
4. Dirty Diana
5. Another Part Of Me
6. Smooth Criminal
7. Leave Me Alone
8. Black Or White
9. Remember The Time
10. In The Closet (Duet by Michael Jackson and Mystery Girl)
11. Who Is It
12. Heal The World
13. Will You Be There
14. You Are Not Alone
15. Earth Song
16. They Don't Care About Us
17. You Rock My World
2.7.05
Luther Vandross Dies
The Michael Jackson Fan Club would like to express our sincere condolences to the family, friends, and fans of Grammy Award winner Luther Vandross.

The 54-year-old R&B legend passed away on Friday, July 1, 2005 at 1:47 p.m. at the John F. Medical Center in Edison, New Jersey. Vandross had suffered a number of setbacks following a stroke on April 16, 2003. However, the actual cause of death has not yet been released.

Vandross has sold more than 25 million records worldwide.
Source: MJFC / MSNBC
1.7.05
Jackson jets to Bahrain for a break
Pop star Michael Jackson has travelled to the tiny Gulf kingdom of Bahrain as a guest of honour of the king's son, an official close to the royal circle said.
Jackson's visit to Bahrain is his first trip overseas since he was found not guilty of child molestation on June 13.
Jackson, who arrived on a private plane, was "here to relax," said the official.
The official said Jackson was a guest of Sheik Abdulla bin Hamad Al Khalifa, the king's son, who is a friend of Jackson's brother Jermaine.
He described the visit as "very, very private".
It was not immediately clear if any of Jackson's family accompanied him on the trip.
SONY To Release Live In Bucharest DVD

SONY Music are planning on releasing Michael Jackson's Live in Bucharest concert at the end of July.

On July 26th (in the U.S.) a DVD containing a Dangerous tour performance filmed on October 1st 1992 at the Complexul Sportiv National Stadium in Bucharest, Romania will be released.

Although the DVD has previously been available within the Ultimate Collection box set, this release will be the first live Michael tour performance to be commercially available on its own.

Plus, the upcoming release of the Essential Collection has now been delayed until July 19th.
Source:mjni
30.6.05
Missy Elliot Shows Support At BET Awards
During her performance 'Lose Control' at the 5th annual BET (Black Entertainment Television) Awards, Missy Elliott and her dancers showed their support for Michael by wearing Michael Jackson related outfits.
Missy Elliott has always stressed that Michael has had a huge influence on her. At the BET Awards, she and Ciara won the award for 'Best Collaboration' for the song '1, 2 Step'.
Source: MJFC / Images copyright Getty Images.
28.6.05
MICHAEL JACKSON INNOCENT PARTY
Saturday 19H00pm and 2H00am
Bahnhof "Zürich Schweighof"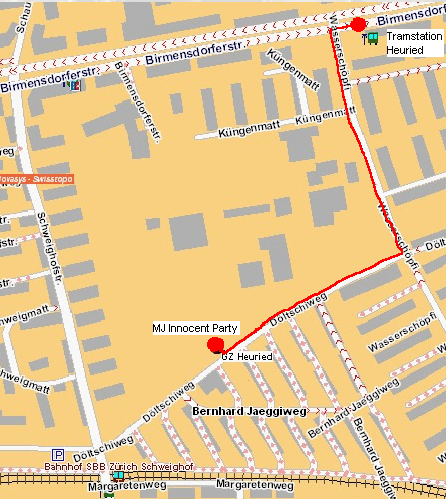 Source: Swiss MJ community
28.6.05
Message From Michael Jackson
Statement of Michael Jackson: A Message For My Fans
Sunday, 26 June 2005 Without God, my children, my family and you, my fans, I could not have made it through. Your love, support and loyalty made it all possible.
You were there when I really needed you. I will never forget you. Your ever-present love held me, dried my tears, and carried me through.
I will treasure your devotion and support forever. You are my inspiration.
Love,
Michael Jackson
Source: MJFC / MJJ Source
26.6.05
Music Sales Increase Since Verdict
In the week following the June 13th verdict that deemed Michael Jackson innocent of all charges filed against him, his albums have seen a sudden surge of sales in the U.S.

Michael's solo albums combined sold 22,000 copies, more than double what he had sold the previous week, according to Billboard .

Number Ones is the biggest seller with 9,000 copies sold, entering the Billboard 200 at 134 with a 138% rise in sales from the previous week. Thriller also sold well with a 141% rise in sales.
Source:mjni
25.6.05
James Brown Delighted About Verdict
James Brown, the Godfather of Soul, has spoken of his delight at the verdict in the Michael Jackson trial and said he was "very glad" Jackson was cleared of all ten charges. Brown also backed Michael Jackson to make a triumphant return to the world of music. "Well, I'm very happy because of the fact that the world needs Michael and a lot of people would really love to see him play.
He always creates such excitement and it's good to have that gentleman there for the people, so they can hear him and enjoy themselves. I'm very glad Michael is out."
James Brown is currently on tour in Europe.
Source: MJFC / Dotmusic
21.6.05
Calendar official 2006
The new calendrier official 2006 of Michael Jackson amazon.de .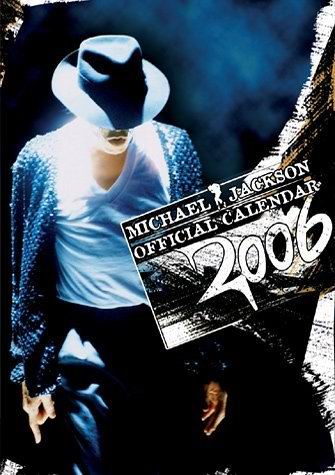 Source:amazon
19.6.05
SONY To Release 'Essential Michael Jackson'
Another Michael Jackson greatest hits collection will be in stores by early next month.

On July 5th (in the U.S.) SONY will release The Essential Michael Jackson , a 2-disc greatest hits set compiling songs from as early as 1969's I Want You Back with the Jackson 5 to 2001's Invincible release You Rock My World .
Source:MJNI
15.6.05
Michael Jackson Wants To Play Live 8?
According to a report in the Sunday Telegraph , Michael Jackson has asked to perform at the Live 8 concert taking place in Philadelphia on July 2nd of this year.

The report states Michael has pleaded with organisers to play the gig and even had his friends and employees write letters that "stress all the work that (he) has done to alleviate poverty in Africa."

Many concerts are taking place around the world in aid of famine relief in Africa and are being organised by Live Aid founder Bob Geldof.
Source:MJNI
15.6.05
Statements From Yu & Mesereau
In a statement Susan Yu talked about the Michael Jackson she got to know working as his defense lawyer:
"People don't know who Michael Jackson is. I spent a lot of time with him. I've never seen anybody so vulnerable. This person is totally incapable of doing any of the things they said he did."
Both Mesereau and Yu said they haven't discussed Michael Jackson's future with him.
They stressed that first of all he needs to recover his strength before considering returning to work.
Thomas Mesereau said:
"He has to spend some time healing."
Because of the public perceptions, Mesereau said Michael will have to make certain changes in his life:
"He's going to have to not let people easily enter his life. He was very generous to people who didn't deserve it."
Source: MJFC / AP
14.6.05
VICTORY! MICHAEL JACKSON CLEARED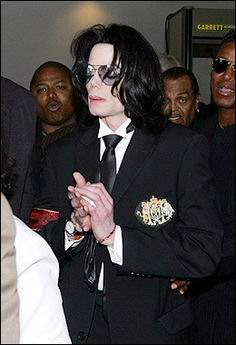 The jury verdict is unanimous; Michael Jackson has been cleared of all charges.

The jury spokesperson read out a 'Not Guilty' verdict on ALL ten charges (including an additional four lesser charges).

This is the verdict we have always expected to hear - and it's a vindication for Michael Jackson.

Our love and best wishes go to Michael now as he returns to Neverland and his family.
Source:MJNI
11.6.05
Still no verdict after five days of deliberating - Raymone Bain fired
Late last night the story about several SUV's leaving Neverland and fences being removed to the courthouse entrance was spread. A lot of people connected both stories to each other and thought the verdict would be delivered soon. This seemed not to be the case, since shortly after that the jury went home for yet another weekend to think about Michael Jackson's fate. So, the waiting still has to go on for a while.


Yesterday, the American fan club MJFC announced that Michael Jackson's spokesperson Raymone Bain would be dismissed. Shortly after that, the news was confirmed by MJJsource and MJJproduction:


Announcement from MJJ Productions Regarding Mr. Jackson's PR Firm:
MJJ Productions regretfully announces the termination of Raymone Bain and Davis, Bain & Associates. We thank you for your services.

Three days ago, Thomas Meserau sent out a press statement saying he did not give his permission for any press conference. That same evening, Raymone Bain had had a press meeting to talk about Michael Jackson's several visits to the hospital. It's not known if this was the reason why she is now fired.

Source: MJJsource/ MJFC / TMC
5.6.05
Verdict Reported Live
According to a news article by AFP, judge Melville has agreed to have a microphone installed in the courtroom, so that the verdict can be aired live.
More information on this as soon as it becomes available.
Source:CNN
2.6.05
Thriller Shift's 27 Million Copies
Michael Jackson's Thriller has been acquired a new certification by selling 27 million copies in the U.S.A.

Thriller is already the biggest selling album in the world, and despite the current problems Michael is facing record sales continue to soar!

Source: Billboard
30.5.05
Jackson Jury's Final Look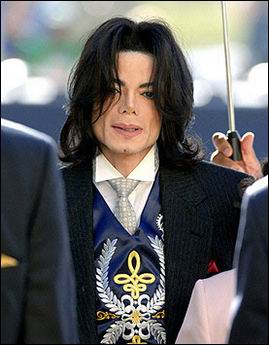 Investigators' first look at the boy who accused Michael Jackson of molesting him is also the last one juries will be left with as they decide whether he is credible enough to convict the pop star.

With evidence that included phone records and adult magazines and testimony from more than 130 witnesses including Macaulay Culkin, Chris Tucker and Jay Leno, the case may come down to whether jurors think the boy is believable.

Testimony ended Friday after prosecutors showed the panel the boy's videotaped interview with sheriff's detectives in July 2003.

"Bottom line, if they don't believe the accuser, the jurors end up voting not guilty," said Jim Hammer, a trial analyst and former San Francisco prosecutor.

"It was a smart move by prosecutors, who were able to get the alleged victim in the case back before jurors without subjecting him to cross examination. And the defense apparently felt there was no point in bringing the young man back onto the stand; that the risks were too great after a strong defense case,'' says CBS News Legal Analyst Andrew Cohen .

Jackson, 46, is charged with molesting the then-13-year-old boy in February or March 2003, giving him wine and conspiring to hold his family captive to get them to rebut the damaging documentary, "Living With Michael Jackson."

Jury deliberations could come as soon as next week.

The interview and other tapes played throughout the trial gave jurors several images of the boy.

He appears downcast, weak and ghostly in the September 2000 tape, a home movie in which Jackson takes the boy's hand to help him onto a train, holds an umbrella over him as his brother pushes him in a wheelchair and sits with him next to a lake.

In later appearances he is fresh-faced and confident. In the documentary footage — and in a February 2003 video made by Jackson's associates to rebut the documentary in which Jackson said he allowed children to sleep in his bed — the boy defends the singer and praises him for helping him beat cancer.

A different side of his personality appears on the tape jurors saw Friday.

In a low, quiet voice, looking at the floor and pausing often, the boy tells sheriff's investigators that Jackson acted inappropriately with him almost from the beginning — starting with his first trip to Neverland in 2000.

His account is similar to the one he gave on the witness stand in March, though a few details were missing or somewhat inconsistent.
Source:http://www.cbsnews.com

12.5.05
Friedman - Macaulay Culkin Defends (Jackson) On The Stand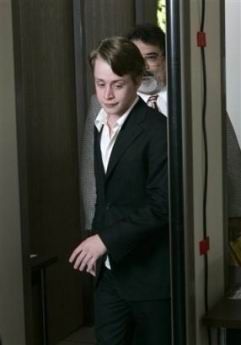 Macaulay Culkin did more for Michael Jackson's defense in his child molestation trial yesterday than all the super defense lawyers money could buy. He simply explained who Jackson was to a beleaguered, skeptical jury.
Fending off an aggressive cross-examination, Culkin drew the necessary parallels between his and Jackson's peculiar childhoods that were both marked by early stardom — even though they are a generation apart in ages.
"We're unique people," Culkin said on the stand in Santa Maria. "We understood each other early on."
He then recalled how his life changed at roughly age 9 when "Home Alone" made him an overnight sensation.
"It wasn't something I chose," he said. "It just happened."
Culkin described the sudden changes in his life caused by "photographers in bushes, profiteers, people who want to get to you." Jackson "got it," he said.
Culkin brushed off prosecutor Ron Zonen's many attempts to make the fact that he "slept with" Jackson sound like they had sex. When Zonen suggested that Culkin could have been molested by Jackson while he slept, the actor replied with just enough derision: "I think I would have realized that."
In the end, Culkin's almost hour-long appearance on the stand did a lot to erase the icky feeling from last week's Jackson defenders, the Barnes and Robson families.
Culkin's handlers did not want him to testify in this case, which he confirmed on the stand yesterday. And when Zonen brought up sexually explicit magazines of all kinds found at Neverland, Culkin leveled the usually well-liked assistant district attorney with the most important line so far in this trial: "Overall, he's still a human being."
The jury may have almost forgotten that.
Source:mjfc
29.4.05
Rowe: Interview Was NOT Scripted

Michael Jackson's ex-wife Debbie Rowe took the stand at the end of court yesterday and provided testimony contradicting to what the Prosecution had promised jurors she would give.

Before Rowe took the stand, outside the presence of jurors, Defence attorney Robert Sanger requested Judge Rodney Melville grant a mistrial. Sanger argued that Senior Deputy District Attorney Gordon Auchincloss asked questions of videographer Hamed Moslehi that were already deemed out of bounds by the Judge, objections at the time were sustained. "As a result of the willful misconduct, a mistrial has to be granted," Sanger argued according to the Santa Maria Times . Melville denied the request for a mistrial.

The court saw Moslehi on the stand again yesterday, followed by various witnesses from phone companies and then near the end of proceedings, Rowe was questioned.

District Attorney Tom Sneddon promised jurors during his opening statement that Rowe would corroborate the story provided by the Accuser's Mother Janet Arvizo, "Debbie Rowe will tell you her interview also was completely scripted," Sneddon said. "They scripted that interview just like they scripted the Janet Arvizo's interview." However, the witness testified that although there were questions written for her interview, she did not look at them and her answers weren't scripted, according to the Associated Press . "I didn't want anyone to be able to come back to me and say my interview was rehearsed," Rowe said. "As Mr. Jackson knows, no one can tell me what to say."

When taking the stand, Senior Deputy District Attorney Ron Zonen asked the witness how she knew Michael, "We've been friends and we were married," she answered. Rowe stated that she spoke to Michael by phone about taking part in the rebuttal video to Living with Michael Jackson and that there was no indication about what she would say. "I asked him how he was. I asked him how the children were and I asked if I could see them when everything settled down," Rowe said, adding that her ex-husband agreed. The witness testified that Michael told her, "there was a video coming out and it was full of lies and would I help. I said, as always, yes." She continued, "I was excited to see Michael and the children when all this was over. I promised I would always be there for he and the children."

Rowe filmed an interview at un-indicted alleged co-conspirator Marc Schaffel's residence on February 5th 2003, two days after the Martin Bashir documentary aired in the United Kingdom and a day before it aired in the U.S. Zonen asked the witness what she expected in return for giving the interview, teary-eyed she responded, "To be reunited with the children and be reacquainted with their dad." The Prosecutor then asked "why?" to which Rowe responded, "he's my friend," as she dabbed tears away from her face.

Asked about being completely truthful during the interview, Rowe said she was not. "My personal life was my personal life and no one's business," the witness said. Rowe also testified that she lied about Michael's abilities as a parent during the interview in what was the last comment before court ended for the day.

Rowe is currently in a legal battle with Michael over visitation rights to see her son Prince and daughter Paris. She had previously given up her parental rights but has recently had them restored through a Los Angeles court. She testified that she has not seen Michael Jackson or the children since the day of their divorce in 1999.

Court is expected to resume today with more questions being directed at Rowe. It is not known whether or not she will be cross-examined today.
Source:mjni
24.4.05
Janet To Release Song About Michael
Janet Jackson is rumoured to be nearing completion of her latest album True Lies with an anti-media song about Michael apparently on the tracklisting.

The album is a follow-up to 2004's Damita Jo and is co-produced by Janet's partner Jermaine Dupri. The Michael song is a track titled Tell Them Why featuring Houston and Chingy according to allhiphop.com .

As well as a collaboration on Tell Them Why , the album is also said to feature guest appearances by R.Kelly, P.Diddy and Stevie Wonder.
Source:mjni
16.4.05
Michael Jackson NOT selling 'Beatles Catalogue'


Following a report from FOX News Roger Friedman that Michael Jackson is set to sell his ATV/Sony catalogue (otherwise known as the Beatles catalogue) his spokesperson released this statement;

"There have been numerous reports regarding the sale, or portions thereof, of Michael Jackson's music catalogue. These reports are not true."

Friedman has since stood by his story, claiming his sources are being truthfull.
Source:mjni
10.4.05
The 'Chat' with Michael & Randy Jackson



Dear Premium Members,

Thank you for all of your love and support over the past few months. It has not been an easy time, but we appreciate your consistent loyalty and dedication.
Unfortunately, due to the importance and the strenuousness of the trial, we must postpone the chat event. These are unpredictable days and as much as we would have liked to have 'met' you all online this weekend, we must focus on the most urgent matters at hand.
However, we will definitely fulfill our promise and give you our undivided attention on that day - the new 'chat' date is May 8th, 2005. We thank you for your patience and understanding in these extraordinary circumstances.
We look forward to 'chatting' with you May 8th, 2005!
Michael Jackson & Randy Jackson

A Note from MJJsource: Thirty lucky winners will participate in the 'chat' with Michael Jackson and Randy Jackson. The contest for this chat is now over, the winners have been chosen. However, ALL Premium Members will be able to read the chat AS IT HAPPENS and see photos from the event AS IT HAPPENS... We look forward to having you join us on May 8th! Thank you for your understanding!
Source:mjjsource.com
7.4.05
Michael Attends Johnnie Cochran's Funeral
There was a break in the trial today and Michael Jackson joined with hundreds of other mourners at the funeral of Johnnie Cochran.
While Johnnie Cochran's greatest legacy will be the humanitarian work he did throughout his career, he seems destined to be recalled by history as the brilliant and forceful attorney who defended football legend O.J. Simpson against charges of murdering his wife. In 1995, the trial had the dubious honor of being the first celebrity trial and was watched by television viewers around the world.
Michael remarked that Cochran "was a great man" and a great humanitarian. Michael was accompanied by attorney Thomas Mesereau.
Source: MJFC / Yahoo.com
5.4.05
Thank you, Michael! Our Hero Opens The Gates, Welcoming His Fans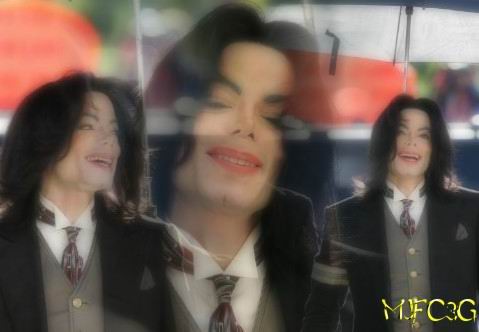 The end of a tremendous weekend of whirlwind fan events couldn't have ended more perfectly!
Just after MJ Fan Club's Weekend Rally ("MANY NATIONS… ONE VOICE" - organized by Deborah Dannelly), which included a personal phone call from Michael (pictures and stories coming!!), was winding down… and another group of fans had gathered 2000 roses sent by fans from everywhere across the globe (pictures and stories coming!!)… I arrived at the Neverland gates. Here, these thousands of roses were beautifully displayed by the fans in baskets honoring all of the emotions we have displayed and felt in these challenging times, welcoming Michael home at the end of the day.
In all my years with Michael I have never witnessed such loyalty, honor and love than I have this weekend.
Fans came from all over the world in support of Michael, the man we have rightfully stood beside during this horrifying injustice. Michael, in recognition of the loyalty and hard work of all his fans opened the gates to every one who was outside. It was as much of surprise to me as it was to everyone else.
After doing the usual organizing of the magical moment, I was asked to lead the parade through the famous Neverland gilded gates. The fans, exploding with questions, could barely contain their excitement as the grounds revealed its wonders of beautiful 200-year-old trees, fountains, sculptures and the tranquil sound of classical music vibrating throughout the acreage.
As we neared Michael's home, Mr. Joseph Jackson summoned the crowd into Michael's front door. The fans slowly entered with respect and awe as Michael and his three lovely children greeted their guests.
There is just so much to behold for those who are lucky to glimpse the inside of Michael's home. Everyone took full advantage of the moment to thank the Jackson family and to look at the extensive family photo collection and art that adorns every part of his home.
Then everyone was invited to explore the backyard and game room. I spent at least 45 minutes sharing many heartfelt moments with everyone, before Michael brought out a box set for every visitor. Joseph was a lovely host as he handed out the CD's and visited with everyone. As the sun was setting it was time to go.
Everyone slowly made there way back to their cars and shared their stories of the day's fortune. It was such a beautiful moment… we will never forget.
Thank you, Michael…for letting us dance.

By Karen Faye
Source:mjjsource.com
4.4.05
Michael Jackson Calls In To Fan Event
Michael Jackson called fans who attended a support gathering organised by MJFC to thank them for their support.

"I love you," were Michael's first words, quickly replied with screams of "We love you!" right back at him.

"You understand I can't be there today," he said. "I wish I could. ... I know you've traveled from around the world and I'm glad you came." Michael went on, "God and the truth are on our side. We will be victorious."

"I truly believe I have the most wonderful fans in the world," Michael proclaimed, "I'm looking forward to being with you very soon. Keep on dancing. I love you all very much."

Once the phone conversation ended, HIStory 's D.S. started to play according to the Associated Press .
Source: MJFC
1.4.05
Humor In The Courtroom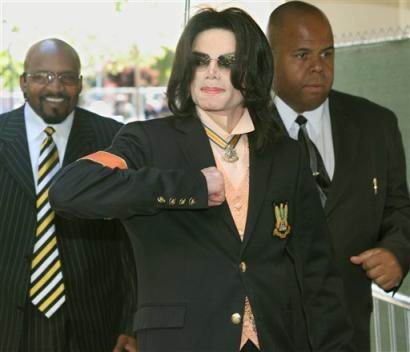 It's definitely a very serious case - but the Michael Jackson trial also features some humor in the courtroom. And Michael Jackson himself admitted to reporters that he welcomes a bit of comic relief as he battles molestation charges. And Judge Melville told jurors he did not mind a little laughter in his courtroom.
In one notable exchange this week, flight attendant Cynthia Ann Bell offered a "little courtroom quality time" to a prosecutor who questioned her for saying she never saw Jackson cuddle the boy: Prosecutor Gordon Auchincloss: "How do you describe a cuddle?"
Cynthia Ann Bell: "I can show you."
Auchincloss, to Judge Rodney Melville: "Permission to approach the witness, your honor."
In another incident, Bell looked pretty flustered when asked if "servicing the pilots" was part of her job with a charter flight company. Auchincloss rephrased his question to make it clear he wanted to know whether she served meals to the crew.
Bell also had the court in stitches when she described how a doctor on a California-bound flight fell asleep after drinking a fair amount of booze, only to be woken when the accuser flung mashed patatoes at him.
One of Bell's colleagues, appeared a little miffed by the laughter she caused when she said Michael Jackson liked to eat Kentucky Fried Chicken for breakfast, lunch and dinner. "Well, it's good," she told the jurors. When Mesereau asked comedy club owner Jamie Masada about an earlier witness and aspiring stand-up comic, Masada looked straight at the silver-haired lawyer and said: "I think you are more funny than she is." Judge Melville made it clear he enjoyed Masada's humor. And after defense lawyer Mesereau questioned a fellow-attorney who appeared as a witness for the prosecution he said: "I'm thinking that between the comedians and the lawyers, I like the comedians best."
Turning to Mesereau, the judge added: "You don't need to respond."
On another occasion, Melville evidently won the sympathy of jurors when he announced he was ending proceedings 15 minutes early, after hours of tedious testimony on the finer points of fingerprint collection techniques. "I can't take any more." But some court-watchers warn there is a risk of detracting from the seriousness of the charges. Ann Bremner, a former prosecutor, sees the problems as follows: "Levity makes people feel like a family. That can be dangerous, as there's the aspect that you don't convict family," she said."
Source: MJFC / AFP
29.3.05
"King of Pop" Michael Jackson Grants Exclusive Interview to the Reverend Jesse Jackson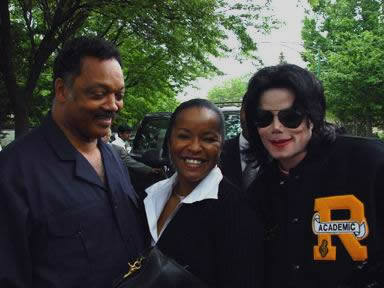 Source:mjjsource
25.3.05
Donald Trump "Jackson Not Coming To Vegas"
Donald Trump might not want Michael Jackson to perform at his Las Vegas hotel after all.

On Wednesday, Us Weekly magazine reported that Trump and Phil Ruffin, his partner in the Trump International Hotel & Tower now being built in Las Vegas, have had discussions with representatives of Jackson about having the King of Pop perform a Wayne Newton-style resident gig at Ruffin's New Frontier Hotel and Casino.

"It's an interesting idea, but I don't think he'd show up half the time," Trump told syndicated entertainment show "The Insider" Thursday. "I can't imagine what the insurance policy would be like."

Trump had been quoted by Us Weekly as saying, "Everything I do is the best, and everything Phil Ruffin does is the best, and this would be no exception."

Jack Wishna, a partner of Ruffin's, told the magazine that should anything be worked out with Jackson, "there'd be moral clauses in the contract."

Source: Associated Press
23.3.05
Statement by Raymone K. Bain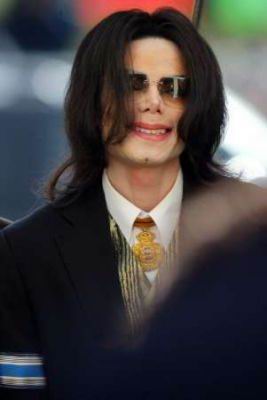 ….. In response to numerous media inquiries, Mr. Michael Jackson continues to suffer from excruciating back pain. He has not felt much relief in his back since visiting the Emergency unit at the Santa Ynez Cottage Hospital on Thursday, March 10, 2005.
Again this morning, Mr. Jackson's back spasms were becoming intolerable. He was taken again to the Santa Ynez Cottage Hospital on his way to court by his Chief of Security. The on-site attending Emergency physician, Dr. Bert Weiner, who treated Mr. Jackson during his March 10, 2005 visit, also attended to him this morning.
Dr. Weiner indicates that tests were taken of Mr. Jackson's back, and also indicated that he accompanied Mr. Jackson to court because he could best explain the nature of the problem that Mr. Jackson is experiencing. Due to patient confidentiality, Dr. Weiner will not be releasing any information regarding Mr. Jackson's test results.
When asked how he felt upon leaving court, Mr. Jackson responded, "I am hurting very much. I'm in pain…in pain." Mr. Jackson also acknowledged that his doctor had prescribed medication for his back pain. There is no "quick fix" for back pain, but it is Mr. Jackson's hope that he will begin experiencing some relief soon.
Source:mjjsource
16.3.05
Michael Jackson Prays with Jesse Jackson
Michael Jackson has been starting his trial days by praying with the Rev. Jesse Jackson, Raymone Bain shared on Tuesday.
Michael Jackson periodically consults Rev Jesse Jackson on both spiritual and personal issues, said his pubicist, Raymone K. Bain. "He speaks to the Rev. Jesse Jackson often. They've known each other for a long time."
Ms. Bain commented that Mr. Jackson usually wakes up at about 4:30 a.m., and often talks to Rev. Jackson for 15 to 20 minutes. The two talk to each other by phone and pray together, she said.
Rev. Jackson said he speaks to the entertainer in the morning and the evening.
"I counsel him and his family," he said. His main message to them is to "stay focused."
"He is serious. He is focused," Rev. Jackson said of Mr. Jackson's demeanor.
"This is a difficulty for all involved, the accuser and the accused. ... He will survive this," Rev. Jackson said.
He also stated, as he did in a previous press statement, that it was unfair that Michael Jackson's jury has no black members and he challenged a reporter to imagine a situation in which a white person would be charged with molestation and have a predominantly black jury.
Source: Raymone Bain / MJJsource
15.3.05
"victim" testifies again
The accuser is having difficulties convincing the audience and Thomas Mesereau of the reliability of this story since his current version of the alleged abuse and the one he told to the grand jury months ago. For instance, the boy reportedly has told a former teacher in 2003 that Michael Jackson would never have molested him. The teacher, Thomas Forsyth is expected to be called as a witness.

Thomas Mesereau also pointed the jury to the fact that the alleged victim has told investigators that his grandmother and Michael Jackson both talked to him about masturbation. The boy defended his story by saying that there was a difference context. His grandmother said it was OK to masturbate, while Michael Jackson said he had to it.
Source: AP / TMC
12.3.05
Michael Jackson Press Release
Michael Jackson's Publicist, Raymone K. Bain issued the following statement on Thursday, March 10, 2005:
"Michael Jackson began having severe back pain at 5:15 am today. At this time, he called his attorneys and advisors to let them know he was unable to move. It was recommended that he go to the hospital nearest him to get a muscle relaxant. Defense Attorney Thomas Mesereau informed the judge as soon as he was aware of the circumstances."
"Mr. Jackson fully expected, and had every intention, of being in court on time. Mr. Jackson did not expect to be held at the hospital as long as he was. Had Mr. Jackson had the time to change clothes, he certainly would have. But it was very important for him to get to the courthouse as soon as possible."
"Mr. Jackson was looking forward to facing his accuser and is not, in any way, intimidated by his accuser. Mr. Jackson feels his attorneys have been doing an excellent job."
Source: MJFC / MJJ Source
9.3.05
Statement of Raymone K. Bain regarding Mr. Michael Jackson

"Michael Jackson felt better today, at court's end, than he did on yesterday. The scurrilous and salacious accusations and details, all untrue, were hurtful and embarrassing to Mr. Jackson. Mr. Jackson has the utmost confidence that his defense team, led by Thomas Mesereau, Jr., will continue to evoke the truth. He feels that Mr. Mesereau is doing an excellent job."

Source: Raymone Bain/mjjsource.com
7.3.05
James Brown Speaks Out
Singer James Brown speaking to The Associated Press in Indonesia before a concert Sunday March 6, 2005, said that Michael Jackson was being "set up" in his child molestation trial and that Jackson should be touring tsunami-hit Asia rather than defending himself in a U.S. court.

Brown stated:

"Recognize that people do this ... They've been trying to do that to me all my life, trying to get something for nothing ... I think he's been set up like most entertainers. People think you have a lot of money," Brown said in the telephone interview.

"We need Michael. We need Michael out here entertaining," he also said.

"Michael could have been great over here performing. His talent is very appealing and people know him. One day I'll be too old to travel and I'll want to see good entertainers (like him) spreading the good word."

Brown said he came to Indonesia in part to raise awareness about the Dec 26, 2004 tsunami that killed more than 173,000 people in 11 countries around the Indian Ocean.
Source: MJFC / AP
3.3.05
First witness on the stand: Martin Bashir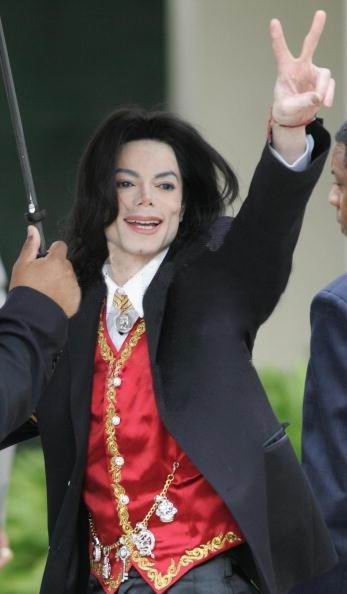 Media sources said to MJJsource that showing the documentary to the jury panel has missed it's goal, even more, it seems to have backfired they say. Jurors watched the documentary after the first witness, Martin Bashir took the stand. Reportedly, Bashir was testifying in a near-whisper.

After having watched the program, Tom Mesereau asked Bashir how many hours of videotape were recorded during the making 'Living with Michael Jackson'. The journalist refused to answer the question. He even declined to answer at least 30 questions claiming that a journalist does not have to answer questions about unpublished materials. But his refusal seemed to reinforce the fact that he had bad intentions while making the documentary. This is exactly the defense's point! Martin Bashir could face contempt of court charges because of his refusal to co–operate in court.

Michael, at one point put out his arms as if to tell Bashir to speak up.

Mesereau also revealed to the jury that Bashir has been brought before the Broadcasting Standards Commission after being accused of blackmail by one of his interviewees. Bashir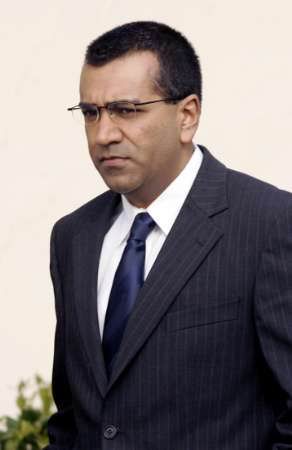 obviously did not expect the defense to know about that and would have been caught off guard.

Source: MJJsource/ TMC
1.3.05
D.A. Tom Sneddon Portrayed As Boring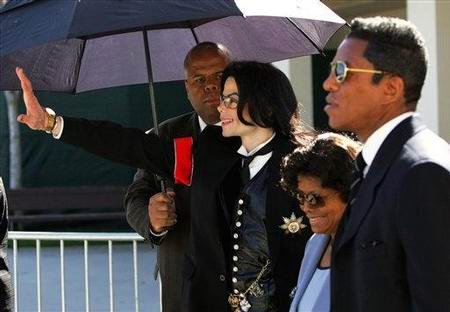 From the moment Santa Barbara County District Attorney Tom Sneddon
finished his opening statements in the Michael Jackson child molestation case Monday, his words and their sometimes brash and unpolished delivery were being picked apart by legal experts.
Lawyer and journalist Jeffrey Toobin said on CNN that Mr. Sneddon's summary of the incendiary case was hard to follow and at times "boring."

Some commentators questioned whether it was wise for the district attorney, who is known for his toughness and typically tries only one case a year, to work on this one in the first place.

"I just don't think he's a great speaker, and maybe he's the kind of speaker that you either love him or hate him," said Laurie Levenson, a professor Loyola School of Law.

Others say Mr. Sneddon's style could help him come across to jurors as sincere, rather than slick and untrustworthy.

Mr. Sneddon's style has been singled out throughout the case. The defense has argued that it reflects a personal vendetta against Mr. Jackson. His performance during two press conferences -- the first to announce Mr. Jackson's arrest and the other on the day the charges were filed -- were criticized.

Source: News Press
24.2.05
Jury Selected For Trial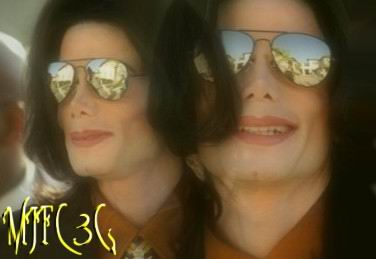 In an unexpected turn of events Wednesday, the twelve jurors that will decide the outcome for Michael Jackson's trial have already been picked.

"We have a jury," were the words of Judge Melville. The jury selection process was expected to last at least a month, however now that the jury has been sworn in, all that is now left to decide before the start of the trial is the selection of the eight alternate jurors, according to the Associated Press .

The jurors were once again questioned by Defence attorney Thomas Mesereau and Senior Deputy District Attorney Ron Zonen on several issues, including what they felt about Michael Jackson and his career, the arts, the media, whether they, or anyone they knew, had a history of sexual abuse, and whether or not they think a child could lie under oath, all before the final decision was made. The Judge only let questioning last ten minutes per juror, which would explain the fast pace of the process.

An African-American woman, who was dismissed by the Prosecution, stated during her questioning that she doubted the possibility of a fair hearing, "How can he get a fair trial anywhere when even the ex-sheriff of Santa Barbara county gets on TV and tells the world he is a child molester?" she continued, "A jury of your peers? How is this man going to get it here?" Michael was said to be nodding vigorously in agreement.

Also, one man who was questioned managed to make Michael smile, "I'm not so much into his music but I sure like his moves," he said.

One of the jurors picked was the man who (as previously reported) thought Deepak Chopra was a rapper, others included a woman who's grandson had to register on the sex offenders list, a 20-year-old male Simpsons fan and a Latino woman who is divorced from a Santa Maria police officer.

The jury consists of eight women and four men, ages ranging from 20 to 79, with a racial diversity of one Asian, three Hispanics, eight white members and no African-Americans.

Michael is due back in court on Thursday, as jury selection continues with the process of finding eight alternate jurors.
Source:mjni
22.2.05
Michael Jackson Back In Court Today
Michael Jackson is expected back in a California courtroom for the first time since suffering a "flu-like illness" that forced a one-week suspension of his child molestation trial.

If jury selection resumes as scheduled on Tuesday, prosecutors will pick up where they left off, carefully questioning 18 people who were selected at random to sit in the jury box.

Mesereau spent most of a day conducting his questioning of the panel -- a process known in legal terms as "voir dire" -- asking each prospective juror about his or her knowledge of the sensational case and its attendant press coverage.

So far only one jury candidate has been eliminated from the pool, an elderly man who said his health would not withstand a trial expected to last six months.

Both prosecutors and defence attorneys are permitted by law to excuse jurors who cannot be fair. Each side can also remove up to 10 jurors, using so-called "peremptory challenges," without stating a reason.

Source: Reuters
19.2.05
VIDEO: Michael Jackson
In case you missed it - VIDEO: Michael Jackson Talks to Geraldo Rivera
Source:mjjsource.com
17.2.05
Michael Possibly Released
KGW Television, an NBC affliliate in Portland, Oregon, reported on Wednesday evening that Michael Jackson had been released from the hospital. According to the report, he left the hospital to continue his recovery "at home." His next court appearance is scheduled for next Tuesday, Feb 22.
In another report, MSNBC reported that shortly following today's brief press conference at the hospital, two black SUV's were observed pulling up to a loading dock behind the hospital, out of sight of the media and fans. They swiftly left.
Source: MJFC / KGW News/MSNBC
16.2.05
STATEMENT FROM MARIAN MEDICAL CENTER IN SANTA MARIA :
Good Afternoon. I am Kathleen Hernandez, Communication's Manager for
the Marian Medical Center.
First of all, we would like to thank you for your patience. We would also like
to thank you for respecting the privacy of our patients. Marian Medical Center
will not be releasing any information about Mr. Jackson.
Because of confidentiality laws, we cannot disclose any information about any
of our patients. However, if you have any questions regarding logistics for
other matters, you can reach to communications staff at: (805) 739-3561. For
any questions regarding Mr. Jackson, you can call his publicist, Raymone Bain.
Ms. Bain's office will also be issuing our physician's information in written
form on Mr. Jackson's website, MJJSource.com.
Again, thank you for your patience and cooperation. I would like to now
introduce Dr. Chuck Merrill, Emergency Physician for Marian Medical Center.
He will be issuing a brief statement, but we will no have a questions and answer
period following Dr. Merrill's statement.
DR. CHUCK MERRILL'S STATEMENT REGARDING MR. MICHAEL JACKSON'S MEDICAL CONDITION :
Mr. Jackson has been evaluated in our Emergency Department for a flu-like
illness with vomiting. He is undergoing testing and is being treated with
intravenous fluids. He is in stable condition and we expect a full recovery.
He will be released when we feel he's well enough.
Source: MJFC / Raymone Bain
15.2.05
Michael Jackson In Hospital
Michael Jackson fell ill on the way to his court appearance today. He has been rushed to the Marian Center in Santa Maria.
Judge Rodney Melville told prospective jurors that Jackson had the flu and that jury selection would resume February 22, 2005.
The MJFC team would like to send out our prayers and well wishes to Michael and urge all fans to submit a prayer or light a candle for Michael during this hospital stay. These prayers for Michael's speedy recovery will be printed and forwarded to Michael.
Source: MJFC / AP / Special Thanks To Nathan Dawsen
15.2.05
One Potential Juror Dismissed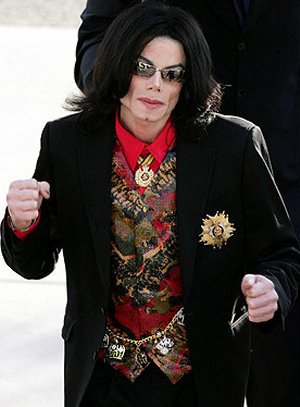 The day began with the formal process of Melville introducing Jackson, dressed in a black suit and red vest, to the room full of jury candidates and asking any who knew him personally to speak up. None did. Jackson did not speak but turned to wave and smile at the would-be jurors.

Mesereau spent the bulk of the day questioning 20 potential jurors and alternates who were chosen at random to fill the jury box, asking them their feelings about Jackson and the news media.

Mesereau, who has said repeatedly he considers Jackson's teenage accuser a liar, asked each would-be juror if he or she considered child witnesses reliable. One woman told Mesereau she was sympathetic to Jackson because she had twice been falsely accused of child molestation, once by her sister-in-law.

Zonen asked the possible jurors if they could treat celebrity defendants and witnesses like they would anyone else who came into court. Each said he or she could.

By the end of the day, only one prospective juror had been dismissed, an 82-year-old man with a medical condition that would not permit him to serve in a trial expected to last up to six months.

Source: Reuters
13.2.05
New forum of MJFC 3Generations
12.2.05
Second Week Of Trial Commences And Concludes

With the trial being delayed until Monday, 14th February, Michael Jackson and attorneys for both sides were not in court yesterday.

However, proceedings were back to (not so) normal for Judge Rodney Melville and the potential jurors.

The Judge met with the 230 potential jurors at the Abel Maldonado Community Youth Center in Santa Maria, which is located near to the courthouse, according to the news-press . The reason being that there was not enough space within the courtroom for every juror to be addressed.

The point of the proceeding was for Melville to tell the potential jurors that they are not to follow media coverage of the case, nor talk about it. He even commented that anyone not backing down from discussing it with someone who could be a juror should be reported to the court.

Before the jury pool was addressed, a pre-trial hearing was held inside the courtroom where Melville made the decision to publicly release the questionnaire's filled out by the potential jurors. Any identifying or confidential information will be blacked out before release. Attorneys for the media and the Prosecution backed this motion, however Defence attorney Robert Sanger opposed the idea because of privacy issues.

The next step in the case is the individual questioning of the jury pool. The Judge has asked 113 of the 230 he addressed to return on the 14th. However the rest have been told to remain on stand by just in case attorneys cannot agree on twelve jurors and eight alternates from the first group.
Source:MJNI
7.2.05
"Keep my family and I in your prayers" - An Interview with Michael Jackson
On FOX News tonight, Geraldo Rivera conducted an intimate and revealing interview with Michael Jackson. Here we see a glimpse of the real man, the father, the warrior and the tender heart behind the media's often very inaccurate portrayal.
Moore is here
Source: MJJ Source
7.2.05
Sister Of Lead Attorny Dies
"Every member of Michael Jackson's family and team would like to extend their deepest sympathies to our Lead Counsel, Tom Mesereau, on the passing of his sister. Tom, you and your entire family will be in our prayers. May God grant you all much comfort and peace."
The MJFC team would also like to extend our deepest sympathy to Tom Mesereau and his family. You are in our thoughts and prayers.
Source: MJFC / MJJ Source
4.2.05
Interview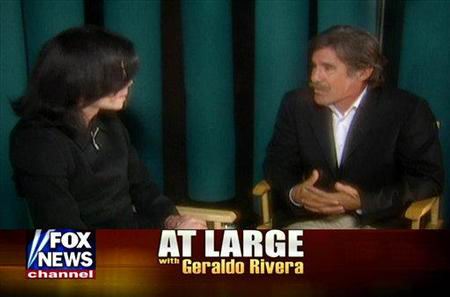 Michael Jackson, who can't talk about the case against him without the judge's permission, explained Geraldo Rivera that he and other celebrities are "targets": "The bigger the star, the bigger the target," he said to Rivera.

Michael described the ongoing investigations and the trial as: "It's like looking at a fictitious movie. Because it's fiction. It's like watching science fiction. It's not true. I know eventually, the truth will prevail and I'm about truth. I've become immune in a way too. I have rhinoceros skin, but at the same time I'm human. So, anything can hurt like that, but I'm very strong."
Source: Reuters /TMC
2.2.05
The trial – day 2
On Monday all attorneys will begin individual questioning of the potential final jurors.


Normally 750 people were scheduled for screening, but judge Melville ended the process after 430 screened potential jurors. 138 people asked the judge to be excused, mostly because of medical reasons. 1 was accepted due to an 8-months pregnancy.

Out of this 430 potential juror pool, 12 jurors and 8 alternates will be selected.
Source: San Fransisco Chronicle / TMC
31.1.05
Michael Jackson Arrives For Court
Michael Jackson arrived for the start of his child-molestation trial Monday, greeted by a crowd of fans shouting encouragement who pressed against fences to see the pop star.

Jackson, wearing white and shielded by an umbrella, waved to supporters as he walked into court.


Source: Associated Press
31.1.05
Statement of Mr. Michael Jackson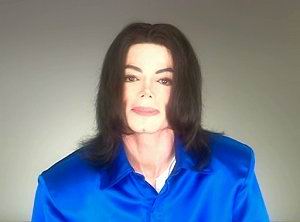 In the last few weeks, a large amount of ugly, malicious information has been released into the media about me.
Apparently, this information was leaked through transcripts in a grand jury proceeding where neither my lawyers, nor I, ever appeared. The information is disgusting and false.
Years ago, I allowed a family to visit and spend some time at Neverland.
Neverland is my home. I allowed this family into my home because they told me their son was ill with cancer and needed my help. Through the years, I have helped thousands of children who were ill or in distress.
These events have caused a nightmare for my family, my children and me. I never intend to place myself in so vulnerable a position again.
I love my community and I have great faith in our justice system. Please keep an open mind and let me have my day in court. I deserve a fair trial like every other American citizen. I will be acquitted and vindicated when the truth is told.
Michael Jackson
Source:http://mjjsource.com
30.1.05
Geraldo Reveals Michael Jackson's Statement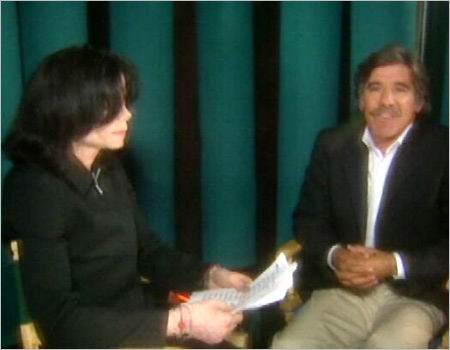 In the Michael Jackson case a jury is about to be empanelled. This comes fresh on the heels of a damaging and destructive leak from the supposedly secret grand jury. These allegations, in my opinion, unfairly taint the jury pool and make it difficult for Jackson to have a fair trial.

In a world exclusive two weeks ago, I spoke to the King of Pop. Jackson is gagged and cannot speak about the allegations, the accusers or the leaks in specific terms, but he was allowed by the judge in the case to read a prepared statement.

In light of recent events concerning the case I thought I would show you the statement to give you a glimpse of a special "At Large with Geraldo Rivera," which will air next week. Here is what Michael said:

"Yes, in the last two weeks, a large amount of ugly, malicious information has been released into the media about me. Apparently, this information was leaked through transcripts in a grand jury proceeding where neither my lawyers nor I ever appeared. The information is disgusting and false.

"Years ago, I allowed a family to visit and spend time at Neverland. Neverland is my home. I allowed this family into my home because they told me their son was ill with cancer and needed my help.

"Through the years, I have helped thousands of children who were ill or in distress.

"These events have caused a nightmare for my family, my children and me. I never intend to place myself in so vulnerable a position again.

"I love my community and I have great faith in our justice system. Please keep an open mind and let me have my day in court. I deserve a fair trial like every other American citizen. I will be acquitted and vindicated when the truth is told."

I asked Michael if there was anything else he wanted to add. At first he said no, but later added, "I would just like for the public to keep my family and myself in their prayers. That would be very nice."

There will be a lot more from Michael Jackson in our exclusive interview next week.

Source: Geraldo/Fox
29.1.05
MICHAEL JACKSON ISSUES STATEMENT ON GRAND JURY LEAKS
Washington, D.C. - Mr. Michael Jackson will be issuing a video statement, via his website, www.MJJsource.com , which has been approved by Judge Rodney Melville, on Sunday, January 30, 2005.
Media will be able to download the video , at no charge, beginning at 10:00A.M., E.S.T., 7:00A.M., P.S.T.
Source: MJJsource.com
28.1.05
Geraldo Rivera Says Michael Jackson is Stone Cold Innocent, Case Will Fall Apart

Los Angeles - On KFI Radio's 'John Ziegler Show' today, Geraldo Rivera, via phone from Iraq, stated to the Los Angeles broadcaster that he believes firmly that Michael Jackson is "stone cold innocent." "Generally, Michael Jackson is being railroaded," Rivera told John Ziegler of KFI. "The case against him will be revealed, as you go forward in the days and weeks to come, to be so fatally flawed that you'll wonder why a sitting district attorney decided to even bring this case based on the evidence and the motivation of the complainant. Wait until you see the case against Jackson fall apart in the coming days and weeks..."

John Ziegler went on to ask him whether the case is poor or if Michael Jackson is innocent or both. Rivera replied: "I don't know Michael Jackson. I've spent some time with him recently.. he seems much more normal than anything I've ever read about him. But about this particular case, he is innocent. He is s tone cold innocent. He never... Let me be unequivocal so there is no doubt about where I stand on this. A fter my own investigation and spending time with him, reviewing the state's case to the extent that it's available... and when you see the grand jury transcripts, you know that I know everything that Tom Sneddon, who's nickname is 'Mad Dog' up there there in Santa Barbara, has presented to that grand jury. " Michael Jackson did not molest this kid. Period. The charges against him are fake. They have been created by grifters to cash in on a beleaguered, besieged guy who, because he is so unusual, is vulnerable to these kinds of charges.
"I predict in the coming days that Michael Jackson will say as much... that he will never again, ever ever, in his life allow himself to be vulnerable to these kinds of accusations again.
"He is being railroaded here by a District Attorney who is out of control, who is about to retire, who stayed to even a score, had a chip on his shoulder (and is) using the whole power of his office to try and sink this guy."
Geraldo Rivera recently interviewed Mr. Jackson after the recent secret grand testimony " leaks ." He encouraged listeners to watch Fox on Friday Morning for big news in the Michael Jackson case.
Team MJJsource / KFI Radio Los Angeles
17.1.05
6 Million 'Number Ones' And Counting
King Of Pop registers on numerous Year-End Charts as 'Number Ones' album shifts 6 million units worldwide

With 2004 now a wrap, Michael Jackson has a reason to smile as a slew of his music releases (from both past and present) charted so consistently throughout the year that he placed in the Top 10 on numerous Year-End Charts around the world. As an added bonus, the artist's 2003 Epic/Sony release Number Ones hit the 6 million unit mark worldwide giving Jackson his third multi-platinum album of the 00's.

United Kingdom

With cumulative sales of approximately 2 million units (CD and DVD), the success of Michael Jackson's Number Ones project in the UK is nothing short of exemplary. In fact, according to figures released by BPI/Official UK Charts Company, the 5X platinum* Number Ones CD was the UK's fifth best selling album of the year (Oct 2003 to Sept 2004.)

Jackson also received another distinction as (for the second year in a row) he placed the most number of albums on the UK End Of Year Top 200 Album Chart with Number Ones, Thriller, and The Very Best Of The Jacksons all making the cut. It's worth noting that in 2003, Jackson similarly achieved this feat with four entries (more than any other artist) as Number Ones, Greatest Hits - HIStory Volume I, Thriller, and Off The Wall all made the Year End Chart that year as well.

With an impressive six Jackson albums that entered the UK Top 75 Album Chart, 2004 was a year full of chart surprises to say the least:

- Off The Wall re-entered the album chart in July 2004 peaking at #13;

- The Very Best Of The Jacksons peaked at #7 in July 2004 eventually being certified UK Gold by the BPI;

- Thriller spent a cumulative three months inside the Top 75 peaking at #36;

- Bad re-entered the chart in January 2004 peaking at #61;

- The Ultimate Collection (4 CD/1 DVD) boxed set peaked at #10 and #75 on the UK R&B Album Chart and UK Top 75 Album Chart respectively (the only boxed set to crack the Top 75 Album Chart in 2004); and

- Number Ones continued it's lengthy residency on the charts becoming the artist's sixth 5X platinum* album in the UK to date.

With over 1.6 million units sold and counting, the success of the Number Ones CD in the UK shows no signs of abating as just recently, the album kicked off 2005 by re-entering the UK Top 75 Album Chart at #53.

Australia

From the land up top to the land down under, 2004 was also a great year for Michael Jackson in Australia . Not only did the artist's triple platinum* Number Ones album mark it's 58 th week on the ARIA Top 40 Urban Album Chart but his Number Ones DVD was also named the #1 Best Selling Music DVD of the Year by the ARIA.

With three Jackson albums hitting the charts in 2004, Jackson's chart performance in Australia looked exactly like this:

- Number Ones enjoyed a lengthy residency on the charts becoming the 53 rd Best Selling Album of the Year and 6th Best Selling Urban Album of the Year (an almost identical distinction the album received in 2003 when after only six weeks of release, it was named the 52 nd Best Selling Album of the Year and 9th Best Selling Urban Album of the Year by the ARIA);

- Thriller spent a cumulative five months inside the Top 40 of ARIA Urban Album Chart peaking at #22; and

- The Very Best Of The Jacksons peaked at #15 and #3 on the ARIA Top 100 Album Chart and ARIA Urban Album Chart respectively with set notching gold* status.

With the 8X platinum* Number Ones DVD marking it's 55 th week on the ARIA Music DVD Chart and the Number Ones and The Very Best Of The Jacksons CD's still holding strong after their 60th and 25th week on the ARIA Top 40 Urban Album Chart, 2005 looks to be another year of solid chart activity for the King Of Pop in Australia.

Not to be overlooked, honorable mentions must go to sister country New Zealand where both Number Ones and The Very Best Of The Jacksons were certified double platinum and gold respectively last year.

USA

In 2004, Michael Jackson was also no stranger to the U.S. music charts as his platinum* Number Ones album and triple platinum* Number Ones DVD were just two of many releases which kept the artist well represented on the charts:

- Number Ones (DVD) hit the #1 position on the Billboard Top Music Video Chart in January 2004 eventually scanning a cumulative 250,000 units by the end of the year;

- Number Ones (CD) hit the #1 position on the Billboard Top Internet Albums Chart in January 2004 with the album scanning over 800,000 units in the USA to date;

- The One (DVD), a commercial release of the artist's Number Ones CBS TV special, peaked at #28 on the Billboard Top Music Video Chart in March 2004;

- Thriller spent a cumulative two months inside the Top 50 of the Billboard Pop Catalog Chart peaking at #22;

- The Ultimate Collection (4CD/DVD) boxed set peaked at #22, #48 and #154 on the Billboard Top Internet Albums Chart, Billboard R&B/Hip-Hop Albums Chart, and Billboard 200 respectively. The five disc collection has scanned over 40,000 units since it's release in November 2004; and

- Greatest Hits: HIStory Volume I spent a cumulative two months inside the Top 50 of the Billboard Pop Catalog Chart peaking at #28.

With over 5 million Epic/Sony era CD's scanned in the United States over the past three years (November 2001 - November 2004) and counting, Jackson's chart activity in his home country is another example of his enduring appeal.

Europe

2004 was also an accomplished year for Michael Jackson across Europe as his triple platinum* Number Ones CD and The Ultimate Collection (4CD/1 DVD) boxed set both made their mark on music charts across the continent:

- In Ireland, the 5X platinum* Number Ones CD accumulated 37 weeks on the Top 50 Album Chart and ended the year as Ireland's 33rd best selling album of the year (a significant achievement considering the CD was Ireland's 9th best selling album of 2003.) Elsewhere on the charts, Off The Wall re-entered the Top 50 Album chart in July 2004 peaking at #12 while The Ultimate Collection (4 CD/1 DVD) rounded out the year peaking at #71;

- In France, Number Ones peaked at #5 on the Top 40 Compilation Album Chart while The Ultimate Collection (4 CD/1 DVD) similarly made an impressive showing peaking at #29;

- In Spain , Number Ones (both the CD and DVD) were certified with a double dose of gold. The Ultimate Collection (4CD/1 DVD), meanwhile, peaked at #57; and

- In Greece, Number Ones spent three months on the album chart peaking at #6 while The Ultimate Collection (4 CD/1 DVD) peaked at #37.

Elsewhere across Europe ( Italy , Austria , Denmark , Switzerland , Belgium , Holland , Norway , The Czech Republic, Germany , and the Netherlands ) Number Ones also made it's mark as the album shifted gold and/or platinum sales in each country.

Japan

According to figures released by ORICON, Michael Jackson's Number Ones was Japan 's 13th Best Selling Album for the first half of 2004. With The Ultimate Collection (4 CD/1 DVD) recently debuting at #47 on the Top 50 Album Chart, Jackson 's Japanese chart action in 2004 was exceptional as the platinum honors continued to grow.

Summary

From Australia (where the triple platinum* Numbers Ones CD and 8X platinum* Number Ones DVD enjoyed a year long stay on the charts) to the UK (where the 5X platinum* Number Ones CD was named the 5th Best Selling Album of 2003/2004 by the Official UK Charts Company) to the United States (where the platinum* Number Ones CD and 3X* platinum Number Ones DVD became the latest additions in a string of the artist's platinum/multi-platinum releases) 2004 was a year brimming with professional accomplishments for the King Of Pop.

With 2005 already in progress, Michael Jackson might be pleased to know that his Number Ones album kicked off the new year by re-entering the UK Top 75 Album Chart at #53 (climbing to #48 this week) while Number Ones moved ahead to #12 on Australia's ARIA Urban Album Chart.

Just a reminder that like the artist on stage, the record continues to spin.

Source: MJJSource
5.1.05
Statement of Michael Jackson Regarding the Tsunami Disaster
My family and I would like to send our prayers and heartfelt sympathy to the families, friends and loved ones of those who recently perished from the horrific earthquake and tsunami, which swept through Indonesia, Asia, India, Somalia and other countries. Our love is also being sent to those who have miraculously survived this tragedy and to those who are so courageously on-site, helping to spearhead the relief efforts. We pray for your strength, your safety and the success of your life-saving missions of love. Words cannot adequately express the shock, horror and grief we've felt, while watching news reports which have captured the massive devastation and despair. It has been especially painful for me, as I have visited these areas many times and I remember the love, kindness and warmth of the people I met there. I would like to encourage all of my friends, and fans, to contribute to agencies and organizations assisting in these efforts. In times like these , we need each other... w e must bond together in spirit and in service . God Bless. Sincerely, Michael Jackson
Source:mjjsource.com / traduction de mjf