Michael Jackson Pays Homage To James Brown
More than 8,500 of James Brown's friends, family and fans filled the areana
bearing his name in Agusta, Georgia on Saturday to pay one final, joyful
farewell to the Godfather Of Soul.

The Revs. Al Sharpton, Jesse Jackson and an emotional Michael Jackson took turns
at the podium remembering James Brown.

Michael's arrival sparked a roar from the crowd as he bowed to the open casket,
shared a hug with Rev. Sharpton and acknowledged the cries from the audience.

Michael recalled "James Brown is my greatest inspiration," adding that his
mother would call him to the television and even wake him up if James Brown was
on. "When I saw him move, I was mesmerized. I've never seen a performer perform
like James Brown, and right then and there, I knew that was exactly what I
wanted to do for the rest of my life."

"I don't care what the media says tonight, James Brown wanted Michael Jackson
with him here today," Al Sharpton said in a booming voice.

"He said ... 'I love Michael.' He said, 'Tell him don't worry about coming home. They always scandalize those that have the talent. But
tell him we need to clean up the music and I want Michael and all of them that
imitated me to come back and lift the music back."'

"He was a protégé of James Brown. He achieved a similar level of
accomplishment," said Herb Bandy, 56, who drove from his Washington home to the
funeral. "I don't think the charge, which he was found not guilty of, was
relevant. I was personally glad to see him."

73-year-old James Brown died of heart failure on December 25th, while he was
hospitalized to treat his severe pneumonia.
Source: MJFC /
12.12.06
King Of Pop Message To His Japanese Fans
To My Japanese Fans:
I understand that there has been some confusion concerning my upcoming visit to Japan.

Positive Productions and Mr. Broderick Morris have been kind enough to invite me to Japan to participate in a Christmas event at the Tokyo Shinkiba Studio Coast, and I have accepted. I will be attending the Christmas Celebration on December 19, 2006.

As you all know, I visited Japan in May of this year. Mr. Morris and Positive Productions sponsored that trip as well. My children and I had a wonderful time visiting Tokyo and seeing fans and friends. I am sure that this visit will be just as enjoyable for us.

Please rest assured that reports of my upcoming visit to Tokyo are true.

Thank you for your love, your kindness, and the support that you, and my fans from around the world have shown to me, and my family, over the years.

I love you all from the bottom of my heart, and wish you, and your families, a wonderful holiday season.

With love,
Michael Jackson
6.12.06
PRESS RELEASE: Jackson Memorabilia Purchase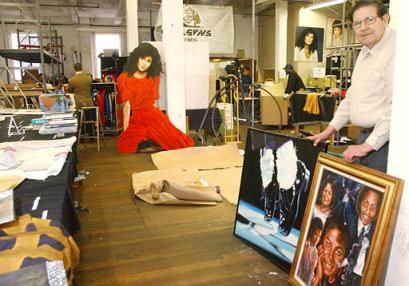 World's Largest Jackson Family Memorabilia Collection Purchased By Universal Express

NEW YORK, NY – November 29, 2006 - Universal Express Inc. (OTCBB: USXP), today announced a l0, 000 plus piece collection of Jackson family memorabilia including all Thriller costumes, platinum and gold records, photographs and countless personal documents has been sold today to Universal Express (www.usxp.com) and some of its entertainment partners.

"The biggest known Jackson Music and memorabilia collection ever amassed was purchased with plans to insure for up to $50,000,000 with a planned auction to be announced at the appropriate time," said Richard A. Altomare, Chairman and CEO of Universal Express.

"The Jackson family had meticulously gathered this over 10,000 piece memorabilia collection for decades and planned to decorate a chain of entertainment restaurants, but lost the collection in a protracted 6 year legal battle with former New Jersey partners.

"The historical items which include hundreds of items from each Jackson family member have been secretly moved to an undisclosed location for preparation and media viewing.

"Due to the perceived value of the Jackson platinum and gold records and master recordings with numerous unheard and unreleased masters of some Jackson songs never presented to the public; we have obviously begun guarding the collection 24 hours a day.

"In my opinion, we have far too many personal and intimate papers, sketches, diaries, notes, costumes as well as gifts from other notables to not present them in the most professional and meaningful light.

"After this collection was authenticated, legal ownership verified, and approved by our entertainment experts; I enthusiastically purchased the collection," Mr. Altomare further stated.

"Initially, when this acquisition opportunity was presented; I balked due to this unique venue which did not represent our core businesses. However, the possibility of such a revenue windfall for our shareholders and subsidiaries caused some reflection and a reminder that making money always resembles any core business. Since a developing company raises monies and incurs debt to build its infrastructure, this 'once in a lifetime' opportunity will generate additional funds necessary to further build our core businesses and further enhance dramatically our worldwide corporate branding.

"The Jackson memorabilia collection and the worldwide interest may result in one spectacular auction, a museum or individual offer for the entire collection, or an E-Bay on-going income stream from the collection. In all cases, the music value and the balance sheet asset base of this investment added to our current balance sheet along with the worldwide publicity and branding clearly outweighed passing on this opportunity.

"In any event, the collection long rumored about is now in professional and responsible hands and the public will soon be reintroduced to the memorable and innocent Jackson years and maybe have answers to many unanswered 'behind the door' questions that these formative family effects may help to crystallize or to enlighten," concluded Richard A. Altomare.
Source:mjstar
25.11.06
Victory Tour Jacket On Auction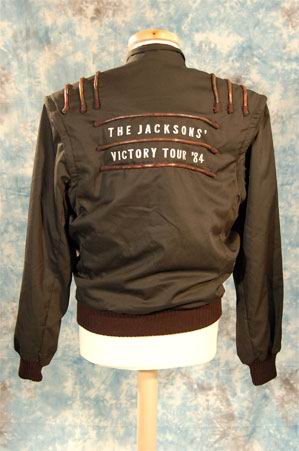 Michael Jackson's 'Victory Tour Jacket 1984' is on auction at The Fame Bureau . This black cotton jacket was worn on stage by Michael Jackson during the 1984 Jackson's Victory tour.
Within the pockets are controls that enabled Michael to turn on the unique neon strip lights embroidered across the shoulders and back. This was used to great effect to enhance Michaels famous dance moves during the performance.
The jacket is embroidered with a California Custom Jackets Glendale CA and has the Jackson's Victory Tour '84 embroidered on both the back and front of the jacket.
Guide Price: £400-£600
Source: The fame bureau Salutation Damiano!
22.11.06
Michael Jackson To Attend Christmas Celebration
MICHAEL JACKSON
TO ATTEND CHRISTMAS CELEBRATION IN TOKYO, JAPAN
BEING GIVEN IN HIS HONORTO COMMEMORATE THE 25 TH ANNIVERSARYOF THE RELEASE OF "THRILLER"
Washington, D.C. ….On Tuesday, December 19, 2006, Michael Jackson willbe attending a Christmas celebration being held in his honor, hosted by Mr.Broderick Morris, CEO, Positive Productions Yokohama, and Mr. DaisukeKodo, CEO, God Gate Investment. The celebration is being given tocommemorate the 25 th Anniversary of the release of "Thriller."Messrs. Morris and Kodo hosted Mr. Jackson during his May, 2006, visit toTokyo.
The Christmas celebration will be held at Tokyo Studio Coast.Says Mr. Morris, "Mr. Kodo and I are delighted to be hosting Mr. Jackson inTokyo again, for what will be a wonderful, inspirational, fun-filled celebration.He has many fans and friends here in Tokyo, and his record sales in Tokyoexceed that of any other artist. We also congratulate him on the 25 th Anniversaryof "Thriller," and worldwide record sales of 104,000,000 units. When Guinnessrecently presented him with the award certifying this record-breaking achievement,
we were all so very happy for him. We look forward to welcoming Mr. Jacksonin December."Says Michael Jackson, " I look forward to visiting Japan again, and greeting my
fans and friends. I would like to thank Messrs. Morris and Kodo for invitingme back, and for hosting the eventFor ticket information on this event contact Positive Productions 011 81 90 45 505-0010.
Source: MJFC /
22.11.06
WMA Founder Defends Michael Jackson
World Music Awards founder Melissa Corken spoke out in defense of Michael Jackson late Wednesday night. Speaking with MTV UK News, she said: "Let's get this straight. Michael was coming to collect an award, not to perform. He doesn't have a record ready. The press picked up on a rumor that he was going to sing 'Thriller.' He was never going to perform 'Thriller.' It was always going to be Chris Brown performing as a tribute. Michael was a little overwhelmed by (the press stories.) He said 'I can't do 'Thriller' because I haven't done it for ten years.' He's played two times at the WMA's already but this time was even more explosive. I've never felt energy like that before. It was just wonderful. Over 10,000 people from all across the world came to see him. I love Michael. Everyone assumes he's a diva but he's not. He demands nothing. He's just a really nice, simple man. I went to see him and his beautiful children chilling in their hotel room." Melissa told MTV that up close, Michael is looking fine. "He has beautiful skin and nice hair. He was looking good."
Source: MJFC / http://www.mtv.co.uk
17.11.06
Videos Of Michael At The WMA - UPDATED
For a video of Michael at the WMA click here .
For more video material shown on Norwegian TV click here .
Source: MJFC / Reuters
16.11.06
Links: Michael Arrives At WMA
The KING of Pop is Back!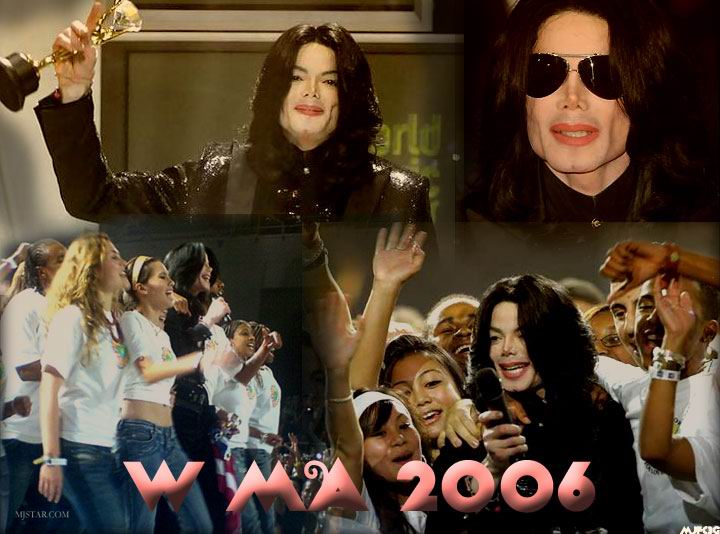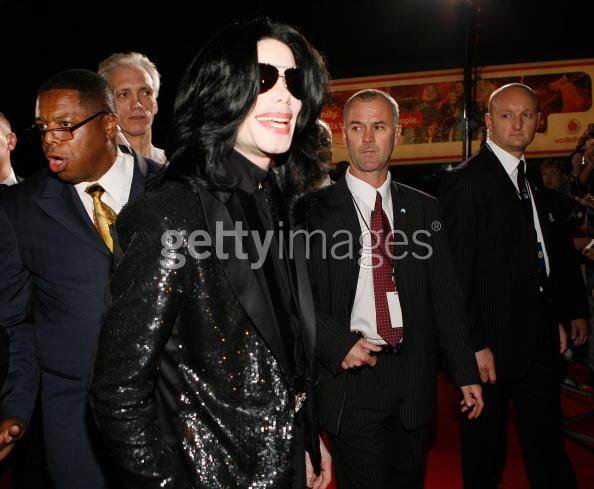 Click here !
MJ arrives at the WMA and answers some (unaudible to me) questions
Source:MJFC -Damiano
More From The WMA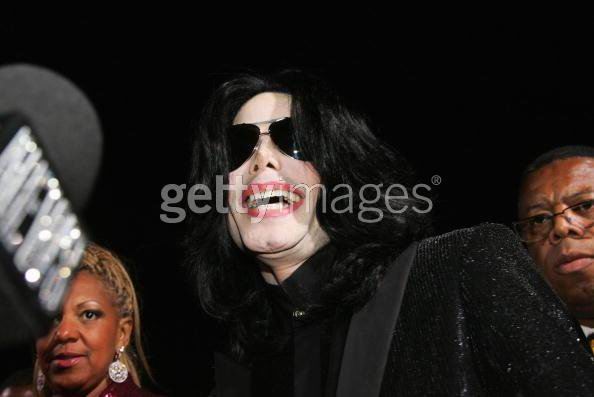 The reports from Reuters is less than kind toward what had been touted as Michael Jackson's return to the stage. In the opening paragraph, it reports that Michael struggled to reach the high notes before the sound cut out during the choir supported rendition of "We Are The World." Problems with the sound seemed to catch him off guard. It had been speculated that "Thriller" would be the song that Michael would be performing at the WMA in London. Instead, that song was performed by a young U.S. singer, Chris Brown. Never the less, fans cheered Michael's every move. Earlier, Michael was presented with the Diamond Award by Beyonce. She said "Tonight we are celebrating 25 years of 'Thriller.' If it wasn't for Michael Jackson, I would never have ever performed. I love you. We all love you." Michael replied "I am greatly humbled by this award. It was my dream that 'Thriller' would be the biggest - selling album ever... and God has answered my prayers." Michael's lifetime record sales tally around 750 million. This makes him the most successful entertainer of all time.
Source: MJFC / Reuters
Michael At WMA
When he first arrived at the WMA's Michael Jackson told reporters that there had been a "mis understanding" and that he would not be performing at the event. That was only partially the case on Wednesday, November 15 at the award ceremony held in London. What Michael did do was to Michael perform a brief rendition of "We Are The World" surrounded by a choir of young singers. Michael told the audience "There have been many people who have loved me and stood by me. I love all the fans from the bottom of my heart." He then flung his black jacket into the crowd and left the stage. Earlier, Michael, wearing black, also spoke briefly to the press. However, the roar of the crowd combined with Michael's quiet voice made it difficult to understand what was being said. Asked where he has been living, Michael replied "All over the place."
Source: MJFC
15.11.06
MJ Madness Hits London
US TV show 'Access Hollywood' accompanies Michael Jackson in London while preparing for the World Music Awards.
Their cameras were with Michael inside Earl's Court Arena, where the awards show will takeplace, as he rehearsed for his performance. He confirmed he will be performing 'We Are The World'.
And while all was quiet inside the arena during rehearsals, outside it was a much different story. Access Hollywood desribes it as follows:
"Being with Michael since he landed in London, trust us the hardest part of his day is wading through the mob of fans to get in and out of his car.
Fans even waited for hours outside of Michael's hotel for a glimpse of the superstar and a glimpse is what they got when Michael appeared on his balcony.
The fan frenzy went into overdrive when Michael emerged from his hotel to get into an awaiting van. But the scene would get even wilder.
Ten minutes later, photographers converge on the restaurant Nobu as Michael's van pulls up. And as soon as MJ steps out of the fan, all rules are off as it's a photo frenzy."
At Nobu Michael dined for about 2 hours with a party of 12 and even posed for some photos with for example designer Roberto Cavalli, who will be dressing him for the World Music Awards.
After dinner Michael again met up with the mob scene outside, as Access Hollywood's Billy Bush describes it:
"I was in the middle of this madness and let me just say I couldn't imagine going through this every time I stepped outside."
On Tuesday morning, it was a bit less chaotic as Michael arrived at the offices of the Guinness Book Of World Records, where Michael picked up an award for breaking seven world records.
Michael thanked those in attendance:
"Thank you for everything. God bless you."
Billy Bush took the opportunity to remind Michael of one of his records:
"I have a trivia question. Speaking of records, what album holds the record for sales in the world? Do you know? I'll give you a hint." As Billy hit play on 'Billie Jean', Michael smiled and laughed.
A brief moment of levity before the Michael madness resumed...
For a video of Michael in London click here .
Source: MJFC / MSNBC / Access Hollywood
15.11.06
Michael Receives Certificates From Guinness World Records
Michael Jackson visited the Guinness World Records office. He was requested to visit the building in London to receive his collection of World Record certificates. Michael received certificates for eight accolades, including the most recent one for Most Successful Entertainer of All Time. Others include:
Youngest Vocalist To Top The U.S. Singles Chart - age 11 with the Jackson Five
First Vocalist to Enter the U.S. Single Chart At Number One - for You Are Not Alone
First Entertainer to Earn More Than 100 Million Dollars In A Year
Highest Paid Entertainer Of All Time - 125 million dollars on the 1989 Forbes list
First Entertainer To Sell More Than 100 Million Albums Outside the U.S.
Most Weeks At The Top Of The U.S. Album Charts - non-soundtrack for Thriller
Most Successful Music Video - Thriller
Michael has been a fan of the Guinness World Records since he was a child. Wearing sunglasses, three quarter length dinner jacket and pants with yellow piping, he was closely followed by a throng of fans from his hotel. Michael was presented with his certificates, a copy of the latest edition of the Guinness Book Of World Records and a special edition from 1958, the year he was born. He was also given a tour of the offices by Editor Craig Glenday.
Source: MJFC / uk.news.launch.yahoo.com / AP / Special thanks to Jonathan.
14.11.06
Mother Of Accuser Pleads Guilty To Fraud
The mother of the boy who was at the center of the 2005 trial has pleaded no contest to welfare fraud. Prosecutors contend the woman applied for welfare without disclosing she had money from an insurance settlement. The judge ordered the woman to complete 150 hours of community service and pay 86-hundred dollars restitution by April 27.
Patricia Hattersley, the woman's attorney, said she and her client "felt she had a viable defense" to the welfare fraud charge however she wants to "move on with her life" and not put her family through "a major trial."
Michael Jackson's lawyer already had questioned the woman's honesty at last year's trial. Jurors who cleared the entertainer later cited their doubts about her melodramatic testimony, in which she accused Michal Jackson of holding her family against their will.
Source: MJFC / AP / Special thanks to Bonnie.
14.11.06
King Of Pop Checks In To The Hempel Hotel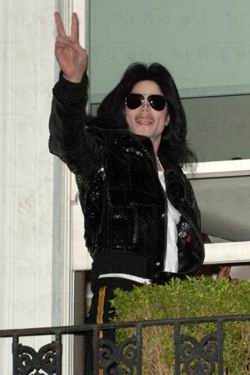 Michael Jackson has flown into London ahead of his first performance in the UK for nine years.

The star was whisked away to the Hempel Hotel in Bayswater London, where he will be staying until Wednesday.

Blacked-out by big sunglasses, Jackson was accompanied by at least two of his three children – Paris, Prince Michael and Prince Michael II.
Video promo for WMA 06 is here!
13.11.06
King Of Pop In London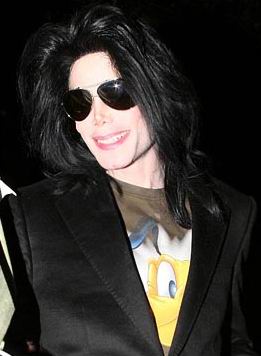 Michael Jackson looks more animated than usual as he arrives in Britain — thanks to his T-shirt displaying cartoon mutt Pluto.

Jackson, 48, was in London last night as he prepared for his first UK performance in a decade.

He will recreate his Thriller video with dancers at the World Music Awards in Earls Court on Wednesday.
7.11.06
WMA Lists King Of Pop As Performer
The King Of Pop Michael Jackson is now listed on the official World Music Awards website as a performer at this years show. Not only will the King Of Pop be recieving the Dimond Award for selling over 200 million records, the King will also be performing.
5.11.06
Access Hollwood Interview - Part 2: Transcript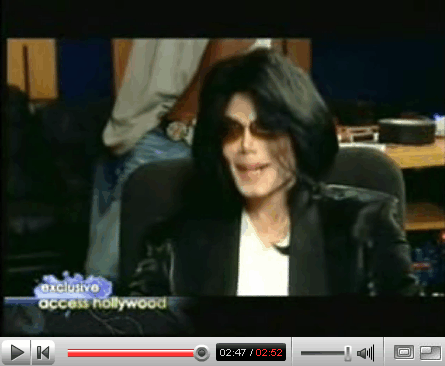 Clic the picture for video!
he below is a transcript of an interview between Michael Jackson and Access Hollwood's Billy Bush that aired on Friday, November 3rd.

Billy Bush: Yesterday, in Part 1 of my exclusive in-studio visit, you saw a mixed Michael. He chose his words carefully. But when super producer Will.I.Am of the Black Eyed Peas turned on the beats, Michael came alive!

There is no doubt in my mind that Jackson is coming back, but how? Amazingly, he hasn't really thought about it.

(Cuts to footage of inside the studio)

BB: There was nothing ever bigger than (Thriller) that. That is the biggest album ever.

(Cuts to footage of Thriller video before returning to studio)

BB: If you went back and took it to a second chapter...

Michael Jackson: That's a great idea.

(Cuts to footage of Billie Jean video)

BB: (Voiceover) Imagine Michael Jackson re-visiting Thriller. Remix, DVD's, Web Saturation. The sky's gotta be the limit with the biggest selling album with nearly 100 million copies worldwide.

(Returns to studio)

BB: Is that the first time you've heard of it? I mean like, or or, have you thought that...

Michael: No I haven't really thought about it in that way but I would give it more thought. We haven't really discussed it yet, on that level, but I'm sure at some point we will. But it's a great thought.

BB: Feel like I'm a collaborator here.

Michael: Yeah, yeah, you are...

(Laughter all round)

BB: I get a credit...

Michael: You are.

BB: I might get a credit.

(Cuts to footage of Michael, Will.I.Am and Billy Bush walking around Irish estate with new track produced by Will.I.Am playing in the background)

BB: (Voiceover) For right now Michael is focused on creating and not re-creating. And it is right here at this recording studio on the sprawling classic old Irish estate outside of Dublin where Michael has teamed up with Black Eyed Peas leader Will.I.Am to take his music to the next level.

(Cuts back to studio)

BB: Do you see something big with the music that you make again, or getting that ground swell going? Doing clubs and intimate things and getting it bigger and bigger and bigger?

Michael: Jee, you know I'm not sure, on that level.

Will.I.Am: I can answer that direct (as) a fan...

(Michael points at Will.I.Am)

BB: Go ahead.

Will.I.Am: Big!

(Cuts to footage of Michael dancing away to the music before returning)

Will.I.Am: Something needs to put a jolt back in the music industry. And the only thing that can do that is the jolt itself. The energy that sparked the imagination of the kids that are... me, you know, the Justin Timberlake's, we're all products of this. (Motions to Michael) So the only person that can put that jolt back in to that monstrosity of entertainment and music is the one who created that. (Motions to Michael again)

(Cuts to footage of Don't Stop 'till You Get Enough video)

BB: (Voiceover) But what about those people Michael inspired...

(Cuts to footage of Justin Timberlake's Rock Your Body video)

BB: (Voiceover) ...to aspire?

(Cuts back to the studio)

BB: Michael, I would love to hear what you thought of Justin Timberlake or something like that, because he's the closest thing to Michael Jackson I think today. You know what I mean?

Michael: I think Justin's doing a wonderful job, as well as Usher (Michael smiles) it's great to see. I'm inspired by what they do, and I'm sure I've inspired them. It's very nice.
Source:MJNI/youtube
4.11.06
Access Hollwood Interview - Part 1: Transcript
Video is here
As previously reported, Access Hollywood 's Billy Bush travelled to Ireland for an exclusive interview with Michael Jackson.

Part 1 of the interview aired in th U.S. yesterday (November 2nd) and showed Michael in great spirits as he discussed his new music alongside producer Will.I.Am in the recording studio.

When asked by Bush why Michael chose the Black Eyed Peas member to produce tracks for his new album, he said, "Because I think he's doing wonderful, innovative, positive great music. Thought it'd be interesting to collaborate or just, you know, see how the chemistry works."
The below is a transcript of an interview between Michael Jackson and Access Hollwood's Billy Bush that aired on Thursday, November 2nd.

Billy Bush: Michael invited me to Ireland, to observe him, as he got back into the studio. Can lightning strike twice for the King of Pop?

Michael insisted this was NOT a formal interview. He wanted us to be more like flies on the wall. Let's face it, the way Michael sees it, when a camera and microphone has charmed its way into his personal space, it has turned out badly for him.

So with that in mind, we agreed to just turn the cameras on.

(Cuts to footage of Michael in the studio, and walking around around Irish estate with Billy Bush and Will.I.Am from the Black Eyed Peas, with a new track playing in the background)

BB: So this is really a kind of an exploratory mission. You (pointing at Michael) deciding to get back into making music...

Michael: (Smiling) I never stopped... I'm always writing a potpourri of music, you know, it's how it is.

BB: (Voiceover) Relaxed, and ready to return.

(Cuts to footage of Michael laughing)

BB: (To Will.I.Am) Let's hear it.

(Will.I.Am starts playing a track he has prepared for Michael)

BB: (Voiceover) That, is the Michael Jackson we found when Access journeyed over 5000 miles to this classic old Irish estate (footage on screen) outside of Dublin. The stone manor is built to rock with a state of the art recording studio. But it's because of the beauty of the emerald landscape that Michael chose to be here.

(Cuts to footage of BB in grounds of the estate)

BB: What goes on on these grounds is a lot of exercise and walking and horse back riding. Michael wakes up in the morning, he makes porridge for his kids, which is oatmeal, and fruit. All the food is organically grown here. The amazing thing is, is that the man that is known as the P.T. Barnum of the recording industry (everything done big and extravagant) is really sort of dialling it back... to the roots.

(Cuts to more footage of Michael in the studio)

BB: (Voiceover) Michael is on the search for fresh sounds and Black Eyed Peas leader Will.I.Am is the man with the beats.

(Footage of Will.I.Am and Michael nodding away to a track that is being played)

BB: Will, we were talking a little earlier, you got a phone call on the tour bus, right? Someone said, "Mike's on the phone..."

Will: I was like, "no, come one, stop playing around." I didn't know it. I thought somebody was joking.

BB: So this is like eh, this is baby steps? Of just checking out what may be a collaboration or some work together?

Michael: Yeah, yes.

BB: Why Will?

Michael: Because I think he's doing wonderful, innovative, positive great music. Thought it'd be interesting to collaborate or just, you know, see how the chemistry works... be wonderful.

Will: This is like, a dream come true for me, you know.

BB: (To Michael) Does he take your advice well?

Michael: (Nodding and smiling) Yeah, we uh, yeah we...

(Will.I.Am interrupts, Michael laughs)

Will: I have... you have to take advice from the King of Pop.

(Billy Bush laughs)

Michael: I like to take sounds and put them on a microscope and just talk about how we wanna manipulate the character of it.

BB: (Voiceover) Will brought something new to the table, while keeping that classic Michael sound intact.

Will: (To Michael about the music playing) Living 'Off the Wall' with them kind of strings... (smiles)

Michael: Oh yeah, yeah, 'Off the Wall' yes.

(Laughter all around)

BB: (Voiceover) If Michael likes what he hears, he'll add his own musical touches. But for now, the two (Michael and Will) work the board, weaving out a sound and tapestry - layer by layer.

Michael: Pretend we're technically inclined. (Laughter all round)

BB: (Voiceover) Do NOT doubt his (Michael's) tech savvy, Michael knows his way around a recording studio AND our new digital camera.

(Footage of Michael holding a camera from the Access Hollywood crew)

Michael: That's a beauty. You can edit within the camera...

BB: Film me.

Michael: So s...

BB: Can you operate it?

Michael: Uh, I don't know, ok yeah... (points camera at Billy Bush)

BB: Are you a technology...

Michael: Yeah, I love cameras...

BB: Love the action?

Michael: Yeah. Love it. It's a beauty. (Starts to put camera down, turns to crew member) What's the price of this one on retail?

Crew member: $6,000.

Michael: Wow!

BB: (Voiceover) But what really impressed Michael? Will's music.

(Footage of Michael bopping his head to the music before it stops)

BB: What you think there?

Michael: They're very nice grooves...

Will: Alright...

Michael: I like the chords, I like what you did.

Will: That's a... that's a club banger.

BB: Yeah...

Will: That's what they call that one.

(Music starts playing again, Will and Michael move to the music)

BB: (Voiceover) Will's beats are infectious, and an enthusiastic Michael could NOT contain himself.

(Cuts to footage of Michael moving to other side of studio to dance a few steps)

Michael: (To Billy Bush) Do you feel you have enough (footage)?

BB: I could go forever Michael. (Laughter all round) You don't wanna ask me that Michael.
Source:MJNI/youtube
31.10.06
Michael Jackson At The WMA
- And YOU CAN GO!
To: All Fan Club Presidents and Contacts
I am pleased to announce that Mr. Jackson will be receiving the Diamond Award from the World Music Awards on November 15, 2006, 7:30 p.m. Earl's Court 1, Kensington, London, England.
As this is the 25th Anniversary of "Thriller," and, Mr. Jackson's worldwide sales have to date exceeded over 750,000,000 units, Mr. Jackson is being recognized for his phenomenal, record-breaking achievements. He is certainly the undisputed "King Of Pop."
Mr. Jackson would like to see as many of his fans as can attend the event. Because of this, we have made special arrangements with the organizers to make special provisions for Mr. Jackson's fans.
The first 200 fans will be admitted free on a "first come, first served" basis. After 200 tickets have been disbursed, all other tickets will be sold at a special discounted rate and fans will be given a special code to use when purchasing tickets.
I will be forwarding to you the information as to how to obtain tickets within the next several days.
While I do not have the email addresses for all fan clubs, I am relying on each of you to pass this information on.
Thank you for your continued love, support and prayers for Michael Jackson. He loves and appreciates all of you.
Best regards,
Raymone K. Bain
General Manager
Source: MJFC /
27.10.06
6 years MJFC3G !
Oh yes, one more year on every year and we are always here, we hope that soon the new album will be released !
20.10.06
Access Hollywood Interview
The interview that we told you about a few days ago, the first done with Michael Jackson since he left the United States, will be seen on Access Hollywood. The interviewer, Billy Bush, spent several hours with Michael. The special will air on November 2, 2006.
A preview can be seen thanks to YouTube at http://youtube.com/watch?v=ZKabWn4p3kM
Source: MJFC / Access Hollywood
16.10.06
Michael Jackson - Back In The Studio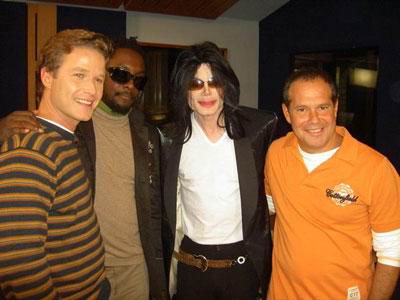 Imagine an old, classic Irish estate nestled in the green hills of Ireland. With an owner named Paddy. And on this estate is a cozy, humble stone cottage. And then there is the recording studio. Within this idyllic setting, Michael Jackson has found a new creative home. This is the first interview with Michael since he left the United States in June 2005. Raymone Bain informed the reporter that Michael would meet with them first in his cottage on the estate. No cameras. "We agreed of course and before long we were seated at a breakfast table in a very cozy, humble stone cottage. Down the spiral staircase he came. First his boots, then his pants...black with a gold stripe down the side, then a velvet jacket with a white t-shirt underneath, then he turned to face us. I admit, my pulse was running high. He is a mythical character as atypical and untouchable as can be.

First impression I had was that he looked healthy. Fit. As Paddy told us earlier, artists come to his estate for the whole experience - nature walks and horseback rides, organic, homegrown food, the indoor mineral spring pool....peace and tranquility. It has suited Michael well, although he does not live there.

We stood up, shook hands and began small talk about life...soon, Michael began to make clear what he did not want: an interview. He was just willing to let our cameras roll while he and Will listened to beats and opened the lid to a comeback. I said that we should just go in there and go until he didn't want to anymore. Pensively, he agreed and we started for the door and the 50 yard walk to the studio." Michael requested five minutes of taping while he collaborated with Will I AM of the Black Eyed Peas. In the end, the taping ran about fourty minutes and included questions about music and his thoughts for a return to the musical spotlight. After being asked several "pointed questions," Michael "paused and tried to get out." He encouraged Will to continue playing.

When the music was playing and he did not have to reply to questioning, "one could see sparks of life and energy. He hummed a little and at one point got up and walked to the back of the room where he could move a little to the music...he was almost dancing." At one point, the author suggested that Michael could remake "Thriller" for a new generation, complete with CD/DVD and web components. "Michael lit up." This was something he had not considered.

Michael's children were there with him, although the author never saw them. Paddy, the owner of the studio, said that they were enjoying playing with his own children in the beautiful countryside. Michael gets up in the morning and makes the children a breakfast of porridge and fruit. It all sounds wonderfully peaceful. The article ends:

"Again, this was a first step for Michael. He was excited and terrified. It's all about feeling whether he can trust somebody or not. His track record is horrible on that front. Maybe it will improve in regards to us. I am quite sure there is more to come."
Source: MJFC / Accesshollywood.com
8.10.06
Keeper Of the Famed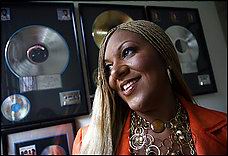 A Veteran Player in Politics, Sports and Entertainment, Publicist Raymone Bain Is at the Top of Her Game. Is She Up to Managing Michael Jackson?
Link here
30.9.06
New Album News

It has been just over five months since Michael Jackson announced that he was working on a new album with Bahrain-based 2 Seas Records, which he hoped would be released by late next year. In those five months a lot has happened!

Firstly, the deal with 2 Seas Records is no more. Michael's spokesperson, Raymone Bain, has confirmed that the deal with Abdulla Hamad Al-Khalifa (Prince of Bahrain) had come to an end and he was no longer affiliated with the label.

Gut Records chairman Guy Holmes was said to have been the man in charge of overseeing the project when it was announced, but he told the BBC that no deal was was ever completely formalised and that he was not overseeing any new project.

If that wasn't confusing enough for you, then how about this...

The album has NOT been put on hold despite the 2 Seas deal falling through. In fact, Michael's new company - the Michael Jackson Company - is set to act as a record label, as well as looking after all of his business interests. As previously reported on June 27th, The MJ Company is set to phase out MJJ Productions.

So, with that little complicated change of business regime dealt with, what next for this new album? This is where it gets exciting...

Several reports have been flying around claiming this and that about any kind of new set up, but one name keeps cropping up and has been for months - Teddy Riley.

Back in May we reported that Riley himself confirmed that he had been working with Michael, and many outlets are again reporting of continued production between them, however Bain has denied any work has taken place in the studio.

A few new names have now entered the equation according to the Los Angeles Times . Talent manager Charles "Big Chuck" Stanton and his hip-hop producer nephew Ron "Neff U" Feemster are said to have met Michael earlier this month while he was staying in Ireland.

Stanton told the Times that they met a focused and fired-up artist. "He's ready to take over the world." Stanton also said that Michael has been given tracks by several producers, "He's got some hot records. Will.i.am did one, Teddy Reilly. We're giving Michael a lot of edgy street records. He's putting melodies to some hard party records."

Bain again stated that no studio time has taken place but MP3's may have been submitted for approval. "Michael is moving very much forward with his new music," she did say positively. "He is readying to release an album."
source:MJNI
3.9.06
Director John Landis Talks About New Video ?
Michael Jackson is in reunion talks with film-maker John Landis to direct his comeback video. The 48-year-old famously worked with THE BLUES BROTHERS director Landis on the famous promos for his hits THRILLER and BLACK OR WHITE.

Jackson, who was acquitted of child molestation charges last year (05), is hoping Landis' magic touch will make his return from the wilderness a success. Landis says, "I talked to him last month. He was in Bahrain . It was a business thing we had to talk about. "Michael is a genius. Really has a great talent."

Hoping that's only a rumour.
One fact is that John Landis really was present at the Festival of Fantastical movies in Switzerland at Neuchâtel ! on May 7, 2006 for a press meeting.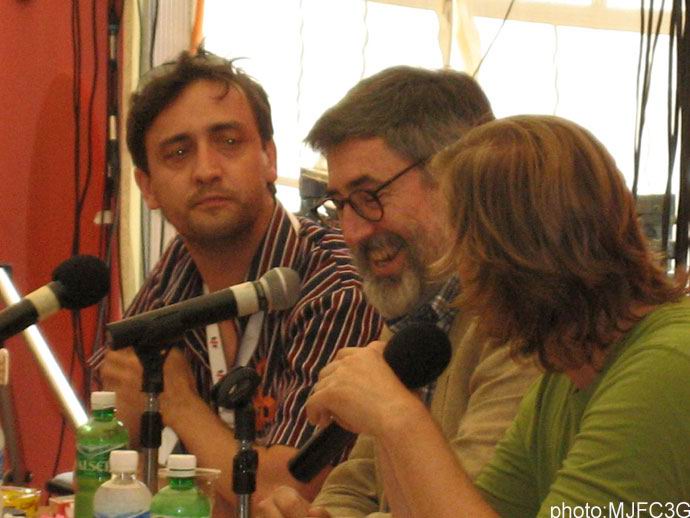 Click photo for the video!
(see following column in french) We can tell you that he's a very fantastic man and over for talking, he's a genious !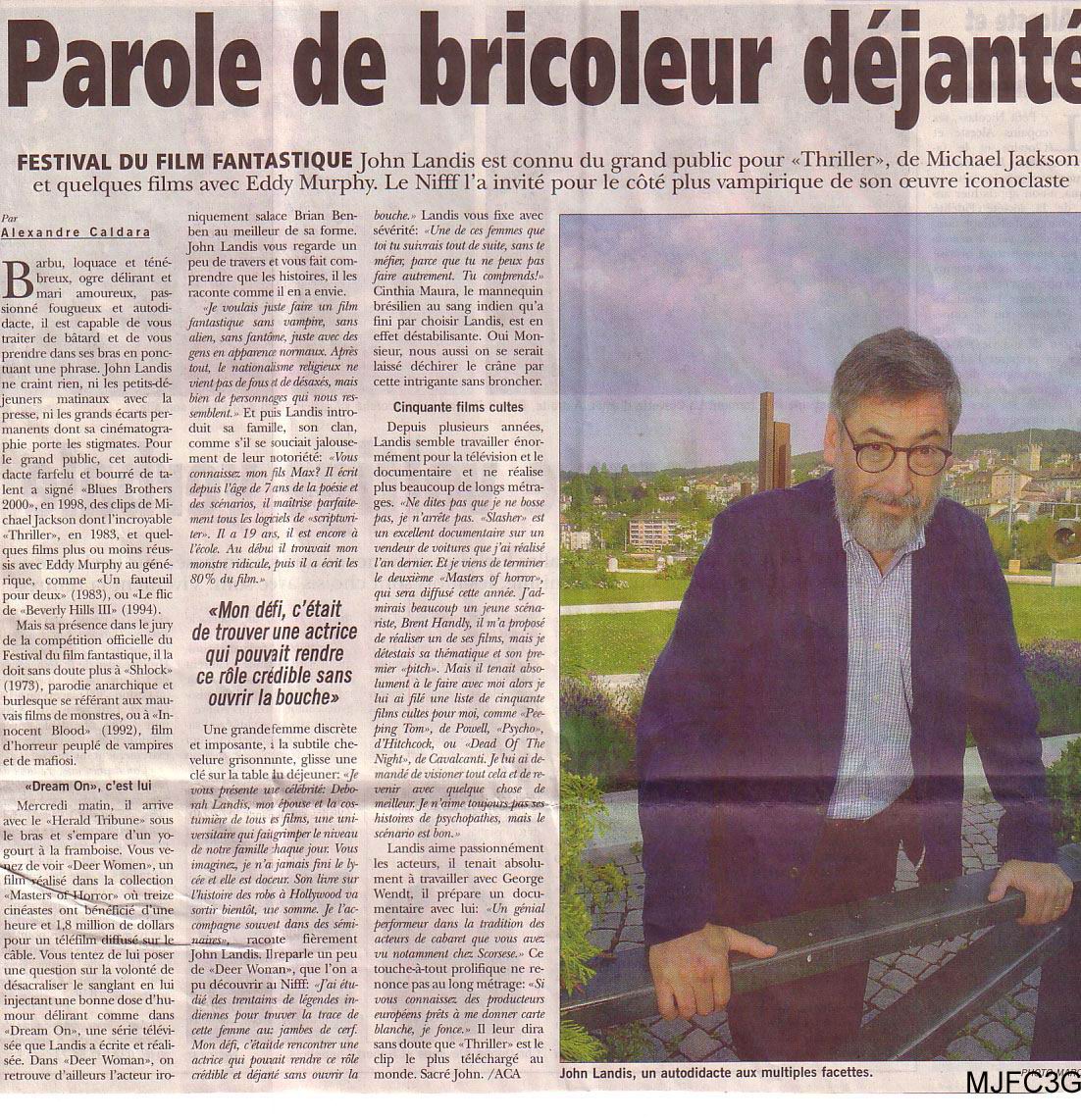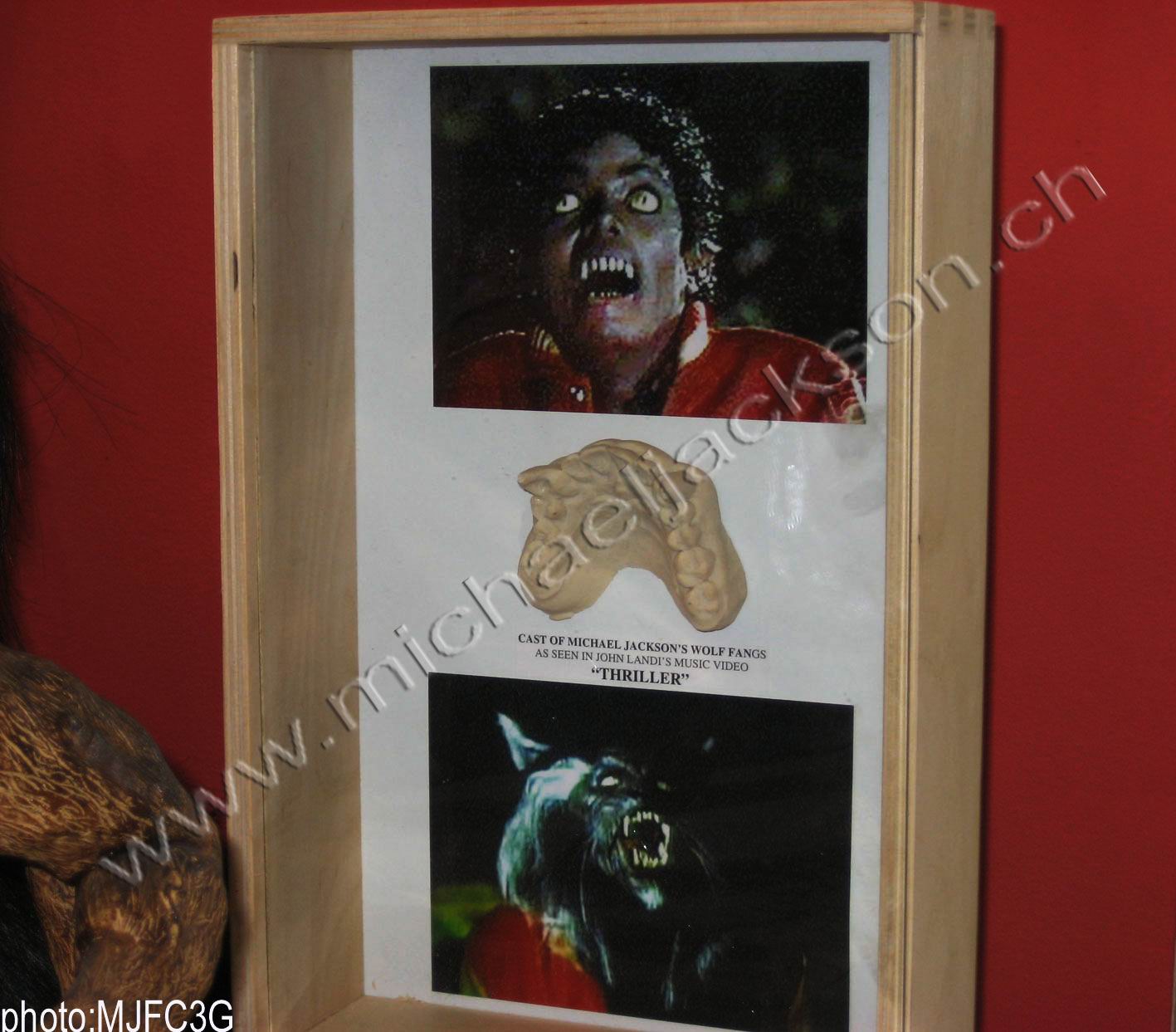 A pretty colllection piece, was exposed.
Source:MJFC3G/NIFFF
30.8.06
And Again ... HAPPY BIRTHDAY!!
Picture, if you will, an "unamed location in Europe." That's where MJ is tonight!
Early on Tuesady, Michael Jackson celebrated his birthday here in this undisclosed location, according to Access Hollywood..
Earlier Tuesday, Michael's kids threw him a surprise birthday party.
"He was totally shocked," Michael's spokeswoman, Raymone K. Bain, told Access Hollywood .
Michael did have his cake, although Raymone was not certain if it had all 48 candles.
A puppet show was part of the surprise and Raymone said that Michael is having "a really great day" and is enjoying getting gifts and messages from around the world.
This follows a party thrown by fans in Ireland on Monday.
*Michael STILL has several hundred very special greetings to read from his fans from around the world that have been collected HERE at the MJFC!*
Thanks, Anonymous, for bringing our attention to this article.
Source: MJFC / AccessHollywood.com
29.8.06
Happy Birthday Michael Jackson !
In keep the smile..
25.8.06

'Thriller Live' & MJWN's Involvement


It has been brought to my attention that there have been recent postings on various Michael Jackson notice boards regarding MJWN's and also my direct involvement with the 'Thriller Live' show, which will take place this coming Sunday, 27th August. Please be aware that although MJWN has advertised this event (as many other fan clubs have), MJWN is not involved with any part of the event. Two of our team members have been assisting the organisers - Shona with ticket sales and Matt with web site construction and web maintenance but they are both working outside the realms of MJWN, leaving the rest of us unaware of their commitments or what the organisers have planned.
Admittedly we have been involved with many other parties and projects over the years and can totally understand why some may assume we are involved. However, due to currently moving home and many other personal commitments that I have, plus various other commitments that the rest of the team have, we decided as a club not to get involved, way back in January of this year.
I believe it was also written on one posting that I have told someone Michael will be attending the event – This is totally untrue! I have not been in contact with any fans over the past few months (apart from team members) due to being so busy with my personal life and as I said above, I'm currently 'in the dark' regarding any plans for the event.
I have personally always been a stickler for giving credit where it's due and feel it unfair to the organisers that some may think we are involved and are in return giving MJWN and also me credit for an event that we, especially me, have had nothing to do with - All credit should go to 'Key Concerts' and their work force.
Unfortunately I, along with some of the MJWN team, cannot attend the event on Sunday, but for those of you who are attending – We all hope you have a wonderful time!
Jayne Ross
Source: www.mjworld.net
13.8.06
MTV's 25th Birthday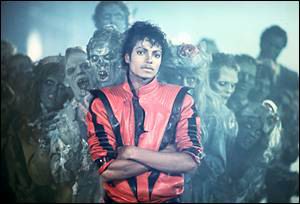 In MSN's article written about MTV's 25th birthday, Michael Jackson takes the top honors in what author David Bauder perceives to be MTV's most memorable moments. Unfortunatly, we won't see anything about the birthday on MTV, itself. Those folks who pride themselves on being instrumental in designing the musical scene, and thus playing a major role in defining youth culture, are not eager to take a look that far back. After all, most of their target audience were not even born when MTV first took to the airwaves in August of 1981.
Second only to the launch of the station, David Bauder of the Associated Press is quick to name Michael Jackson's "Beat It" video, seen on March 31, 1983, as the most momentous MTV event. With "Beat It," Michael became the first black artist with a video on MTV.
Michael also holds the next place on the MTV countdown with the debut of the incomporable "Thriller" short film on December 2, 1983.
Source: MJFC / tv.msn.com/tv

12.7.06
Contests & Competitions
All good things once end, so our contest with ..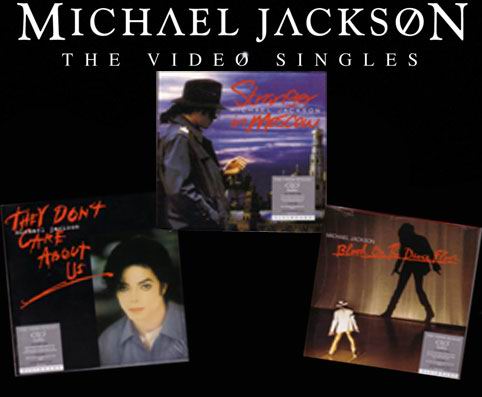 Source:MJFC3G / SonyBMG
29.6.06
Michael Jackson Moving To Europe

Michael's spokesperson, Raymone Bain, has said earlier on today that Michael is planning on taking up residence within Europe according to Reuters , although no specific location has been decided. Bain said that "He's just decided that with all of the projects he's going to be involved with and all of the people he's beginning to work with in the music industry, it's easier (to live in Europe)... He'll be going back and forth to Bahrain but Europe will be his principal residence."

Raymone Bain also said that Michael "still owns Neverland and he's still providing the funding for its upkeep...I'm sure at some point in time he will move back to Neverland, that's not out of the question," she said. "It's not in the immediate future but it's not far-fetched."

Also announced at the same time, is that Michael has cut his ties with his longstanding accountants & business managers Bernstein, Fox, Whitman, Goldman & Sloan as well as his Bahraini lawyers and has instead hired the services of L. Londell McMillan and The McMillan firm , which Bain says is the "first of a sweeping restructuring of his personal and business affairs."

Guy Holmes who was temporarily managing Michael's business affairs until a permanent appointment could be made, will continue to run Two Seas Records , and work alongside Michael's new business team according to his spokesperson, Susan Harris.

Michael has also set up The Michael Jackson Company, Inc. which he plans to eventually phase out MJJ Productions with. Raymone Bain has been announced as the General Manager of this new company and "other appointments will be forthcoming".
source : AP
28.6.06
Contests & Competitions
Source:MJFC3G / SonyBMG
24.6.06
Spokesperson Confirms Jackson/Dylan Appearance
Michael Jackson flew into Cork airport yesterday and was last night holidaying in the county with his three children as he prepared to attend Bob Dylan concerts in Kilkenny and Cork over the weekend.

Jackson was accompanied by his three children, Prince Michael I, Paris Michael and Prince Michael II, along with a number of personal assistants on a scheduled Aer Lingus flight from Charles de Gaul airport in Paris to Cork yesterday afternoon.

They arrived at Cork airport at about 4.10pm and were collected by a chauffeur-driven mini-bus. It was widely speculated last night that they were staying at the historic Blackwater Castle in Castletownroche, north Cork.

The castle was built by the Roche family in 1291 when they established a Norman settlement in the area. It was recently refurbished and offers high-quality accommodation overlooking the Awbeg river.

However, the owner of Blackwater Castle, Patrick Nordstrom, said last night he had received several media queries about Jackson and, while there appeared to be "a VIP hunt" for the pop star, he wasn't staying at the castle. "I think I would know if he was staying here - I would be flattered if he was but there isn't anyone here at the moment except my dog," said Mr Nordstrom, who admitted he was considering taking the phone off the hook because of all the media queries.

A spokeswoman for Aiken Promotions confirmed to The Irish Times that Jackson would be attending the Bob Dylan concert at Nowlan Park in Kilkenny today and the Live in the Marquee concert in Cork tomorrow night.

Source: The Irish Times
18.6.06
Contests & Competitions
Source:MJFC3G / SonyBMG
17.6.06
Michael At Paris Disneyland
Michael Jackson, who portrayed Captain EO in the Disneyland attraction, visited Disneyland Resort in Paris today. His visit did not go unnoticed, attracting crowds of people as he does wherever he goes.
Michael was accompanied by about ten bodyguards and went on several attractions, including the Haunted Mansion and the Buzz Lightyear laser Blast. Each time, the attraction was not closed, but Michael's bodyguards occupied the cars before and after his with several empty cars being left between the rest of the park visitors for security reasons.

Below, you will see a photo taken as Michael left the Haunted Mansion.
Main Street USA, the street of shops that line the entrance and exit to the park were closed to visitors for a while in order to limit the size of the crowd who all wanted a glimpse or photo of Michael.
Source:MJFC
2.6.06
Fan Sees Michael In Store
"After having meetings, Michael and his children left the hotel around 8 pm and visited the shop "bLiSTER" in Shibuya which he visited on Sunday. He spent some time there and bought some toys.

Just by pure extraordinary coincidence, my sons and I were in Shibuya, just 10 meters away from the "bLiSTER" when Michael came to the shop, and my younger son, who waited for 23 hours altogether outside Michael's hotel to have a glimpse of him in vain, could see Michael nearby at very last.

I myself could see Michael shopping inside the shop, playing with Prince with Star Wars' light sabres.

According to my son, who saw Michael going into the van to leave the shop, had a light sabre in his hand and was switching off and on the toy. Michael was also shooting the fans with video-camera. The people in Shibuya were so excited. Wherever Michael goes, huge crowd gathers.

Michael's van left the shop after about 30 minutes."
Many thanks to Hippoko for this report.
Source: MJFC
1.6.06
Michael Appears On Japanese TV Show
Japanese tv channel Fuji TV reports that the 'SMAP SMAP' show featuring Michael Jackson will be aired on this channel on June 5, 2006. The show was recorded Wednesday evening.
Fuji TV reported that the show hosts SMAP were in the middle of singing when suddenly Michael appeared in the studio. None of them had known that Michael would come so they looked totally shocked. One of the members even thought at first that it was an impersonator, not Michael himself.
All the SMAP members are Michael Jackson fans. Shingo Katori, who is sitting far left during the show with blond hair, went to the BAD tour concert in Tokyo as a very small boy taken by his mother. He was, quite naturally, awe-struck and started to dream about becoming a star.
After the 'SMAP SMAP' shooting, Michael went to an electric appliance shop in central Tokyo, around midnight. He has already been there on Tuesday after visiting Tokyo Disneyland.
At the earlier party, Michael told all the guests, "I love you" as he greeted them individually and posed for photos. There were 100 specially invited guests, including the President of Avex Records, singer Yoshiki and glamour models and Japanese socialites the Kano Sisters.

It was said Michael took Yoshiki and the sisters (pictured above) into a separate room for a conversation. What is not known is whether the conversation topic consisted of business, pleasure, music or traffic congestion - only Michael knows! Kano Sisters
For a download of the tv teaser click here.
Source: MJFC / Fuji TV
30.5.06
News video MTV Japan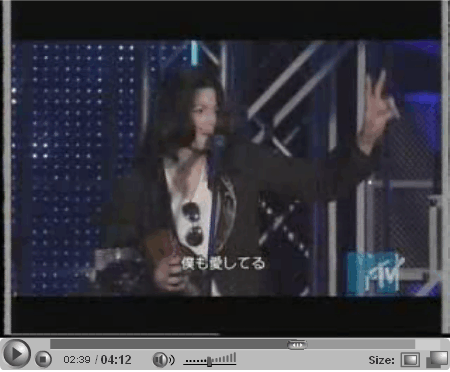 Contests & Competitions
Source:MJFC3G / SonyBMG
29.5.06
Michael Visits Children's Home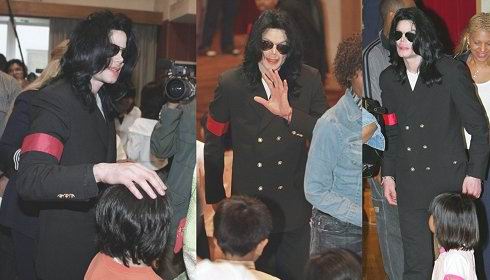 On Sunday, Michael visited a Tokyo children's home and told a group of 140 excited children ages 2-18 "I love you" in Japanese. He was also greeted by about 100 fans as he arrived in a black van, wearing sunglasses and a white T-shirt under a black double-breasted suit with gold buttons and a single red armband.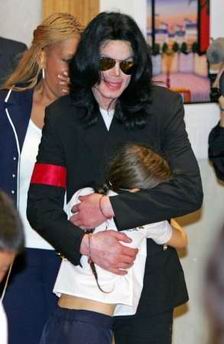 Inside the Seibi Gakuen children's home, Michael watched a 15-minute performance of traditional music and dance by children in kimonos before speaking briefly on stage:
"I'm very happy to be here.
I'm happy to be with you lovely people."
In Japanese, he said "Aishiteru," meaning I love you.
Smiling, he later shook hands and signed autographs for the children, who called out "Michael, Michael" and tugged at his sleeve.
One of the children, Eiho Omori (13), described the meeting as follows:
"He is very tall and very cool-looking. I don't know his songs but I've seen him dance on television."
Teachers at the children's home said they were surprised when they had heard Michael Jackson would be visiting. Kiyoko Mito, headmistress of the Christian-run school, said:
"Everyone couldn't believe such a big international star was visiting us. The children only believed me after seeing the news yesterday that Michael Jackson was actually in Japan."

Source: MJFC / Reuters
28.5.06
Michael Accepts Legend Award In Tokyo
Hundreds of adoring fans gathered both outside and inside a Tokyo stadium Saturday night to cheer Michael Jackson at the MTV's Japan Video Music Awards ceremony.
Video here:
http://www.youtube.com/watch?v=bjjgSk1cinw
Michael, beeing introduced as "the King of Pop, the King of Rock and the King of Soul," flashed a "peace" sign as he walked onstage to the sound of "Thriller" to receive his "Legend Award". He said:
"I'm honored to be in Japan again and I'm very happy to be among the Japanese people because I love them very much. Thank you for your loyalty.
I'd like to say to the Japanese people from the bottom of my heart, I love you very, very much."
Receiving the award he added,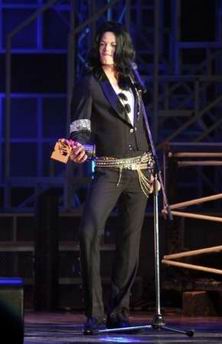 "I thank the fans around the world and I thank the fans in Japan.
I promised myself I wouldn't be emotional when I got up here,"
he continued, as his voice cracked and trailed off. Then he added,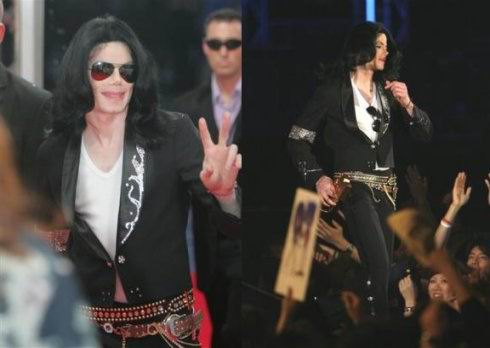 "I think you are very sweet, generous and kind people. I thank all the people who believed in me. I believe in you. I thank my children, Prince, Paris, and Blanket, who have been there for me. I love them very much."
Responding to his fans screaming "I love you," he replied: "I love you more." Then he raised his hands with a V-sign.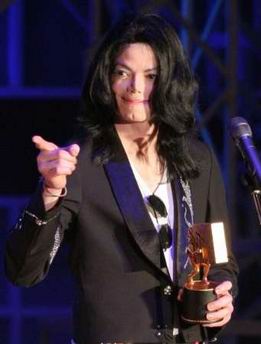 Asked at a short backstage press conference if he had a message for his fans, Michael said:
"I love you and thank you for your loyalty,"
making a light bow and putting his hand to his heart.
Michael Jackson had arrived Friday night with his three children on the first leg of an Asia Tour which will also take him to Singapore, Shanghai, and Hong Kong.
Source: MJFC / Reuters, AFP, FOW News; Photos: Reuters, Kazuhiro Nogi/AFP/Getty Images
26.5.06
Michael Grants Interview In The UK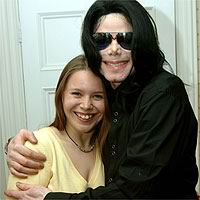 Michael Jackson granted an interview to the British newspaper The Mirror. Therefore, he met Mirror's showbiz reporter Fiona Cummins at the London offices of the famous department store Harrods, owned by his friend Mohamed Al Fayed. Reportedly, Michael has also lined up a series of business meetings in the UK.
Cummins decribed the meetings as follows: "He swept in at 1.05pm without fanfare, no bodyguards, no entourage - and barely a trace of make-up. It was his first face-to-face interview since being acquitted of child abuse last year - and I wasn't sure what to expect. But (Jackson) - who has often given the impression that he prefers to keep people at arm's length - greeted me like an old friend. Smiling broadly he held out his hand, then threw his arms around me, giving me a whiff of his sweet-smelling perfume. He looked totally different from the gaunt, hunched figure who emerged weighing just six stone at the end of his US trial last June. And the 47-year-old star was more than happy to chat after finally emerging from his self-imposed exile in Bahrain. He seemed relaxed as he talked about rebuilding his tarnished career and his plans to create a new Neverland - in Britain." During the meeting, Michael talked about the following: "I'm here in London on business for a couple of days. I love it here.
I'm looking for a place to live. I've always liked the UK and I just love the fans here.
(he grinned as he added) I'm also visiting my good friend Mohamed - 'cos he's the man."
According to Cummins Michael will also be looking at luxury properties in and around London as well as in Scotland and Ireland.
Asked about his health, he answered: "I'm fine - very well thanks. I'm feeling good." Michael also said that he is working on a new album.
To read the complete article please click here .
Source: MJFC / http://www.mirror.co.uk/
Michael To Visit Japan To Receive Award
Press Release
May 25, 2006
MICHAEL JACKSON TO VISIT TOKYO, JAPAN
MARKS FIRST OFFICIAL PUBLIC APPEARANCE SINCE JUNE 2005
WILL RECEIVE MTV JAPAN'S "LEGEND AWARD"
AT THE MTV JAPAN VIDEO MUSIC AWARD'S CEREMONY
SATURDAY, MAY 27, 2006
Washington, D.C. ........ Music Superstar Michael Jackson will visit Tokyo, Japan, in what will mark his first official public appearance since June 2005.
On Saturday May 27, 2006, Mr. Jackson will receive MTV Japan's "Legend Award," at the MTV Japan Video Music Award's ceremony, for his extraordinary and record-breaking career in the music industry. Mr. Jackson is a trailblazer, who set an unprecedented standard with music videos like "Thriller, "Bad," and "Smooth Criminal."
While in Japan, Mr. Jackson, whose recordings consistently topped charts, with over 100,000,000 albums sold in Japan alone, will visit orphanages, tour the city of Tokyo, and meet with members of the Asian business community, spearheaded by Broderick D. Morris, CEO, Positive Productions Yokohama, one of Asia's most reputable and successful entertainment promotions companies.
Mr. Jackson's trip to Japan kicks off the first in a series of Asian visits.
Says Mr. Morris: "We are delighted that Mr. Jackson has accepted our invitation to visit Tokyo. Michael Jackson is a legend. What he has accomplished as a world renowned artist is unequaled. He loves Japan, and we love him. We look forward to welcoming him." Says Michael Jackson: "I look forward to my visit to Japan because I have so many fond memories of my visits there. I thank MTV Japan for this honor, and Mr. Morris for spearheading this visit. I look forward to seeing old friends, and saying hello to my huge fan base in Japan, who, like my other fans around the world, have for so many years consistently shown their love and support to me and my family."
Source: MJFC / Raymone Bain, official spokesperson for Mr. Jackson
19.5.06
Interview With Teddy Riley
Teddy Riley is well known to Michael Jackson fans. He has worked with Michael and has influenced a generation of today's R&B artists. In this interview with Underground Soul, Teddy Riley talks about plans for the future and Michael. Greg: Hi Teddy, welcome to Underground Soul and thank you for your time.

Teddy: Thank You for having me.

Greg: There has been a bit of a New Jack Swing revival lately. How has the tour with Blackstreet and Guy been going?

Teddy: Been going great man. If it wasn't we wouldn't be continuing, you know that! But it's going really great man. I can't even say you have your ups and downs because everything has been up for us. Selling out everywhere and it's doing really good. I have no complaints and people are really happy when they walk away.

Greg: How many more dates have you got on the tour?

Teddy: You know what, I really don't know about the dates all I know is we're going somewhere about a week before. I don't really keep up with the schedule; I just know we have a bunch of dates.

Greg: What's next after the tour?

Teddy: I have to go work with Michael Jackson and I have to work on these Blackstreet and Guy albums. So I have a lot of things that need to be done. I put that off to do the tour, but now it's time to really get to work so that we can stay out on the road. Because how long can we play our original stuff, our old stuff, without a record. People will get tired of that. Ok we heard the good stuff, now give us some more good. That's what we're trying to prepare for and if we wait too long it will be late next year. We want to try and get it out either late this year or the beginning of next year. For Blackstreet we are looking at late 4th quarter for our first single with a B Side of a Christmas song. For Guy we are trying to do the same thing. With Michael Jackson, if we could do a 4th quarter, which I doubt, it'll happen. If not we'll definitely do a 2nd quarter next year.

Greg: Are there other people working with Michael Jackson on his record or just yourself?

Teddy: There will be other people working on there but he's looking at me doing some quarterbacking on the project. I'm probably the one who is gonna foresee this project going forward on the music technology production side getting everybody to finish their projects, and hopefully he designates me to be that quarterback.

Greg: I played all the tracks you did with Michael on "Dangerous" earlier. I feel they were way ahead of their time.

Teddy: That's why it is still playing. It's pretty much the way all of my music is made, even with Guy and Blackstreet. I kinda follow the Prince, Quincy Jones, Michael Jackson formula – be ahead of your time so that your records are still playing years later.

Greg: Would you say the "Dangerous" album is one of your favourite projects?

Teddy: Yeah, it is one of my favourites along with Bobby Brown, Guy and Blackstreet.

Greg: I love your remix of "I Don't Wanna Fall In Love" by Jane Child.

Teddy: Yeah. That's one of my favourites. Kept me in the business!

Greg: Which projects do you feel should have been bigger? I always felt that Bobby Brown's "Bobby" album should have been huge.

Teddy: Yeah, the thing about the Bobby album is that they jerked me again on the first single, but it's alright, everything happens for a reason. I felt like if they had put out "Getaway" or something smooth like "One More Night", or "That's The Way Love Is", you know what I'm saying. "That's The Way Love Is" should have been a leading single. That "Humpin' Around" record didn't make no sense. But that was the A&R's that were in charge having favouritism of producers.

Greg: Are you going to be working with Bobby on his comeback?

Teddy: I don't know. He's sent a message through a few people that the only person he wants working on this album is Teddy Riley. But it is gonna be too late as I'm gonna be in Bahrain with Michael, Guy and Blackstreet with my writing and production team so it's probably gonna be too late.

Greg: What label are these projects going to come out on?

Teddy: Can't tell you yet! But Michael is pretty much with his bag of tricks. He's always coming up with the greatest plans so I'm waiting for his word. (Ed: Since the interview it has been reported that Michael Jackson has signed an exclusive recording agreement with Bahrain-based Two Seas Records. The label is a joint venture between the Michael Jackson and Abdulla Hamad Al-Khalifa.)

Greg: So I take it that you are solely concentrating on those 3 projects right now then?

Teddy: Right, but I have groups that I am signing. I am trying to sign SWV, Silk, Next - all the new legends. I'm trying to sign them so that I can do a big phenomenal concert package on the road with my own tour support and these groups not having to worry about if they sell out tickets. If we take it overseas we can do 10,000 seaters with 5 groups - Next, Silk, SWV, Blackstreet, Guy - you know what I am saying. That would be a great ticket and with tour support they don't have to worry about guarantees.

Greg: What is the current Blackstreet Line Up? There is yourself, Mark Middleton, Eric Williams and I hear you have a new member.

Teddy: Yeah, his name is Jay. We call him Brown (laughs) because he's not Black he's Brown. (Ed: In reference to founder member Chauncey "Black" Hannibal.)

Greg: Where did you find him?

Teddy: I actually met him a long time ago and he was in a duet group, him and his buddy, and when we were looking for a new member of Blackstreet he was on my mind and I said this is the cat that we need. I just put out an APB and we found him.

Greg: Are you still in touch with Chauncey at all?

Teddy: Yeah. I just spoke to Chauncey last week.

Greg: Any chance that he will be on the new record?

Teddy: Well he's working on his new album. It should be out 3rd quarter, something like that.

Greg: So how would you differentiate between the sound of Blackstreet and Guy?

Teddy: Oh, it's really different. I mean Guy is more of like the hyper New Jack Swing and Blackstreet is more like the smooth tone New Jack Swing.

Greg: A few years ago Aaron Hall was asked to define New Jack Swing. He said it was his voice and Teddy Riley's music.

Teddy: That's what it is! It is pretty much everyone who has contributed to New Jack Swing, their voice and my music. Bobby Brown's voice, my music. Michael Jackson's voice, my music.

Greg: So how would you define New Jack Swing?

Teddy: I always define it as the new kid on the block that is swinging it with Teddy Riley's music.

Greg: You mentioned Quincy Jones, and I know he is a massive influence on you. I always wanted you to do that Quincy Jones style project. An album by Teddy Riley with both established and up and coming artists singing and you as the producer. The likes of Michael, Bobby Brown, Aaron Hall, Big Bub….

Teddy: There will be a time for that. It's kinda like planning out the next 20 years of my career and there will definitely be a time for that. I just need to get everyone back together. Once I get everyone back together we'll have another millennium version of "We Are The World" and a bunch of things. I have my composers and my scores and we are gonna do movies and TV projects. So just look forward to it.

Greg: It is also well documented that you nurtured the likes of The Neptunes and Rodney Jerkins. You must be proud of what they have achieved.

Teddy: I'm blessed and definitely proud. I'm proud of God blessing me with all the things that are happening for me. Because at one moment, just like everyone else, at certain moments you see that your career isn't going in the direction that you want it to go in. But I kept God first and kinda preyed along the way and he steered it back and got it back on the road! That's a great feeling, I'm really proud of him.

Greg: Talking about your career not going in the direction you wanted it to, let's go back to the late 90's with your Lil' Man Record label on Interscope. Following on from the massive success of the 2nd Blackstreet album you looked all set to go with the label. The Queen Pen album was released but we never heard from your other artists 911, Mike E, Nutta Butta and David Miller for example. Was it your choice not to release those albums?

Teddy: I just thought that my career in that aspect was being held back. I was threshold, my label was threshold. It was basically people who didn't believe in the next music. When I did Queen Pen it became successful with only a little bit of push, it did well. As a new label you gotta believe in your artists, and I always believed in my artists, but I didn't have the backing.

Greg: You also had a deal with Virgin to do a solo project called, "Blackrock". Why did that never see the light of day?

Teddy: Because my music man was gone, they let him go. He was the guy who believed in me. The rest of them didn't understand the Blackrock concept, but they still went ahead and tried to put it out overseas and leak it so that I don't use it anymore, which I wasn't trying to do. Once I shut down a project it's shut down, it'll never come out, but Virgin went ahead and still leaked it and gave away whatever they could of what they had.

Greg: So you don't really re-use tracks?

Teddy: No I never re-use tracks like that, unless somebody request that I remake… like NSync when I did "Just Got Paid" over, they asked for it and I did it.

Greg: "Look In The Water" on the last Blackstreet album was originally a Mike E song though wasn't it?

Teddy: Yeah, it was a Mike E song that never came out. These guys really wanted it so I said let's do it. There's another song that I want to re-use for Blackstreet which is a song that Michael Jackson did called "Heaven Can Wait".

Greg: Pharrell Williams co-wrote "Look In The Water" didn't he and Mike E was originally part of the Neptunes. Were the Neptunes going to be a group with Mike E singing and Pharrell rapping?

Teddy: Yes it was, but Mike E pulled out of it, quit.

Greg: But you kept in touch and brought him back as a solo artist?

Teddy: Yeah, we always stay in touch. In fact Mike E just e-mailed me yesterday.

Greg: Any plans for you to ever collaborate with the Neptunes? I know Pharrell always speaks very highly of you.

Teddy: Well that would be on them. If they request it I'd do it. I'm there. Anytime they request of me to do something or be somewhere, I'm there. Just to support and be back-up, I'm always with following up and supporting the artists and producers I bring forth. But it's really on them to do the same thing. I'll leave that to the Neptunes.

Greg: So moving forward with your new projects are you looking for a label that will back you 100%?

Teddy: We have our backing; we have everything that we need to put these projects out ourselves. We're just trying to do the last thing that our funders are looking for which is do our own distribution plan so that none of our records are threshold and we can put out and sell as many records as we want without them stopping the production.

Greg: Have you got any other hot young producers in your camp at the moment that you are excited about?

Teddy: I have a few producers that's up and coming. We have a kid named Jason, we have a kid named J-Styles, a kid named J-Mathis, we have another kid that's coming – he's top secret. We're right now in the middle of negotiating something and I don't want to publicise his name. When he comes he's a beast! We got definitely what we would call the next Neptunes.

Greg: Have you got any writers? You did some great work with legendary Leon Sylvers III.

Teddy: Those guys that I mentioned are writers as well. J-Styles and a few other people. Also people who came from the Blackstreet albums like Karen Anderson and Sheri Blair.

Greg: What happened to Tammy Lucas?

Teddy: She's still around. She just recently sent me her love through a mutual friend of ours and if I call her she would definitely come and be on the project as well.

Greg: How is your Brother Markell and Aqil Davidson these days? (Ed: Markell Riley and Aqil Davidson made up the group Wreckx'N'Effect)

Teddy: My Brother is a family man now; he has his construction company and doing his thing in North Carolina. I haven't heard from Aqil.

Greg: So no Wreckx'N'Effect reunion then?

Teddy: I don't see it. I mean if it happens it happens but I don't see it because my Brother is pretty much finished with the business. He's comfortable and he can just live life. He's pretty much finished with music.

Greg: Finally, if you had to pick one song from your massive catalogue which would it be?

Teddy: Erm…… "Remember The Time"!

Greg: Great song. Teddy, I hope that all your projects go well for you this year.

Teddy: I know, God Bless', it will. So far I'm feeling it. I'm just trying to stay calm, get my rest when I need it and keep it moving. I'm just trying to stay on the same formula that I've been on. The hardest working underground man in the business!

Greg: Thank you very much again for your time.

Teddy: Thank You man. Take care.
Source: MJFC
13.5.06
My World by Michael Jackson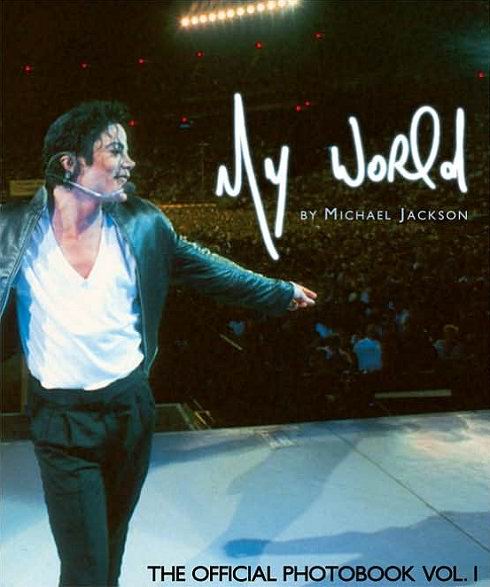 The Official Photobook Vol.1" is available at the FNAC store.
This books includes 56 pages and 49 pictures. It features extracts of songs written by MJ himself and available on the lithographs that were released in November 2005. One of the available songs is called "You are so beautyful" and is dedicated to the fans, whom MJ considers as the reason why he keeps doing his jobs. Another song featured in the book is more personal and is relating to MJ's state of mind. The book begins with the question "Do you remember the time ?" and has been written to the attention of the fans of the King of Pop. Remember the past because MJ has not forgotten you.
Source: fnac.com/ thank you Steve!
13.5.06
Contests & Competitions
Source:MJFC3G / SonyBMG
6.5.06
Press Release - Photographs of Michael Jackson Are A Hoax
Washington, D.C. ……In response to numerous inquiries, photographs
which appear to be images of Michael Jackson in the May 2006 issue of
GQ Magazine are not authentic.

Mr. Jackson has neither posed for, or provided photographs of himself to
GQ Magazine. The person in these photographs is an imposter.

Mr. Jackson is furious that his image has been used in such a misleading way,
and is demanding an apology from the editors of GQ, and it's publisher,
Conde Nast. Mr. Jackson is also demanding that the magazines be pulled
from newsstands.

Source: MJFC / Raymone Bain, spokesperson for Mr. Michael Jackson
21.4.06
Contests & Competitions
Source:MJFC3G / SonyBMG
19.4.06
MJ: New Management!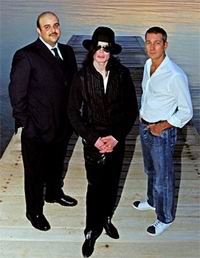 Michael Jackson does, indeed, have a new manager. He is English music mogul Guy Holmes.

Michael has signed a recording deal with Two Seas Records. zMichael founded that label with Bahrain ruler Sheik Abdulla Hamad Al-Khalifa. Guy Holmes has been named Two Seas Records Chief Executive Officer.

And there is exciting news from Michael! The King of Pop is writing a new album due to be released late next year. Michael reports that "I am incredibly excited about my new venture and I am enjoying being back in the studio making music."

Holmes - who has helped Crazy Frog and Tom Jones top the charts - will oversee Jackson's new album and manage the superstar's other business interests.
Source: MJFC / World Entertainment World Network
12.4.06
Contests & Competitions
Source:MJFC3G / SonyBMG
2.4.06
Contests & Competitions
Source:MJFC3G / SonyBMG
24.3.06
Contests & Competitions
Source:MJFC3G / SonyBMG
19.3.06
Contests & Competitions
Source:MJFC3G / SonyBMG
17.3.06
Raymone Bain Releases Statement


Michael Jackson's spokesperson Raymone Bain has released a statement following rumours that Michael was shutting his Neverland Valley ranch down for good.

The statement is as follows;

"It is public knowledge that Mr. Jackson currently resides in the Middle Eastern country of Bahrain. He therefore decided to close his house and reduce his workforce. This is a common practice when a residence is vacant for an extended period of time.

"Reports indicating that Neverland has been closed or 'shut down' for good are inaccurate.

"There will be no further comments regarding this matter."
Source : Raymone K. Bain
17.3.06
Spain Loves "Visionary"
For the third consecutive week, Michael Jackson has achieved historical results in the Spanish charts.

In the week from March 6 to 12, "Rock With You" entered the charts at number one. "Thriller" was in second position followed by "Don't Stop 'Til You Get Enough" in third.

It is certainly not everyday that an artist manages to reach the top three positions simultaneously and with the recent release of two of Michael's most successful singles, "Billie Jean" and "Beat It", we can only expect greater achievements for Visionary.


Source: MJFC / www.promusicae.org
8.3.06
Contests & Competitions
Don't Stop 'til You Get Enough
Rock With You
Source:MJFC3G / SonyBMG
3.3.06
Raymone Bain Releases Statement


Michael Jackson's spokesperson Raymone Bain has released the following statement concerning a ContactMusic.com article that has used false quotes;

"In an article dated today's date, March 1, 2006, released by ContactMusic.com titled, 'Jackson Shows Islam Support with Mosque,' I am being quoted.

"I have neither spoken to anyone at ContactMusic.com, issued a statement to anyone at ContactMusic.com, nor have I been contacted by anyone at ContactMusic.com to verify the information written regarding Mr. Michael Jackson.

"The liberty that the reporter has taken, not only in falsely and recklessly using my name, but making up a fictitious quote which is being attributed to me, is a despicable display of journalism. This action is as wrong as the information being disseminated in the article.

"I am demanding a retraction."
Source:MJNI
25.2.06
PRESS RELEASE - STATEMENT OF ATTORNEY THOMAS A. MESEREAU, JR.
Attorney Thomas A. Mesereau, Jr., issues the following statement
regarding Mr. Michael Jackson:

"I am very disturbed by the false, erroneous, and self-serving reports about
the relationship between Michael Jackson, my law partner, Susan Yu, and me.

"At the conclusion of the criminal trial in Santa Maria, CA., Michael Jackson was acquitted 14 times. The jury acquitted him of 10 felonies and 4 lesser- included misdemeanors. Michael Jackson was completely vindicated and exonerated by these verdicts.

"Shortly thereafter, Michael Jackson, and his beautiful children, moved to
the Middle East. Attorney Susan Yu and I were asked to help him during
this difficult period of transition. Michael and his children were exhausted
by the terrible, unjust prosecution, and needed to start a new chapter in their lives.

"Because Michael Jackson was our client, and is our friend, Attorney Susan Yu and I agreed to help him, and his family, during this time of transition. For approximately seven months, we assisted Michael Jackson in this effort.

"We never intended to assume these obligations on a permanent
basis. For example, my love is Criminal defense. I will be in trial in
the State of Alabama during April and June, in two Capital murder cases,
in which I am representing the client free of charge. I am also assisting
in the development of a free legal clinic for the poor at a prominent
African American church in Los Angeles. Attorney Susan Yu has
other clients that she needs to attend to as well.

"We are still in communications with Michael Jackson, and his assistants, and remain close friends. Mr. Jackson completely understands the situation and is grateful to us for helping him with the transition. The speculation that surrounds this situation is nothing but shallow tabloid reporting.

"People should leave Mr. Jackson and his family alone."

Source: MJFC / Raymone Bain
19.2.06
Katrina Song Said To Be Ready

The much anticipated Katrina relief song penned by Michael Jackson will soon be ready. So says Sheik Absullah bin Hamad Al Kahifa, son of the king of Bahrain, in a telephone interview with Associated Press. The record is coming along great. We've been taking our time to perfect it and mix it."

The song is currently titled "I Have This Dream," and it includes Snoop Dogg, R. Kelly, Ciara, Keyisha Cole, James Ingram, Jackson's brother Jermaine, Shanice, the Rev. Shirley Caesar and the O'Jays, the prince said.

The release of the song also had been delayed.

The Prince said that the release has been delayed because more artists wanted to contribute. As to who the artists are, he said that he would "like to keep that as a surprise." He also declined to name the company claimed to have the rights to sell the song through CD's and the internet.

Prince Abdullah, 30, plans to release the song on his own 2 Seas label. "Michael did a wonderful track," he said. "His voice was phenomenal." He said that the song "is a message of peace and help and caring. It's a song of total oneness."

While Michael has been staying in Bahrain until recently and has purchased a house there, the Prince said that he doesn't know if Michael has plans to settle there permanently.

Several of the participating artists recorded their portions of the song Nov. 1, gathering at a Los Angeles studio, Bain said.

"James Ingram, Ciara, Snoop Dogg and Shirley Caesar were all there," said Eddie Levert, lead singer for The O'Jays. "Michael produced it on the phone from Bahrain. He talked to Shirley Caesar, he talked to James Ingram. He talked to everyone except me."

"Overall, it came out very well," Levert said. "It had a strong gospel feel. I think it's really a great song. If radio plays it, it could do very well."

"To work with him on this project was such a privilege and a blessing," Caesar said. "Michael is a true humanitarian."

Is this the beginning of a new album? Prince Abdullah laughed and said, "I will just say we've been very busy."

"This is a raindrop before the thunderstorm,' he said. "He's getting ready to come out with a lot of bells and whistles. He's so energized. It's explosive."


Source: MJFC / AP
15.2.06
My world
The King of Pop, Michael Jackson, breaks his silence. In his first book in 14 years, the living pop-icon tries to explain himself to the world once again. In "My World", Jackson speaks out about his childhood-idols, his inspirations and about living the most famoust life in the world with only a few normalities.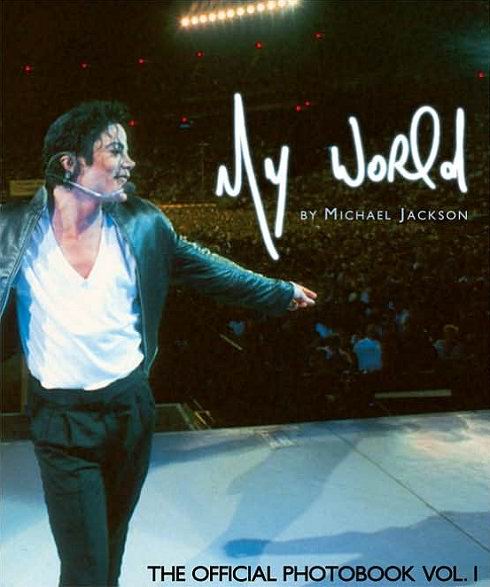 The book features more than 40 full colour photos from Michael Jackson's private photo archive. Never before seen pictures show Michael Jackson on stage, in the studio, on award-shows and very privately at his home. A photographic review of his career and unique life on and off stage. A close up portrait of the world's greatest entertainer, a human being with emotions and fascinating thoughts which are the result of forty years being in the worldwide spotlight:

My World By Michael Jackson

Source: Amazon
8.2.06
Press Release Regarding Pope Paul's Prayers Project
Washington, D.C. :
Contrary to published reports in Italy, and the United States, Michael Jackson has not participated in any discussions with the Vatican, or Edizioni Musicali Terzo Millennio, an Italian music label specializing in religious songs, to record music to Pope John Paul II's prayers.
None of Mr. Jackson's authorized representatives have contacted either the Vatican, or Edizioni Musicali Terzo Millennio, regarding this proposed project.
Michael Jackson is unaware of this project, and news reports stating otherwise are completely erroneous.
Source: MJFC / Raymone K Bain
4.2.06
Possible Collaboration With Irish Band
According to Contact Music, Michael Jackson is considering recording with an Irish band, Westlife.

The group's manager, Louis Walsh, met with one of Michael's representatives in Germany past November.

The band's four members are reportedly eager to record with the King of Pop.

Speaking after last night's (02FEB06) Meteor Ireland Music Awards in Dublin, SHANE FILAN said, "The idea to do a single with Michael Jackson came from Louis Walsh.

"It would be this cool thing to do, we are all big fans of Michael Jackson."

Source: MJFC / contactmusic.com
31.1.06
Michael Leaves Hamburg
Michael and his children left Hamburg this morning.

Before he entered the car, he stopped shortly to wave to the fans.
As we very much respect Michael's privacy, MJFC will not report on his current whereabouts - unless this is announced officially.
Source:MJFC
29.1.06
Michael Is In Germany
Michael is currently on a private visit in Hamburg, Germany. He arrived in Germany on Thursday together with his kids.
Amid intense media coverage police cordoned off the home of his 23-year-old host to guarantee their safety. Around 100 fans and media representatives were waiting in front of his hosts house today to catch a glimpse of Michael, who prefered to stay in the house though.
Source:MJFC
11.1.06
Michael Jackson To Consult /
Hurricane Katrina Song Update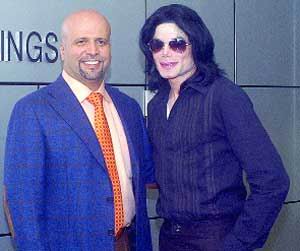 Michael Jackson is holding talks with AJJ Holdings, a Bahrain based company, over a string of entertainment projects proposed for the Gulf region. These will include theme parks and music acadamies. Michael will work with the company as a professional consultant.
Through this project, "stagnant" properites could be redesigned and revived resulting in a renewed and revitalized entertainment sector in the Gulf. AAJ Holdings has interests in companies around the world, concentrating on projects that improve city and urban development. To the group's credit are the creation of the Bahrain Financial Harbout and the Blue City in Oman.
According to a statment released by Raymone Bain, the long-awaited hurricane Katrina relief song is in it's final production. It will be released on Baharani label 2 Seas Records. That label belongs to Southern Governor Shaikh Abdulla bin Hamad Al Khalifa.

Besides Michael, artists Keisha Cole, Ciara, Snoop Dog, Babyface and R. Kelly are among the singers taking part in the song titled "I Have This Dream." Most of the artists recorded their portions in Los Angeles while Michael recorded his in London.

Shaikh Abdulla stated "This project is in response to the widespread devastation wrought by Hurricane Katrina. It is my hope that the proceeds from this recording will make a tremendous difference to all individuals affected by this tragedy in the U.S."

Michael met Shaikh Abdulla through his friendship with Jermaine, who has long - standing ties with Bahrain and converted to Islam following a visit to the country in 1989.

It was revealed that Bahrain is currently the pop star's legal home after he was summoned for jury duty in the US.
Source: MJFC / www.gulf-daily-news.com/ Gulfnews.com