25.12.08
Press Release On Michael's Health
Michael Jackson's official and sole spokesperson, Dr. Tohme Tohme, in response to recent rumors regarding Michael's alleged medical condition has issued the following statement.
The rumours were started by journalist Ian Halpern who is working on a book on Michael Jackson and afterwards picked up by media outlets worldwide:
"Concerning this author's allegations, we would hope in the future that legitimate media will not continue to be exploited by such an obvious attempt to promote this unauthorized 'biography.' The writer's wild allegations concerning Mr. Jackson's health are a total fabrication. Mr. Jackson is in fine health, and finalizing negotiations with a major entertainment company & television network for both a world tour and a series of specials and appearances."
Source: MJFC / BusinessWire / Scoop Marketing
11.11.08
Personal Property Of MJ On Auction UPDATED!
An array of treasures from Michael Jackson's Neverland Ranch ranging from Michael Jackson's iconic white-jeweled glove to the grandiose entry gates to Neverland Valley Ranch are up for sale in an auction boasting more than 2,000 items in a live auction. The auction, which is being organized by the King of Pop himself, offers an astounding array of fine & decorative art items, paintings and life size bronze and marble sculptures to Memorabilia from the life and career of Michael Jackson. It also includes amusements, arcade games & Disneyana, entertainment memorabilia and garden statuary furniture from the personal collection of Michael Jackson.
Beginning with a highlights tour to major cities worldwide, Julien's Auctions will host a 7 day museum quality exhibition at 9900 Wilshire adjacent to The Beverly Hilton (California, USA) open to the public on April 14-20, 2009. The auction itself will take place on April 21-25,2009. Bidding will be accepted in person and online. Auction Network will broadcast the auction live on national television and stream video of the auction online providing fans all over the world a front row seat to watch and bid in real time on the items up for sale.
On Wednesday, auctioneer Darren Julien said that Jackson has been sorting through thousands of personal items and his vast art collection and that this will be the first auction organized by Jackson himself:
He has never had one (an auction). We have been working closely with him for five months and he is in complete control of this."
Just the auction catalog alone will be priced at $100 with a limited number of signed copies available for $500. Michael Jackson plans to donate a portion of the proceeds to MusiCares, a charitable organization founded by the Recording Academy to help musicians in need.
Beginning February 15, 2009, bidders will be able to place proxy bids, register for the auction and explore the history of the more than 2,000 lots by visiting www.juliensauctions.com . For more information please click here .
Source: MJFC / AP / Julien`s Auctions / Reuters
8.11.08
Lenny Kravitz Working On Song For MJ
In an interview on German TV (RTL) singer Lenny Kravitz said that he is currently working on a song for Michael Jackson.
Source: MJFC / RTL
26.10.08
Michael Shops For Model Airplane - images added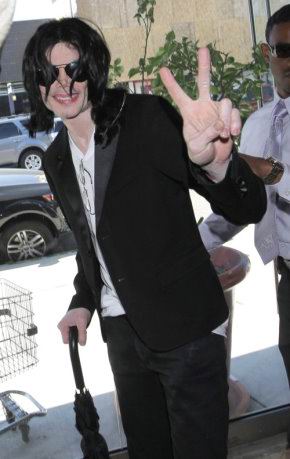 Michael Jackson stopped at a Robertson Boulevard boutique in Los Angeles (USA) to shop. He was at 'Off the Wall', a West Hollywood antique store. An inside source told E! News that he bought a Pan Am aluminum cast model airplane. The source says Michael was looking around at other items but only purchased the plane.
"It was a little difficult because people were pounding on doors and windows…so he was in and out pretty quick. The paparazzi were in hot pursuit of him."
Despite the chaos going on outside, Michael didn't seem worried.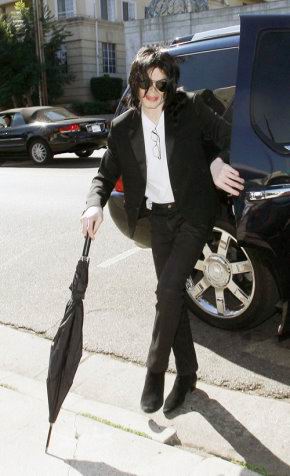 "He was great."
As Michael was exiting the store paparazzi and fans were everywhere:
"He came out and shielded himself with an umbrella at first," says another eyewitness. "Once he got in his car, he cracked the window and reached out and started shaking people's hands."
Source: MJFC UK / Entertainment Tonight / Image copyright ODuran/Fame Pictures / Celebrity-Gossip.net
15.10.08
Closing of the first stage of the contest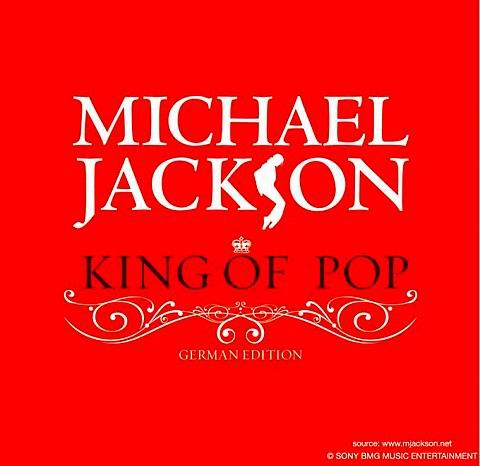 3.10.08
T25 Picturedisc
For the first time ever, the world's biggest selling album of all time will be available on picturedisc vinyl! The Thriller 25 picturedisc features the classic tracklisting .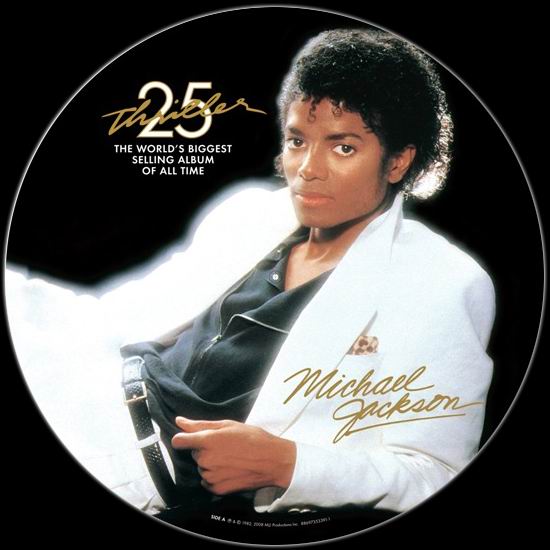 for example at Amazon, Newbury Comics, and Virgin Megastore.
Source: MJFC / SonyBMG / Legacy Recordings
15.9.08
Contests & Competitions!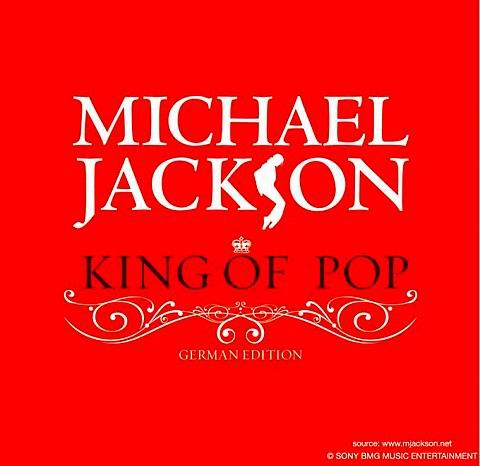 11.9.08
BRAVO Legends: Michael Jackson
O On September 15, 2008, German teen magazine BRAVO premieres a new special magazine series called 'BRAVO Legends'. And the first superstar to be featured will be Michael Jackson.
The special magazine will consist of 100 pages about the life and the career of the King of Pop and includes 10 DIN A4 posters as well as 2 mega posters. Additionally the fans can expect many so far unpublished and even new photos.
Main topics will be:
his rise to become a worldwide star
inside Neverland
his secrets
his future

The magazine will be available for €3.90.
We would like to say special thanks to BRAVO for the continued support for Michael Jackson for so many years!
Source: BRAVO / MJFC Germany (JAM-FC) / dnv online
7.9.08
The Jacksons Receive BMI Award
At the BMI Urban Awards The Jacksons were crowned icons on Thursday. Janet Jackson presented her brothers with the lifetime achievement BMI Icon award. Tito, Jackie, Marlon and Randy accepted the award, while Jermaine and Michael didn't attend the ceremony.
When Marlon was asked about his brother Michael before the show started he joked:
"I don't know. I think he's in Egypt riding a camel or something."

The tribute kicked off with dance troupe Jabbawockeez performing a funky "Dancing Machine" routine. Music group ONE sang "I Want You Back", while JoJo and Lloyd partnered on "I'll Be There" before Mario performed a rendition of "Heartbreak Hotel" and Keri Hilson performed "Who's Loving You." The finale featured Mario, Bobby Valentino, Lloyd and Ray J teaming up for "Never Can Say Goodbye." The Jacksons did not perform.

Before presenting her brothers with the award, Janet Jackson said her family was her greatest commodity and that she was proud to salute her siblings for their accomplishments in the music industry.

Afterwards, the Jackson brothers posed for photos with mother Katherine, father Joseph, and sisters Rebbie, LaToya, and Janet. Tito said about the award:
"It's a great honor to know your music influenced a generation. We're very proud of this moment."

BMI (Broadcast Music Inc.) is a performing rights organization that collects license fees on behalf of its songwriters, composers and music publishers and distributes them as royalties to those members whose works have been performed.
Source: MJFC / AP
1.9.08
Michael Speaks To Good Morning America
In a surprising exclusive interview with Good Morning America, the King of Pop tells reporter Chris Connelly this morning that he feels "very wise and sage, but at the same time very young."
The interview was, of course, in celebration of Michael's 50th birthday today and was conducted by phone from Michael's home in California. When asked by Connelly what was the happiest time in his life, Michael responded,
The recording of "Thriller" and "Off The Wall"....That meant very much to me and seemed to be received so beautifully by the public and the world. I enjoyed it very much."
Michael told Connelly that he feels he sacrificed his childhood for a lot of hard work and that he gave up his life for the medium. But when asked if he would do it all over again, his answer was,
I think I would. It is very much worth it. I have always loved show business and have always enjoyed making people happy through that medium. I love the celebration of music and dance and art. I just love it."
When asked if he'd like to see his children persue careers in entertainment he replied that he'd rather they enjoy their childhoods as much as possible saying,
I want them to get to do the kind of things I didn't get to do. So, I fill them with a lot of enjoyment that way -- a lot of amusement. You know? I get pretty emotional when I see them having a wonderful time....when they are on a ride and they are screaming and they are happy. It makes me emotional, 'cause I see they are having a real good time."
He added,
[My children] love music ... they are very much into the arts but, I don't push them."
Michael also hinted that he's not finished yet, saying,
I am still looking forward to doing a lot of great things.
To read the entire interview click here.
To watch the interview click here.
Source: MJFC / abcnews.go.com/gma
29.8.08
Happy Birthday Michael Jackson !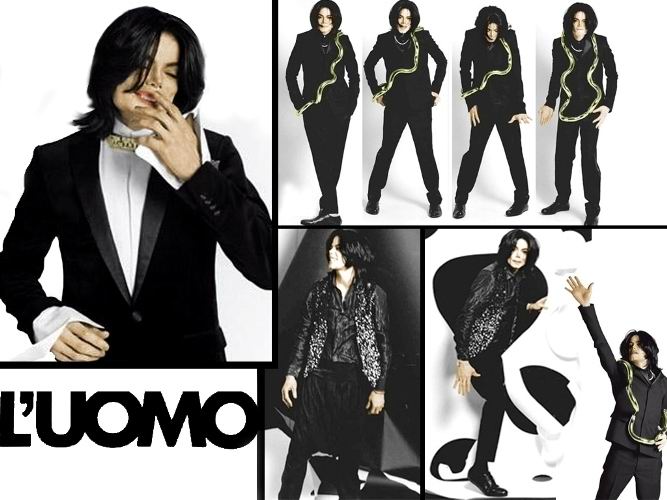 Keep the dream in music forewer!
MJFC3G
23.8.08
Switzerland To Release King of Pop - German Edition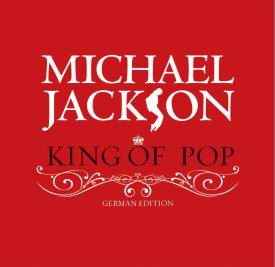 In Switzerland 21-8-2008, Sony will release the German Edition of 'King of Pop' in celebration of Michael Jackson's 50th birthday. The 30-track compilation will also contain 2 bonustracks--'Got the Hots' (for the first time available on CD in Europe - from the original Thriller studio session) and a brandnew 'Thriller MegaMix' by Jason Nevins. The complete tracklisting will be as follows:
CD1
1 Billie Jean
2 Beat It
3 Thriller
4 Smooth Criminal (Radio Edit)
5 Bad
6 Dirty Diana
7 Black Or White
8 Man In The Mirror
9 Earth Song
10 Heal The World
11 They Don't Care About Us
12 Who Is It
13 Speechless
14 The Way You Make Me Feel
15 We've Had Enough
16 Remember The Time


CD2
1 Whatever Happens
2 You Are Not Alone
3 Say Say Say
4 Liberian Girl
5 Wanna Be Startin' Somethin'
6 Don't Stop 'Til You Get Enough
7 I Just Can't Stop Loving You
8 Give In To Me
9 Dangerous
10 Will You Be There
11 Scream
12 You Rock My World
13 Stranger In Moscow
14 Rock With You

Bonustracks
15 Got The Hots (Thriller 25th Anniversary, previously unreleased)
16 Thriller Megamix (by Jason Nevins)

Source: MJFC / Sony Switzerland
2.8.08
Michael & Children Visit Mystere Show
Michael Jackson and his children attended the 9:30 p.m. performance of 'Mystère' at the Las Vegas Treasure Island hotel last Tuesday. The group also included four other friends. They entered the theater shortly after the show began in the dark to remain unrecognized and sat a few rows back from the stage.
Mystere is a huge circus show by the Cirque du Soleil. For more information on the show please click here .
Source: MJFC / Las Vegas Review Journal / Vegas Luxe Life
1.8.08
Akon Talks About 'Hold My Hand'
Singer Akon says he could quit music right now after already having accomplished his top objective: working with Michael Jackson. In an interview to MTV USA he said Tuesday:
"That was a dream come true. You know how you come into a career and set your goals as to where you wanna start and where you wanna end? I had a wish list of all the collaborations I ever wanted to do. Mike was at the top. I was saying, 'Well, if ever I get to Mike, then that'll be the sign I can retire.' But I got to Mike 10 years earlier than I expected. So I decided not to make retirement goals anymore.

I think at the end of the day, it was one of those situations that caught me off guard. I didn't realize I was working so hard to actually capture his attention. That really showed me. That's the day I realized I made it."


The song Akon and Michael Jackson put together is called "Hold My Hand" and was leaked to the internet a short time ago. The two go back and forth on the verses and Akon promises:
"It's a worldwide smash. It's gonna be huge.
The concept is to bring all the people together as one person linking as one world. At the state of where the world is now, with all these wars and conflict all over the place, I think a record like that is needed. That's the best time when a voice needs to be heard. I felt like, 'What better voice between me and Mike to be able to say something like that at the time we in?'
Outside of trying to do a club record or a record we expect to get thousand of [spins], it was more so, 'Let's do a record that fits all formats but also has some meaning to it.' But, of course, for the future, we'll be finishing up the rest of the record."


This lead to MTV placing the following question: Will we see Michael Jackson wearing a Konvict Music chain to match his sparkling glove?
"When the record comes out, read the label," Akon hinted.


Akon also said Michael Jackson would be appearing in the video for "Hold My Hand," which is the lead cut from Akon's next LP which is entitled 'Acquitted'.
"He's fully committed. We're gonna set up a whole tour around it. It's a big play."


Other artists which are expected to appear on the album include Whitney Houston, Nelly, Ashant, and DJ Khaled. It is expected to hit record stores in October 2008.

Source: MJFC / MTV USA
6.7.08
Sony Australia To Release Fan-Voted Album
Sony BMG in Australia is inviting Michael Jackson fans to compile "Michael Jackson: King of Pop," an album which will celebrate Michael's 50th birthday.
Starting June 21, 2008, you have 3 weeks to vote for your 5 favourite songs on the specially created website mj50.com.au . The album 'King Of Pop' will feature the top 30 songs picked by the fans, plus a new megamix from Jason Nevins. It will be released in Australia on Michael`s 50th birthday - August 29, 2008.
While submitting your vote online you can also add a birthday message for Michael. The most creative wishes will make it as part of the artwork for the album
Fans are also invited to join the official Australian album launch party at Club Swans, Potts Point, Sydney, Australia. The party starts on August 29 at 7.30pm. Limited tickets to this can be booked by phone (80612300) or through Ticketek.
Source: MJFC / Undercover / Sony BMG Australia
3.7.08
Brand New MJ Song With Akon Leaked
A new song by rapper Akon and Michael Jackson has appeared online. The beautiful song is entitled 'Hold My Hand'.
Gigwise reports that fans' reaction to the song on various websites has been very positive. One fan said that Michael`s vocals are "the return of the king." Another said: "So...after all this time Michael Jacksons still got it! He sounds great."
On the http://www.youtube.com/watch?v=x8e63VrrNKw you can listen to this great song and post your comments.
Source: MJFC / Gigwise
23.6.08
Thriller Vs. Star Wars
Dance Off with the Star Wars Stars 2008
23.6.08
Stan Winston Dies
On Sunday, Oscar winner Stan Winston, who was famous for his special effects ('Jurassic Park', 'Aliens', 'Terminator', 'Edward Sciussorhands'), died at the age of only 62. He died at his home in Malibu surrounded by family after a seven-year struggle with multiple myeloma (a form of cancer).
Working with the very best directors, such as Steven Spielberg, James Cameron, and Tim Burton, in a career spanning four decades, Winston created some of the most memorable visual effects in cinematic history and was a pioneer in merging real-world effects with computer imaging. He also worked with Michael Jackson as director and co-producer on the movie 'Ghosts'.
Stan Winston is survived by his wife, Karen, a son, daughter, brother, and four grandchildren.
Source: MJFC / AP / MSNBC
13.6.08
Michael's Phone Call - transcript added
Last Sunday (June 8, 2008) the party "Michael Jackson and the Jacksons: A Celebration" was held at the Durrant House Hotel in Devon (UK). The event was meant to welcome members of the Jackson family in the UK - with several of them being in attendance (Tito, Taj, TJ). During the party, Michael made a brief surprise live phone call. You can listen to the phone call in the YouTube video below.
Hi guys
I am here in Las Vegas. (not understandable) ...running around today having fun. It is very sunny and warm. It is very warm here.
And I am going to be doing some studio work today. (not understandable) ... and it is gonna be soon. Sooner than they think. I will tell you that much - it's gonna be sooner than they think. (not understandable)...
I love you more. I love you more.
And God bless you.
I love you.
Source: MJFC / YouTube (MichaelJackson1988)
30.5.08
Michael Attends Audigier's Bday Party - video added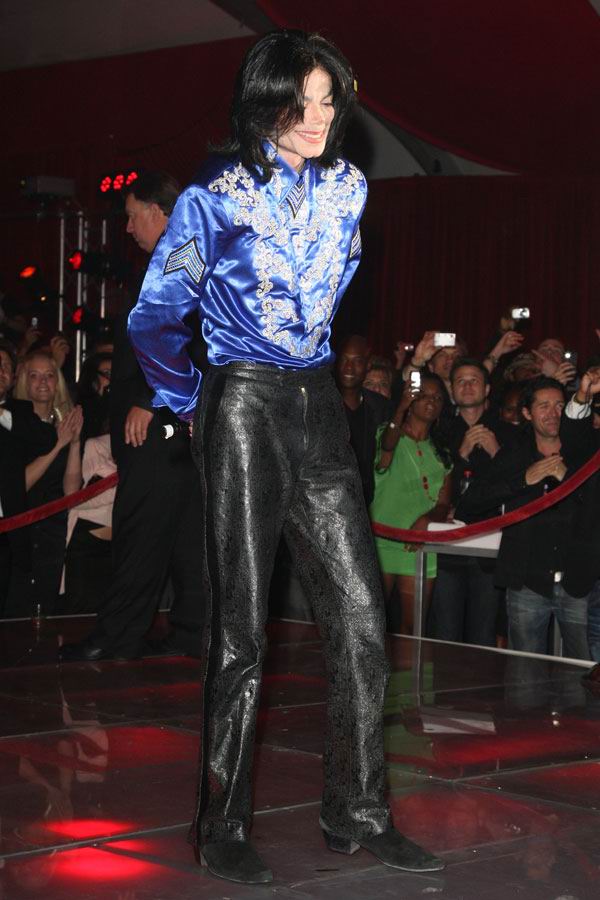 On Friday evening, famous fashion designer Christian Audigier (Ed Hardy fashion line) celebrated his 50th birthday with a big party at the Petersen Automotive Museum in Los Angeles (USA).
The party was attended by a lot of celebrities including Britney Spears, Fergie, Snoop Dogg,Johnny Haliday and Pamela Anderson.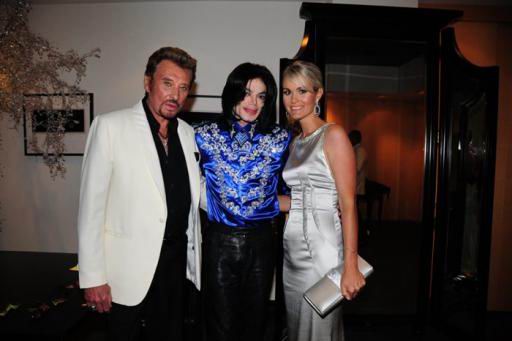 However, the biggest moment of the night, and some kind of shock to all of the celebrities and partygoers, was definitely when Christian Audigier announced a top secret appearance.
While onstage addressing his guests, he suddenly announced that he had a surprise. And a moment later, Michael Jackson walked on stage to the cheers of the crowd and wished Audignier a happy birthday.

Michael congratulated Audigier in a short speech, calling him "the King of Fashion." And Audigier called Michael "the King of Pop".
For more images from the event and a high quality video of Michael`s speech please visit Christian Audigier`s official web site Ed Hardy Vintage .
Source: MJFC / People / Celebrity-Gossip.net / Splash / Image copyright Splash. / YouTube - 11th Association / Ed Hardy Vintage
18.5.08
Thriller Considered Historically Important
The legendary album 'Thriller' is now officially considered important enough to keep for all time and has been added to the Library of Congress' National Recording Registry. The institution preserves recorded works (music as well as speeches and other recordings) that are considered culturally or historically important

In 2008, Michael Jackson's successful album is one of 25 recordings who received this honor. Others include 'Oh, Pretty Woman' by Roy Orbison, 'The Tracks of My Tears' by Smokey Robinson and the Miracles, Joni Mitchell's album 'For the Roses', the original cast recording of 'My Fair Lady', the first Trans-Atlantic broadcast from 1925, Harry Truman's speech to the 1948 Democratic Convention and the 'Sounds of Earth' disc prepared for the Voyager spacecraft in 1977.
Source: MJFC / AP / Canoe
8.5.08
The Book Thriller!
27.4.08
Landis: Thriller Almost Didn't Happen
In an interview to TODAY, director John Landis told a little more about how the famous Thriller video was created. Basically, it started only with an exciting young singer with a song and a desire to be a monster in his own video.
"It was nobody's brilliant idea," John Landis told TODAY.
Landis took the job because he saw it as a chance to resurrect a genre that had once been a Hollywood staple.
"It was a great opportunity to bring back the theatrical short."
Michael Jackson had done a couple of videos himself but the videos were made to sell records. The 'Thriller' album had already been out for nearly a year, and it had already become the biggest-selling album of all time. The video Landis envisioned was going to be nearly 15 minutes long — and expensive. But Landis says it didn't cost as much as many claim it did cost - although it was much more than the average music video at that time did cost - which was about 50.000:
"It's always exaggerated. It ended up costing $500,000 — still an enormous money at that time for that kind of thing." "Nobody would give us the money, because the album had already been so successful. Michael said he would pay for it. But I wouldn't let him. He was still living with his parents in Encino behind a supermarket."

George Folsey, Landis' partner, then suggested that they also film a 45-minute documentary, 'The Making of Thriller.' They could sell it as a one-hour theatrical feature. They approached Disney Studios, which agreed to release it for a limited time in Los Angeles theaters. At the same time, they decided to take it to a venue no one else had ever considered as a market for a music video.
"We sold that hour to a brand-new thing called cable television and the Showtime network, which at that time had only 3 million homes. They paid a quarter of a million dollars for the rights to show it exclusively for, I think, 10 days."
When MTV saw it, they called Landis.
"MTV went crazy – 'How can you do that?' We said, 'OK, you give us money.' And they gave us another quarter of a million to show it for two weeks, and that was our costs."
It was such a hit that CBS decided to distribute the video for all of its affiliates to air for free.
"For a while there, you couldn't turn on the television without seeing 'Thriller."
The album that had supposedly sold every copy it could shot back to the top of the charts, nearly tripling its previous sales.

Again from out of the blue, Landis got a call from Austin Furst, who had a video business called Vestron. Furst said he wanted to buy the rights to put "Thriller" out as a "sell-through video." Landis had never heard the term before, and Furst explained that he would sell it directly to consumers at a relatively affordable price: $24.95. At the time, home videos were shown on the still-new technology of video tape. But a movie typically cost between $80 and $100. Consumers weren't going to pay that much, so mom-and-pop operations sprang up to buy the videos and then rent them out. Furst's idea was to produce large quantities of the film and sell it directly. Landis said he couldn't imagine many people wanting to buy a video that had gotten such extensive play on tv. But it would turn out that more than 10 million people wanted to own it!
The most famous recent incarnation of 'Thriller' is the Filipino prison production which has been a huge hit on YouTube:
"The Filipino prison is wonderfully crazy. But people all over the world perform the 'Thriller' dance at weddings, at quinceaneros, at funerals, at bar mitzvahs. It blows me away."

Source: MJFC / TODAY
22.4.08
'Step It Up & Dance' To Perform At Thriller Night
Bravo , a NBC cable network since December 2002 which is dedicated to film and the performing arts, announced that for the first time ever, the entire cast of the show "Step It Up & Dance" will perform together live to honor the 25th anniversary of Michael Jackson's "Thriller" at the Tribeca Film Festival Drive-In.
As we reported earlier, the Thriller Night at the Tribeca Film Festival will take place on April 24, 2008 at the World Financial Center Plaza (NY, USA). In addition to the first time performance by the "Step It Up & Dance" cast, filmmaker and Thriller video director John Landis will screen the epic 1984 music video "Thriller" and the "Making Of Thriller" documentary.
As part of the event, "Step it Up & Dance" judge and long-time Michael Jackson choreographer, Vincent Paterson will be on site to teach the audience a few classic "Thriller" dance moves. The audience will also take part in the world's largest zombie disco, a Michael Jackson dance contest, and Thriller face-painting stations. The event is free to the public, doors open at 6PM.
Paterson, a world-renowned director and choreographer, has directed and choreographed the "Bad" tour for Michael Jackson as well as conceived and choreographed the video "Smooth Criminal." He was a dancer and the assistant choreographer for "Thriller" and directed the video "Blood on the Dance Floor," among many other Michael Jackson music videos and live performances. He is currently engrossed in directing and writing Cirque Du Soleil's "Elvis" set to open at Las Vegas' CityCenter in 2009.
"Step It Up & Dance" airs every Thursday at 10 p.m. ET/PT on Bravo. It features weekly challenges in which 12 of the best dancers from the USA audition. The dancers have access to some of the top choreographers in the industry performing in styles that range from hip-hop and freestyle to Broadway, burlesque and Latin. Judges on the show are Vincent Paterson and choreographer Nancy O'Meara ("Hannah Montana," "High School Musical Tour"). Each week contestants are eliminated and only one person will get the final "call back" and the chance to become the ultimate dancer, winning $100,000.
Source: MJFC / http://www.realitywanted.com
12.4.08
Contests & Competitions End!
Closing of the contest for the happy winners!
Great thanks to Swiss SonyBMG for their sympathy and collaboration !
The MJFC 3GENERATIONS
3.4.08
Thrillicious In NYC
PepsiCo's SoBe Life Water is doing huge promotion in New York City (USA) featuring the Thillicious spot and people - and lizards - dancing to Michael Jackson's 'Thriller'.
Source:MJFC/Youtube
30.3.08
Contests & Competitions
Mouse pad 3D + surpris!
29.3.08
Contests & Competitions
Closing of the 3 stages of the contest for the happy winners of the fabulous and luxury LP Vinyls "Thriller 25"!
14.3.08
Contests & Competitions
continue!
13.3.08
Closing of the 2 stage of the contest for the happy winners of the fabulous Sweat-shirt Promo "Thriller 25"!
13.3.08
WBSS2008 Single Release
In many - mainly European - countries, the second single from 'Thiller 25th Anniversary Edition' will be released on March 21, 2008. `Wanna Be Startin' Somethin' 2008' will be available as a 2-track and a 3-track single. Tracklistings will be as follows:
2-track:
Wanna Be Startin' Somethin' 2008 (Album Version) 3:50
Wanna Be Startin' Somethin' 2008 (Johnny Vicious Club-Radio Remix) 3:37
3-track:
Wanna Be Startin' Somethin' 2008 (Album Version) 3:50
Wanna Be Startin' Somethin' 2008 (Johnny Vicious Club-Radio Remix) 3:37
Wanna Be Startin' Somethin' 2008 (Johnny Vicious Full Club Remix) 9:04
9.3.08
My Thriller Video
You always wanted to be a part of the legendary Thriller video? Then your time has come! To celebrate the 25th anniversary of 'Thriller', you can take Michael's position and star in the Thriller video.
Through the magic of technology, anyone can now star in the greatest music video of all time. Epic/Legacy Recordings (Sony BMG) have partnered with innovative media company Big Stage and YouTube to bring this landmark entertainment experience to the world. Central to the tribute is the ability for fans to easily create a life-like 3-D version of themselves that literally replaces the role of Michael Jackson in the music video.
With Big Stage's 3-D capture technology, users take three simple pictures of themselves with a digital camera and upload them to the internet, where they will be quickly converted into a life-like 3-D avatar called an @ctor™. Big Stage's proprietary technology will automatically map the contours of a user's face to generate an incredibly accurate replica of the user, fully equipped for animation. In under a minute, your @ctor will be born and fully alive through realistic movement and gestures. Users can then style it with a host of accessories, from hair to eyeglasses, tattoos, hats and more.
All you have to do is take 3 close-up photos with a digital camera and upload them .
Source: MJFC / MJWN / SonyBMG
6.3.08
Akon Hoping For Another MJ Collaboration
Akon says it won't be long before his new album hits the shelves and he is hoping it to feature another collaboration with Michael Jackson. In an interview to MTV News in Los Angeles (USA) he said:
"We're trying to get it out by the first week of May. The album is practically done now. It's called Acquitted."
The singer is hoping the first single will feature Michael Jackson, who he just spent time working with. While some reports say Michael has finished recording his part for the track, it was unclear whether all the legal hurdles had been cleared as of press time.
"It's a worldwide record. The record is so huge. It's too big. [Michael's] the only person I could have collaborated with. The other [songs] on the album are huge though."


Akon has so much music in his catalog that he already has a follow-up to Acquitted mapped out.
"My fourth album is called Double Jeopardy. I'm already on it. It's all set up. If they want all the records now, it would take me 30 days to put it together."


Meanwhile, Akon's vocals can be heard on the new 25th-anniversary reissue of 'Thriller, where he created a new version of 'Wanna Be Startin' Somethin'.'
"These records are timeless. They can go on forever. It's easy, because a lot of stuff we are doing now was taken from records back then. We're all sampling, taking ideas from melodies back then. It was real easy for me."

Source: MJFC / MTV USA
27.2.08
Contests & Competitions
continue!
25.2.08
T25 #2 On Swiss Album Chart - updated
Michael Jackson's 'Thriller 25th Anniversary Edition' has debuted at #2 on the Official Swiss Album Charts, making it this week's highest new entry.
'Beat It 2008' and 'Wanna Be Startin' Somethin' 2008' have made new entries in the Singles chart at #41 and #47, respectively. 'The Girl Is Mine 2008' has dropped 11 places to #59. To have three singles by the same artist charting at the same time is something very few artists can achieve, especially when the album is 25 years old.
Furthermore, SonyBMG Switzerland has now confirmed to MJFC that the first batch of Thriller 25th Deluxe packages and Zombie covers are already sold out.
Source: MJFC / KOP FC / The Official Swiss Charts
22.2.08
Closing of the first stage of the contest for the happy winners of the fabulous and luxury "Thriller CD+DVD"
10.2.08
TF1's Video For WBSS2008
French tv channel TF1 has compiled a video collection of previous clips of Michael to accompany the new song 'Wanna Be Startin' Somethin' 2008' featuring Michael Jackson and Akon. The video has been authorized by SonyBMG Music Entertainment France.
To view the video click here .
Source: MJFC / TF1
5.2.08
Michael Interested In Kehinde Wiley Art
Acclaimed painter Kehinde Wiley, whose buyers include Denzel Washington and Sir Elton John, is famed for his portraits of urban black men in classic Renaissance scenes. In an interview he said that he was recently approached by Michael Jackson and initially thought it was a hoax:
"Michael Jackson is calling me. We're discussing exactly what it will involve. He saw my work at the Brooklyn Museum and was taken with it, so he had his people contact me.
I thought it was a joke at first, so I ignored it for the longest time. Then he contacted a friend of mine who's an actor, so I knew it was for real."
Kehinde Wiley is a New York based painter from Los Angeles who has situated himself firmly within art history's tradition of portrait painting. He appropriates the signs and visual rhetoric of the heroic, powerful, opulent, majestic, and sublime in his representations of young, urban, black men. His portraits are based on photographs of young men who Wiley sees on the street. Dressed in street clothes, they are asked to assume poses from the paintings of Renaissance masters, such as Titian and Tiepolo.
Source: MJFC / Wikipedia / WENN
4.2.08
Watch New Superbowl Thriller Advert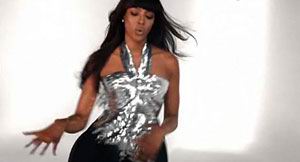 Celebrating the release of Thriller25, Michael Jackson's Thriller features in a new advert for Sobe Life Water for the Superbowl 2008, starring Naomi Campbell and some lizards….check out this fun little advert:
1.2.08
'Thriller Live' Goes Underground
The biggest selling album of all time went underground this week when London commuters were taken by storm with a performance of the famous 'Thriller' dance on the London tube.
Already an instant hit on YouTube, the video shows passengers looking flabbergasted as the impromptu performance by fellow commuters kicks off. One viewer said:
'This is amazing!!! Slick as hell. I love the people who pretend they're not interested.'
Another Internet watcher said:
'The polite applause at the end is the best bit - very British.'
The video has been picked up across the world with the Metro paper running a huge feature together with TV coverage on ITV London Tonight. This viral has clearly captured the imagination of the London commuters with a serious debate across blogs, websites & YouTube about this dance extravaganza.
The dance was performed by professional dancers from 'Thriller Live', which is a full budget stage-show celebrating the music of the world's greatest entertainer - Michael Jackson. Kicking off its third UK tour on March 27, 2008, the dance crew got together with Sony BMG to plan the 25th anniversary of the release of 'Thriller' and thought it would be fun to perform the 'Thriller' dance in various locations around London.
The first YouTube video has been hugely popular¦. Where might they appear next?
Watch it now on: http://uk.youtube.com/watch?v=X6EDAZ3crdY
Source: MJFC / Thriller Live
27.1.08
Michael's Message For NRJ Awards
Michael received a Lifetime Achievement Award at the 2008 NRJ Awards. The awards show took place in Cannes (France) and was aired yesterday on channel TF1. Michael wasn't able to attend the awards show in person but he recorded a special message for this occasion:
"Hello to all my friends in France! Though I couldn't be there in person tonight to accept this prestigious award, I'm so happy to have the chance to send this message to let all my French fans know how much your support has meant throughout the years.

It's hard to believe that 25 years ago, Quincy Jones and I embarked on an album named "Thriller." To be able to say that "Thriller" still holds the record as the biggest selling album of all time, is just mind blowing. I have you my fans through out the world to thank for this achievement.


Though this award tonight honours me for my lifetime achievements, there is still much more to come from Michael Jackson. My passion for music has never stopped. And for those who don't know, I've been in the studio recording Thriller 25th Anniversary album, with a lot of surprise guests. It's my hope that "Thriller" continues to live on for each new generation to discover.

So thank you TF1 and NRJ for this very special award. It means so much to me to be honoured by you. And thank you to my fans. I love you from the bottom of my heart and I hope to see you very soon. I love you. God bless you."
Source: MJFC /you tube
17.1.08
Michael Jackson MySpace Page
Check out the new Michael Jackson MySpace page at http://www.myspace.com/michaeljackson .
Source: MJFC / MySpace
15.1.08
Vitiligo Turns Black TV Anchor White
Lee Thomas (40) is an anchor and entertainment reporter for US tv channel WJBK in Detroit. He was diagnosed with vitiligo - the same disease that Michael Jackson is suffering from - when he was 25.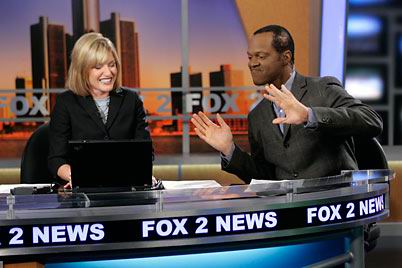 Vitiligo is a pigmentation disorder in which pigment-making cells in the skin are destroyed. White patches appear on different parts of the body. As many as 65 million people worldwide have the disorder. But only few people, outside medical professionals and those with the disease, had heard the term "Vitiligo" until Michael Jackson revealed in the early 1990s that the disorder was behind his skin turning brown to white. Viiligo is not fatal, but it robs people of self-confidence, evokes ridicule and unpleasant stares, and pushes some into unforced seclusion.
Thomas' once brown, even complexion is now mottled with pale patches around his eyes and mouth, along his nose and on his ears. His arms, shoulders and chest are also speckled and blotched. He says:
"I'm a black man turning white on television and people can see it. If you've watched me over the years, you've seen my hands completely change from brown to white. There is no cause. There is no cure, and it's very random. I could turn all the way white or mostly white."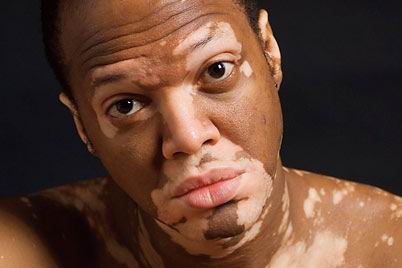 Thomas uses a combination of creams and makeup to cover the growing patches of skin on his face, hands and arms. Until 2005, only family members and those closest to him knew the secret he had kept since age 25.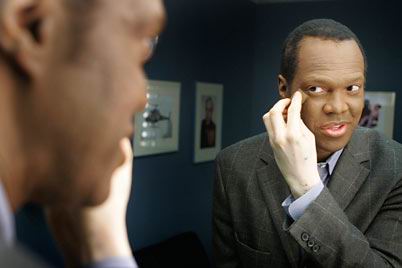 He first noticed a change after getting a haircut while working in Louisville, Ky. He looked in a mirror and thought the barber had nicked him. A closer look revealed a pale spot, about the size of a quarter.
"I got two more on the other side of my scalp, on my hand and one in the corner of my mouth. That's when I went to the doctor and got diagnosed."
But he didn't let it slow down his blossoming career. In Detroit he has carved a niche with his quirky, upbeat and humorous reporting style. His confidence, constant smile and positive air on the set mirrors his demeanor off the set as well. Meanwhile he even received an Emmy and routinely travels to Hollywood for one-on-one interviews with celebrities including Will Smith, Tom Cruise, and Halle Berry.
But even though Thomas used makeup to conceal his skin discoloration, he realized that vitiligo was becoming more obvious when he couldn't hide it from a preschooler during a story about a playground. His two-toned hands frightened the girl, who began to cry.
"I thought my career was over."
So he gathered himself one day and approached the station's news director, prepared to walk away from tv:
"She said, 'Let's just see what happens. As it got worse, she kept encouraging me to tell my story."


So Thomas finally agreed to tell his story on tv in November 2005. Dana Hahn, WJBK's vice president of news, recalls:
"I received 40 to 50 e-mails a day the entire time he was gone. So many people found support and encouragement in his story. I've never seen the kind of response to any story in my 12 years at Fox 2."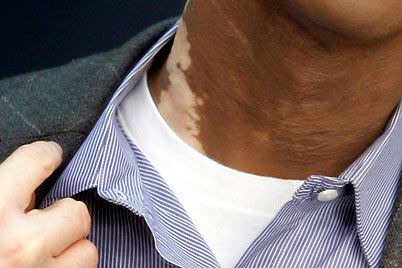 Nevertheless, Dr. Sancy Leachman, associate professor of dermatology at the University of Utah, calls vitiligo stigmatizing, driving some to even consider suicide:
"They feel people are looking at them all of the time. They are very self-conscious about people staring at them in the grocery line. It can be a very demoralizing condition."
Thomas acknowledges he even preferred the security of solitude to the awkward stares of strangers when not wearing his makeup.
"There were times when I would not come out of the house. I call it a mental war. It was me saying, 'I don't want to deal with it today.' I never stayed in for very long. I know people who stay in now for months at a time."

Meanwhile he openly talks about vitiligo and how it has affected his life and career. And he has written a book about his journey titled "Turning White: A Memoir of Change." Along the way, Thomas says he's met others with the disorder and has become a celebrity spokesman for the National Vitiligo Foundation. And when he's out socially now, he forgoes the makeup he wears on camera.
Source: MJFC / AP / Photos copyright AP, Carlos Osorio
2.1.08
Additional Track On Japanese Thriller25 Edition
The Japanese edition of the Thriller 25th Anniversary Edition will include an additional, previously unreleased track. Track 17 will be the song `Got The Hots`.
Source: MJFC / Sony Japan
1.1.08