31.12.10
Madison Square Garden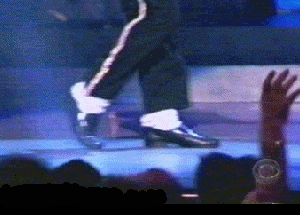 January 1st, 2011 at midnight, the Quebec's TV channel ARTV will broadcast the concert Michael Jackson 30th anniversary recorded at the Madison Square Garden, on September, 2001. The concert will be repeated at 1h00 pm as well as on June 26th, 2011 at 8h00 pm.
24.12.10
Michael Jackson wishes merry Christmas
"Good evening children and Merry Christmas,
When I create music I always hope that my music will give joy to many people. If that happens I am very happy. Giving joy makes one happy. Unfortunately there are many children that are not happy. In Germany and in other countries.
During Christmas this is especially hard for those children because it is on Christmas when they see what they miss. For some it may be just a small present, for some it may be a warm meal, for some it may be a family, for some it may be just a little bit of love.
That is why I need you! I need your help. Let us work together and help those children. Let us reach out to those who are alone - Let us all tell them: "You are not alone".
This year it is I, only I speaking to you, children in Germany and sending you a few little gifts. If you help me, then next year, we will do the same but in many more countries. We will speak together - maybe we will sing together - and we will give gifts together. Let us think big. Let us find many people to join our effort.
Here and all over Europe and then all over the world. We can do it! I know we can do it!
To all of the grown ups I like to say this: To us, so many things seem important. Sometimes, we think we are important. We are not important. Nothing is more important than our children! They are the future. They can heal the world. It is our obligation to be there for them. To advise them. To motivate them. To help them and to love them. Let us encourage them to go for their dreams. And let us as parents, friends and relatives help them to have good dreams.
I look forward to the new year, to working with you children and to create an organization that will help other children.
I promise, I promise you, if you come along, it will make you feel good and it will be so much fun!
Merry Christmas! I love you from the bottom of my heart!
Thank you so much!"
Michael Jackson 2002
21.12.10
Christophe Boulmé by Black&White magazine wishes merry Christmas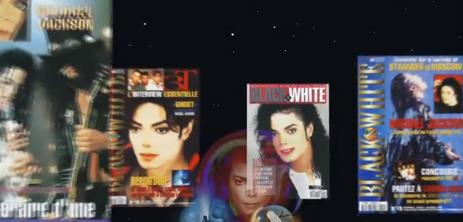 Source: Dailymotion Christophe Boulmé
19.12.10
Off The Wall Remaster?
Michael and Sony, have told them, that among the possible ten Michael albums in the works is, a remaster of 'Off the Wall,' with the help of none other than, Quincy Jones.
Originally, Quincy Jones co-produced this outstanding album with Michael, and TMZ have been told the plan is, for Quincy to take charge of the project, which will include some never-before-heard outtakes.
11.12.10

DECLARATIONS OF LA TOYA JACKSON FOR A SPANISH MAGAZINE:


… " Her image is also fragile as the crystals decorating some of her clothes, but what few people know, is that behind this appearance, hides a Toya Jackson which, a few years ago, obtained her police officer license.
Her knowledge, as well as the inestimable help of her companion sentimental and partner of her business, Jeffré Phillips, allowed to discover many dark sides about the king of pop's death.

LA TOYA JACKSON : It's very painful to think that he isn't more among us. We put all our efforts to discover what happened. My brother said to us that somebody were going to kill him and so it happened. Although the inquiry is following its course, it was proved that Michael was murdered by doctor Conrad Murray ".

By the way it was Jeffré, who, during the seven days after the tragedy, helped the police in their investigates, until find the medicines which have ended Michael's life.

PRONTO: At what result is the investigation on Michael's death?

LA TOYA Jackson: Although the investigation follows its course and the judge still declared no verdict, there are positive proofs that Michael was murdered. Among them, the charge of doctor Conrad Murray, which did acts on order of certain persons who wanted to benefit of my brother's death. First, the police said that it was a manslaughter, but this means killing somebody in an involuntary way. The death of my brother was intentioned, so it is a murder.

PRONTO: And what proofs do you have ?

LA TOYA JACKSON : I cannot speak openly, but you would surprise yourself of all that there is. There was a plot between several persons and everything will come out before some time. "...

Source: Magazine Pronto
20.11.10
Sign the petition
The United Michael Jackson fan-clubs of the world
Our Fan-club feels specially proud to participate spreading of the petition so that to remove the songs with doubtful origin of the album "Michael".

We, fans of Michael Jackson, shall always remain committed for the protection of his musical inheritance and the respect of his memory.

Michael Jackson Fan-Club 3Generations
Michael Jackson fan-clubs around the world have come together to ask the Estate of Michael Jackson and Sony Music to remove from the forthcoming "Michael" album the tracks produced with or by the Cascio brothers.

The international Michael Jackson fan community strongly feel that a new Michael Jackson album should not include songs that they feel are not Michael's.
The overwhelming response that we, fan-clubs, have received from our members expressing doubts over the Cascio tracks should not be ignored.

Michael Jackson fans around the world ask that the Estate of Michael Jackson and Sony Music respect our feelings and our expertise in this matter.
We are the future supporters of all the products that you will put out.
We ask that no doubt as to the origin of a song should ever surround the release of a Michael Jackson album.

The origin of the Cascio tracks is not clear enough for them to be included in this first new album since Michael Jackson's death.
Should you carry on with the release of the album as it stands, it would cast a shadow of doubt, discontent and frustration over any future release.

We know there are enough original unreleased songs to complete the album without the questionable ones.

Michael Jackson fans ask the estate of Michael Jackson and Sony Music to take our claim into consideration and respect our strong opposition to the release of "Michael" as it currently stands.

We will do what we deem necessary to honor the memory and legacy of Michael Jackson.

The United Michael Jackson fan-clubs of the world
MJ Fan-Clubs around the world: please contact us to add the name of your Fan-Club to this petition :mjfranceteam@mjfrance.com
Source: MJ France
20.11.10
Michael Jackson's One More Chance Video (full video)
Shot primarily in Las Vegas in 2003, this unfinished video for " One More Chance " was to be the official video for the R. Kelly penned single from the Number Ones collection.
9.11.10
Oprah Winfrey interviews Michael Jackson's mother
8.11.10
BREAKING NEWS – IS NOT MICHAEL JACKSON!
Sony Music are streaming what they are calling the brand new Michael Jackson song – we can tell you right now this is NOT the King Of Pop singing!
This is totally outrageous!
TJ Jackson on Twister page: there is only ONE Michael Jackson.
Sounds like Jason Malachi to me too. The vibrato is a dead give away that it's not my uncle. Fans, I am so sorry you were put through this.
If you heard the acapella you would be even more disgusted. Sampled breaths after sampled breaths mixed in with fake vocals to try to fool u
There's many MJ vocal impersonators. Some better than others. But there is only ONE Michael Jackson. Deceptively merging shady vocals with MJ samples (from prior MJ records) will never fool me. Why they would ignore the obvious, look the other way and rush a suspicious track that was NEVER on my Uncle's radar is beyond me. I'm disgusted, disappointed and saddened. And before the media starts to smear our name, just remember we are COMMITTED (as our Uncle Michael always knew) to protect his name and his amazing legacy he worked his whole life for. We have nothing to gain and we know they will try to drag our name through the mud. But we know how much he valued his legacy and his fans. And cheating either is unacceptable. "Lies run sprints, but the truth runs marathons"
6.11.10
Exsclusiv
New MJ's song, free and exclusive to the fans.
This track was NOT released by Mrs. Jackson, this is a dance remake created from unreleased masters in the JacksonSecretVault.com archives. We sincerely apologize to the fans for any confusion.
" JacksonSecretVault.com"

Michael Jackson's mother has released, via the web, a brand new unreleased MJ song taken from the archives of JacksonSecretVault.com. The company reportedly has nearly 300 unreleased MJ tracks and unseen videos.


Sony has just released a teaser to "Breaking News" but there's quite a controversy over whether some of the vocals are real or fake.

Epic Records is set to release the first posthumous album of recordings from Michael Jackson next month. Simply titled "Michael," the new album will feature recently completed recording, including the new single "Breaking News" which will be released soon.

Source: allvoices.com
5.11.10
Katherine's Interview With Oprah
The much talked about interview between Katherine Jackson and Oprah Winfrey is set to air next week, according to ABC news.
Harpo Productions said Monday that Winfrey's interview with Jackson's mother will air Nov. 8 on "The Oprah Winfrey Show." Joe Jackson, and Michael's three children will also appear during a backyard visit taped for the episode.
The Chicago-based production company says Katherine Jackson talks about the day her famous son died and reflects on his life as a childhood star.

Source: AP
16.10.10
Message To Fans From Taj Jackson
Taj Jackson recently posted the following on his Twitter account:

And like expected, Negativity still makes the front page and positivity doesn't. It's so easy to throw stones from a distance.
Where's the press about the campaign for Uncovering MJ's name at Gardner Street School.
TMZ of course, not to anyone's surprise constantly posts negativite things about MJ and my Grandma.
Why? Because our family divided is what sells newspapers. Some of us realize that and fight to unite, some of us don't and feed it
Guys, we are there, on the front lines,making sure my uncles legacy will last centuries. That is the big picture for me. That is my mission
I thank the many that did support us and gave us the trust and benefit of the doubt.
Guys. I can't say this enough. My grandma was there EVERYDAY during the trial, on camera and off. I know cause I was at Neverland with them
I moved to Neverland right before the trial to support my uncle. It was the least I could do for him. He was that amazing to me.

I saw him everyday before and after each day of court . I'll never forget that my Grandma was by his side the whole time.
To have some fans turn on my grandma like that really upsets me. At least give her the benefit of the doubt. You would for my uncle.
Sorry guys.. it's just that if you knew the love my uncle had for my Grandma, you would be feeling the same way.
We need to stay focused on all what MJ stood for. Love

I am so thankful that I was able to tell MJ how much I loved him & appreciated everything he did for me,3 months before he passed
My Grandma needs Ur support, not ur stones. My uncle looked up to her everyday. She was also my mom's role model. That's not a coincidence.
My uncle always said he has the best fans in the world and I know it. My uncle is not gone, he lives through you guys.

History is what people with the pen write. It then get's past down to each generation. I'm making sure people know the truth about my uncle.

I know my grandma is on the same page. Let the world know the real Mj, as only we knew him. The incredible person with a true heart of gold.
Thank you so much guys for listening and understanding. Gotta go for now. :-)
Source: MJFC / twitter.com
11.10.10
Sisterella' Comes To LA
A production of 'Sisterella,' a pop-rock update of the Cinderella story that was originally backed by Michael, is being planned for Los Angeles next spring.
Jerry Greenberg and Frank Dileo will produce the show, which was written by Larry Hart and staged first in 1996 at the Pasadena Playhouse. Michael was credited as the executive producer.
Casting and further details are expected later.
Raymond G. del Barrio will be the show's choreographer, the same role he held when the musical debuted.
'Sisterella' is set in turn-of-the-century New York, the musical tells the story of a wicked stepmother who tries to steal the fortune her late husband left to his daughter.
Source: Google & MJWN
29.8.10
On August 29, 1958 was born the biggest star in the world. Since then, the live of many of us has got advantage. Thanks to his music as well as to his way of being and seeing the things, he helped us to look around in a different way.

For us, true fans of Michael, our tribute is always in our hearts and our souls.

The time sit on things and reveal us that only those who really loved Michael still carry his torch and those that use his name for their benefit become losers.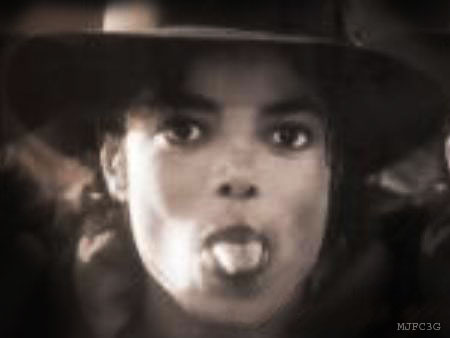 MJ's pseudo-adorer are tired of so many festivals to his honor and the true fans
think that we have to let him rest in peace once for all and respect his memory.
MJFC3G
10.8.10
Moore picture of the Book The Making of "Thriller"

Click here to look through a dozen pages.
Douglas Kirkland was the only photographer allowed on the set of Michael Jackson's groundbreaking video, "Thriller," in 1983. And he has the photographs to prove it. Hundreds of exclusive never-before-seen photos from the set of the greatest music video of all time are published for the first time in this ultimate tribute to the King of Pop. The astonishing photos are accompanied by interviews and quotations from musicians and celebrities, including Sir Paul McCartney, Beyoncé, Steven Spielberg, Diddy, Quincy Jones, Justin Timberlake, Alicia Keys and many more.
Publisher : October , 2010
8.8.10
RARE VIDEO 60 Minutes Interview 1986
5.8.10
Will.i.am Does Not Support New MJ Album
New Michael Jackson album containing unreleased material can expected by the end of the year. However, Jackson collaborator and Black Eyed Peas frontman will.i.am is strongly opposed to the idea.
I don't think that should ever come out. That's bad," he said. "He was a perfectionist and he wouldn't have wanted it that way. How you gonna release Michael Jackson when Michael Jackson ain't here to bless it?
Will.i.am collaborated with Michael Jackson on the rerelease of "Thriller" in 2008 with remixed versions of some of the album's classic songs. He said Jackson was very particular about all aspects of his musical productions, from his vocals to arrangements to instrumentation.
Now that he is not part of the process, what are they doing? Why would you put a record out like that? Because he was a friend of mine, I just think that's disrespectful," he said. "What's wrong with what he already contributed to the world?"
The Jackson estate did not respond to a request for comment.

When asked about the high demand for any new Jackson music, will.i.am replied: "So what? You don't disrespect someone when they're gone. ... How much can you suck from his energy? ... Freaking parasites!"

Little detail is known about what will be on the album, but Michael's brother Jackie has said he and brother Marlon were working on the record with John McClain, Jackson's former manager and executor of his estate.
Source: MJFC / AP
30.7.10
SETH RIGGS ON MICHAEL JACKSON
Source: Magic Music
27.7.10
Interview with Guitar Sensation Orianthi
From the six-year old dreamer, to the lead guitarist for the King of Pop, to her red-hot solo career, guitar virtuoso Orianthi has a story to tell.
A story that stars the young Aussie as she dreams of becoming a guitar master and recording artist, both of which would come to fruition with the crucial role of supportive parents who were behind her all the way.
Recalling the trials and tribulations she experienced while studying music in her native Australia, Orianthi tells us what it was like being a woman in the male-dominated realm of guitar players.
How she overcame being ridiculed by many male guitarists, and even teachers, for being an incredible "girl" guitarist.
She's played with Carrie Underwood at the Grammy Awards, with her childhood heroes Steve Vai and Carlos Santana, and was discovered through a set of YouTube videos that sparked her role as Michael Jackson's lead guitarist. Not an easy challenge, but one that the young guitarist was fully prepared to meet head on.
Since Jackson's passing, Orianthi has branched out and made a name for herself in the pop-rock world. Bringing with her incredible musicianship and pop sensibilities, which are proving to be a lethal combination as her albums and singles climb the charts.
Currently Orianthi is touring the U. S., opening for Adam Lambert on the Glam Nation Tour, and is working on her next album. If her past is any indication, the future is wide open for the talented guitarist.
******
Jesse Mazzoccoli: Let's start back in Australia. When and why did you leave Mercedes College?
Orianthi: I'm not sure exactly when it was. I think I was in grade ten actually. I went to Mercedes College and I went to Cabra. I probably went to seven schools in total. I kinda got bored and wanted to move on. I left school when I was fifteen.
I just wanted to play the guitar all day, and being a female guitarist wasn't easy by any means. I did some home schooling and I was playing in a couple of bands two or three times a week until I was twenty-one. So yeah, I decided to leave school at a young age, but I knew what I wanted to do, and my parents backed me the whole way.
I don't recommend leaving school at fifteen. I think it's important to have an education, and that's why I did the home schooling. But I kinda felt that music has been my calling since I was six.
It was everything that I was doing at school, and then I'd get home and lock myself in my room for five hours playing the guitar. [ Laughs ]

Jesse: Well, it certainly paid off.
Orianthi: Thank you. I love playing.
Jesse: Where do you call home now?
Orianthi: L.A.
Jesse: How do you like living in L.A. compared to Australia?
Orianthi: It's cool. I've got a great bunch of friends out here. I get along with everybody. I love it. It's my second home, really. I call it my home now because I'm living there, but Australia will always be my first home.
Jesse: Can you tell us about Manos and Pepper?
Orianthi: Yeah, my PRS Custom 22 is Manos, and my Custom 24 is Pepper, and I actually have backups now. The backup for Manos is Messiah, and the backup to Pepper is Mr. Burple, which I'm using now.
Manos and Pepper I've used for quite a while and I love those guitars. Bringing them out on the road is pretty crazy. I don't want anything to happen to those guitars since they hold so many memories for me. I've used them in the studio a lot, and so I'm not going to retire those guitars.
I'll use them in the studio and in special performances, but on the road I'm probably gonna use the backups, Messiah and Burple.
Check Out the PRS Orianthi Model at Musician's Friend
Jesse: So you use the same guitars in the studio and in your performances?
Orianthi: I do, yeah. They have my tone, and I feel very comfortable playing them. That's really important to me. If you feel like you're holding something that is foreign to you, then it'd be weird. You can't just let the music flow through.
To have that kind of connection from my brain to my hands is really important. I can't let anything get in between that. I want my guitars to be very comfortable so I can just play.
Jesse: Where did you get the name for Mr. Burple?
Orianthi: My guitar tech came up with the name because it's purple. It's like a purple burp, Mr. Burple. [ Chuckles ]
Jesse: How did your endorsement deal for Paul Reed Smith come about?
Orianthi: When I was fourteen I sent a demo out to Paul, and he heard the record Under the Influence , where I played my Custom 24. It was a second hand guitar, I guess you could say. I begged my dad for it when I was eleven.
I was studying classical guitar at the time, and I begged him for a PRS. So I got one, and the action was pretty high, and the strings were really heavy. But it was a great guitar to learn on. It was a 24 and a brown color, tortoise shell, I think.
I sent the demo to Paul and he really liked it. He reached out to me and invited me up to play the NAMM show. That was kinda trippy, he mentioned an endorsement back then, but I was like eighteen or twenty when I finally went over to play NAMM at the PRS booth.
Paul supported me, which is awesome, and I just love his guitars. In my opinion, he's the best guitar maker around. The way they look is a bonus. He puts so much effort into making them. They're the best.
Jesse: Have you ever been to operations in Maryland or checked out any PRS shows?
Orianthi: Yeah, I love it. I've been to the factory, but I haven't been to the new factory. It was really cool. I slept in a sleeping bag in the corner, just watching as the guitars were made. [ Laughs ] It's so interesting and cool.
Jesse: When you met Michael Jackson for the first time, did you have any expectations as to what he'd be like? What were your thoughts when you got to know him better?
Orianthi: Well, with all the press that's out there, I didn't know what it was gonna be like. When I met him, he was the sweetest person. When he walked into the room, well I was such a big fan of his that I was so nervous, but he was so sweet. He came over and hugged me.
He said he saw my YouTube videos, and said he wanted me to play for him. When I heard that, I started screaming I think. Mike Bearden, Michael's music director, saw the video of me playing at the Grammys with Carrie Underwood and he showed them to Michael.
Mike Bearden called me and said, Michael just watched your videos and he wants you to play for him, and said he was looking for a young female guitar player. I didn't think it was real when I got the emails from everyone. It was pretty crazy going in there and playing and thinking about all of the other guitar players that have played for him in the past, just incredible players.
google_protectAndRun("ads_core.google_render_ad", google_handleError, google_render_ad);
People really look up to them, so it was daunting, going in there and thinking, "OK, now I really have to play my ass off, and hope that Michael dug my vibe." Approaching the "Beat It" solo, I just put my own finale to it, hoping he would like it.
I didn't wanna go in and copy Eddie or Jennifer Batten or anyone else that's played for him. I did my own thing using the whammy bar on the PRS and got a different sound out of it.
He really loved it and grabbed my arm afterwards and asked, "Would you play that solo while walking with me at a really fast pace?", I said yeah, and he hired me that night. It was an amazing moment and something I'll never forget.
Jesse: You mention names like Eddie Van Halen and Jennifer Batten, and it's like you don't realized that you're among those ranks. Congrats.
Orianthi: Thank you. It's pretty crazy. Jennifer actually emailed me after the Grammy Awards, when I got up there with Carrie, and said it's cool to see a female guitar player playing leads and everything. That meant so much because there aren't too many female guitar players to look up to. There's Jennifer Batten, Bonnie Raitt, and so I think she's incredible.
I wish there were more female guitarist out there, because there are so many more male players. My idols were Steve Vai, Santana, and Stevie Ray Vaughan. They're the three that I grew up with listening to and they're my three main idols. I wish there were more female players out there, so hopefully, more come out.
Jesse: Could you run us through your collaboration with Michael? Was he specific as to what he wanted you to do, or did he give you flexibility to do your own thing, or both?
Orianthi: He gave me a lot of moments, and he wanted me to solo out in the audience. He wanted me to come up with an ending to "Black or White," which was actually called "Aftermath," and he asked me to put something together. It's really guitar-based and it's all about me and Michael's other guitar player.
At the end of "Black or White" I would just solo with the spotlight on me. I would come through the rubble. There's gonna be rubble all over the ground with explosions and pyro and stuff. I'd be soloing in the audience, then I'd invite Tommy to come over and play with me and do this trade off thing which you can see on This is It .
I'm running to one side and Tommy's running to the other and then we run up together on the ramp, and that was super cool. I came up with that and Michael said he really loved it, and he instructed me as to where he wanted me to run and where he wanted Tommy to be.
Michael was very involved in every aspect of the show when it came to the music and choreographing us and our sound. I remember I went through ten different amps because I wanted to make sure the sound was right. I remember playing "Black or White" for him, and three of the four speakers in my cabinet were blown.
You can imagine going into "Black or White" with this horrible, tinny sound like it's coming through a radio speaker, and he said, "It's a little thin-sounding today." I told him my speakers were blown, it was really funny.
The other day was really hard for me because it's been a year since he's passed. I was just remembering the amazing moments that we all had, and how wonderful he was to work with. We had really good times.
Jesse: You mentioned earlier that you were taking classical guitar lessons. How long did you do that?
Orianthi: I did it for about a year, I was about nine or ten, and switched to electric guitar at about age eleven. I went to a university and I studied, I passed right through in theory and classical studies.
I could've gone to grade two, but I was kinda bored with it. I wanted to get on the electric, but I learned all of the basics. I learned to sight read and basic theory and the chords and everything.
I think it was good that I did that because a lot of players don't know how to read music. I think it's a cool thing to learn that. I just wanted to move on to electric when I was eleven.
Jesse: Did the classical training help you with your shredding?
Orianthi: I always sort of go back to classical music. When I'm writing my riffs, they sound pretty classical. I think having that training, even in the short time that I did, helps me come up with different melodies and harmonizing parts.
My other guitar player, Brian, harmonizes my guitar parts, and when we start our show it's all really dramatic and all instrumental. I think that training really helped with that.
Jesse: Besides shedding, what other styles do you find beauty in? Flamenco? Jazz?
Orianthi: Yeah, I love country. I love country music.
Jesse: Oh, my.
Orianthi: I love Keith Urban, he an amazing player. Brad Paisley.
Jesse: Of course.
Orianthi: Toby, also Albert Lee, and Rascal Flats. I love jazz, like Wes Montgomery and George Benson, and John McLaughlin, different players that have their own passion and unique style. I listen to all different types of players.
Read GI's Interview with John McLaughlin
I like players that play outside the box, like Jeff Beck or Steve Vai, who's from another world or something, the way they solo and their melodies. It's like, where does that come from? I love those kinds of players.
Jesse: Earlier you mentioned difficulties while growing up as a female guitar player. What kind of difficulties?
Orianthi: I hope I can inspire a lot more girls to keep at it or pick it up. If they're going through what I went through at school, they can do what I've done and get past that. I'm doing what I love. This is my career.
I feel blessed to be able to play shows every night and have a great band and make records. That's something I dreamt about doing since I was six years old, so I never take anything for granted.
A lot of people think when you get a record deal you don't have to do a lot of work, but it is a lot of work. You gotta play as many shows as you can and just get people to come to your shows. But it's really cool when you look out into the audience and you see all of these people singing along and playing air guitar to the track. That's super cool.
Jesse: What kind of specific things did you have to endure as a female guitar player at school?
Orianthi: I would line up to do the same auditions as the guys, so standing in line to get into the school band with guys was tough. They would say things. One teacher actually said to me, "You should play the harp because it's a more feminine instrument."
The guys use to call me freak all of the time. They'd say, "You shouldn't be playing the guitar, you're a girl." They'd tell me that I wasn't gonna get this audition and that I should just walk away now, and I got it and that irritated them even more.
Jesse: Good.
Orianthi: Yeah, so going to class after I got it wouldn't be fun. This was just a thing that happened at most schools, and it wasn't fun for me, by any means. I hope that other girls, and even guys going through that, can get past it. Just do what you love.
Jesse: What are you doing now and what does the future hold for you?
Orianthi: Right now I'm touring the U.S. with the Glam Nation Tour, opening for Adam Lambert, and it's been a real blast. I'm having so much fun. I'm gonna be going over to Japan, and then Germany to release the record over there.
Then, I'm coming back to the U.S. we'll be touring, and I'm actually planning my third record, so that's in the works. The next record is gonna sound completely different from the last one.
Source: guitarinternational.com
.10
22.7.10
Collectibles Coming To Comic Con
Playmate Toys has plans to premiere its Michael Jackson Collectibles as part of the Diamond Comics display at the San Diego Comic Con, July 21-25. The toy company recently signed a deal with Bravado to create a line of collectibles based on the King of Pop.
The first roll out is a 10" scale collectible based on Billie Jean. Great care as been taken to capture Michael's likeness and legendary fashion sense, capturing the imaginative outfit worn in the short film. The second 10" collectible is taken from the most famous music video of all time, Thriller, complete with iconic red jacket.
Both these collectibles are slated to launch in Fall, 2010. Additional styles will follow.
Source:MJFC
4.7.10
Katherine Jackson To Release Michael Movie
Katherine Jackson is reportedly working with Howard Mann on a film about her late son Michael Jackson's life.
Michael Jackson's mother is to produce a film about her late son.
Katherine Jackson is reportedly working with Howard Mann - the co-author of her coffee table book 'Never Can Say Goodbye' - on a movie which will focus on the pop superstar's life from childhood to his untimely death on June 25 2009.
According to gossip website TMZ, Katherine is making hundreds of hours of home videos available to Howard, including footage of when the Jackson family moved from Gary, Indiana, to Los Angeles after The Jackson 5 signed with Motown records.

Source: contactmusic
29.6.10
Katherine Jackson Says, It's good to be home
Michael Jackson's mother was in Gary, Indiana on Friday to observe the anniversary of her son's death and expressed she wished it was for a different reason. However, Katherine Jackson further commented that it was good to be back.
"The occasion, I wouldn't want that to be," she said, "but since it is, it's good to be back."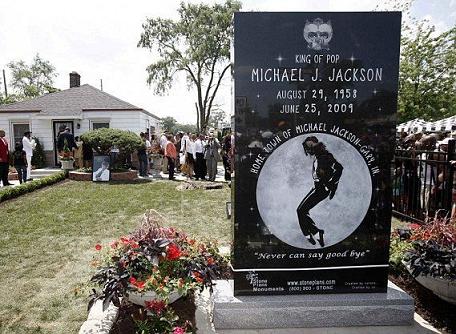 Mrs. Jackson unveiled a monument to Michael Jackson which now stands in the front yard of the family home at 2300 Jackson Street. She also spoke of sadness for the troubled times in her old neighborhood and is hoping that plans for a Jackson Family Center in Glen Park would be the start of better times ahead. Katherine Jackson confirmed her support of the project.
"Gary needs a lot of help," Katherine Jackson said. "I was thinking, I wish someone would come and build a factory or something and give people jobs."
She went on to comment about changes she witnessed in the community.
"When we were living here in this house, you know, that's been like 41 years ago or more, and everybody's house, was no house empty, was no house torn down," Mrs. Jackson said. "Everybody was up and working and prosperous. It's so different now."
At the unveiling of the monument, Katherine Jackson was surrounded by family members. Judge Greg Mathis and comedian Eddie Griffin were also there in honor of Michael. Mrs. Jackson expressed her sincere appreciation to the thousands of fans who were on site to celebrate her son's legacy.
Source: MJFC
25 June 2010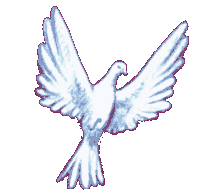 For you Michael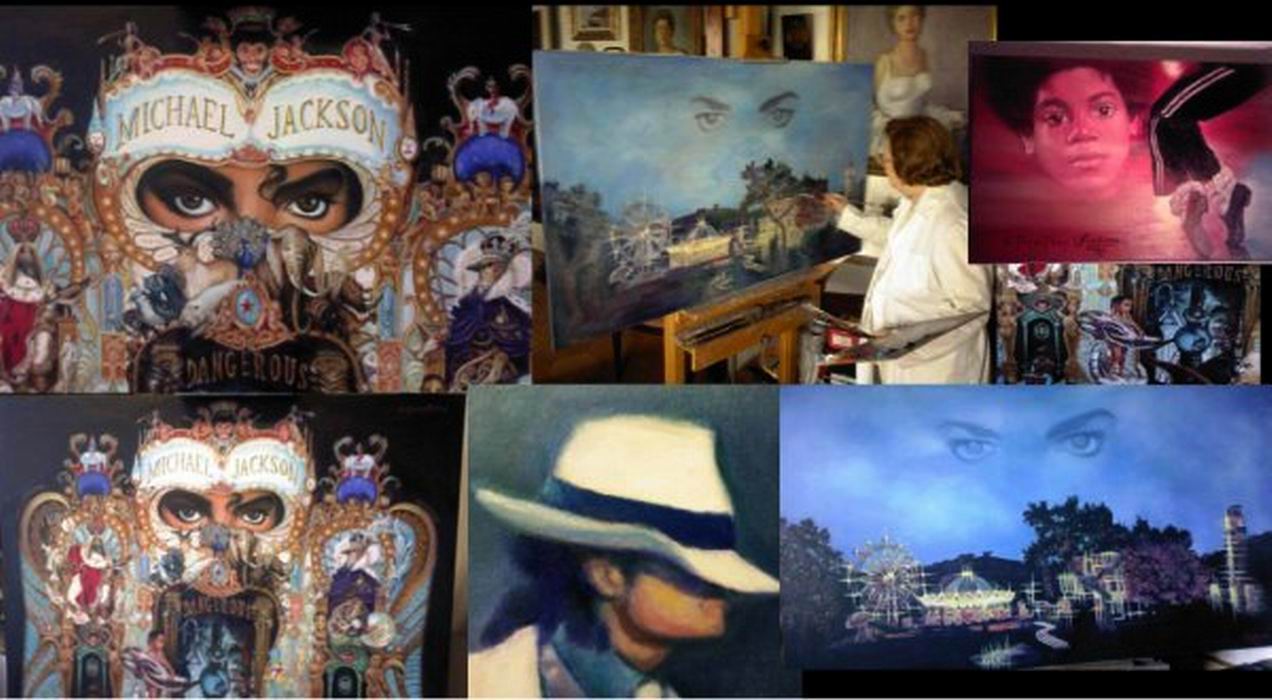 20.6.10
Exclusive: Michael Jackson's Mother, Katherine, Will Publish Book on Monday
M ichael Jackson 's mother, Katherine Jackson , will publish a book next week about her son.
The self published book–consisting of personal photographs–is called "Never Can Say Goodbye: The Katherine Jackson Archives."
"She's very proud of the book," says a source. "It's not being done for money, either." Its content is a picture page facing a page of reminiscences by Michael's mom.
To promote the book, Katherine gave a two hour interview to Marc Schaffel , Jackson's former business partner and confidante.
Katherine was driven to Schaffel's home, where they conducted the interview. They talked about what the last year has been like, the children,memories of Michael over the years. She did not talk about husband Joe Jackson directly, but she did say that she was concerned that the media twisted what the family said.
15.6.10
Slash Wanted MJ Duet
Guitar god Slash recently revealed that he wanted to duet with the King of Pop for his first solo album last year.
Michael Jackson and Slash were not just friendly, the two famously teamed up back in the 1990's with Slash recording guitar solos on several Jackson tracks. Now the rocker says that he regrets not asking Jackson to return the favor by singing on his first solo project. Slash said,
When I was thinking about who I wanted to work with, Michael crossed my mind. I thought about doing something that would see him totally cross over into rock. But it was around this time last year and he was flat-out rehearsing for the London O2 gigs so in the back of my mind I thought, 'He's not going to have the time.' It's hard to believe he's gone."
Slash also admited to feeling anger and frustration about how his friend was treated by the public after the whole child molestation scandal, despite his acquittal at the 2005 trial.
There was this whole eight or nine-year period in the States where he was cast out. I like to believe he was innocent of the stuff he was accused of. He was acquitted and yet he was totally ostracised. Then he died and you had people crying in the streets. Bullshit. It really hasn't hit home that he's gone yet."
Source: MJFC / uk.news.yahoo.com
13.6.10
SILICLONE PRODUCTIONS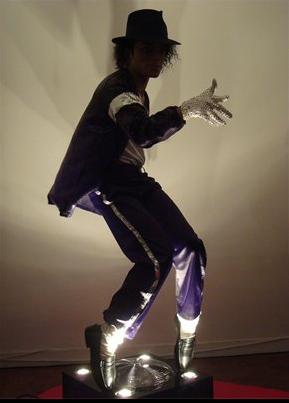 Are proud to announce the worldwide release of their last production : the super realistic statue THIS IS HIM TM at the scale ONE, an amazing artwork realized by the famous french artist Jean Baptiste SECKLER.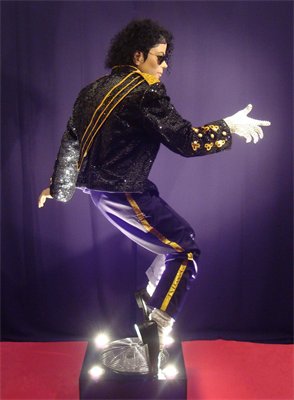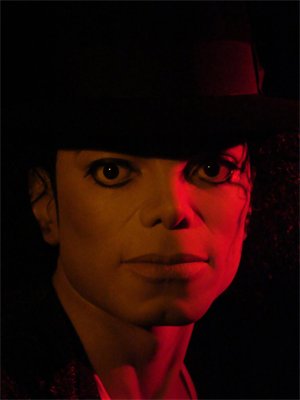 Last year, just after the death of Michael Jackson, the sculptor Jean-Baptiste Seckler decided to pay him tribute by creating an impressive sculpture of his face. First settled on the square of Notre-Dame , later he established his outdoor studio on the esplanade of the Pompidou Center in Paris , where he fashioned his work under the eyes of the passers-by, arousing the interest of the media all over the world.
Source: WWW.JBSECKLER.COM
9.6.10
Ratner's Interview With Michael
Brett Ratner has included on his website an interview he did with Michael in which he asked him many in-depth questions about music, his ideas on the planet, his feelings and much more.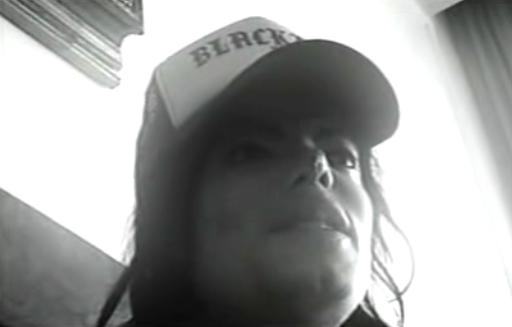 Source: www.brettratner.com
1.6.10
Tokyo Welcomes Captain EO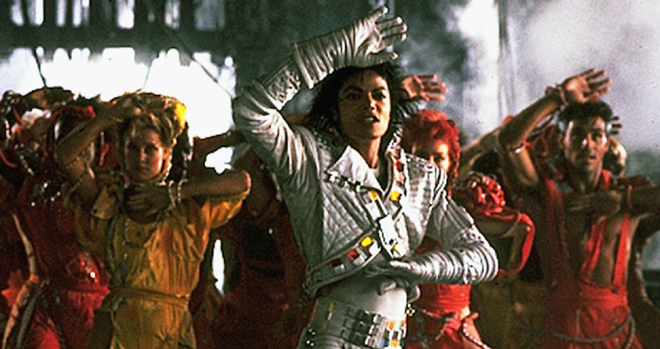 Tokyo Disneyland recently announced the July 1st, 2010 opening of "Captain EO", the 1980′s musical space film starring the King of Pop. In a temporary tribute to Jackson, Disneyland Park in Anaheim, California reopened "Captain EO" in their Tomorrowland earlier this year and Epcot in Orlando, Florida also recently announced plans to open temporary tribute viewings as well.
Replacing MicroAdventure! ("Honey, I Shrunk the Audience" in American parks), and will run through June 2011. Disney has not yet said if MicroAdventure! will return.
Source: MJFC / thecaliforniasource.com
30.5.10
The Making of "Thriller" Book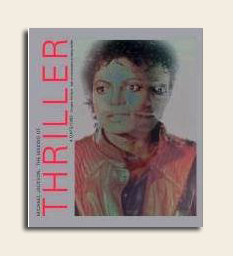 Is an illustrated tribute to the King of Pop and his groundbreaking music video, with never-before-seen photos of its creation.
The book will feature over 200 exclusive, behind-the-scenes photographs of the artist on set during the 1983 production of the Grammy award winning video directed by John Landis.
Publisher : October 6, 2010

Considered to be the most successful project of all time, "Thriller" is beloved the world over, inspiring imitation and a cult-like following of millions of fans. Documenting the creation of the most popular and iconic music video of all time, this book will celebrate the artist and his music at the top of his career.
Douglas Kirkland spent much of his career in New York City before moving to LA in the 1970s. He catapulted to fame when he first photographed Marilyn Monroe.
In many moore star Liz Tailor, Fred Astaire ...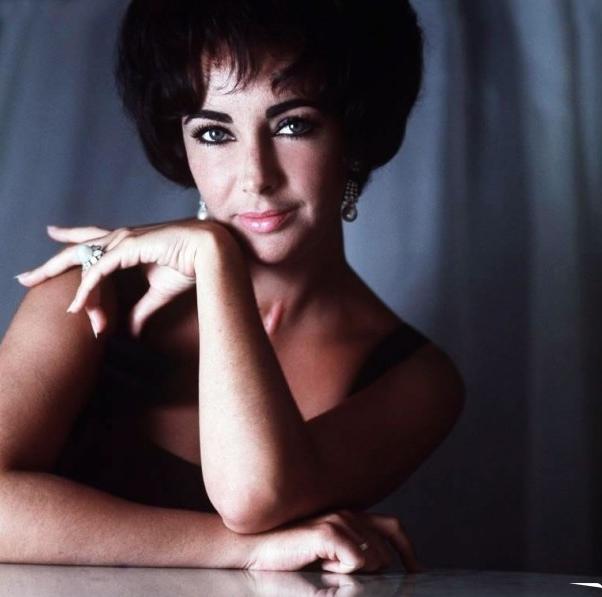 He has also photographed behind the scenes sets of more than one hundred motion pictures, several of them legendary. Named "Photographer of the Year" by the PhotoImaging, Manufacturers, and Distributing Association, he lives in LA with his wife.
29.5.10
The Day I Met Michael Jackson
The day I met Michael Jackson was when I went to a Lucasfilm Picnic during the summer of "86 or 87" at The Skywalker Ranch in Marin County.
He was walking around with his bodyguard and a beautiful German Shepherd dog, (as seen in the photo) He was wearing his surgical mask, until I held up my camera to snap a photo of him and then he took it off for a few minutes to smile for the camera. When he sat down at a picnic table I asked his bodyguard if I could say hello and get an autograph and he said ask Michael, so I sat down and scooted in right next to him and we both locked eyes, smiled at each other and said Hi! in a very shy way to one another, I told him I really loved his music and asked if he would mind signing the Lucasfilm yearbook for me and he graciously did right next to George Lucas's signature.
A little later I was walking down the dirt road at Skywalker Ranch and I saw a Fire Engine coming down the road and it's bells were ringing and it's horn was blowing, so I moved over closer to the ditch, thinking they needed more room to pass by, since it was a narrow road, and to my surprise, they blew the horn again and when I turned to look back at them I saw Michael hanging out the passenger side of the truck and waving excitedly, so I looked behind me thinking he was waving to someone else, but no one was there, so it suddenly dawned on me that he was waving to me. So I smiled and waved back, and he seemed to be as excited as a kid would be riding in a Fire Truck for the first time. I will cherish that memory forever... Diana Dawn
Source: CNN iReport
26.5.10
Video Diana Ross Plays Tribute To Michael Jackson
Diana Ross also paid tribute to her longtime friend Michael Jackson with a soft segue from "Missing You" to "You are Not Alone."
Source:youtube
22.5.10
Video Michael Jackson et Stan Lee

On YouTube, there are now two videos available to watch Michael touring the digital animation studios built by Stan Lee and Peter F. Paul. In the footage, they are discussing a merger in which Michael could buy into the company.
Part 1 - click here. Part 2 - click here.
21.5.10
Live At The Forum the cover + picture
This photo from a 1971 concert in Indianapolis.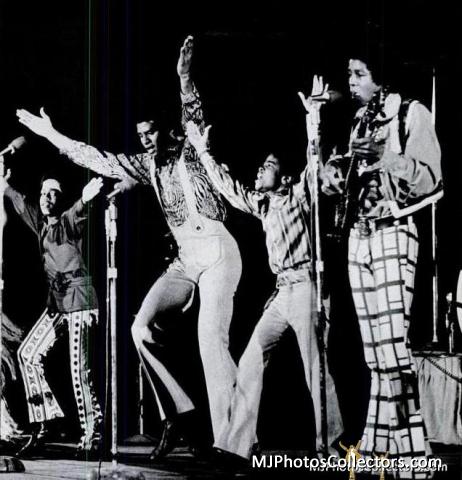 Source : j5collector.blogspot.com / mjphotoscollectors.com
19.5.10
J5 Live Performances
The Jackson 5: J5 Live @ The Forum is a new 2-CD set released June 22 that uncovers an amazing chapter from the phenomenal career of Michael Jackson and his brothers in the J5: their extraordinary performances from the Los Angeles Forum, recorded in June 1970 and August 1972—the first at the start of their rapid ascent to stardom, the second when they became established icons. These brilliant shows have not been released in any form until now, the 40th anniversary of the 1970 show.
J5 Live @ The Forum features earth-shaking live performances of the group's best-known hits – "I Want You Back," "ABC," "The Love You Save," "I'll Be There," "Never Can Say Goodbye" and more. Single B-sides "I Found That Girl" and "I'm So Happy" and such surprises as album cuts "Bridge Over Troubled Water" and "Zip A Dee Do Dah," plus songs not released by the J5, including covers of James Brown's "There Was a Time" and the Isley Brothers' "It's Your Thing," are part of the shows. The 1972 show also features a fantastic, full set of Michael's solo hits, including "Got To Be There" and "Ben," his brand new single at the time, as well as a solo spot by Jermaine.
Disc 1 includes the complete Forum show recorded June 20, 1970, when the group broke existing box office records at the venue. The J5 were on their first national tour, and the show is a unique document of the growing "Jacksonmania" gripping the globe. Disc 2 is the complete show from August 26, 1972, just three days before Michael's 14th birthday. Each disc includes a bonus track: an unreleased full live version of "Mama's Pearl," from the concert that became part of the 1971 TV special Goin' Back To Indiana, closes Disc 1; "I Wanna Be Where You Are," from the soundtrack album to Save The Children, makes its CD debut at the end of Disc 2.
J5 Live @ The Forum is housed in a collector's digi-pak with rare photos and insightful liner notes.
TRACK LIST
All tracks previously unreleased except noted *
Disc 1 – June 20, 1970

1. Introduction

2. I Want You Back

3. Feelin' Alright

4. Who's Lovin' You

5. Walk On

6. Don't Know Why I Love You

7. Zip-A-Dee-Doo-Dah

8. ABC

9. It's Your Thing

10. I Found That Girl

11. There Was A Time

12. Thank You Falettinme Be Mice Elf Agin

13. The Love You Save

Bonus Track

14. Mama's Pearl Live in Indiana



Disc 2 – Back @ the Forum August 26, 1972

1. Brand New Thing

2. Medley: I Want You Back/ABC/Mama's Pearl

3. Sugar Daddy

4. I'll Be There

5. Introduction by Michael

6. Goin' Back to Indiana/Brand New Thing/Goin' Back to Indiana

7. Bridge Over Troubled Water

8. I Found That Girl

9. I'm So Happy

10. Lookin' Through The Windows

11. Ain't Nothing Like The Real Thing

12. Introduction by Jackie

13. Ben

14. Rockin' Robin

15. Got To Be There

16. You've Got A Friend

17. Ain't No Sunshine

18. I Wanna Be Where You Are

19. Introduction by Jermaine

20. That's How Love Goes

21. Never Can Say Goodbye

22. Walk On

23. The Love You Save

Bonus Track

24. I Wanna Be Where You Are from "Save The Children" *
Source: MJFC / PRnewswire.com / Universal Music Enterprises
16.5.10
Interview with Rick Rothschild, one of the engineers the attraction Captain Eo
The official Disneyland Paris's facebook will make, on Monday, a video interview with Rick Rothschild, one of the engineers behind the attraction Captain Eo.

On this occasion, the internet users will can proposed the questions they would like to see him laid. It is possible to do so by clicking here .

To recall, Captain Eo will return to Disneyland Paris on June 12


Sources: disneycentralplaza.englishboard.net
7.5.10
Did Michael Record New Album in 2007?
Roger Friedman posted the following today in his column, Showbiz411:
Bombshell Exclusive :
Michael Jackson recorded a whole new album of material in the fall of 2007. The information about the album was only recently revealed by sources close to the late pop star.
Readers of my old column will recall that I reported on November 19, 2007 that Jackson spent three months with the Cascio family in Franklin Lakes, New Jersey after decamping from a Northern Virginia home he'd been renting courtesy of then manager Raymone Bain.
Jackson, his kids, nanny and tutor landed on the Cascio doorstep at the end of the summer of 2007 and stayed until November 7th. During that time Michael was not idle, as some thought. He recorded at least a dozen tracks with Eddie Cascio, who is also known as Angel.
I'm told that Jackson's manager and adviser, Frank DiLeo, knew that Jackson was working on a new album. DiLeo and the Cascios all declined to comment for this article.
The song titles that I'm aware of include: "Water," a song Michael actually sang a little bit of in the movie, "This is It" (Jackson fans have commented on this on fan blogs), plus "Breaking News," and "Burn Tonight."
According to one source who's heard the material, Michael's vocals are "perfect."
The question now, of course, is what happens next. The Jackson estate just signed a record deal with Sony Music that could be worth $200 million, but it includes re-releases of previously recorded music, live albums, and an album of unreleased songs that were in the Sony vaults or recorded during Jackson's contracted time with the label.
That deal does not include newly discovered material. This could mean that other record companies could bid for the collection of songs.
Eddie Cascio, who's 28, is the second oldest son of Dominick (Sr.) and Connie Cascio, who were friends of Jackson since the 1990s, Dominick Cascio Sr. met Jackson in 1984-85 when he was the general manager at the Helmsley Palace Hotel in New York City. Jackson recognized the Cascios immediately as a "normal" family, and quickly befriended them. Since Jackson's death, the Cascios have been frequent visitors at Katherine Jackson's home in Encino, California.
Over the years, Jackson reciprocated the Cascios' hospitality with enormous generosity. Although the Cascios were not named in Jackson's will, the song tracks should prove to be multi-million dollar bonanza—and a lasting gift to people whom he really considered family.
The Cascio's were so close to Jackson that a message from them, written by Eddie, was included in the booklet distributed at Jackson's Staples Center memorial service in July 2009. Here's what it said:

Doo Doo, It is only once in a lifetime where you meet a true Angel sent
from the Heavens above. I count my blessings each day for I have experienced Heaven on
Earth. The wisdom, guidance, and knowledge will always be remembered and put into
action. I thank you for the memories, for they will remain in my heart forever and ever.
Our friendship will always be treasured. I write on behalf of my family.
We promise to always remain 'The First Family of Love'.
From the Bottom of our Hearts
WE THANK YOU and will love you FOREVER and ALWAYS.
ANGEL 'Dr.Heat' Cascio and the Cascio Family"
Source: MJFC / showbiz411.com
20.3.10
Landis Says Thriller-3D Coming Soon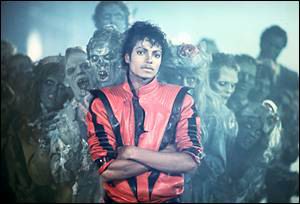 Director John Landis' was asked during his appearance at the BFI in London if the one-hour documentary "The Making of Michael Jackson's Thriller" would ever be released on DVD or Blu-ray. CHUD reports that the director confirmed that the doc, along with the remastered longform video, would be coming soon. Apparently the lawsuits and royalty issues that had been holding up such a release have been resolved following the death of the pop star.
Landis also dropped the new that the owners of Jackson's estate want to convert the music video into 3D. Landis is apparently fine with the idea even though he might not be a fan of the technology.

No word on if the video would be somehow released theatrically or made available for the upcoming surge of 3D televisions.
Source: MJFC / slashfilm.com
3.3.10
On Stage With Michael Jackson
In a new interview, Kriyss Grant, the first dancer chosen by Michael Jackson for his "This Is It" tour, discusses what it was like working with the "King of Pop."
On the influence Jackson had on him:
I was really brought up with Michael Jackson. My grandmother bought me 'Moonwalker,' [the 1988 film that showed, among other things, Jackson in concert] which is something I watched every day. ... I wanted to be just like that. ... I would always try to perform. If there was a party, a family reunion, anything, I would dance and perform for everyone."


On his audition:
I was scared. And I didn't think I was going to get it. But I went. ... It was a three-day audition period. Thousands of dancers [4,000]. Michael came the third day. ... I had never been on tour. I was the newest dancer from Florida. Everyone else was from L.A. and had worked with and danced backup for other artists, so they had that on their resume. I had [MTV's] 'Making the Band' on my résumé.

"Had Michael not been there, I don't think I would've been picked. ... Michael saw me, he saw the feeling in me. I saw him jump up while I was dancing, but I didn't know what he was reacting to. Later, they told me that he was reacting to me and how he saw himself in me."


On meeting him for the first time:
When we stepped off the stage to go meet him, he was like the statue on his 'History' album. He was dressed in all black, he had the glasses on. And his hands were really big and firm; they took over my entire hand. ... He told me I was amazing. ... I was just staring at him. I think I told him he was awesome. I don't know."


On his personality and energy:
Michael was the type of person who would look at you and know, like that, what you were all about. ... He was say certain things like he knew you. He knew I was nervous. He'd tell me to save my energy for the crowd. Always positive, but it was also like [the comments were tailored] to us.

"There were times when I'd feel the energy of the music, feel his energy, and I'd be dancing all out. And he would stop and look at me. I thought maybe I was going too hard, doing too much. But he'd shake his head and smile, like whatever I was doing was a good thing."

"He was very warm. I'd never felt anything like that. I was so happy. His energy was like no other."


On rehearsals:
Michael would come in occasionally in the beginning. ... He didn't start rehearsing with us until we moved to the Staples Center. He was killing it, going full out, doing slides and everything—it was crazy. ... As soon as that music would come on, he'd start killing it. We'd look at each other like, 'Is he trying to outdo us?' ... He still had it. He proved that. ... But he was nervous. He was 50, and he hadn't danced like that in a long time. He had to familiarize his body with all those moves he used to do. I think he was scared; he couldn't take the stage and appear fragile to us."


The last rehearsal:
He was his old self. He was interacting with us, giving us suggestions, making changes. In the beginning, he let everyone else run things. Then, he was like, 'This is my show. We're going to do it how I want to do it.' I loved it. That's something I always wanted to see. I thought he was being taken advantage of in the beginning because he was older. ... And you could tell he had something to say, but he wouldn't say it. But that last day, he took over.

"He knew what he wanted. The dancers were like, 'Good, he's speaking up.' The dancers had Michael's back."


The day Jackson died:
We didn't know what to do, what to say, where to go. It was this feeling of you finally getting to where you always wanted—of finally making it. And before you get to grasp it, it's snatched away from you. ... It's like a tease. I touched it, but did this really happen? I have memories, but there was no time to sit in that moment and really feel the vibe. Everything happened so fast, fast, fast in rehearsals ... And then, it's all taken away.

"It really hasn't hit me yet. I know I was a part of it. I know it was a big deal to be a Michael Jackson dancer on the 'This Is It' tour that never happened. ... I don't think it will ever hit me."
Source: bocamag.com
1.3.10
Paul Anka
Many years ago a young man came to my home. He was 21 years old and he said he wanted ... next
27.2.10
Guitarist Jennifer Batten Pay Tribute To MJ
Guitar ace Jennifer Batten yesterday told of her heartache at the loss of her superstar mentor Michael Jackson.

The guitarist was Michael Jackson's "right-hand woman" on three sell-out world tours - with the Bad star responsible for creating her famous hair-do.

Now she is to pay an emotional tribute to the King of Pop on her first Scottish concert tour.

In 1987, Jennifer was hand-picked by the singer from 100 guitarists who had auditioned to play on his Bad tour.

Michael Jackson was so impressed that she joined him on the road for the next 10 years, playing on his Dangerous and HIStory tours to more than 4.5 million fans.

But the New York-born musician still hasn't come to terms with the death of her friend.

"I was in LA when a friend called to say Michael had died," said Jennifer, 52. "I'd heard so many rumors over the years that I didn't believe it, but when I turned on the news I found it was true.

"It was a huge shock. Michael had so much to live for.

"He was so into being a good father to his children. He wanted nothing but the best for other people. I miss him."

Jennifer plays The Inn at Lathones in St Andrews on Friday with other gigs in Glasgow and Strathpeffer over the weekend as part of her first solo tour of Scotland.The highlight of her show will be an emotional 12-minute medley of Michael's songs.

Jennifer, who has also played with Jeff Beck, Brian May of Queen and Natalie Cole, still can't believe Michael Jackson plucked her from obscurity to set her on the road to stardom.

"I heard Michael was looking for a guitarist and had organized an open audition." she said.

"I went into a rehearsal room in Hollywood and was surprised to see there was no band, it was just me playing alone. I played Beat It, Billie Jean and Thriller, note perfect. It was videoed and Michael chose me from 100 other guitarists."


A few weeks later, Jennifer came face to face with Michael in a massive production hangar in Los Angeles.

"Michael walked in with his manager Frank Dileo to watch a run-through by the band," said Jennifer.

"I'd been told if he was happy with the music he'd start dancing and he did a few steps right away. Next thing I knew I had a ticket for the opening night of the Bad tour."

For the video of smash hit Another Part Of Me Michael Jackson devised a complete image makeover for his new guitarist and Jennifer's distinctive big hair and sci-fi-style costumes were born.

"Michael had an artist draw a new image for me and had a team of wardrobe people make my costumes," she said.

"Two huge extension pieces were sewn into my own hair to add volume. It certainly worked- my hair was almost as big as the guitar I was holding. "I didn't have any problem with it because I understood the show was pure theater and I was playing a role.
I'll always be 'the girl in Michael's band with the big hair'. A lot of people only know me for that, and that's no bad thing. It helped me immensely."

On each Michael Jackson tour, Jennifer had to sign a confidentiality deal not to reveal how his stage stunts were done.

Inevitably, there were nights when things went pear-shaped.

"During the routine for Beat It I had to wear fibre optic laser lights in my hair, costume and around my guitar so that I lit up during the song," she said.


"I was attached to a 100 foot cable which was linked to a computer so the lights changed color. As I ran across the stage, somebody stood on my cable, the lights went out and I got whiplash."

Jennifer was disturbed by the child sex abuse allegations which dogged Michael's life and led to a court case in 2005.

He was acquitted on all charges and the guitarist believes he was a victim of his phenomenal success.

"I think Michael was innocent. You get a creepy vibe from people who do things like that, but I didn't with him. Michael was just a big kid," said Jennifer.

"I don't know anybody who could have stayed mentally healthy after all the accusations thrown at him. But people are obsessed with extortion. It gives them power. Once lawyers and the Press get involved the stories run on their own."

Michael Jackson will be in Jennifer's thoughts when she performs in Scotland next week. It's the first time since she's played here since the Dangerous tour at Glasgow Green on August 18, 1992.


Jennifer said: "Playing with Michael for 40,000 fans in Glasgow was a whole new experience. I flew first class and stayed in the best hotels. It was like a fantasy.

"I'm very proud of touring with him.

Just having the name 'Michael Jackson' on my resume helps a lot.

"Sadly, we won't ever see him realize his true potential. He was such a talent, there's no telling what he could have done next."
Source: MJFC /dailyrecord.co.uk
24.2.10
Captain EO Returns to Disneyland Today
FEBRUARY 23, 2010 MJ fans lined outside Disneyland today to be the first to see the "re-debut" of Captain EO, the 17 minute science fiction themed musical that MJ started in, which was directed by Francis Ford Coppola and executive produced George Lucas.
According to the LA Times:

The film stars Jackson as a captain leading a crew of aliens, robots and "fuzzball" on a spaceship on a mission to deliver a gift to a wicked alien witch played by Anjelica Huston.

A Disney spokeswoman told KTLA that there was no timeline for how long the show would run, but said it would stay for as long as it remained popular.
About 200 fans, who began gathering Monday night near the main gate, were led in from a special line to see the 3-D movie, which has been absent from Disneyland since 1997.
Source: disneyland
23.2.10
This Is It' On Vinyl
The soundtrack from Michael's rehearsal film 'This Is It' is now available on vinyl. It is available as a four x LP set with a 12" x 12" photo book. The album sleeves are decorated beautifully with images of Michael .
Source: MJWN
21.2.10
Michael Jackson Is Making One Last Appearance At Disneyland
The biggest theme park news lately has been all about Harry Potter , but there's something else pretty interesting ready to reappear at Disneyland . Captain EO , the snazzy laser-filled 3D movie starring Michael Jackson , is set to return to Tomorrowland sometime this month . We knew it was coming since late last year, but it seems that sneak peeks of the retro attraction might begin any day now .
Apparently testing is already underway as Disneyland employees were invited to check out the attraction last week. An email was sent out to Disney cast members—that's Mickey Mouse language for employees—describing the testing involved with the movie's return. Of course they requested that all the secrets of the attraction remain hush-hush, but it looks like someone immediately leaked the email. We're all for sharing a few secrets among friends, because that's pretty much why the Internet was invented.
Sources : jaunted.com
16.2.10
Jay-Z "We Are the World" Shouldn't Have Been Remade
Continued Jay-Z, 40, "I'm a fan of music. I know the plight and everything that's going on in Haiti. I applaud the efforts: [Millions have been raised] through text [donations] to Haiti. So I appreciate the efforts and everything, but 'We Are The World' is [musically] untouchable like 'Thriller' is untouchable. Some things are just untouchable. It was a valiant effort, but for me, it's gonna be untouchable."


"I think it's time for us to make a new [song]," Jay-Z said. "I tried to do that with 'Stranded,' [the tune Jay Z, Rihanna and U2's Bono and The Edge premiered at the 'Hope for Haiti Now' telethon]. I didn't try to make 'We Are the World,' but I tried to make our take on how we felt."

14.2.10
John's New Paintings
Artist John is from The Netherlands and he has contacted MJWN again to advise fans of the updates to his website, with new paintings of Michael, and 'Making of' videos on You Tube. Please click here to see an example.
John's web site can be found by clicking here .
Source: John Uilenberg & MJWN
25.1.10
Interview With 'This Is It' Costume Designer Zaldy
When Zaldy Goco answered the phone last April and learned that Michael Jackson's creative team wanted him to develop some costume ideas for the King of Pop's long-awaited comeback concert series in London, he could scarcely believe his luck. A long time fan of the sometimes-maligned, but always-loved music legend, Zaldy set about developing an approach for creating costumes that at once hearkened back to iconic images from Jackson's past, while also making him relevant for contemporary fashion of the day.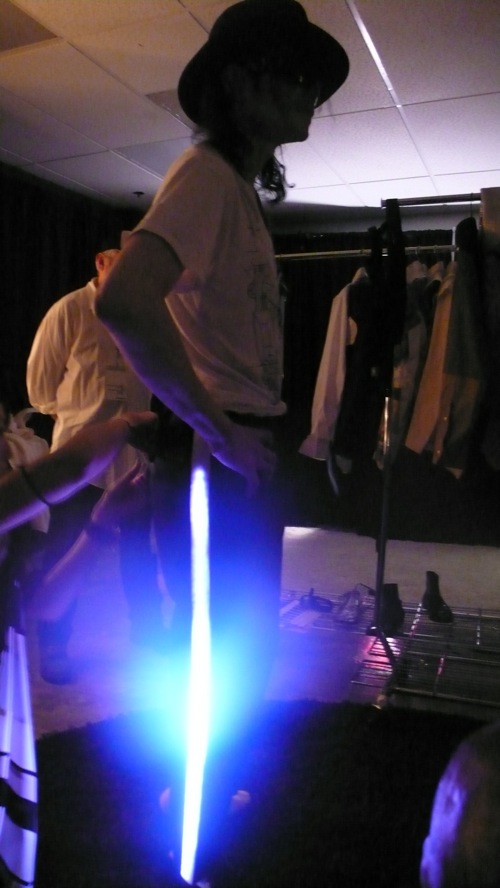 The results were amazing and once the decision was made to make Zaldy the chief costume designer for the upcoming concerts, the process to get there involved five up close-and-personal fittings between Zaldy and Michael Jackson over a period of a several weeks, including the last fitting, just days before the singer's sudden death.
Zaldy kindly spoke to Business of Fashion about the experience of designing for Michael Jackson and shared some photos of Jackson from the fittings, published here for the very first time."
BoF: And now for the topic that I am sure everyone is most interested to hear about: your collaboration with Michael Jackson for the This Is It tour. How did that come about?

It was such a surprise that began with a really casual phone call from someone who was representing Michael's choeographer, Travis Payne. It was already the end of April and the tour was starting in July, and he asked me if I was interested in making some outfits. Of course I said yes! But, I really didn't take it all that seriously as I knew that Michael had only ever really worked with one designer in the past named Michael Bush. He had developed all of Michael's iconic looks for Thriller and Bad. So, by no means was it definite. I thought maybe I'd get to make a couple of outfits — maybe.

It turns out that Michael had been advised to take more of a fashion look with his presentation, and he had asked to see designs from some really big names, including, I believe, John Galliano and Alexander McQueen. My impression is that he got all these packages from these different designers and then he chose who he wanted to work with.

When he got my package, they called me right away and said he that Michael was jumping up and down screaming, saying "I've always wanted to do this! I've always wanted to do this!"

They asked me to come to L.A. the next day to meet Michael and told me they wanted me to do the entire show. In the end, because Michael is so faithful, he did ask Michael Bush to work on a few of the outfits as well, which I thought was really nice especially because it was supposed to be Michael's last tour."


BoF: Wow, that's pretty amazing. How would you describe what you designed for him?

This is the thing. When they first asked me to do this, they said "we need you to re-invent Michael." And my first thought was that Michael does not need to be re-invented, especially not now. He is one of the only artists who created iconic looks and iconic images to go along with iconic songs. It's not necessary for those looks to be reinvented — they just needed to be made more relevant for today. Nobody wants to see a Thriller jacket that it isn't red and black. People were going to want to see those iconic images, made more relevant to the times.

So, that's what my approach was — referencing what we knew, but bringing more technology and new techniques that Michael had never used before."


BoF: What are your favourite looks that you designed for Michael Jackson?

They all kind have their own specialness for me. But, if you ask anyone who works with me, they will always say the We Are The World outfit, embroidered with all kinds of techniques from around the world — from African to American Indian to Japanese to Chinese. It was quite a mix, and very beautiful.

But for me, I loved the Black or White leather jacket, with three different custom plated coloured studs, which was kind of a Sumurai-referenced jacket. The finale jacket is also a favourite, especially because Michael was so excited about it. I had made what Michael called 'secret treasures' in the shape of little teardrops that enclosed around crusts of crystal chunks.

And then of course there was the light-up outfit for Billie Jean, which was a collaboration with Philips Technology, which really, really made him the happiest. The last time I saw him was about six days before we were leaving for London, and I tried these pants on him and he was silent; completely stunned. After about thirty seconds, he said "It's everything I've always wanted.

So, that was pretty special for me."

BoF: And then, of course there was his sudden death, which must have turned things upside down for you.

I experience anti-climax after every project, but I was in disbelief. I didn't know what to do with myself. I had been living and breathing Michael Jackson for weeks on end. When I design for a musician, I immerse myself completely in their music. It just has to play in my head the whole time.

I decided I needed to lock myself away in a hotel to get away, but even that didn't work. Everywhere I went, people were listening to Michael Jackson. There was no escape."
BoF: Did you have any sense that he might be unwell?

Not at all. And that is the thing that I think the movie really shows. He was quite lively, energetic and strong. And, he was super in tune to all the details. Every time I met with him, he was always catching little details. When I'd do fittings with him, he was very solid and very strong."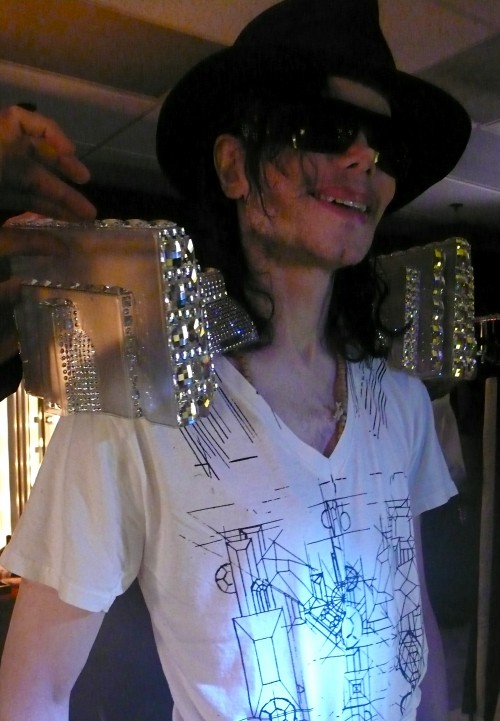 BoF: Last year was quite a year for you. Doing Lady Gaga and Michael Jackson in one year is pretty big. What lies ahead for you 2010?

It's funny because I kept seeing the two of them side-by-side in stories or hearing their names mentioned in the same story. And then, all of a sudden I was working with both of them. But right now, I'm pretty excited to get back into the Scissor Sisters, who are launching their third album. But also, last year was a big music year, and I'm thinking of leaning back towards fashion again."


BoF: So there could be a Zaldy label again?
There could be. Right now I am working on a gown for the Met Ball. So, let's see. I'm working on a couple of things."

Want to See Even More Photos of the costumes Zaldy designed for Michael Jackson?
Concert suits for Michael Jackson

Concert Jacket for Michael Jackson

Additional Concert Jackets for Michael Jackson
Source: MJFC / BOF / Zaldy Goco
17.1.10
Incredible Actor
In a recent interview with MTV, director Allen Hughes said that Michael was "an incredible actor and no one knew that." He continued; "If you look at the nuances of 'The Wiz,' when he played the Scarecrow. Or if you look at the short film Scorsese directed before 'Bad,' where he's going head to head with Wesley Snipes. The acting he was doing? Oh my god it was good. I know actors and he was an incredible actor."
Source: MTVNews & MJWN
15.1.10
Worldwide 'This Is It' DVD Release Dates
Worldwide release dates are now available for Michael Jackson's This Is It on DVD and Blu-ray
| | |
| --- | --- |
| Argentina | 27-Jan-10 |
| Australia | 3-Mar-10 |
| Belgium/Dutch-speaking | 22-Feb-10 |
| Belgium/French-speaking | 1-Mar-10 |
| Brazil | 26-Jan-10 |
| Bulgaria | 26-Jan-10 |
| Canada/English-speaking | 26-Jan-10 |
| Canada/French-speaking | 26-Jan-10 |
| Chile | 28-Jan-10 |
| China | 25-Jan-10 |
| Colombia | 26-Jan-10 |
| Croatia | 26-Jan-10 |
| Czech Republic | 25-Jan-10 |
| Denmark | 23-Feb-10 |
| Egypt | 26-Jan-10 |
| Estonia | 26-Jan-10 |
| Finland | 24-Feb-10 |
| Suisse | 1-Mar-10 |
| France | 1-Mar-10 |
| Germany | 25-Feb-10 |
| Greece | 15-Feb-10 |
| Hong Kong | 26-Jan-10 |
| Hungary | 26-Jan-10 |
| Iceland | 25-Jan-10 |
| India | 26-Jan-10 |
| Indonesia | 28-Jan-10 |
| Israel | 26-Jan-10 |
| Italy | 23-Feb-10 |
| Japan | 27-Jan-10 |
| Jordan | 26-Jan-10 |
| Lebanon | 26-Jan-10 |
| Malaysia | 26-Jan-10 |
| Mexico | 26-Jan-10 |
| Netherlands | 22-Feb-10 |
| New Zealand | 3-Mar-10 |
| Norway | 24-Feb-10 |
| Philippines | 26-Jan-10 |
| Poland | 26-Jan-10 |
| Portugal | 24-Feb-10 |
| Romania | 26-Jan-10 |
| Russia | 26-Jan-10 |
| Serbia | 26-Jan-10 |
| Singapore | 26-Jan-10 |
| South Korea | 27-Jan-10 |
| South Africa | 26-Jan-10 |
| Spain | 23-Feb-10 |
| Sweden | 24-Feb-10 |
| Taiwan | 27-Jan-10 |
| Thailand | 29-Jan-10 |
| Turkey | 26-Jan-10 |
| U.S./English | 26-Jan-10 |
| Ukraine | 26-Jan-10 |
| United Kingdom | 22-Feb-10 |
| Unitedrabmirates | 26-Jan-10 |
| Uruguay | 28-Jan-10 |
| Vietnam | 26-Feb-10 |
Source: michaeljackson.com
12.1.10
See MJ's Thriller Costume From "This Is It"
This Is It was a planned series of fifty concerts by Michael Jackson to be held at The O2 arena in London.
They were scheduled to begin in July 2009 and continue through March 2010.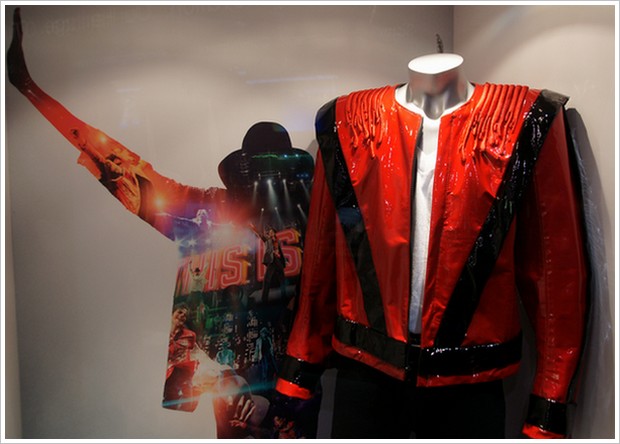 Less than three weeks before the first concert date, and with all concerts sold out, Jackson died after suffering cardiac arrest.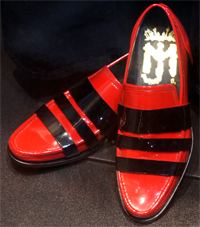 During CES 2010, Sony had a special glass booth that showed off Michael Jackson's Thriller Costume (designed by Zaldy) for the "This Is It" Tour. It also had a shirt worn by Michael Jackson in rehearsals, courtesy of the Michael Jackson Estate.
Source: MJFC / sonyinsider.com
8.1.10
3 new photos for " This is it "
3 new photos for " This is it " simply sublimate and planned to look at them with glasses 3D
2.1.10
'Thriller' Added To National Film Registry
Michael Jackson's "Thriller" video, with that unforgettable graveyard dance, will rest among the nation's treasures in the world's largest archive of film, TV and sound recordings.
The 1983 music video, directed by John Landis and still the subject of lawsuits over profits, was one of 25 films to be inducted Wednesday for preservation in the 2009 National Film Registry of the Library of Congress.
It's the first music video named to the registry. It had been considered in past years, but following Jackson's death, the time was right, said Steve Leggett, coordinator of the National Film Preservation Board.
Under the terms of the National Film Preservation Act, each year the Librarian of Congress names 25 films to the registry that are "culturally, historically or aesthetically" significant to be preserved for all time. These films are not selected as the "best" American films of all time, but rather as works of enduring importance to American culture.