30 Th Award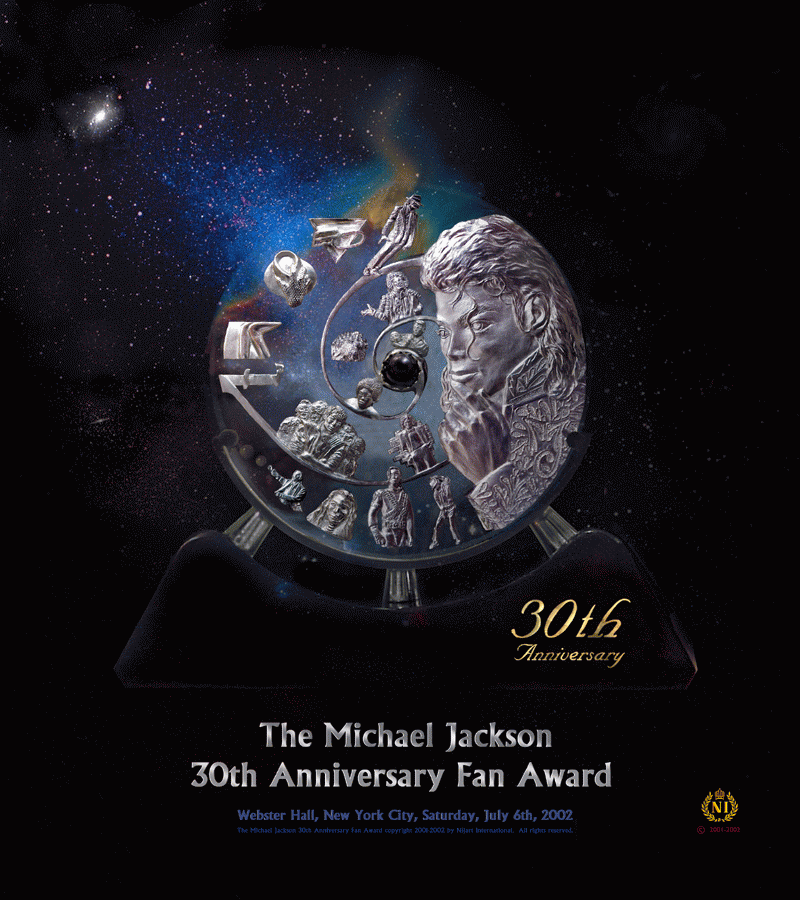 C'est quoi le MJ 30th Anniversary Award?
Le MJ 30th Anniversary Award est une récompense pour Michael de vous - les fans - pour célébrer ses 30 ans de carrière!
Grâce aux fans du monde entier, qui ont fait don pour créer cet award, le rêve
de cet award est devenu une belle réalité!L'award n'est pas juste un award, c'est aussi une oeuvre d'art magnifique!
Il a été sculpté par l'artiste Nijel, BPG.


Avec l'award on a donné à Michael une liste avec le nom, le pays et l'âge de chaque fan qui a fait un don d'argent pour cet award.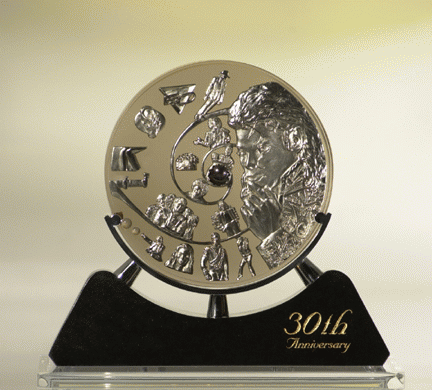 Quand Michael a-t-il reçu son award ?

Malheureusement on n'a pas pu donner le "Michael Jackson 30th Anniversary Fan Award" à Michael à son concert dU 30th anniversary Celebration à New York (USA).Le Rendez-vous qui à été prévu pour le 10 septembre 2001, à été repoussé en raison dU calendrier
très chargé de Michael, et aussi des événements tragiques à New York.
Il a été remis finalement le 6 juillet 2002 à New York City (USA) à l'occasion de la '30 Years
of Magic' fan célébration.
Sponsorisé par...
Le 'Michael Jackson 30th Anniversary Fan Award' était sponsorisé par MJFC, King of Pop Fanatics,The Magical Child, MJWN, MJ Newspage Fan Club, Fanship Tunrs To Friendship, ODJF, Dangerous,Jackson Trader, Together For A Better World, Scream International Project, Jackaon Nation,et 3Generations.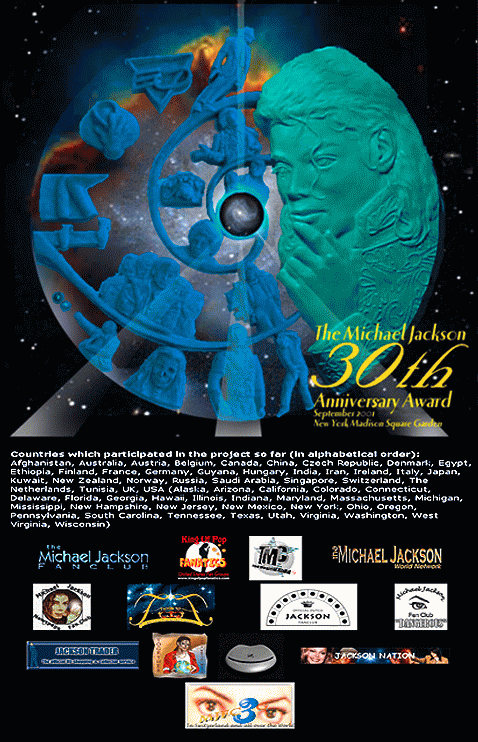 Poster remis pour les fans-club participant à la promo de l'award dont notre fc logo en bas ...
Michael Jackson reçois le "30th Anniversary Award"

Il a été remis par Nijel, BPG, l'artiste qui a sculpté l'Award.

Les '30 Years of Magic' Fan Celebration à été organisé par le MJFC et Navi avec l'appui de :
The Magical Child, King Of Pop Fanatics,
MJJ Forum, The Michael Jackson World Network, Together for a better World, Michael Jackson...Magic, Heal 4 Michael, The Invincibles,et Diana d'Alo'.
Source photo: copyright by Nijart International

. All rights reserved. - texte MJFC