John Landis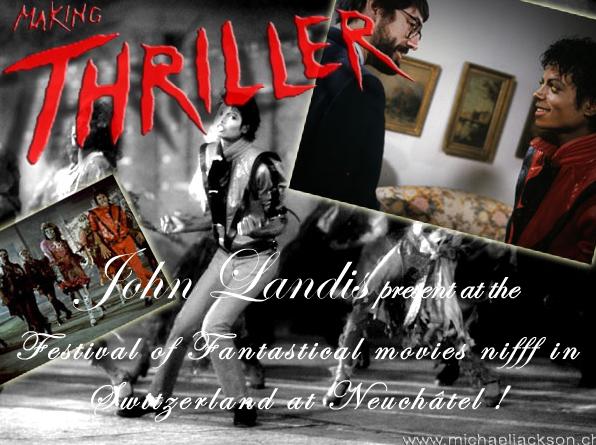 The director has already conducted " King of pop " in what we can consider as his most successful videos, Thriller, in 1983, and Black or White, eight years later.
"I spoke to Michael last month, declared John Landis.We spoke about business.
Michael is a genius, he has a formidable talent ", he want to specify...

On May 7, 2006 for a press meeting.
In front of the public and the journalists, J. Landis complied for the exercise with a humour and an incredible generosity. Exuberant narrator not hesitating to call the spectators with a smile, he showed himself very receptive and over after the conference.

He is a real genius!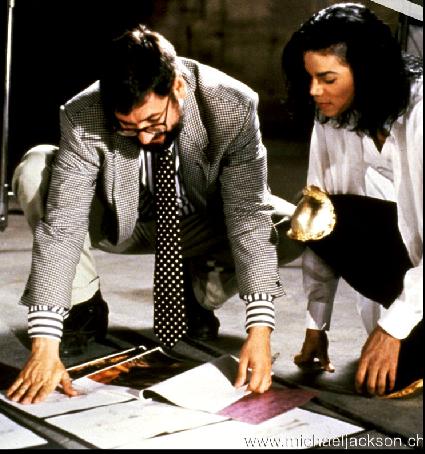 Source:MJFC3G/NIFFF
Biographie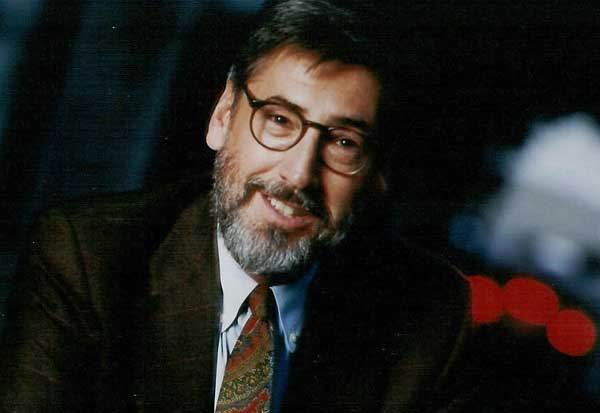 Schlock (also known as The Banana Monster ), Jack Harris, 1973
The Kentucky Fried Movie, United Film, 1977
National Lampoon's Animal House (also known as Animal House ), Universal, 1977
The Blues Brothers, Universal, 1980
And stuntman, An American Werewolf in London (also known as American Werewolf ), Universal, 1981
(And producer) Coming Soon, 1982
(And producer, with Steven Spielberg) Segments "Prologue" and "Back There," Twilight Zone: The Movie, Warner Bros., 1983
Trading Places, Paramount, 1983
Into the Night, Universal, 1985
Spies Like Us, Warner Bros., 1985
Three Amigos!, Orion, 1986
(With Joe Dante, Carl Gottlieb, Peter Horton, and Robert K. Weiss; and executive producer) Amazon Women on the Moon (also known as Cheeseburger Film Sandwich ), Universal, 1987
Coming to America (also known as Prince in New York ), Paramount, 1988
Oscar, Buena Vista, 1991
Innocent Blood (also known as A French Vampire in America ),Warner Bros., 1992
Beverly Hills Cop III, Paramount, 1994
The Stupids, New Line Cinema, 1996
(And producer and music executive producer) Blues Brothers 2000, Universal, 1998
Film Executive Producer
Clue (also known as Clue: The Movie ), Paramount, 1985
Film Stunt Performer
Schlock (also known as The Banana Monster ), Jack Harris, 1973
An American Werewolf in London, Universal, 1981
Film Appearances
The tallest nun, Kelly's Heroes, 1970
Schlockthropus, Schlock (also known as The Banana Monster ),Jack Harris, 1973
Jake's friend, Battle for the Planet of the Apes (also known as Colonization of the Planet of the Apes ), Twentieth Century-Fox, 1973
Mechanic, Death Race 2000, New World, 1975
Extra, Jaws, 1975
(Uncredited) Studio crew member fighting with gorilla, The Kentucky Fried Movie, United Film, 1977
Corporal Mizerany, 1941, Universal, 1979
Trooper La Fong, The Blues Brothers, Universal, 1980
(Uncredited) Man hit by a car, An American Werewolf in London (also known as American Werewolf ), Universal, 1981
(Uncredited) Man in bank, Eating Raoul, Twentieth Century-Fox, 1982
Leonard Winesop, The Muppets Take Manhattan, TriStar, 1984
Savak, Into the Night, Universal, 1985
Physician, Darkman, Universal, 1990
Radio technician, Spontaneous Combustion, Taurus Entertainment, 1990
Lab technician, Stephen King's Sleepwalkers (also known as Sleepstalkers and Sleepwalkers ), Columbia, 1992
Himself, Venice/Venice, International Rainbow Pictures, 1992
Dr. Edwards, Body Chemistry II: Voice of a Stranger (also known as Voice of a Stranger ), Columbia TriStar Home Video, 1992
FBI Agent, Silence of the Hams (also known as Il silenzio dei prosciutti ), October Films, 1994
Himself, Who Is Henry Jaglom?, 1995
First astronaut, Vampirella, Concorde, 1996
Doctor, Mad City, Warner Bros., 1997
Narrator, Hollywood Rated "R" (also known as Les deniers du culte ), 1997
Himself, Chicago Filmmakers on the Chicago River, 1998
Gambler, Diamonds, Miramax, 1999
Judge Kaltenbrenner, Freeway II: Confessions of a Trickbaby, FullMoon Entertainment, 1999

Himself, The American Nightmare, 2000
Professor Ackerman, 2001 Maniacs, Rhino Films/Tuffin Entertainment, 2003
Television Executive Producer
Series
Dream On, HBO, 1990-1996
Weird Science, USA Network, 1994
Sliders, Fox, 1995-1996
Campus Cops, USA Network, 1996
Disney's Honey, I Shrunk the Kids: The TV Show, syndicated, 1997-1999
Movies
Here Come the Munsters, 1995
The Munsters' Scary Little Christmas, Fox, 1996
(And director) Susan's Plan (also known as Dying to Get Rich ), Cinemax, 1998
Television Director
Episodic
"Disaster at Buzz Creek," George Burns Comedy Week, CBS, 1985
Premiere episode, Dream On, HBO, 1990
"The Second Greatest Story Ever Told," Dream On, HBO, 1991
"Black or White," Dangerous, Fox, 1991
"Muskrat Ramble," Campus Cops, USA Network, 1996
"Honey, Name That Tune," Disney's Honey, I Shrunk the Kids: The TV Show, syndicated, 1999
Television Work
Pilots
Director, Tropical Heat, Fox, 1993
Executive Producer, Sir Arthur Conan Doyle's The Lost World (alsoknown as The Lost World ), syndicated, 1999
Specials
Executive producer, Fuzzbucket, ABC, 1986
Director, "Disneyland's 35th Anniversary Celebration," The Magical World of Disney, NBC, 1990
Also associated with the special B. B. King: Into the Night.
Television Appearances
Specials
Stand-up Comics Take a Stand!, The Family Channel, 1989
Presenter, The Horror Hall of Fame, 1990
Himself, Heartstoppers: Horror at the Movies, 1992
Jerry Lewis, Total Filmmaker (also known as Martin and Lewis: Their Golden Age of Comedy ), The Disney Channel, 1994
Don Ameche: Hollywood's Class Act, Arts and Entertainment, 1999
Andy Kaufman's Really Big Show, Arts and Entertainment, 1999
Video Killed the Radio Star, VH1, 2000
Himself, It's Black Entertainment, Showtime, 2000
The American Nightmare, Independent Film Channel, 2000
It's Burlesque, Arts and Entertainment, 2001
Interviewee, Masters of Horror, 2002
Interviewee, Forever Ealing, 2002
Movies
Mike Calvecchio, Psycho IV: The Beginning, Showtime, 1990
Surgical assistant, Quicksilver Highway, Fox, 1997
The judge, Laws of Deception, Cinemax, 1999
Miniseries
Russ Dorr, Stephen King's "The Stand" (also known as The Stand ), ABC, 1994
Episodic
Michael, "The Pal-Mir Escort," The Six Million Dollar Man, 1974
Herb, "Futile Attraction," Dream On, HBO, 1991
Herb, "Where There's Smoke, You're Fired," Dream On, HBO, 1994
Himself, "Caroline and the Movie," Caroline and the City, NBC, 1995
The Big Scary Movie Show, Sci-Fi Channel, 1996
Himself, "New Years Compilation," I Love 1980's, BBC, 2001
Himself, The Big Breakfast, Seven Network, 2002
As John Landie, voice performer for Eek! The Cat (animated; also known as Eek! and the Terrible Thunderlizards and Eek!stravaganza ).
RECORDINGS
Videos
Producer, director, writer (with others), and performer, Making Michael Jackson's "Thriller" (also known as Michael Jackson: Making MichaelJackson's "Thriller" ), Palace/Virgin Vision/Gold, 1983
Himself, Dangerous: The Short Films (also known as Michael Jackson--Dangerous: The Short Films ), 1993
Director and performer, HIStory (also known as Michael Jackson:Video Greatest Hits--HIStory ), 1994
Narrator, Monster by Moonlight! The Immortal Saga of "The Wolf Man," 1999
Coproducer, director, and writer (with others), "Thriller" (music video;also known as "Michael Jackson's Thriller"), by Michael Jackson, 1983; director, "Black or White" (music video), by Michael Jackson, 1991.
WRITINGS
Screenplays
Schlock (also known as The Banana Monster ), Jack Harris, 1973
(With Dan Aykroyd) The Blues Brothers, Universal, 1980
An American Werewolf in London (also known as American Werewolf; also based on characters created by Landis), Universal, 1981
Coming Soon, 1982
"Prologue" and "Back There," Twilight Zone: The Movie, Warner Bros., 1983
Into the Night, Universal, 1985
(And song lyrics, with others) Blues Brothers 2000, Universal, 1998
Television Movies
Susan's Plan (also known as Dying to Get Rich ), Cinemax, 1998