The shows went off at the Madison Square Garden NY
on 7 and 10 September and it was really a success, the great
return of the King of Pop!!!


10.10.2001
MSG Shows To Air On CBS
MJFC has confirmed that CBS has scheduled Michael's Madison Square Garden concerts to air on November 13, 2001. The show will air as a two hour special and will feature mostly footage from the September 10 concert.
US magazine, 'TV Guide' will also run five different covers featuring Michael during the week of the CBS special.
Source: MJFC

---

13.09.2001
Michael Jackson Leaves New York City
Tuesday, September 11th, early in the afternoon, Michael Jackson left New York City.
Following many requests from fans concerned about Michael's health, please be assured that Michael is safe and sound and was not in the vicinity of the World Trade Center when the tragedy happened.
Planet Jackson inform people that wish to gather information about their fellow fans in New York that the Michael Jackson Internet Fan-Club is dedicating a special space for them in their forum at www.mjifc.com
Source: Planet Jackson

---

September 12.2001
Michael Rocks The World From NYC
The King of Pop is back and, judging from the excitement of the crowd at Madison Square Garden Friday night, the world is very happy about it. The Michael Jackson 30th Anniversary Celebration: The Solo Years was a star-studded event that kept the capacity crowd on its feet all night long.
The magic began with R&B stars Usher, Mya and Whitney Houston, who delivered their own funky version of Michael's "Wanna Be Startin' Something," complete with jungle-themed costumes. Other highlights of the evening included country singer Billy Gillman singing his heart out on Michael's hit "Ben" and getting a big thumbs up from Michael himself. Gloria Estefan and James Ingram got together for a very romantic rendition of "I Just Can't Stop Lovin' You," and Marc Anthony put lots of feeling into "She's Out Of My Life." Stage legend Liza Minelli gave an excellent performance as she transformed Michael's "You Are Not Alone" into a show tune. She then did a very moving rendition of her mother's "Over The Rainbow" after which she blew kisses to Michael and told him she loved him.
Not all of the stars paid tribute to the King of Pop by singing his material. Shaggy did two of his own songs and Destiny's Child performed their hit "Bootylicious," during which the girls all donned fedoras and one sequined glove as they executed a few signature Michael moves.
Then, finally, the moment we had all waited for arrived. The always beautiful Dame Elizabeth Taylor took to the stage and introduced the Jackson brothers. For many in the Madison Square Garden arena that night, this was a very special, very emotional moment. Fans of the group had waited 20 long years to see the brothers united on stage one more time. And they were not disappointed because Michael, Marlon, Jermaine, Jackie, Tito and Randy gave an incredible performance. It was as if time had stood still and the past twenty years faded away. They opened with "Can You Feel It," followed by a medley of their Motown hits. They were then joined onstage by pop supergroup NSYNC for a spirited rendition of "Dancin' Machine." After NSYNC left the stage the brothers jumped into a very funky performance of their hit "Shake Your Body."
After the brothers finished gettin' down it was time for Michael to take the stage alone. He dazzled the crowd with his one of a kind dance moves as he performed the hits we all love including, "Black Or White," "Beat It," and "Billie Jean." He then performed the new song "You Rock My World," the first single from his new album "Invincible." Finally, he joined the all-star cast onstage for a closing performance of "We Are The World." Michael's performance left no doubt that he is and will always be the one and only King Of Pop, a title he greatly deserves.
The show will be aired on CBS in October.
Source: MJFC

---

11.09.2001 30th Anniversary Celebration Concert - First Night
Michael Jackson - 30th Anniversary Celebration: The Solo Years
Friday, September 7, 2001



Performers and Songs:
-Usher, Mya & Whitney Houston
"Wanna Be Startin' Somethin'"
-Billy Gilman
"Ben"
-Shaggy, Rayvon & Ricardo "Rikrok" Ducent
"Angel" & "It Wasn't Me"
-Monica, Al Jarreau, Jill Scott & Deborah Cox
The Wiz Medley (including The Wiz theme, "You Can't Win" & "Ease On Down The Road")
-James Ingram & Gloria Estefan
"I Just Can't Stop Loving You"
-Marc Anthony
"She's Out Of My Life"
-Mya, Tamia, Deborah Cox & Monica
"Heal The World"
-Liza Minnelli
"You Are Not Alone" & "Neverland"
-Destiny's Child
"Bootylicious"
-Ray Charles & Cassandra Wilson
"Variations"
-Michael Jackson & The Jacksons
Medley including "Can You Feel It," "ABC," "I'll Be There" & " I Want You Back."
-Michael Jackson, The Jacksons & *NSync
"Dancing Machine"
-Michael Jackson & The Jacksons
"Shake Your Body (Down To The Ground)"
-Michael Jackson & Britney Spears
"The Way You Make Me Feel"
-Michael Jackson
"Billie Jean"
-Michael Jackson & Slash
"Black Or White" & "Beat It"
-Michael Jackson
"You Rock My World"
-All-Star ensemble, including Quincy Jones & The Legends of Jazz (David "Fathead" Newman, Les McCann, Herbie Mann, Al Jarreau, Clark Terry, Jimmy Smith, Cassandra Wilson), Ray Charles, Dionne Warwick, Kenny Rogers, James Ingram, Yoko Ono, Petula Clark, *NSync, Gloria Gaynor, Liza Minnelli, The Jacksons, Jill Scott, Monica, Deborah Cox, Tamia, Shaggy, Ricardo Ducent, Rayvon, Mya, Usher, Chris Tucker, Aaron Carter, Billy Gilman, Gloria Estefan, Marc Anthony
"We Are The World"
Source: Planet Jackson

---

8.9.2001 New York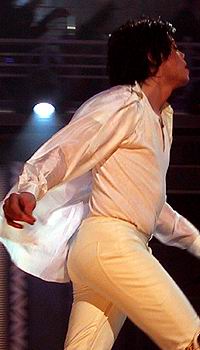 Michael rocked the Madison Square Garden tonight. For all you fans out there... from TLC new photos from the show. Michael performed more than 70 minutes with his brothers, N Sync and Britney Spears. Michael also performed his new single Rock My World. Together with all artist Michael performed 'We Are The World' during the final of the show. Line up: Can You Feel It, Medley Jacksons (including I want Your Back, Love You Save and I'll be there), Dancing Machine, Shake Your Body (down to the ground). Solo: The Way You Make Me Feel (with Britney Spears), Billie Jean, Black or White, Beat It, Rock My World & We Are The World.
The photos (credits: Sven Hoogerhuis):
Source: m-jackson.com

---
Madison Square Garden Night 7/9 - 2001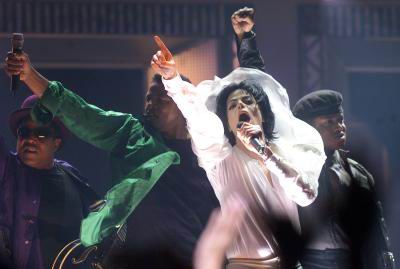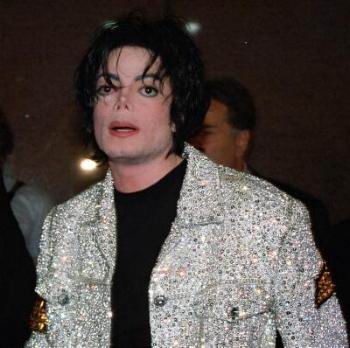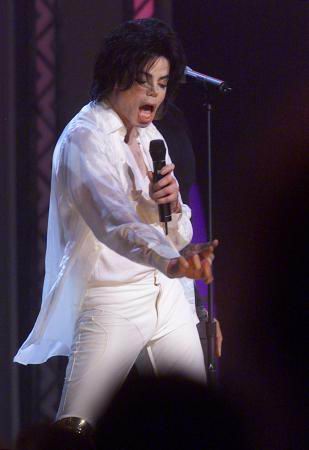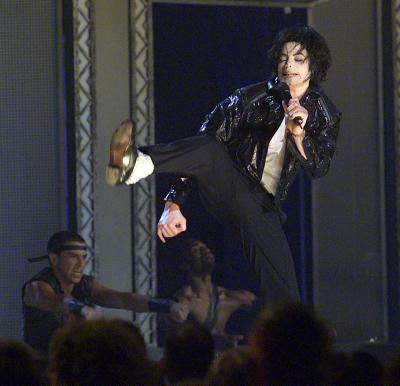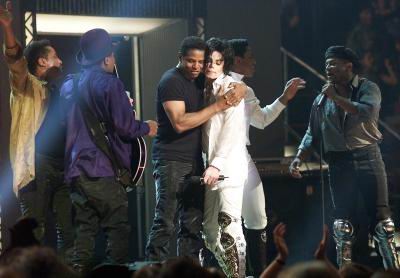 ---
Michael Jackson Rings NASDAQ Bell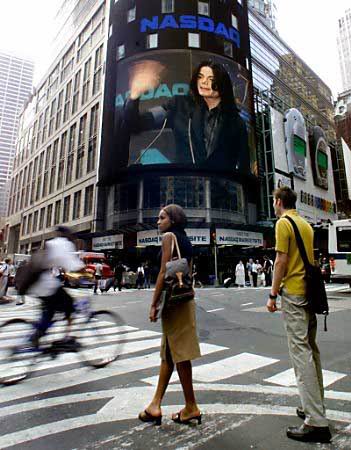 30.8.2001 Michael Jackson made a special appearance at the NASDAQ market site in Times Square, New York.
Escorted by NASDAQ's Chief Executive Officer Wick Simmons and Executive Vice President David Weild, the King of Pop opened the stock market by ringing the NASDAQ bell.
The short ceremony ended with a surprise birthday celebration. Michael Jackson was presented with a big birthday cake and a framed vintage poster of actress Shirley Temple. «I'm deeply moved,» said Michael Jackson as he received the gift, a personal surprise from producer David Gest.
Hundreds of people had gathered in the street outside the market to attend the event. The King of Pop blew kisses to the crowd and thanked the fans for their support.
Source : Planet Jackson & MTV / MJFC

---

30.8.01
Project MJ
Total Request Live (TRL) is a show which is taped live on MTV in New York City's infamous Times Square. It's very popular among the young people of America. Set on the 2nd floor, the TRL studios are smack in the middle of Times Square, with floor to ceiling windows. Whether you're across the street at Virgin Mega Store, or directly below it, you can see everything that's going on as it's being taped. The curb side has become quite popular among fans. Just before and after commercial breaks the MTV cameras tape fans down on the street. At times they'll even send one of the VJ's down to interview them. Fans are out in full force showing their love for their icon.
Thus, the King of Pop Fanatics are inviting all MJ fan clubs and fans around the world to unite and work together to show the public that the King of Pop is back! They are organizing a mega TRL fan gathering.
Dates & Locations:

September 6th
Time: 2 pm
Place: The New York Metropolitan Opera House
(where the MTV Video Music Awards will take place that same day)
September 7th
Time: 2 pm
Place: Times Square
(in front of the MTV/TRL Studios)
Don't forget to bring banners, posters, flags, T-shirts, etc.! For additional information please click here.
Let's unite!
Let's take over TRL, and Times Square...
And let's show the world our support for Michael!
Source: King Of Pop Fanatics / MJFC

---

26.8.01
Update On Third NY Concert!
MJFC has received information from MJJ Productions that due to extreme time restrictions World Events LLC has decided not to pursue the third concert at New York's Madison Square Garden which was planned for September 9, 2001.
Source: MJJ Productions / MJFC

---

21 8 2001
ATTENTION ALL FANS!
Especially Fans In The New York Area
SPECIAL PRESS RELEASE FOR FANS
Susan Blond Inc. is notifying fans and fan clubs about a special appearance MICHAEL JACKSON is making on Thursday August 30, 2001 at 9:30 am in Times Square in New York City at the corner of 43rd Street and Broadway to ring the NASDAQ bell.
This news is being released first to fans because Susan Blond Inc., Press Agency knows that Michael would want his fans to be there. At this event there will be a Jumbotron Screen showing special Michael Jackson video clips.
There will also be an opportunity for fans to see Michael. Located in the heart of New York's Times Square, NASDAQ's MarketSite Tower soars seven stories high and is the largest video screen in the world. CNBC, CNNfn, Bloomberg, CBS Market Watch, and other financial news media broadcast live throughout the day from the Market's Broadcast Studio.
MJFC urges all the fans that can to gather in New York on August 30 to show Michael your love and support. Michael ALWAYS speaks so highly of his fans. Let's all show him our love and support at this event! And do spread the word!
Source: Susan Blond Inc. / MJFC

---

Slash Joins In Celebration
Superstar guitarist Slash, formerly of Guns N' Roses, has joined the list of celebrities that will pay tribute to the King of Pop during his two 30th Anniversary concerts at Madison Square Garden next month.
Slash and Michael have been friends for several years and collaborated on Michael's 'Dangerous' album. Speaking about the tribute concerts, Slash had this to say:
"It's going to be a blast being onstage again with Michael....he truly is one of the greatest talents known. Michael is timeless, classic and resilient."
Michael said in a statement:
"I am so excited about working with my dear friend Slash again. He is a brilliant guitarist whom I really admire, and I look forward to having Slash perform with me again on these two special nights."
Source: Billboard / MJFC

---

NY Concert Ticket Sale Is Huge Success!
The 2 concerts for the all-star salute 'Michael Jackson: 30th Anniversary Celebration, The Solo Years' have virtually been sold out in less than five hours, according to event producer David Gest. Tickets went on sale July 31, 2001 at 10 am and by 3 pm Gest announced that the star-studded event was practically sold out in record-breaking time:
"Michael Jackson is looking forward to performing for the first time in eleven years in New York City and is thrilled that his fans have shown so much interest in his shows. He is very excited about debuting his first single from his upcoming Epic Records CD at the shows. His reunion with the Jacksons (Jackie, Tito, Marlon, Michael, and Randy) will certainly be one of the many highlights of the shows."
Seth Abraham, President of Madison Square Garden\Radio City Entertainment, said:
"As the premiere concert venue in the country, we are ecstatic with the first day of ticket sales. Michael Jackson's return to live performance in these milestone concerts is on its way to being the largest grossing sellout in the history of Madison Square Garden."
More than two hundred stars from the motion picture, television, recording and sports fields will join together for this special celebration in honor of Michael Jackson. Among those already confirmed are: Marlon Brando, Elizabeth Taylor, Samuel L. Jackson, Willem Dafoe, William Shatner, Dr. Dre, Snoop Dogg, Jane Russell, Chris Tucker, Liam Neeson, Vanessa Redgrave, Franco Nero, Liza Minnelli, Muhammad Ali, Yoko Ono Lennon, Sean Lennon, Gregory Peck, Jennifer Jones, Angie Dickinson, Master P, Robert Wagner, Jill St. John, Sir John Mills, Hayley Mills, Janet Leigh, Reggie Miller, Ann Miller, Jane Powell, Kobe Bryant, Magic Johnson, Esther Williams, Macaulay Culkin, Patricia Neal, Quincy Jones and many, many more.
Source: Sunsan Blond, Inc. - press release / MJFC

---

Tickets For NY Concert On Sale Today
Tickets for the two tribute concerts 'An All-Star Salute:
Michael Jackson The King of Pop' which will take place at
Madison Square Garden in New York (USA) on September 7,
2001 and September 10, 2001, will go on sale to the public
today at 10 am (ET = New York time standard).
Ticket categories: US$48.50, US$98.50, US$228.50,
US$353.50, US$803.50, US$1,503.50, US$2,503.50. Please note
that there is an 8 ticket limit per person per show. Orders
exceeding the ticket limit will be canceled without notice.
Tickets can be purchased on the web site of TicketMaster,
where you can also find a seating chart of the venue.
Alternatively you can call TicketMaster by phone at (212)
307-7171 (from outside the US: (001) 212 307-7171).
Tickets will also be available at the Box Office of the
Madison Square Garden:
Madison Square Garden
Box Office
4 Pennsylvania Plaza
New York, NY
USA
The Madison Square Garden's Box Office is located in the
Garden's ticket lobby, directly beyond the building's
Seventh Avenue Mall, at 7th Ave. and 32nd St. Payment
accepted at the box office: Cash, American Express, Visa,
MasterCard, Discover, and Diners Club.
Source: Ticketmaster / Madison Square Garden / MJFC

---

NY Concert Press Release
Press Release:
Marlon Jackson Announces: The Original Jacksons to Reunite with Randy at 'Michael Jackson: 30th Anniversary Celebration, The Solo Years'
"Randy Jackson will reunite with the original Jacksons: Michael, Jackie, Marlon, and Tito," announced Marlon Jackson, an original member of the group.
According to Marlon,
"I am very sorry for the confusion my brother Jermaine has caused by his statement which he also attributed to my youngest brother, Randy. The statement from Jermaine was totally false regarding Randy's non-participation in the show. Randy had never even seen the statement that Jermaine sent out. Randy will be a part of these evenings and the public will see the original Jacksons reunite. Randy is as excited as all my brothers about this reunion and we all look forward to singing with 'N Sync on Dancing Machine. We love 'N Sync and are so glad they are part of this tribute to Michael."
Marlon went on to state,
"When the Jackson 5 left Motown and changed names to the Jacksons, Jermaine was not a part of the group. He was not featured on any of our hits, including Shake Your Body (Down To The Ground), Heartbreak Hotel, Lovely One, Show You The Way To Go, and Blame It On The Boogie. We look forward to performing many of these songs as well as a number of the Jackson 5 classics at both the Friday, September 7, 2001 and Monday, September 10, 2001 shows."
Tickets to the public will go on sale Tuesday, July 31, 2001 at 10:00 A.M. through Ticketmaster for the Friday, September 7, 2001 and Monday, September 10, 2001 performances. Ticket prices begin at $45.00.
Source:MJFC

---

Performers Set for an All-Star Salute to "Michael Jackson: 30th Anniversary Celebration, the Solo Years" Friday, September 7, 2001 & Monday, September 10, 2001 At Madison Square Garden; Jackson's First Live Mainland Performance in Eleven Years to Coincide With Epic Records Release of ``Invincible.''; Jacksons to Reunite for Tribute.
"An all-star salute to `The King Of Pop', MICHAEL JACKSON: 30TH ANNIVERSARY CELEBRATION, THE SOLO YEARS has been set for two dates, Friday, September 7, 2001 and Monday, September 10, 2001 at Madison Square Garden at 7:40 P.M.," announced David Gest, producer of the event.
According to Gest, tickets to the public will go on sale Thursday, July 26th through the Madison Square Garden Box Office and Ticketmaster for both performances. Ticket prices for the concert only will range from $45.00 to $500.00 per seat. The event will mark Michael Jackson's first live performance on a mainland stage in eleven years. He will debut a new single from his first Epic Records release, titled ``Invincible,'' in more than five years. Jackson will also reunite on both nights with his brothers The Jacksons (Michael, Jackie, Tito, Marlon, Jermaine and Randy) for the first time in twenty years. The Jacksons will perform a medley of their Motown and Epic Records hits as well as sing a Jackson 5 classic with pop supergroup `N Sync. Jackson will also perform a number of his greatest hits. According to Gest, in addition to Michael Jackson and The Jacksons the line-ups are as follows:
Friday, September 7, 2001 (alphabetically): Marc Anthony; Ray Charles; Deborah Cox; Gloria Estefan; Billy Gilman; Whitney Houston; James Ingram; Quincy Jones & The Legends Of Jazz including Al Jarreau, Ramsey Lewis, Herbie Mann, Les McCann, David ``Fathead'' Newman, Jimmy Smith, Clark Terry & Cassandra Wilson; Mya; `N Sync; Jill Scott; Shaggy featuring Ricardo ``Rikrok'' Ducent & Rayvon; Britney Spears; Tamia; 3T; Usher and many surprise guests.
Monday, September 10, 2001 (alphabetically): Marc Anthony; Mary J. Blige; Deborah Cox; Missy ``Misdemeanor'' Elliott; Gloria Gaynor; Al Jarreau; Gladys Knight; Lil' Romeo; Ricky Martin; Mya; 98(0); Diana Ross; Jill Scott; Usher; Luther Vandross; Dionne Warwick and many surprise guests.
The evening, a World Events LLC production, will be filmed as a two-hour primetime special for the CBS Television Network as well as being shown throughout the world. Both evenings will feature a forty-eight piece orchestra and twelve background singers. There will also be a three-hundred member gospel choir, a two-hundred member children's choir and a forty member dance ensemble. According to Jackson,
"I am very excited to celebrate my 30th anniversary as a solo artist with such an illustrious roster of talent and so many of my friends from the entertainment world. What makes this event even more rewarding is that my fans will be flying in from around the world. I look forward to performing live and reuniting with my brothers on these two very special nights."
According to Joel Peresman, Senior Vice President of Radio City Entertainment,
"all of us at Madison Square Garden are thrilled to be the host for MICHAEL JACKSON: 30th ANNIVERSARY CELEBRATION, THE SOLO YEARS, which will truly be a historic event for not only Madison Square Garden but for New York City."
Chairmen for the event are: Alfred R. Berkeley lll (Vice Chairman, Nasdaq), Jeff Bezos (Founder & CEO, Amazon.Com), Whitney Houston, Sean Lennon, Yoko Ono Lennon, Liza Minnelli, Leslie Moonves (President & CEO, CBS), Liam Neeson, Veronique and Gregory Peck, Elizabeth Taylor and David Weild (Executive Vice President, Nasdaq).
More than two hundred stars from the motion picture, television, recording and sports fields will join together for this special celebration in honor of Jackson. Dignitaries from around the globe will also participate in the event. American Airlines has been set as the "official airline" for the event. According to Gest,
"Michael is very excited about this event and is already at work creating innovative and trend-setting dance routines for these shows. It was thirty years ago this September that Michael released his first solo record on Motown, 'Got To Be There.' That tune went gold and Michael has never looked back. He has had an unprecedented career as a recording artist: with the Jackson 5 he recorded seventeen top forty hits, four of which went to number one; with The Jacksons he recorded seven top forty hits and on his own has had thirty-six top forty hits, including thirteen number one records. Throughout the world he has sold more records than any other solo artist in the last three decades."
Jackson's 1982 'Thriller' album, with sales of over 46 million copies, is the best selling album in history by a solo artist. He has won twelve Grammy Awards as well as a Grammy Living Legend Award in 1993. He is also the youngest entertainer to be inducted into the Rock & Rock Hall Of Fame twice, first as a member of the Jackson 5 and the second time as a solo performer in March of this year.
Source: Entertainment Wire / MJFC