"I want the whole world singing it, that it gather us like people,a song is a mantra, something you repeat without rest.
We need freedom, we need generosity, we need love, we need to be united." Michael Jackson
What More Can I Give On March 1999, as he was preparing "Michael Jackson & Friends," his charity concerts in Munich and Seoul, Michael Jackson released a statement to the press in which he refered to his creating "What More Can I Give."
He said, "In an earlier conversation I had this year with President Mandela, we discussed the concept of giving and the words 'What More Can I Give' kept coming into my mind. That will be a song of mine and a theme for my [forthcoming] shows. We all have to give and we all have to do what we can to help end the needless suffering in the world." The lyrics to 'What More Can I Give' seek to help the world's citizens find solace in the wake of the attack on America and to create a sense of global unity in the face of mindless violence and mass murder."

Studio: Michael has been traveling the country in order to record the contributions.
English version Anastacia, Shawn Stockman et Michael McCary (Boyz II Men), Mariah Carey, Nick Carter (Backstreet Boys), Aaron Carter, Celine Dion, Joy Enriquez, Billy Gilman, Gloria Estefan, Hanson, Michael Jackson, Beyonce Knowles (Destiny's Child), Ricky Martin, Ziggy Marley, Reba McEntire, Brian McKnight, Mya, N'Sync, Tom Petty, Carlos Santana, Jon Secada, Shakira, Thalia, Usher, Luther Vandross et 3LW. Version spanish : " Todo Para Ti " ( is very beautiful! )Anastacia, Ruben Blades, Mariah Carey, Cristian Castro, Celine Dion, Joy Enriquez, Gloria Estefan, Juan Gabriel, Julio Iglesias, Michael Jackson, Ricky Martin, Luis Miguel, Mya, N'Sync, Laura Pausini, Carlos Santana, Alejandro Sanz, Jon Secada, Shakira, Olga Tanon, Thalia, et Luther Vandross.
---
United We Stand: What More Can I Give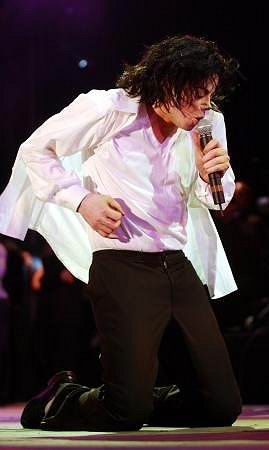 Tens of thousands of music fans gathered yesterday to celebrate America at the marathon concert, 'United We Stand: What More Can I Give.' The music festival raised about $2 million through ticket sales.
Tens of thousands of music fans gathered to celebrate America at the marathon concert in 2001, 'United We Stand: What More Can I Give.' The music festival raised about $2 million through ticket sales. The show was opened by the Backstreet Boys, who sang the National Anthem. After their performance group
member Kevin Richardson told the crowd,
"We can't let them defeat us. We have to get up, get out and live our lives every day."
The grand finale, which came more than three hours later than it was scheduled to, featured
Michael Jackson. Under a shower of red, white and blue confetti, he was joined on stage by
other artists as he performed his song, 'What More Can I Give.'
Source: Music For Giving / MJFC